The Illinois Attorney General's Office will investigate possible patterns or practices of unconstitutional or unlawful policing at the Joliet Police Department.
On Wednesday, Attorney General Kwame Raoul announced the civil investigation following a request by Joliet Mayor Robert O'Dekirk and the Joliet City Council last year.
O'Dekirk sought an investigation from the attorney general's office in June 2020 in response to concerns over the death of Eric Lurry in police custody after his arrest in January of that year.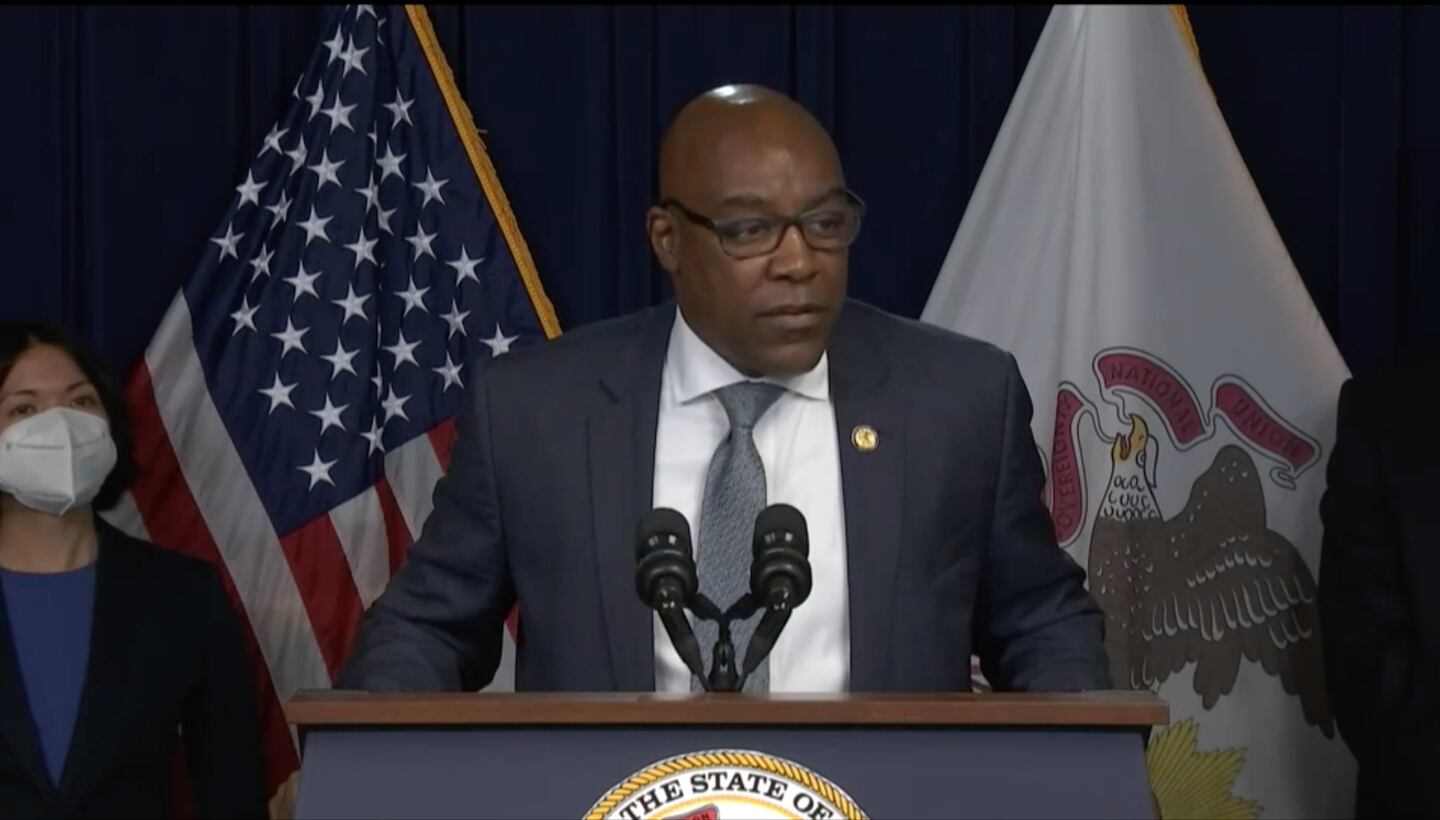 Raoul said the investigation will be civil in nature, and his office will not reconsider the local decision not to file criminal charges concerning police conduct in the Lurry case.
"The Will County State's Attorney's Office conducted an investigation of this individual incident," he said. "We are not here to second guess or reopen the original investigation."
But it was the letter from O'Dekirk and some council members along with findings since his office looked into the Lurry case that led to the broader investigation of Joliet police practices, Raoul said. He compared the Joliet investigation with U.S. Justice Department investigations of the Chicago and Ferguson, Missouri, police departments that were initiated after police shootings and resulted in consent decrees mandating reforms.
"The city of Joliet and the Joliet Police Department were completely cooperative, and we began a preliminary review to determine if there was a larger pattern and practice that might raise questions," Raoul said.
The Joliet investigation will focus on departmental policies, training, practices, discipline and supervision as they relate to traffic and pedestrian stops, searches, arrests and use of force, Raoul said.
Lurry's death was investigated by the Will-Grundy Major Crimes Task Force, the Will County Coroner's Office and the Will County State's Attorney's Office.
State's Attorney James Glasgow concluded in a July 2, 2020, memo that Lurry died after he ingested fatal amounts of heroin, fentanyl and cocaine and his death "did not result directly from any action or inaction by an officer of the Joliet Police Department."
Criticism, however, has focused on police handling of Lurry as he lapsed into a coma while in police custody. The Lurry family and others organized protests over the incident once police video emerged showing Eric Lurry apparently unconscious as police probed his mouth and pulled out what appeared to be plastic bags of drugs.
Lurry's widow, Nicole, has filed a federal lawsuit against the city and four officers involved in the arrest of her husband.
Raoul said that on Tuesday he met with the Nicole Lurry and other members of the family to explain the investigation being conducted by his office.
"The family understands the limits of our investigation," Raoul said.
He also met Tuesday with Joliet officials, including O'Dekirk, Police Chief Dawn Malec and City Manager James Capparelli.
"They have from the outset expressed a willingness for us to conduct a review," Raoul said. "We also recognize there is new leadership at the Joliet Police Department."
Malec became police chief in January, replacing Al Roechner, whose two years as chief were marked by controversy that included clashes with the mayor. Roechner's exit was followed by a nearly complete change in command staff as Malec replaced three of the four deputy chiefs in the department.
"It's my understanding the new police chief is already taking steps," Raoul said when asked what kind of results could come from the attorney general's investigation.
Raoul said the investigation is a first for his office and was made possible by the state SAFE-T ACT, which went went into effect this year setting new standards and rules for Illinois police departments and officers.
"A consent decree could be a potential outcome," he said. "It could be something short of that that would not be court monitored."
Police Sgt. Pat Cardwell, president of the Fraternal Order of Police Supervisors Association, said his union "welcomes" the attorney general investigation.
"FOPSA welcomes any independent investigation, or review, from the (Attorney General's) Office," Cardwell said.
"We'll fully cooperate with their team on all matters related to their investigation," he said. "In the future we look forward to a written conclusion of their findings and show our community that you're in good hands."
Joliet officials on Wednesday did not return calls for comment, but the city issued a statement saying it is aware of the investigation.
"As stated by the attorney general, this investigation is in response to the letter submitted by the mayor and City Council to the Attorney General's Office in June 2020," the statement said. "The city of Joliet remains committed to serving the community and will continue to cooperate with the Attorney General's Office during the investigation."