LOCKPORT – For someone who isn't going to continue his soccer career in college, Lockport's Gabe Czako certainly put up a great season for the Porters.
Czako, a defender, was selected to be the Fall 2021 Herald-News Boys Soccer Player of the Year after spearheading a defense that allowed only 22 goals this season in securing a 20-2-1 record that included a third-place finish in Class 3A.
Despite his prowess on the pitch, Czako will participate in track in field in college, where he has his choices narrowed down to Yale, Cornell and Duke. That is more understandable when you consider that he finished second in the Class 3A state track meet last spring in both the 110- and 300-meter hurdles. In each race, the runner that beat him was a senior, making him the top finishing returnee in the state in the upcoming season.
"I am kind of wanting to get out of the Midwest," Czako said. "They are all great schools, both academically and athletically."
Wherever he decides to take his athletic talents, Czako plans to study engineering in school. He is currently leaning toward chemical engineering.
During the soccer season, Czako played center back and was one of the main pieces of keeping the ball out of the Porters' net. Still, he found a way to score three goals and record four assists this season. For his career, he had nine goals and 11 assists.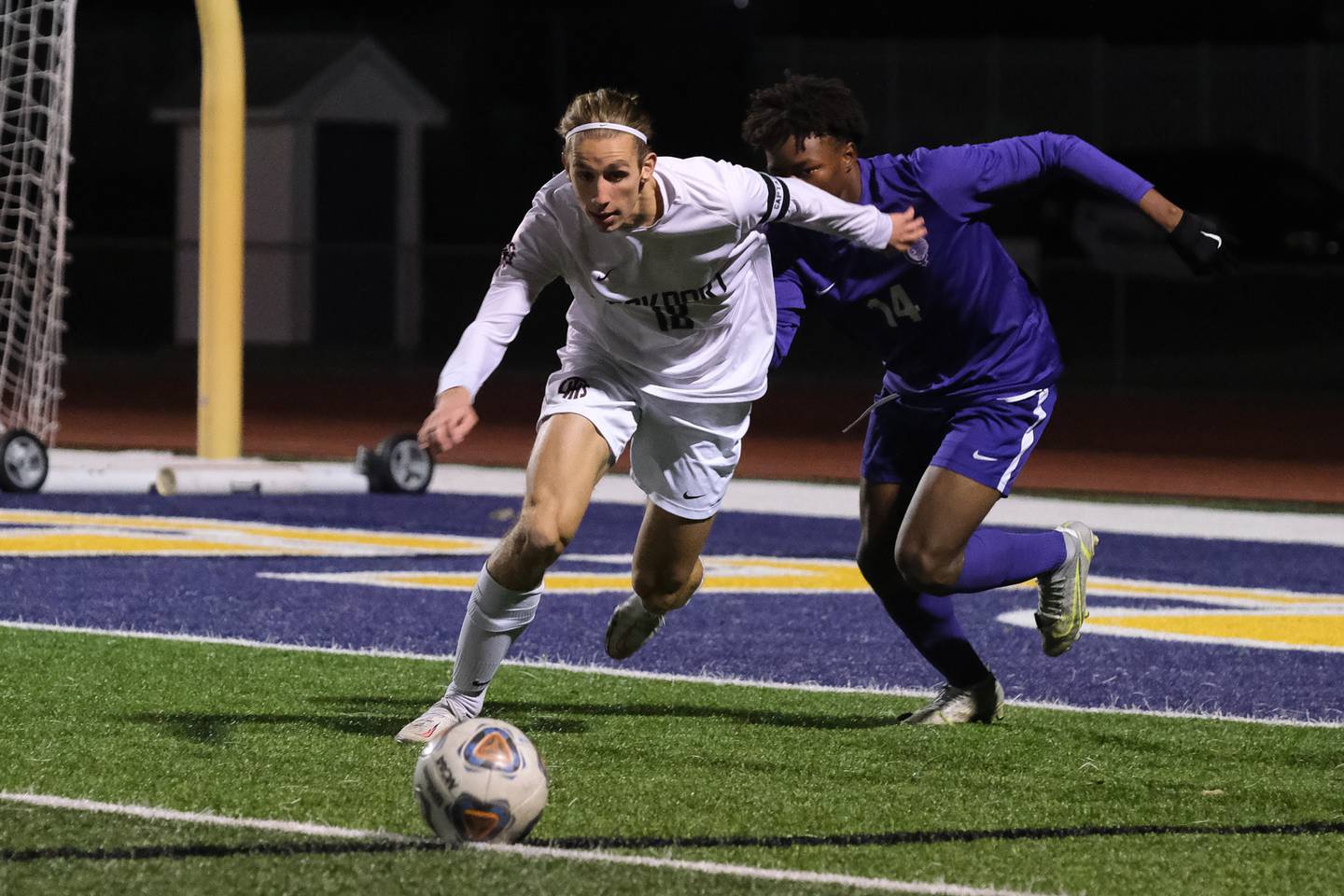 But soccer wasn't the only sport Czako played in the fall. To add to his medal collection, he was the placekicker for the Lockport football team, which won the Class 8A state championship. He made 58 of 59 extra point attempts and was 10 of 11 on field goals, with a long of 42 yards. He kicked three extra points and a 26-yard field goal during the state championship game.
"I have been playing soccer my whole life," he said. "I don't remember what age I started, but I was pretty young. My mom works at the school, so the football coaches knew who I was and knew I played soccer. They asked if I would like to try kicking for the football team. I tried it and I liked it.
"The biggest thing I like about soccer and football is the team aspect. Track is kind of an individual thing, but I do run some relays if they ask me to. The soccer and football teams were kind of different groups, but I was able to get along with all of them. When I first started football, I was a sophomore on the varsity, so that was a little difficult. But this year, I knew all the seniors really well and we felt like it was our team."
During the soccer season, Czako pointed to a 5-2 win over Romeoville in the sectional final as his most memorable.
"We knew Romeoville was a good team and that it would be a tough game," Czako said. "We usually didn't get going until the second half, but we scored four or five goals in the first half in that game. That was a defining moment for me as far as thinking we could go pretty far."
Czako then helped the Porters to a 3-2 win over Collinsville in the supersectional before losing to eventual state champion York, 3-2, in the state semifinals and beating Morton, 2-1, to take third.
"It felt good to finish the season with a win," Czako said. "Not many teams get to do that. No one likes to lose in the semifinals, but it shows the team's mental strength to go out there and win the next game."
Czako's mental strength was only one of his many attributes, according to Lockport coach Christopher Beal.
"Gabe is an outstanding all-round player and undoubtedly could play Division I soccer," Beal said. "He demonstrates outstanding character and leadership on the field and inspires players around him with his tenacious play and consistently high-level performances.
"His one-on-one defending and ability to shut down the opposition is the best I have seen in this area in my 12 years of coaching at Lockport. Off the field, Gabe is an outstanding student and has a very humble and level-headed attitude to his coaches and peers."
The previous soccer season was, as Czako called it, "the COVID season," but it was one that set up the Porters' run this year.
"We did well last year," Czako said. "We won the conference and only lost one game against Lincoln-Way Central. They were the only team to beat us in the regular season this year, too.
"We knew coming into this year that we had a chance to have a good year, but at the start of the year we didn't think we would make it as far as we did. As the season went on, we started playing more together as a team."