Coming off a one-point loss to open the season, Lemont was looking to its young team to get on a winning track.
That's what happened Wednesday in the opening game at the University of St. Francis.
Nojus Indrusaitis poured in a game-high 28 points and added 13 rebounds, three assists and two steals as Lemont defeated Plainfield Central, 77-63, in the first game of the night in the revised schedule of the WJOL Thanksgiving Classic.
Unfortunately, after losing the late game to Providence, 46-30, on Monday, Joliet Central had to drop out of the tournament.
This will impact Lockport and Minooka the most since the two teams now will only play two games in the tournament. Saturday, someone from Group B (Bradley-Bourbonnais, Lemont, Plainfield Central, Romeoville) will not play in the 7th-place game.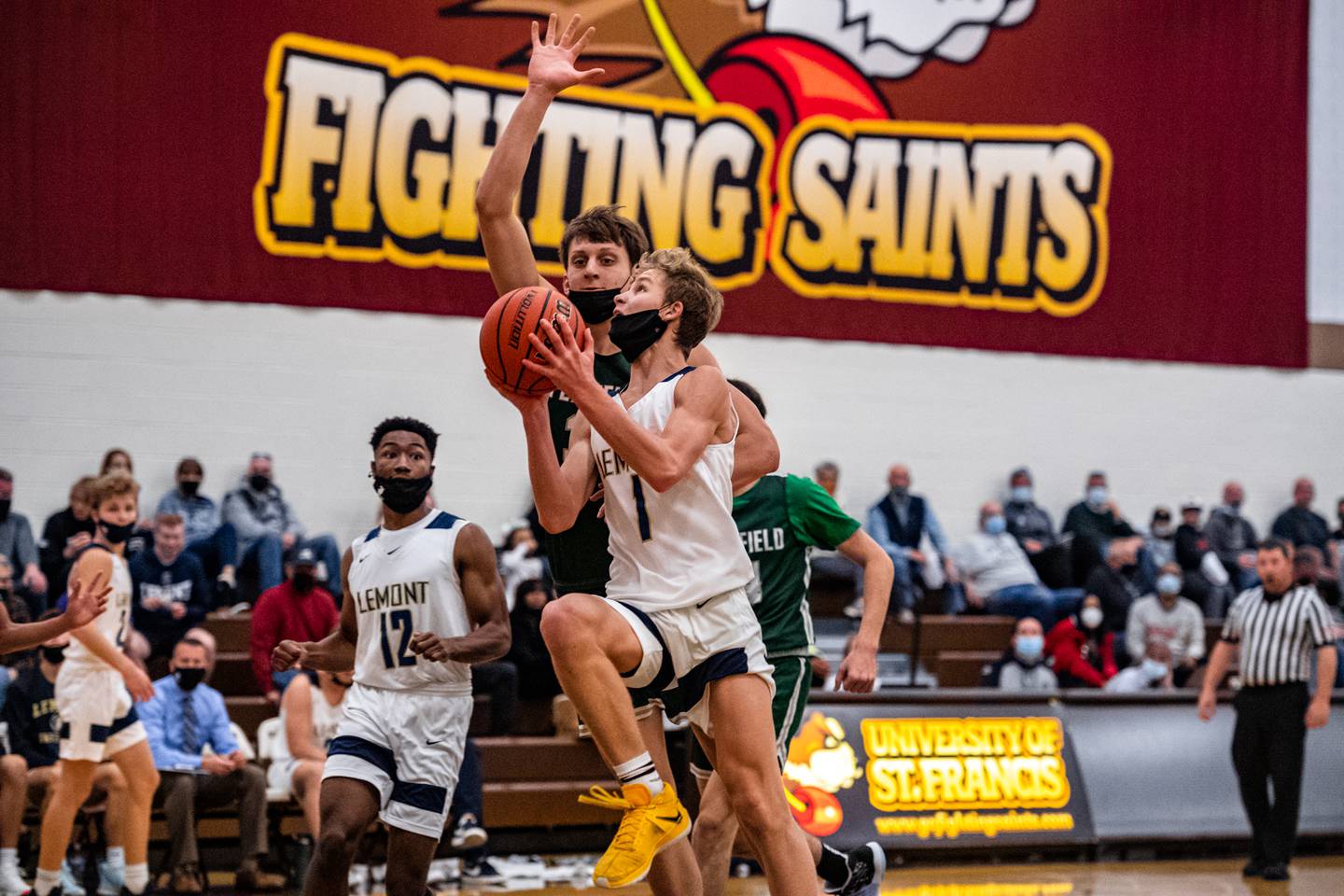 Lemont (1-1) will be playing Saturday for sure, however, after jumping out to a huge lead and fighting off a late Wildcats (0-2) charge for the victory.
"This was huge for us," Lemont coach Rick Runaas said of the win. "But I'm just happier with the way we played. I was disappointed with how we played on Monday [a 56-55 loss to Bradley at Joliet Junior College], and tonight we played a lot better."
Not only did Indrusaitis, a sophomore forward, play well, so did the junior twin guards of Matas Castillo (15 points, 4 assists, 3 steals) and Rokas Castillo (14 points, 4 rebounds, 4 assists, 3 steals), along with junior forward Miles Beachum (9 points).
Things looked really good for Lemont when Indrusaitis stepped back and hit a 25-foot 3-pointer from the left-wing to end the third quarter and put the team up by 20. He then nailed a 3-pointer from about the same distance from the right-wing 15 seconds into the fourth quarter to make the score 64-41.
"Yes, I was able to get some good shots up," said Indrusaitis, who was 9 of 21 from the field, including 4 of 8 from beyond the arc. "I was practicing and working out with those."
But the Wildcats certainly didn't quit coming back with a quick 10-0 run to close within 64-51 with 5:38 to play. Still down, 70-58, Plainfield Central scored a quick five points in 18 seconds to make it 70-63 with 1:40 remaining. The Wildcats then had an opportunity to cut it even closer but Matas Castillo had a steal and converted a three-point play with 1:08 left to start a game-ending 7-0 spurt.
"I feel like we have a good team, we just can't let up," said Indrusaitis, who had a career-high 32 in a game last season and scored 22 in the opening-game loss. "We turned it over too much. We just have to step up and end it."
Runaas agreed.
"For us, we just have to have better ball handling," he said. "We have to play better down the stretch. But I love this tournament. It's within a half-hour of Lemont and great competition for us."
Senior guard Donovan Brown paced Plainfield Central with 20 points, four rebounds, four steals and three assists. Junior post player Colin Bailye had eight of his 15 points in the fourth quarter. He was 5 of 5 from the field, 5 of 7 from the line, and added 11 rebounds. Senior guard Alen Mujcinovic and senior center Luke Cervelli each added eight points and four rebounds for the Wildcats.
"Lemont shot the ball really well (26 of 53)," Plainfield Central coach Gregg Bayer said. "Our goal was to hold their big three scorers to 40 points and they had 57. They are aggressive and come at you all the time. They are tough nard-nosed kids, and that's ingrained in them there.
"We had spurts where we played well. Our guys are high-character guys, and what we have to do is get those spurts to go longer until we put together a full 32-minute game."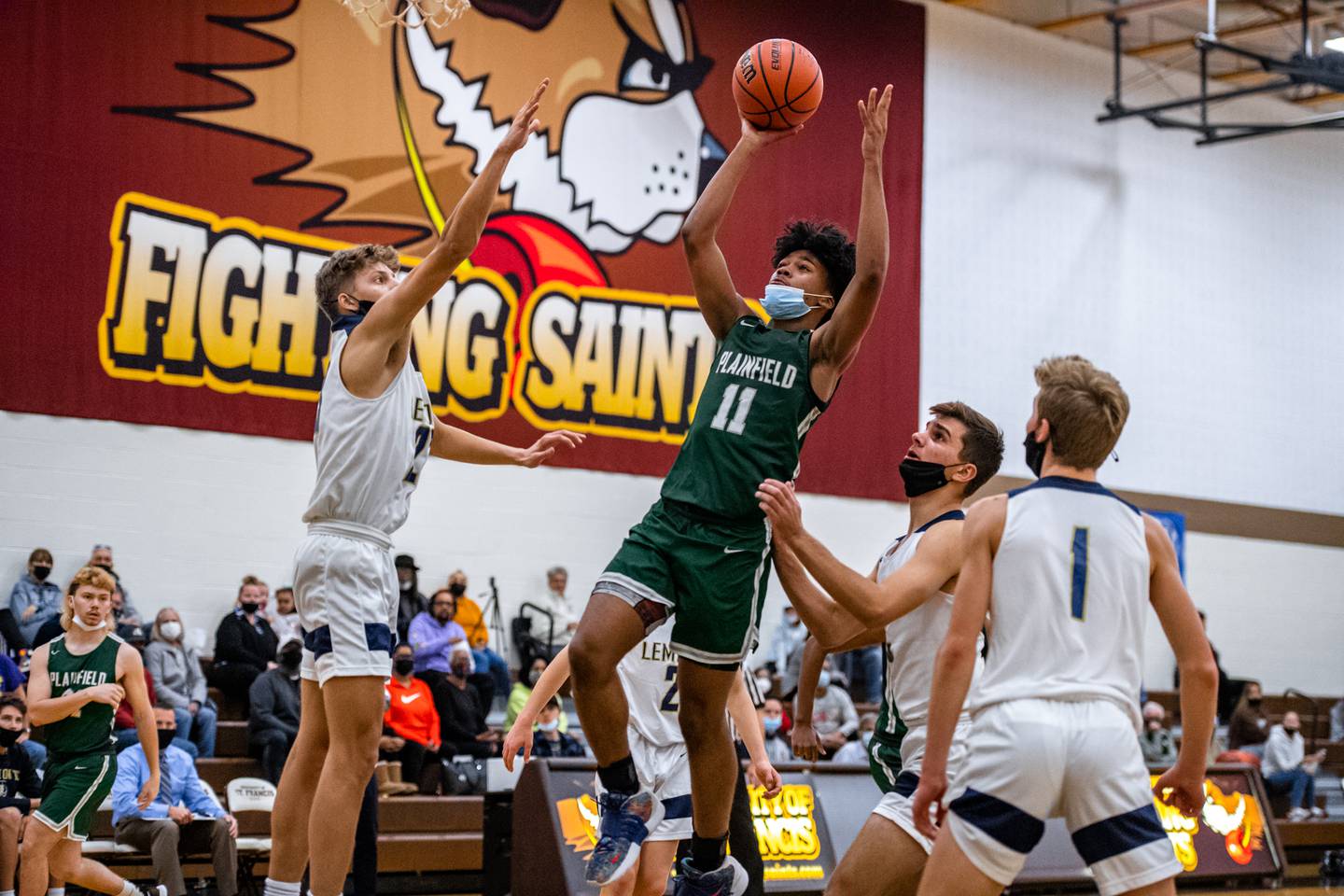 Ahead, 12-10, with three minutes left in the first quarter, Lemont went on an 11-0 run with Beachum scoring five of those points. It was 23-13 after one quarter and 36-26 at halftime.
Lemont only has two seniors and only one of them, guard Brock DiBartelo, is a starter. While it's early, the young team expects good things.
"I feel like we can be good," Indrusaitis said. "We can be quick, electrifying and an all-around good team."
The second game of the night Bradley-Bourbonnais upended Romeoville, 62-60, and the nightcap pitted Providence against Lockport.