When the previous owners of Rosati's Pizza in Romeoville wanted to retire, four fourth-generation Rosati cousins stepped up to buy the restaurant together.
The restaurant, a community staple for more than 20 years, opened in May under the ownership of Sam Rosati, Mike Rosati, Brent Rosati and Anthony Rosati, along with managing partner Luis Montes, a news release from Rosati's Pizza said.
All four cousins also own other Rosati restaurants, Sam said on Tuesday.
"We're excited to continue the Rosati family legacy," Mike said in the release.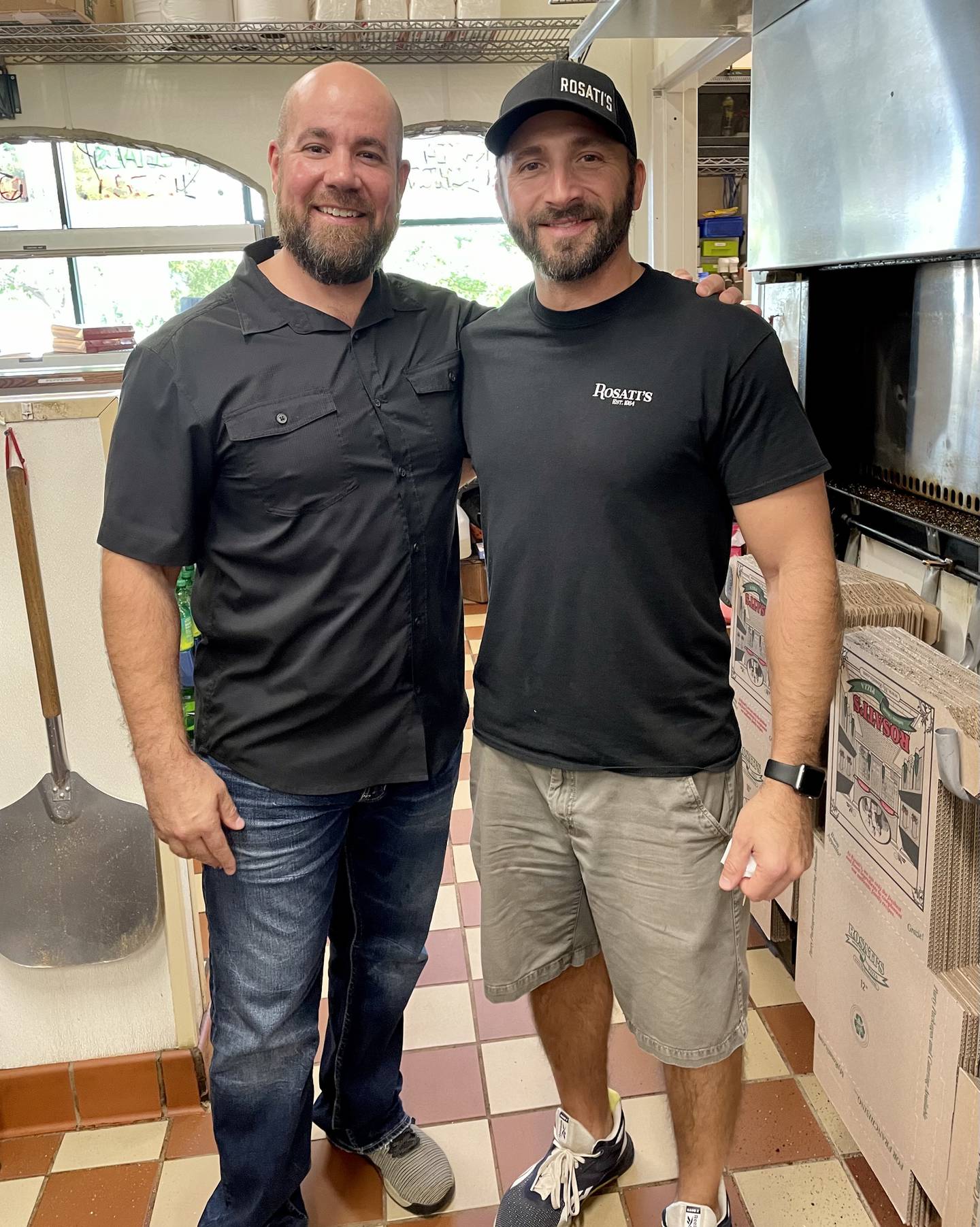 To celebrate, Rosati's Pizza in Romeoville will donate 25% of sales on Wednesday to American Legion Post 52 in Romeoville. The restaurant will also host a "pizza cutting" celebration with Romeoville Mayor John Noak instead of a ribbon cutting, Sam said.
Why did the cousins collaborate on the purchase?
"It just felt right," Sam said. "The opportunity was there. COVID is not the best time to be jumping onto a new venture, but the store had been around for a while and the risk was minimal. But you do have to come up with the money, obviously. I trust working with my cousins. It will be a first. But I knew how well their stores and run, so it was a no-brainer."
Combined decades of experience with the family business
Sam, who said he officially jumped into the family business "right out of high school," said he started working alongside his father when he was 13, just as Sam's own son Wyatt, a high school freshman, now works alongside Sam.
"My dad gave me a choice: 'Sam, do you want to go to college or do the family business?'" Sam recalled. "So I think, 'Cut to the chase and go right into the family business.'"
Sam said his three cousins also grew up in the family business.
"When grandpa was standing over your shoulder making pizza as kids, he'd always tell us there were never enough toppings," Mike said in the news release. "Our grandfathers were humble about the fact that customers gave them money for the food they produced. You want to give people what they're paying for, which means generous portions and the best ingredients."
Sam said Mike and Brent both attended universities but, ironically, worked at pizza restaurants during those years. Anthony opened a location with Mike, Anthony's brother, shortly after completing high school, Sam said.
The benefits of owning a small business
In the release, Brent said that commitment to quality is the key to building those relationships with customers, some of whom have patronized the business for nearly 60 years.
"I started working at our Lake Zurich location when I was in high school," Brent said in the release. "When I go back now, I see the same customers I served as a teenager. They still get lunch with us every day. We value building lasting relationships with our customers and their families."
Those relationships are the rewards for owning a small business in communities, Sam said.
"Not only have whole families been customers of mine for 25 years, I've worked with their children," Sam said. "You would not believe the power of pizza. You become almost like family members to some people."
Sam said people don't like restaurants "messing with their pizza," so he feels part of Rosati's success is the fact "everything we use to date is almost identical to what it was in 1964."
"And what I mean but that is you can pronounce all the ingredients in our mozzarella," Sam said. "It has three things: whole milk, enzymes and salt. There isn't any fillers. There isn't any preservatives for us to make stuff last longer. And it's the same with our sausage and flour and tomatoes. Unfortunately, that's why our pizza is so expensive. And that's what's made it stand out for so long. It's the real deal."
Rosati's Pizza in Romeoville is located at 463 N. Weber Road in Romeoville. For hours and more information, rosatispizza.com/location/romeoville-il/ or call 815-293-2600.