Nancy Tyrrell of Western Springs called her father, Tom Flavin, one day and asked if he had "anything in the lavenders."
Nancy wasn't talking about gardening, although Tom did grow vegetables in a community garden in Downers Grove when his nine children were young, and he did grow flowers later in life.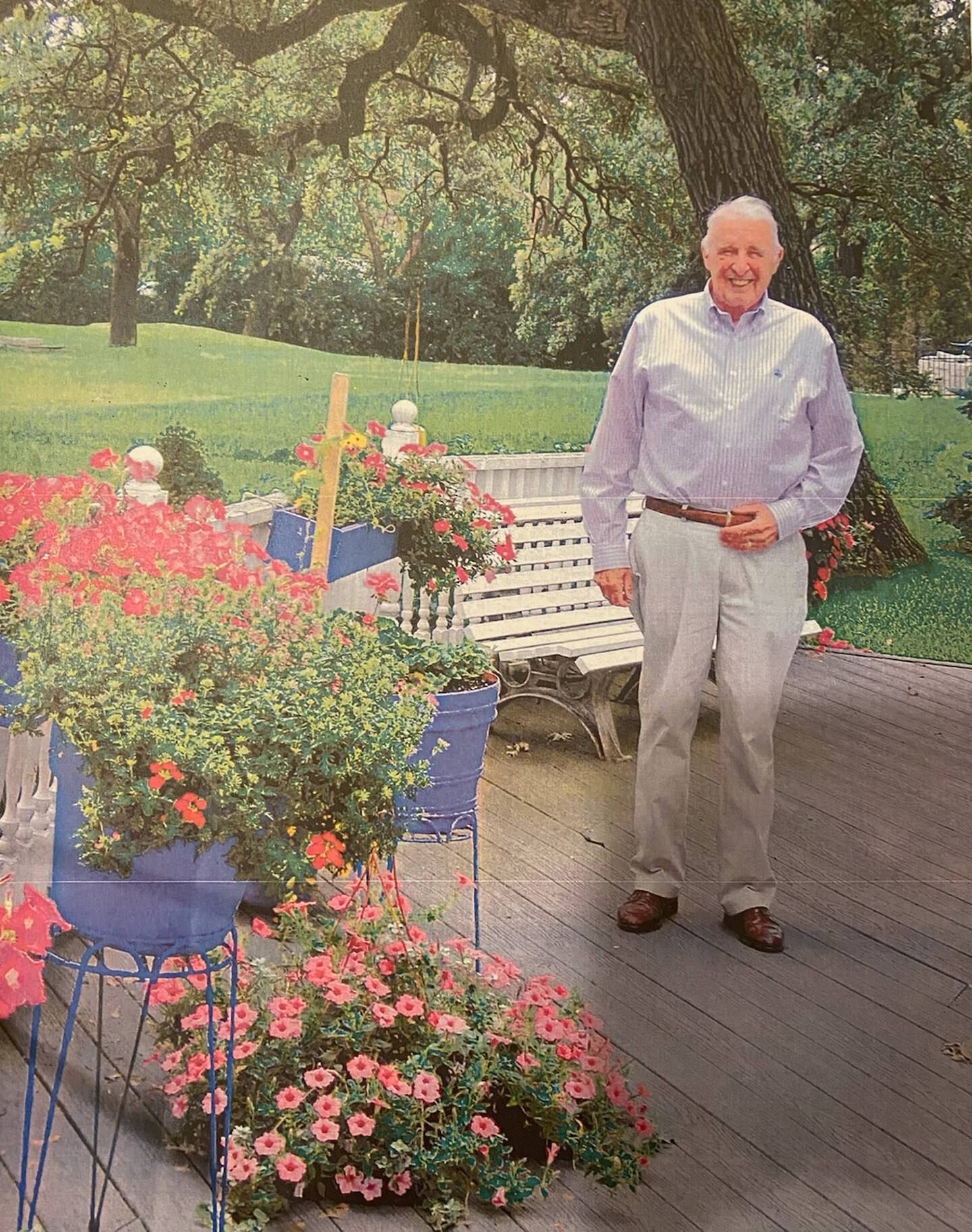 Nancy needed a painting for her home, and she knew Tom painted landscapes. Tom drove to her house the next day with a painting and warned her not to touch it – the paint was still wet.
"It was just what I wanted," Nancy said. "I told him, 'Dad, you're a man of action.' "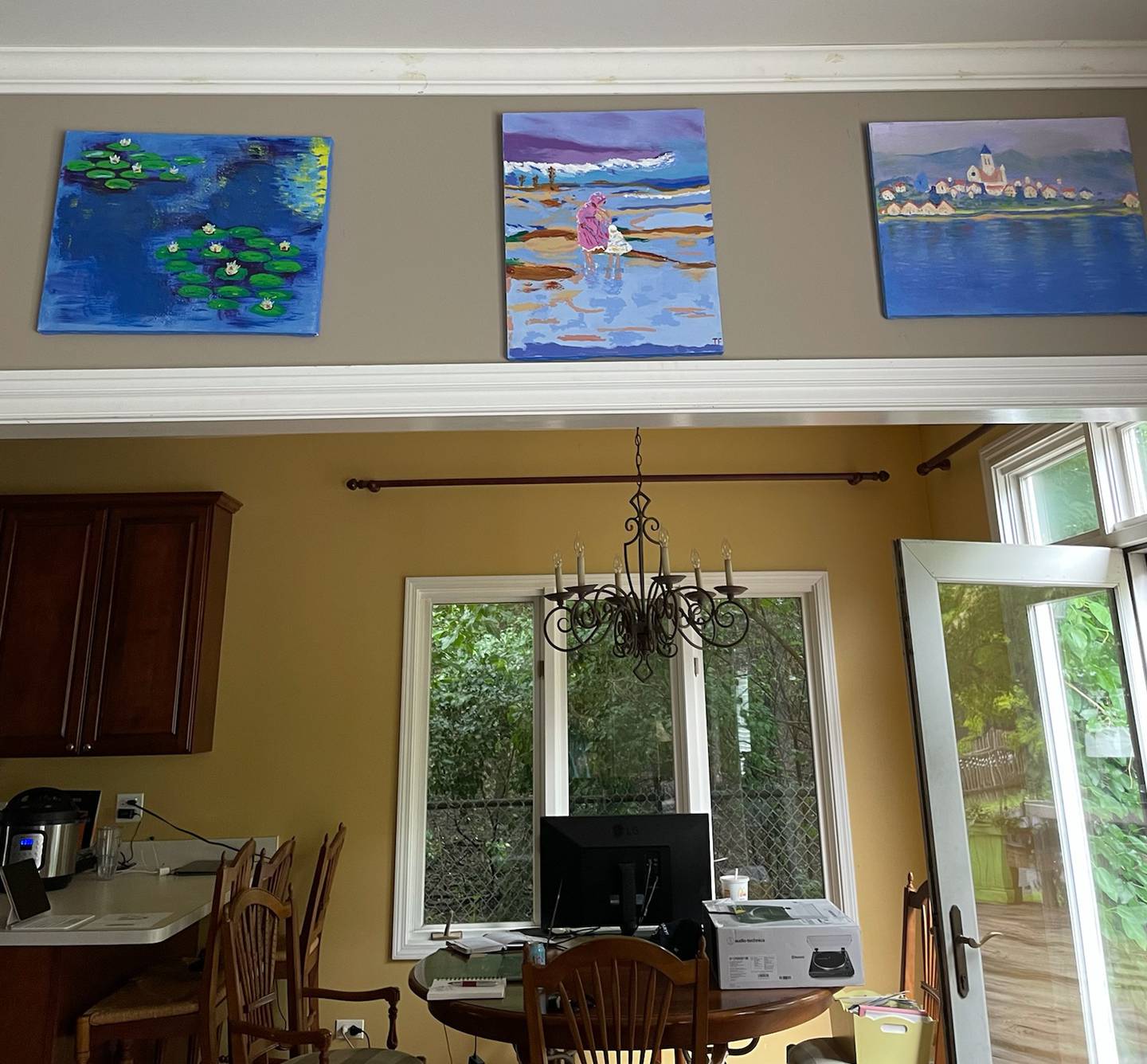 Tom probably is best known in the Joliet area for serving 32 years on the board of the University of St. Francis, eventually serving as its president.
James Doppke of Libertyville, USF president from 1995 to 2002, said Tom was "concerned about others as a human being" and he was "committed to the institution and its mission" of providing the "best possible services and education to students" so they could achieve their goals.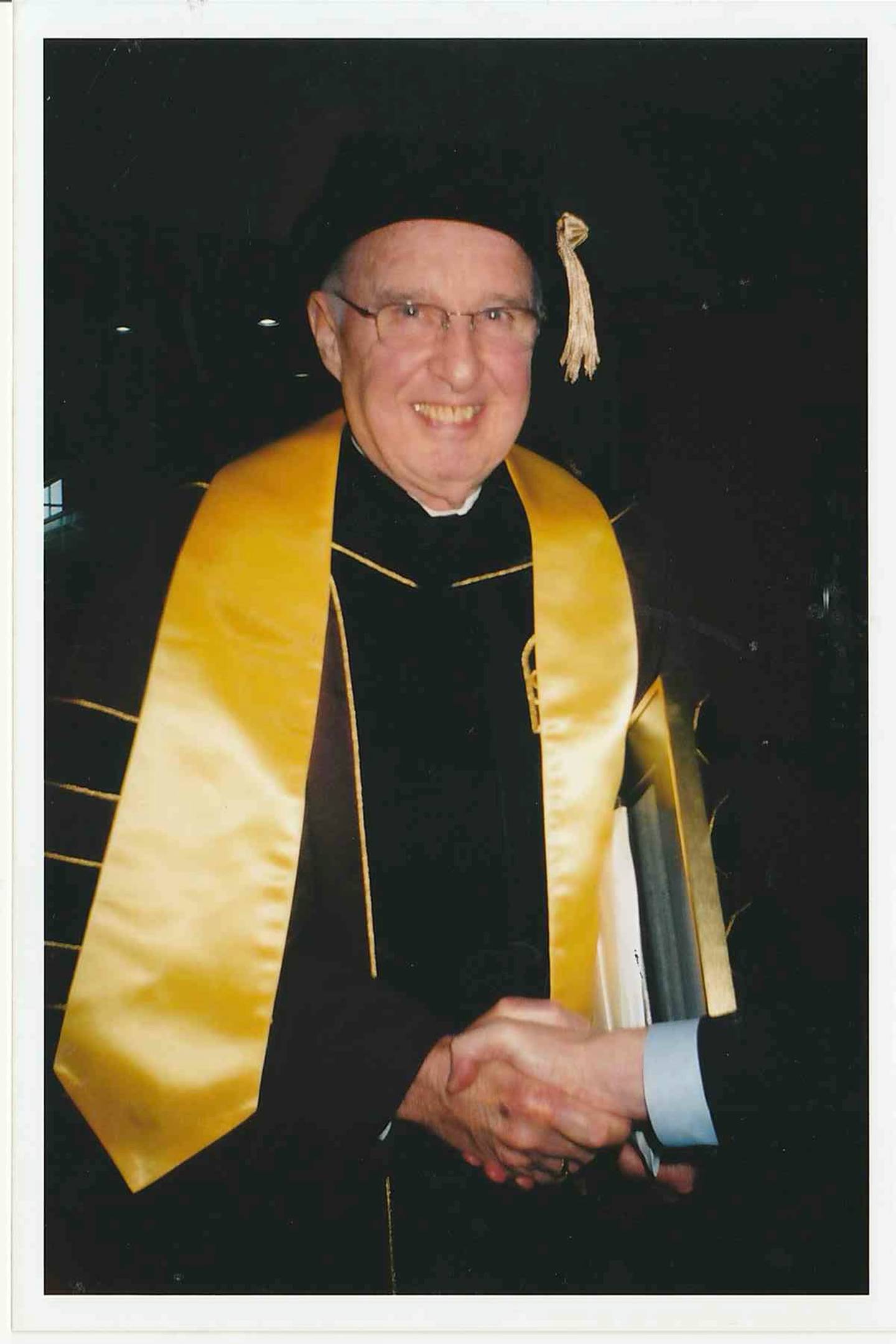 And Tom was always cheerful.
"He was never down-in the-mouth. He was always very positive and upbeat," Doppke said. "He was a special and really unique person."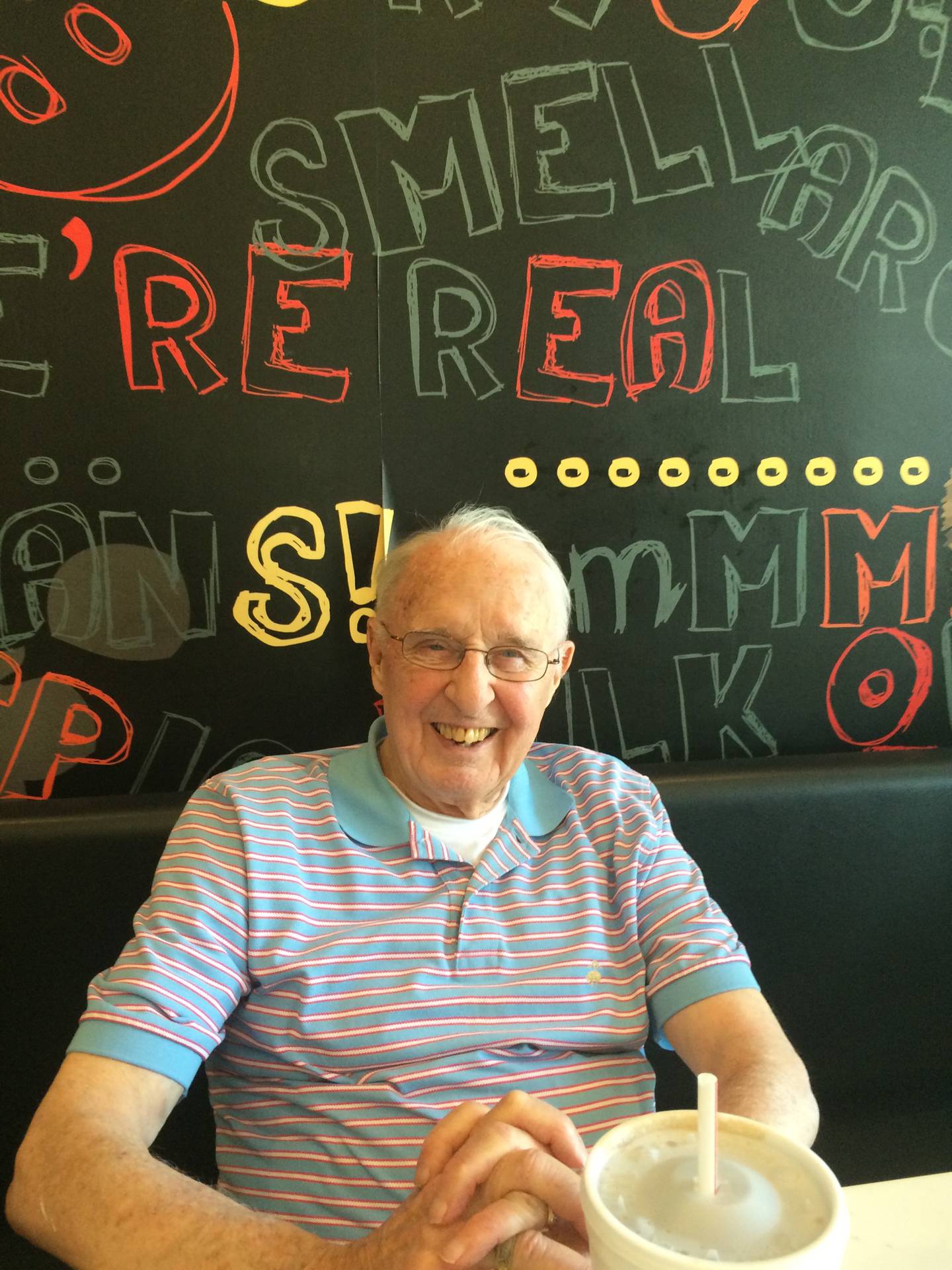 Building blocks
Nancy said Tom was a builder and that he came from a family of builders. Tom's grandfather William Keough was the first mayor of Lockport and Tom's uncle was the first mayor of Lemont. They helped build the Illinois & Michigan Canal that came through Lockport, Nancy said.
"He grew up in the same house my grandparents built," Nancy said.
A neighbor taught him how to train homing pigeons and he swam in a nearby quarry, Nancy said. Tom attended Sacred Heart School in Lockport (now St. Dennis School), worked at the former Fitzgerald's Furniture Store in high school and graduated from Lockport High School.
Tom graduated first in his class from St. Ambrose University in Iowa and met his future wife, Lois Keigher (deceased) of Joliet, through his sister, Nancy said.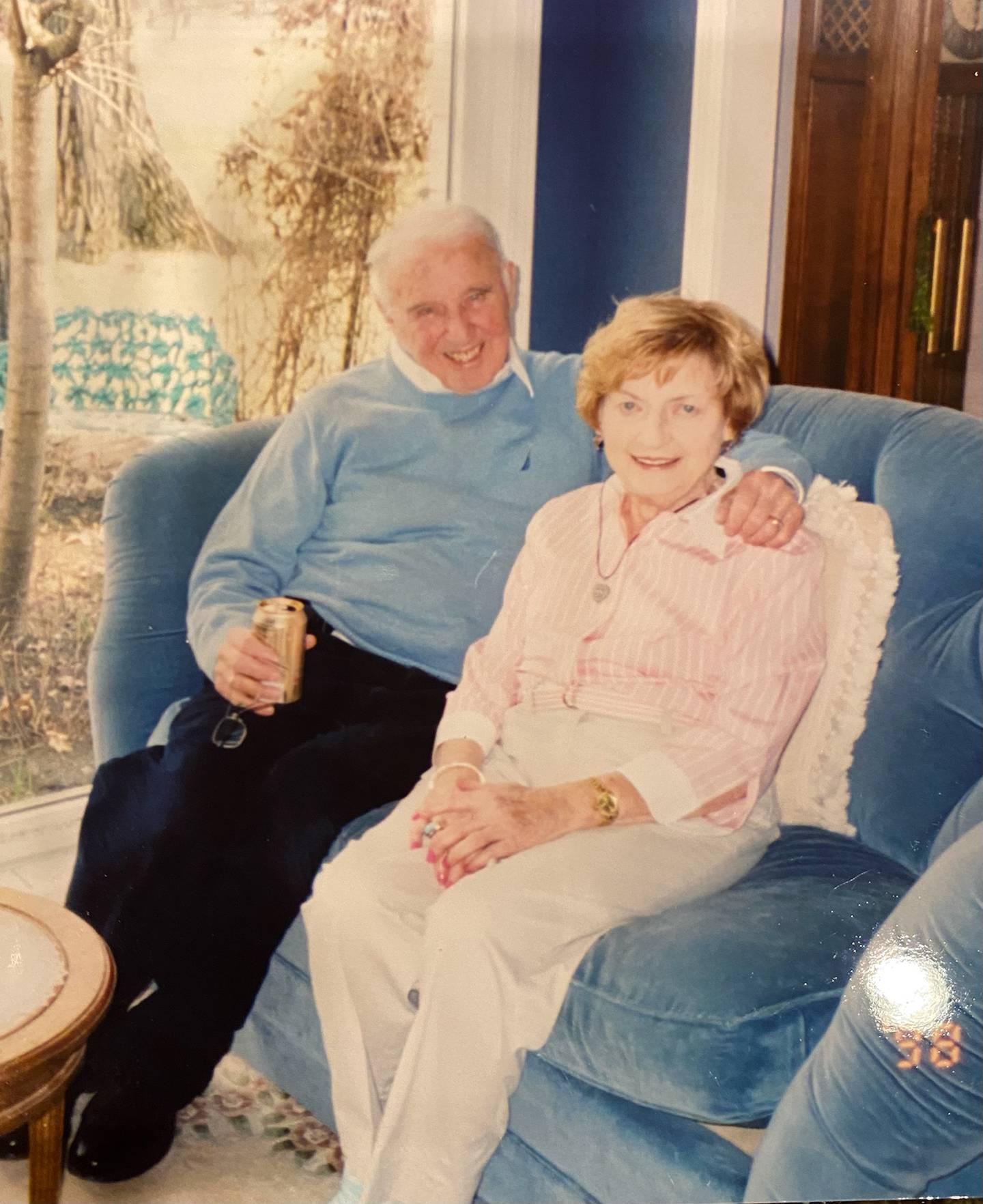 He served in the Army 's 3rd Armored Division and as a crewman in a Sherman Tank during the Korean War.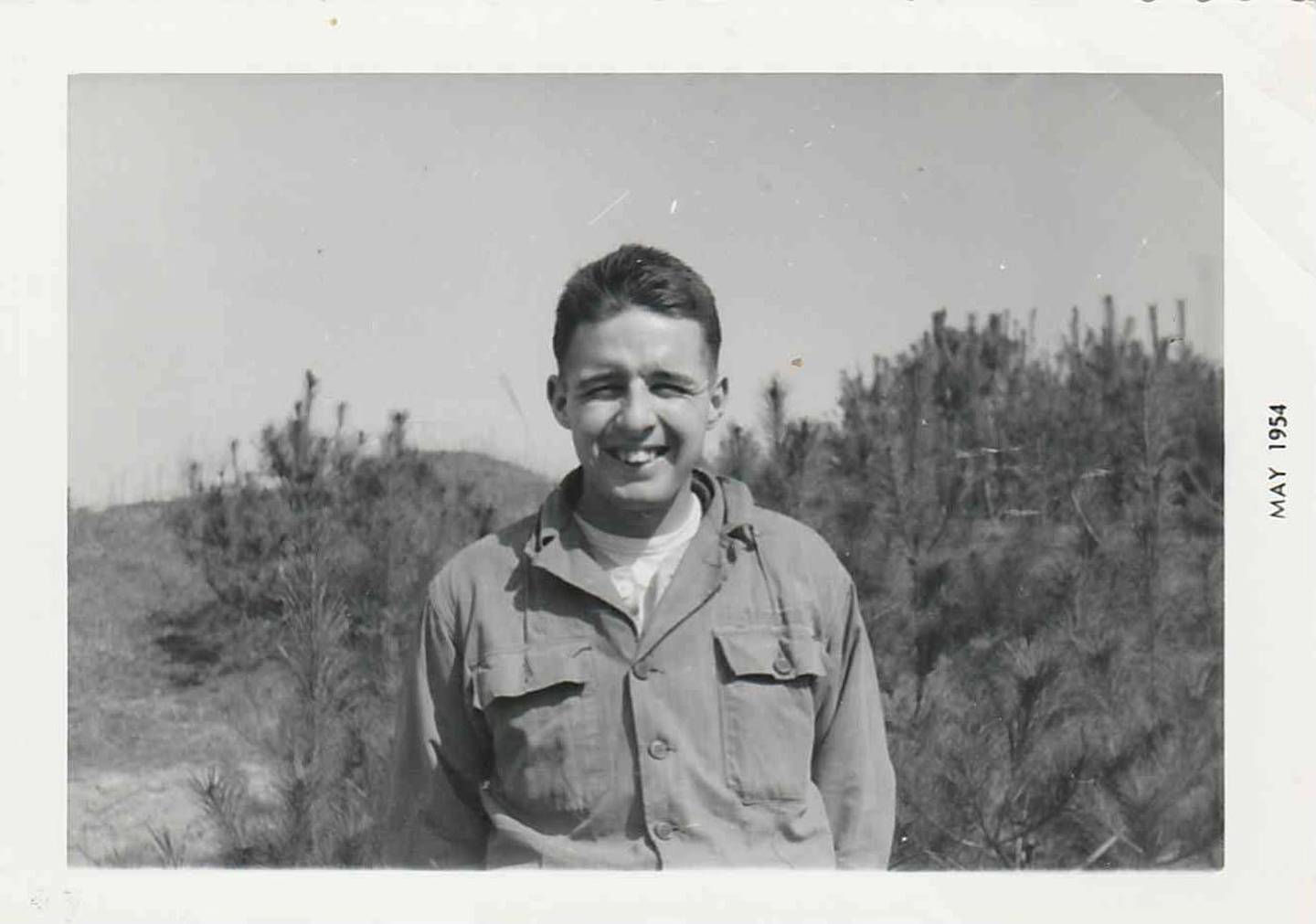 He taught many of his fellow soldiers how to read and do arithmetic and he wrote his family a letter every day. Nancy said she feels the war strengthened and cemented Tom's Catholic faith. She's always known him to attend daily Mass and he always carried a rosary in his pocket, she said. Tom also was devoted to Jesus' mother Mary, St. Anthony and Thérèse of Lisieux ("The Little Flower").
"He was in a tank on the front line and served as the lookout," Nancy said. "And [the tank crew] gave up smoking because they were afraid the enemy might just see a little light from the cigarette and attack."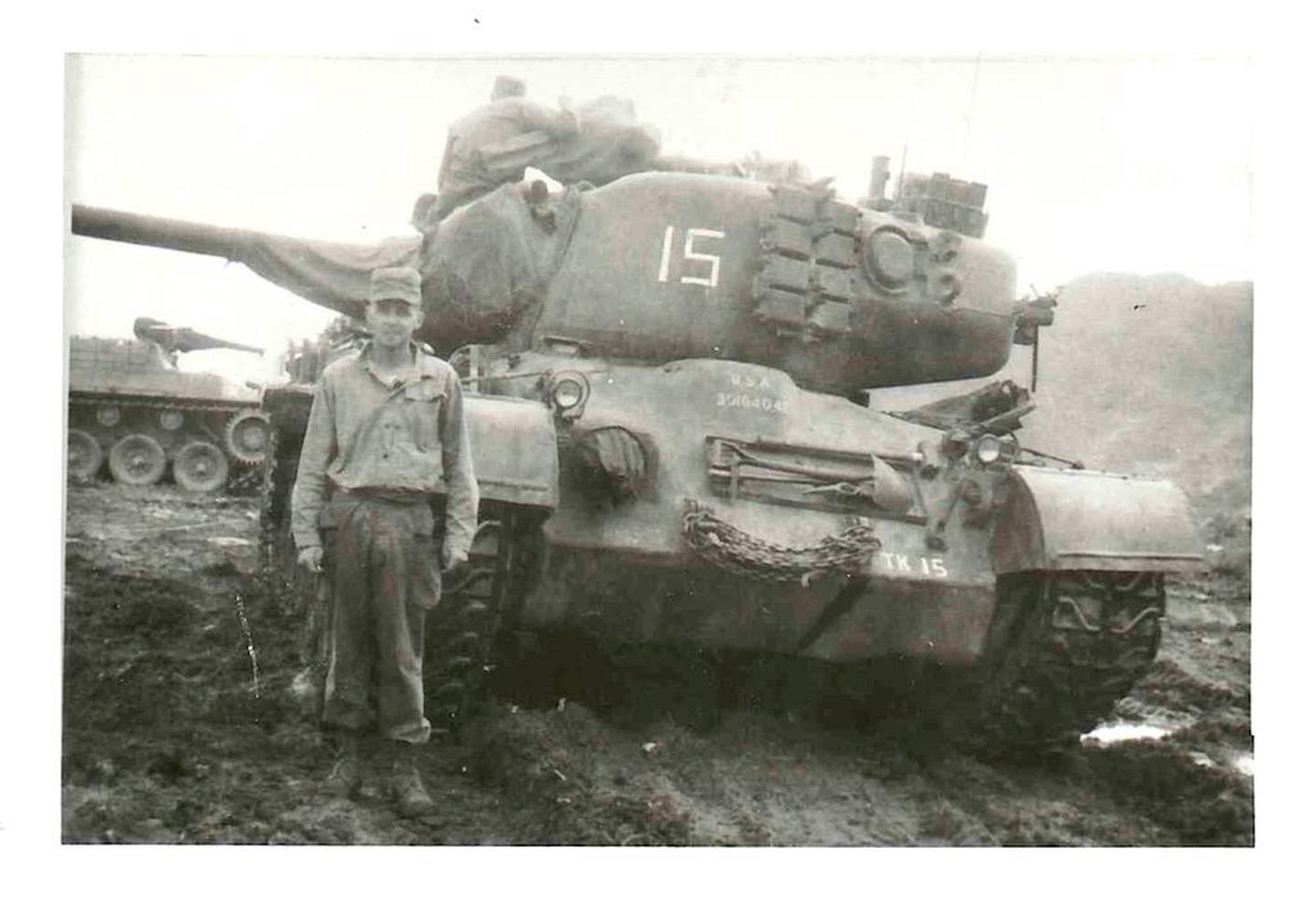 Systems, strategies and service
When his service ended, Tom reconnected with Lois and married her; they had nine children: Mike, Cathy, Margie, Sue, Nancy, Joe, Johnnie, Eddie and Patrick.
Tom also earned his master's degree from DePaul University and worked for Inland Steel Company for more than 35 years, first in accounting and then working with computer systems.
"He was a manager of systems and strategy and work, and then he'd come home and help develop strategies for cleaning the house and doing the laundry, making it achievable and also little enjoyable," Nancy said. "There was always a reward if you did it right."
The family lived in Lockport during the early years and then moved to Downers Grove and finally Darien. Tom and Lois became very involved at St. Joseph Church in Downers Grove, Nancy said.
Nancy said Tom often had work to do at night and he'd get that work done while sitting at the dining room table with the kids, helping them with homework and bouncing a baby on his knee – he always had a baby on his knee, Nancy said.
Tom also ran the Holy Name Society at his church, and he'd bring that work home, too, and have the kids help him stuff envelopes.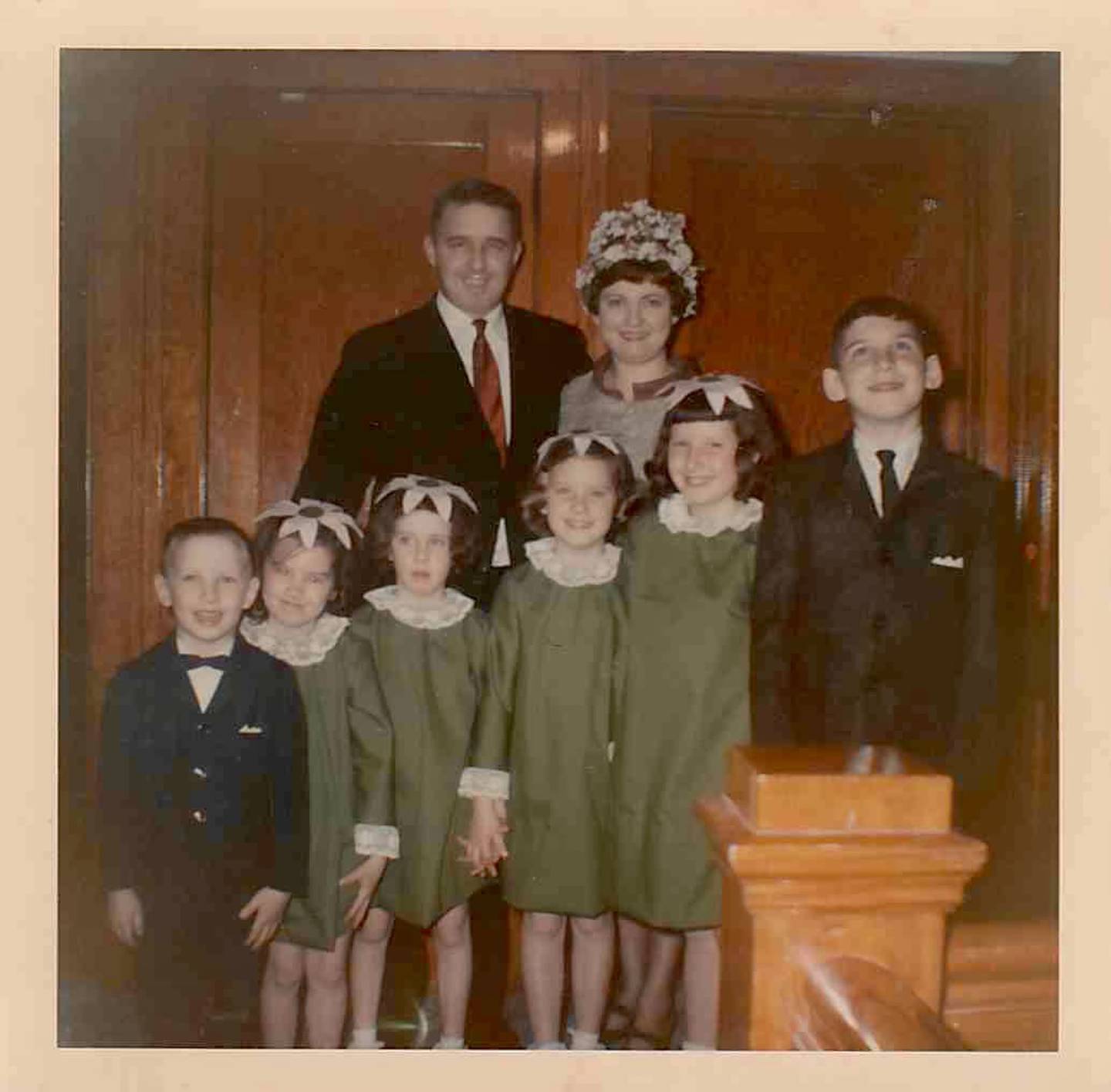 "He'd give the nuns at our grade school rides to anywhere they needed to go," Nancy said. "And we rode in the car with him when he gave them a ride."
Love for the family tree
Tom had a deep devotion to family and to researching his family tree. That included trips to Ireland with famliy members to look up ancestral records, Nancy said.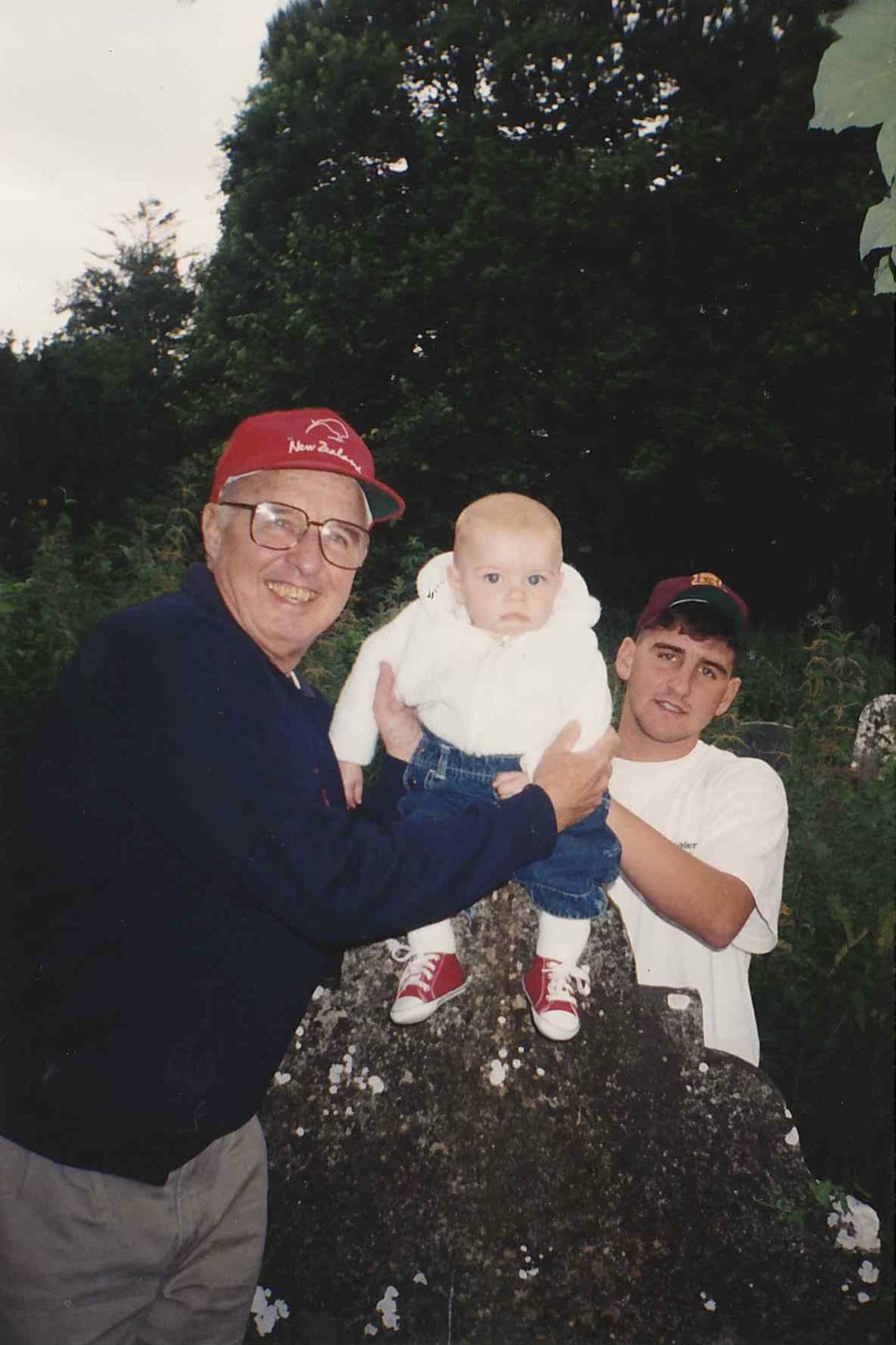 She recalled the day before her wedding, when time was tight and preparations were many.
In the meantime, Tom was out in the garage, cutting out the shape of a tree from a piece of wood. Then Tom brought the wooden tree inside and asked Nancy to write the names of all the family members on the tree in "fancy letters," despite Nancy's objections of, "Dad, I'm getting married in the morning."
Nancy recently found the tree when going through her father's house, and it brought back "the sweetest memory," she said.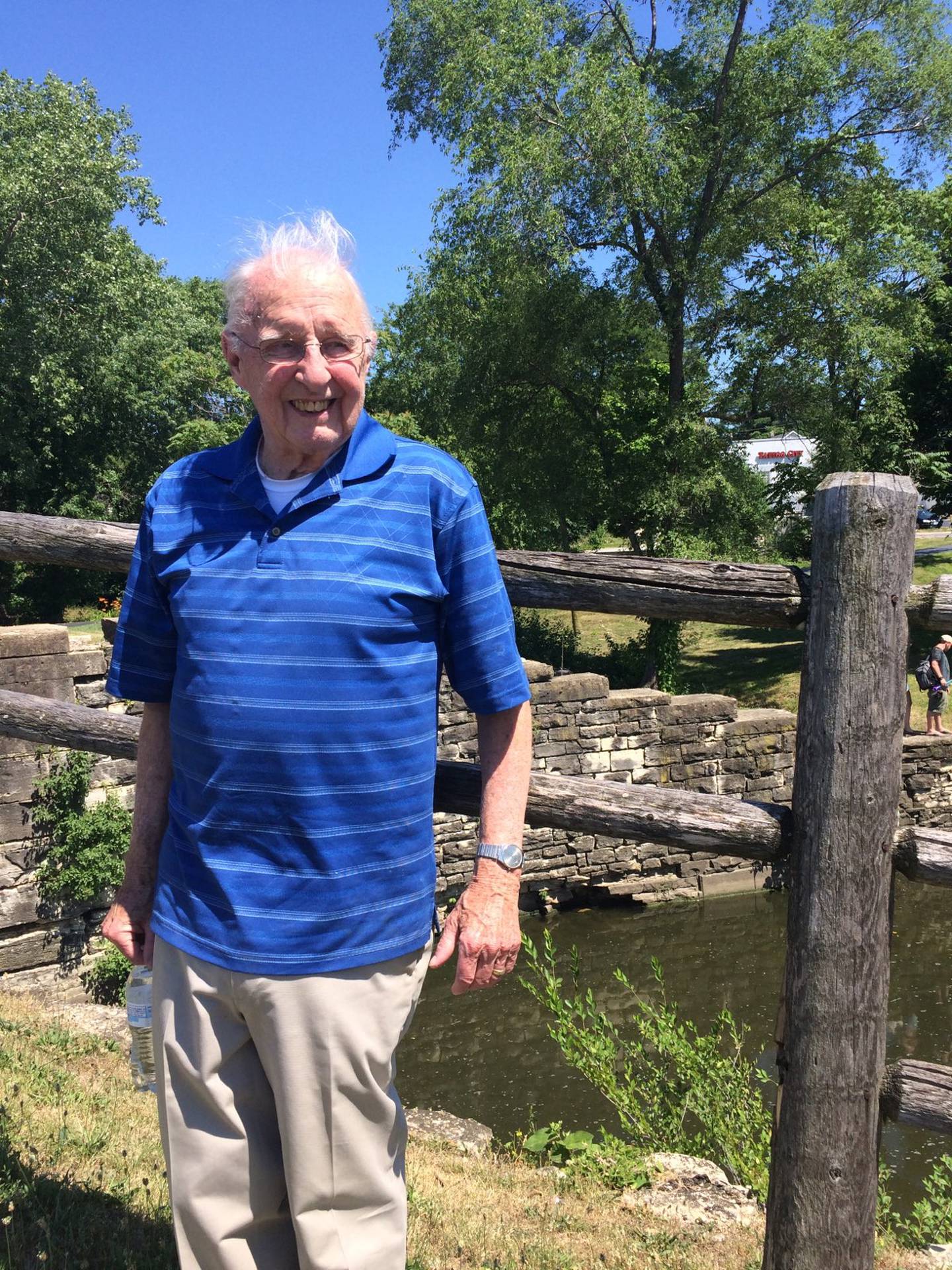 "I'm glad I didn't blow up at him for this," Nancy said. "I'm glad it had the fancy writing and that it was done in time for the wedding. This was very important to him, and he was so excited about it."
Nancy thinks another employee at Inland Steel Company was involved with the USF board and encouraged Tom to get involved, too.
The many ways USF grew under Tom Flavin's tenure
Jack Orr, USF's president from 1974 to 1995, said in USF's Engaging Mind & Spirit magazine that Tom not only organized and developed USF's financial affairs, "operations were stabilized, enrollments grew and experienced personnel were added" under Tom's tenure.
He was instrumental in leading the college to its greatest period of success and growth up to that point in its history," Orr said in the magazine. "Through his service and leadership, Tom Flavin brought life to the words of St. Paul in his letter to the Corinthians, 'Like a wise master builder, I laid a foundation and others are building upon it.' "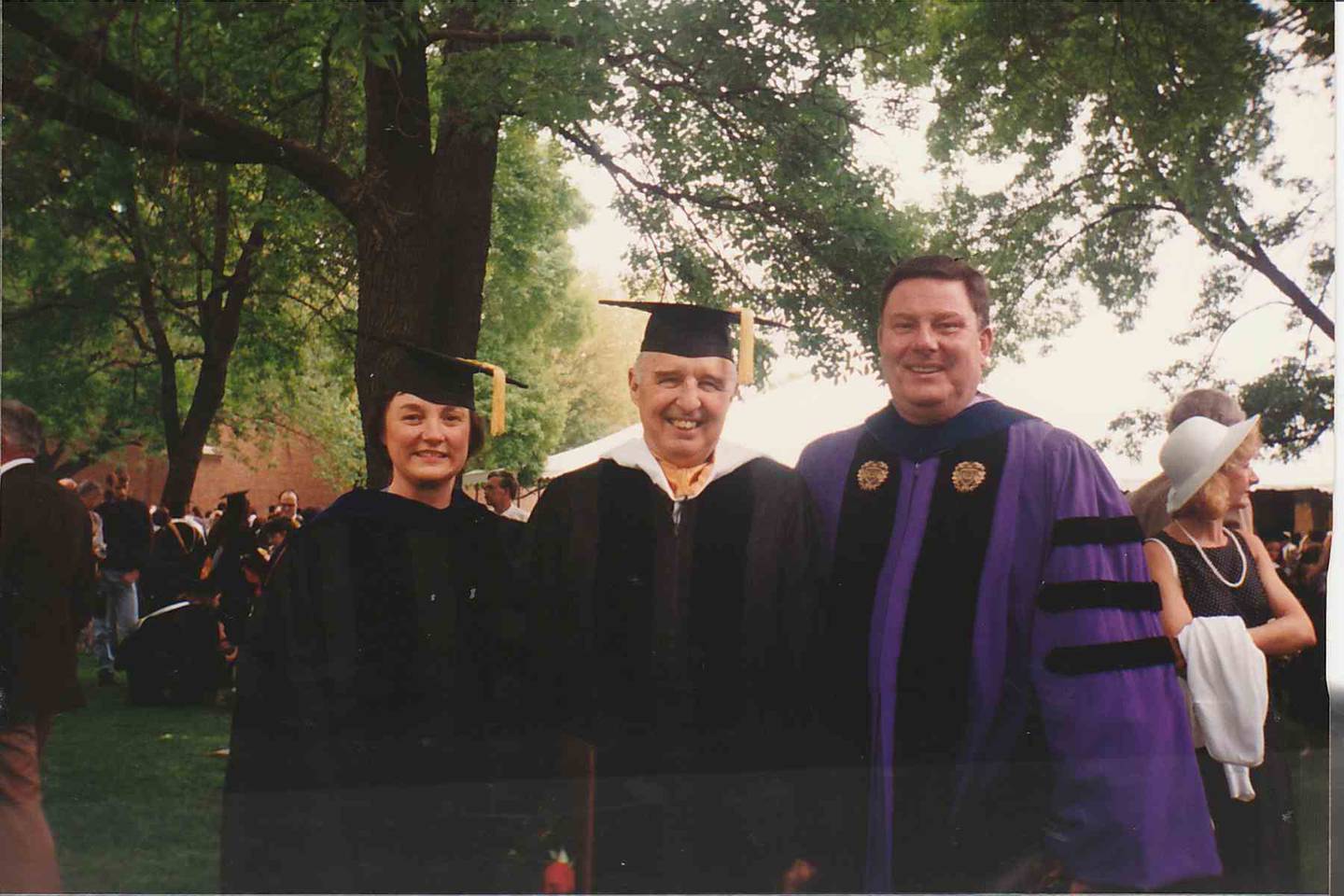 Arvid Johnson, USF's current president, said he's impressed when anyone does 32 years of anything, much less sitting on a university board.
Arvid said Tom saw the launch and relaunch of the men and women's sports programs, the launch of the off-campus degree program, the launch of the graduate programs, the building of the recreation center and the performing arts center, when USF achieved university status and when the university "went online."
"And we launched our [physician's assistant] program in Albuquerque," Arvid said. "That all happened under his tenure as a trustee. He was just a steady hand at the helm. And what a gift that was to us."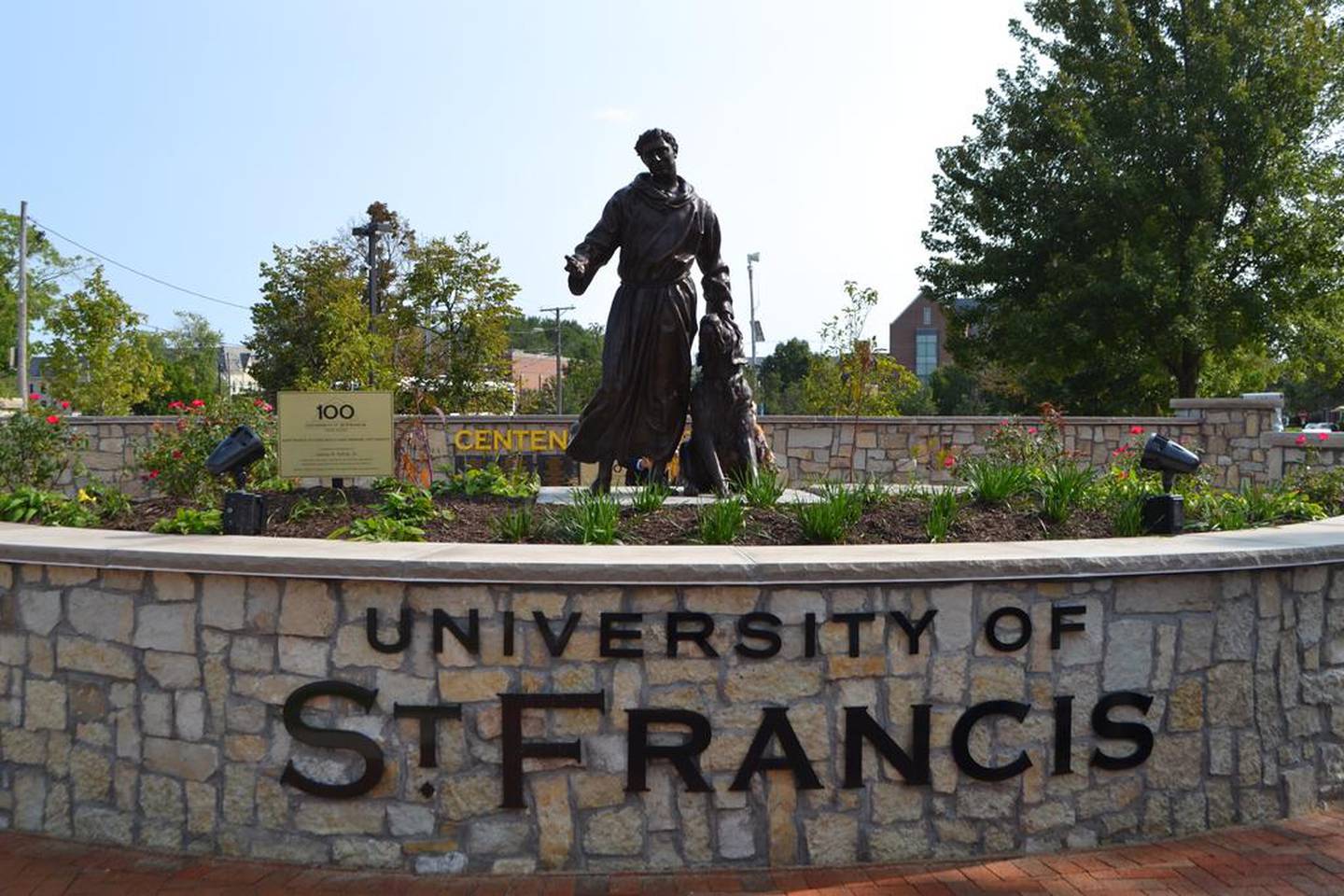 Carolyn Murphy, USF board chairwoman emeritus, said she became involved with the board in the 1980s and saw Tom as a mentor because of his faith and genuineness as a human being. Carolyn said that sometimes people serving on boards become involved with "the muck of the details," but Tom always brought conversations back to meeting the needs of the students.
"He had a keen eye on sound financial management and was not afraid to make tough decisions or take risks," Carolyn said. "And he did it with a style that was, in my opinion, quite unique. He was basically quiet, a good listener and was able to acknowledge individuals' contributions as they spoke. But, again, he always had his eye on the mission."
USF honored Tom with its President's Medal and an honorary Doctorate of Humane Letters degree in 1994. He retired from the board in 2003 and was honored as trustee emeritus that same year, according to the USF magazine.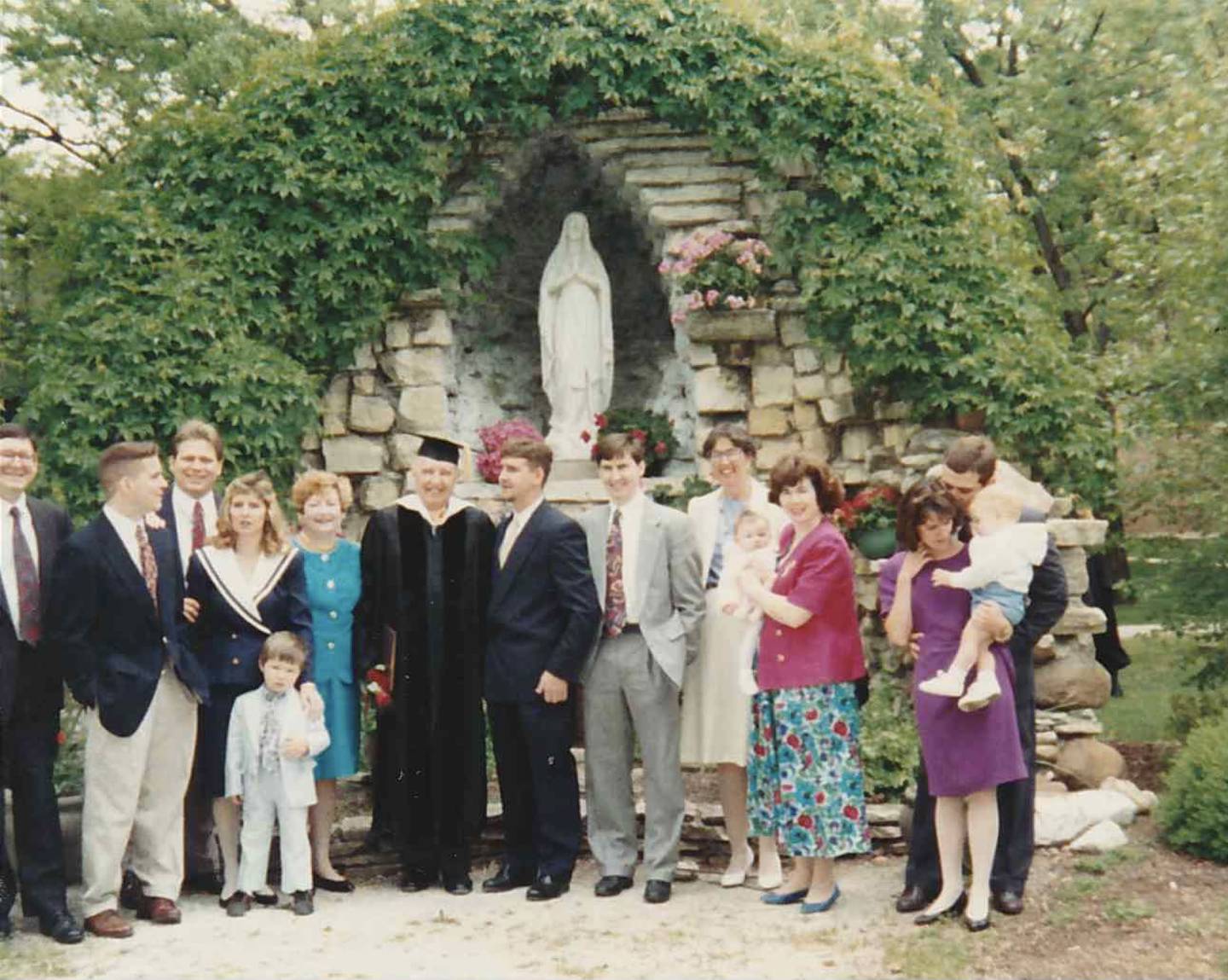 After Tom retired from Inland Steel Company, he worked as a consultant for various life science companies. He died Dec. 5 at the age of 90.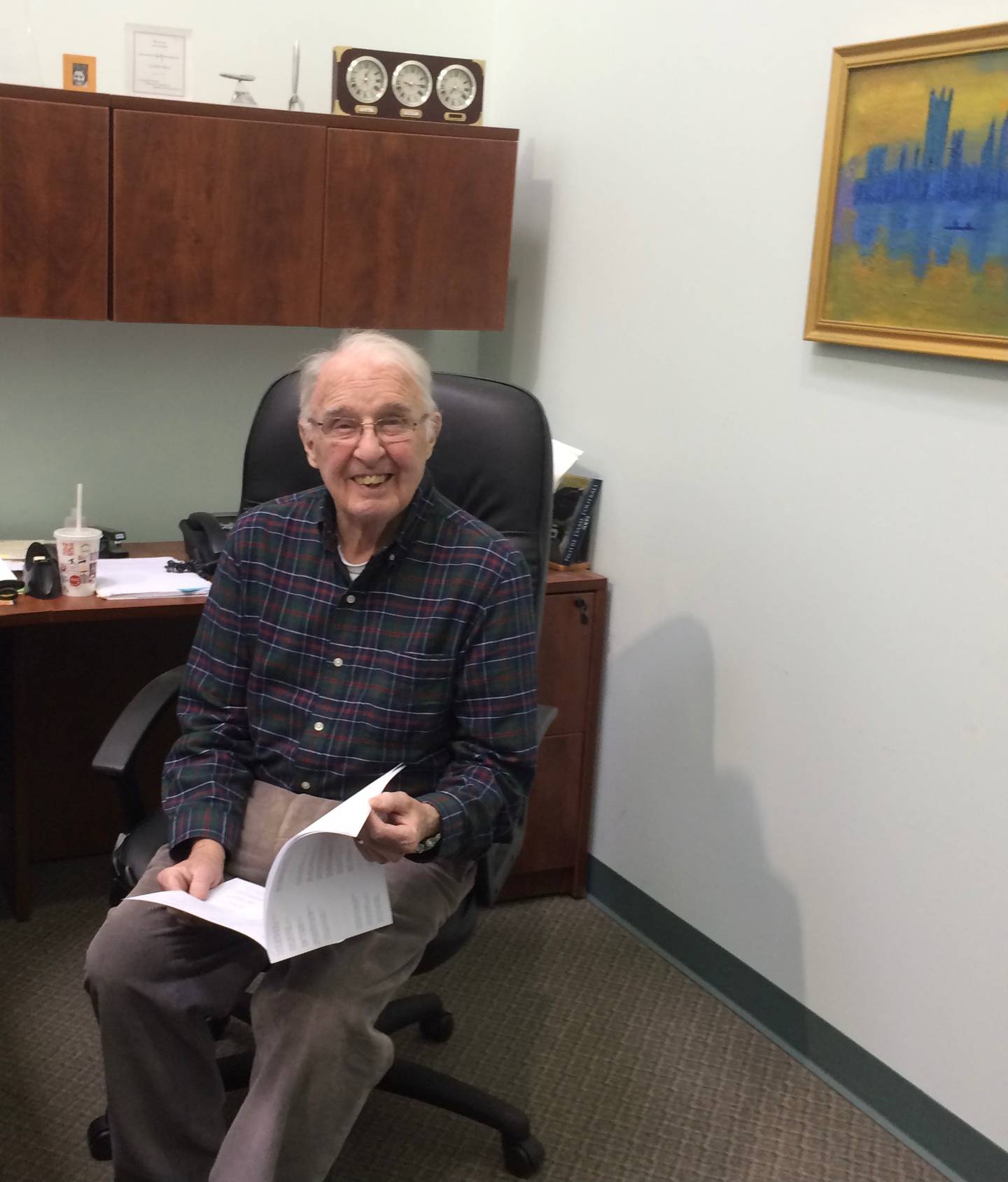 In addition to nine children, Tom had 36 grandchildren and 17 great-grandchildren. Nancy said she feels her father leaves a legacy of being a "man of action" and a man who exhorted his children to "be good to one another."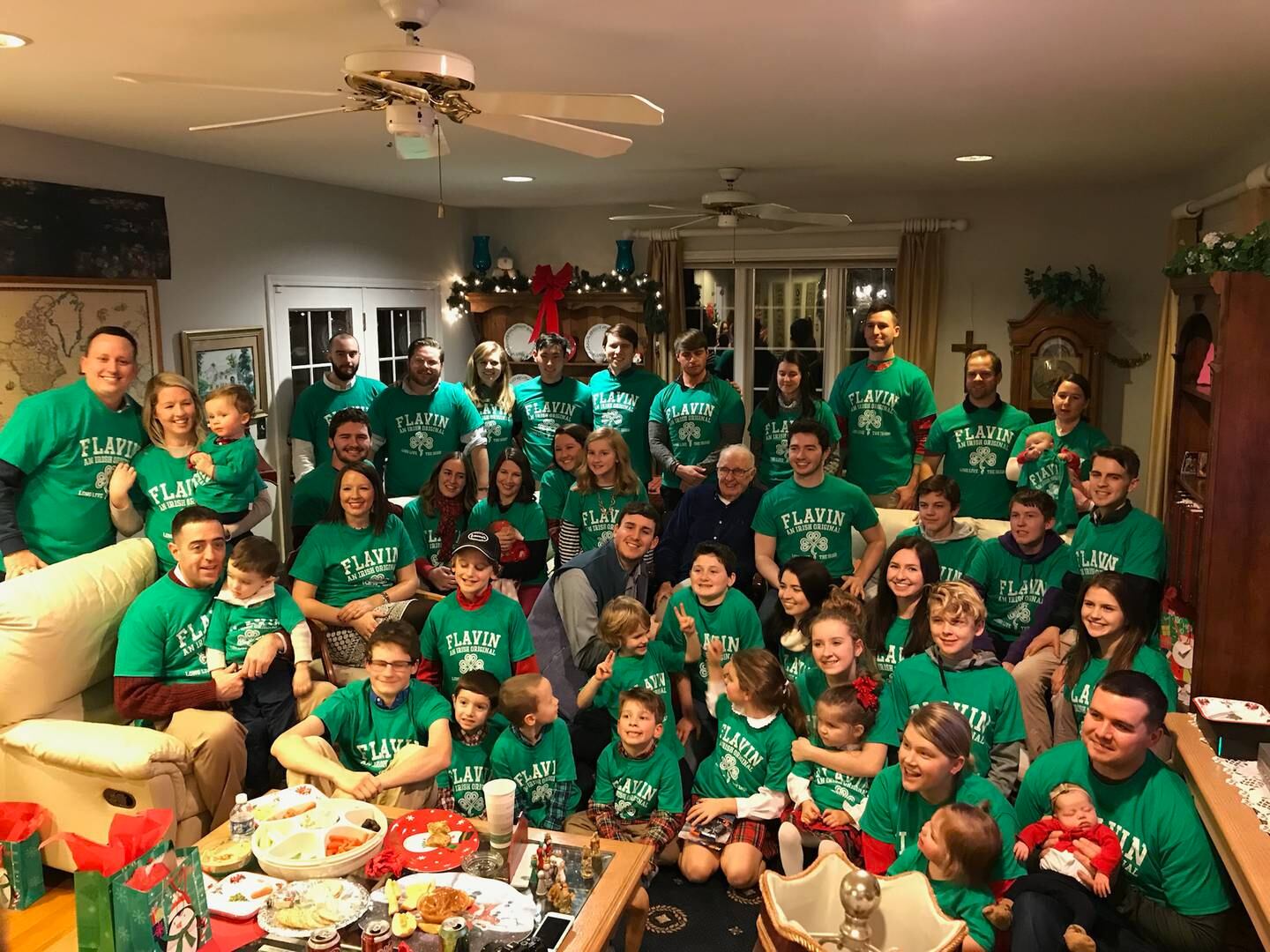 But lest anyone think Tom was perfect, Nancy shared one final memory.
A 'heart' for Notre Dame
The only thing that ever "riled up" this patient father of nine was Notre Dame football. He had such a passion for it, Nancy said.
One day when Tom was 69 and attending a Notre Dame football game, a player from Lockport was sent out onto the field to break the tie, Nancy said. Tom stood up and screamed at the player to make the kick. And then Tom "collapsed in cardiac arrest," Nancy said.
"He was almost at the top of the stadium," Nancy said. "They brought him to a local hospital, and he was in a coma for three days. We all thought it was the end, and they called us to come to South Bend. Father [Theodore] Hesburgh was [Notre Dame] president at the time, and he came to the hospital to give my dad a blessing."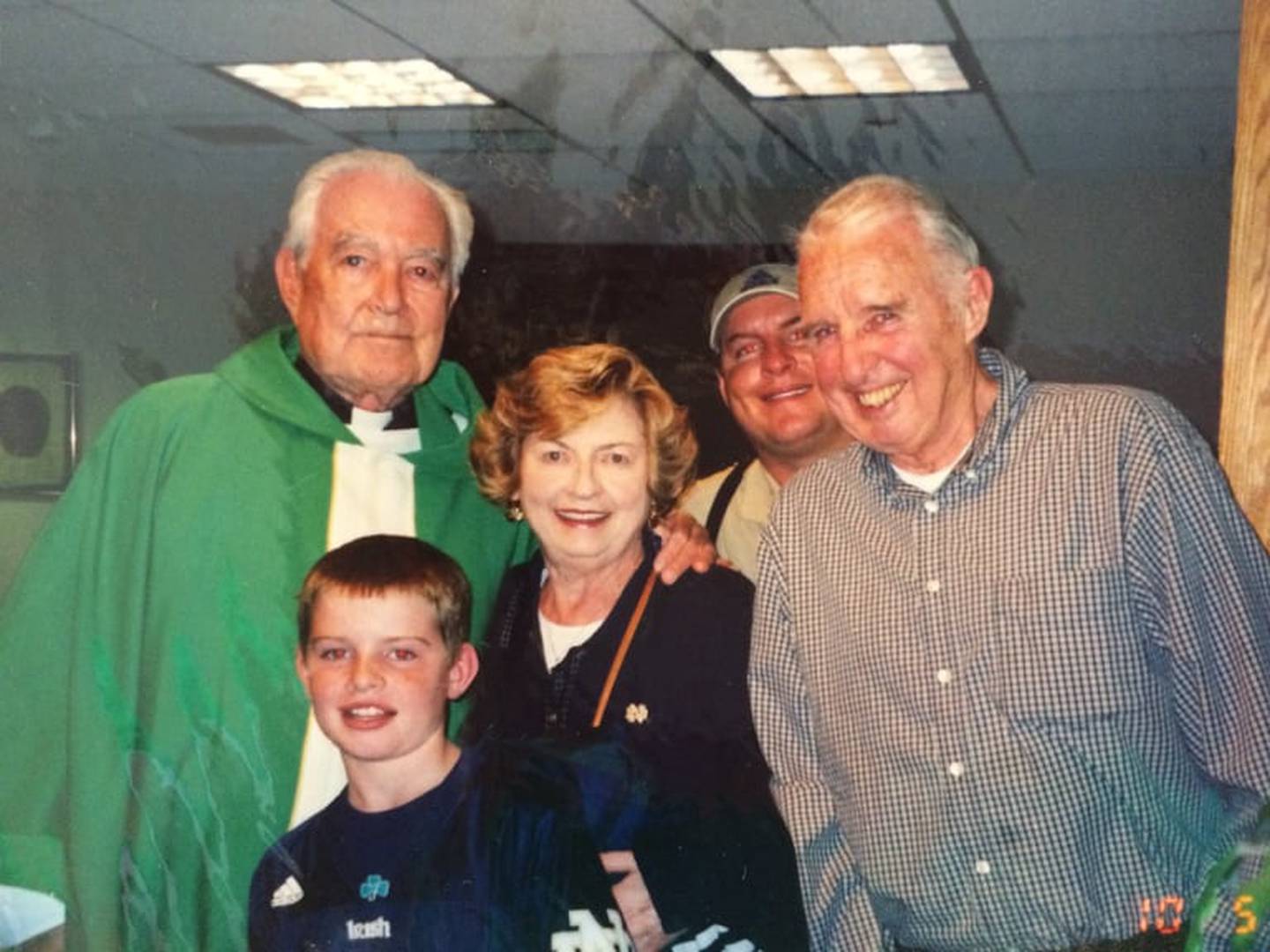 When Hesburgh arrived, Tom opened his eyes, Nancy said. And then Hesburgh made sure Tom knew that the player from Lockport had made the kick, she added.
"He (Tom] did have to have heart surgery. But he went back to work," Nancy said. "That was just a cool chapter from my dad's life."
• To feature someone in "An Extraordinary Life," contact Denise M. Baran-Unland at 815-280-4122 or dunland@shawmedia.com.