PLAINFIELD – Although Plainfield East already had clinched its second straight Southwest Prairie Conference title entering Thursday's boys volleyball match, the Bengals knew they couldn't just cruise.
Their opponent, District 202 rival Plainfield North, wouldn't let them. Not with district pride and the Battle of 119th Street on the line, not to mention an undefeated conference record.
East took care of business, defeating North 25-21, 25-17 to finish the league with a 10-0 mark and improve to 28-7 overall.
Senior captain Nathan Grutza had a big night for the Bengals with eight kills to go with a pair of aces. When the Tigers (21-14, 7-3) were hanging close in the second set, Grutza took over.
With the score tied at 12 on back-to-back kills and then a block by North's Aiden Cupps (match-high 12 kills), Grutza got the serve back for the Bengals, then stepped to the service line and delivered five straight points, the final two of which were aces, to put his team ahead for good at 18-12.
"It's nice to go through the conference undefeated in my senior year," Grutza said. "We found out at our banquet the other night that we were conference champs, so that was really cool. But we know we are always in for a battle against North. It's the Battle of 119th Street.
"We knew they were going to give us everything they had and that they would like nothing better than to ruin our undefeated conference season."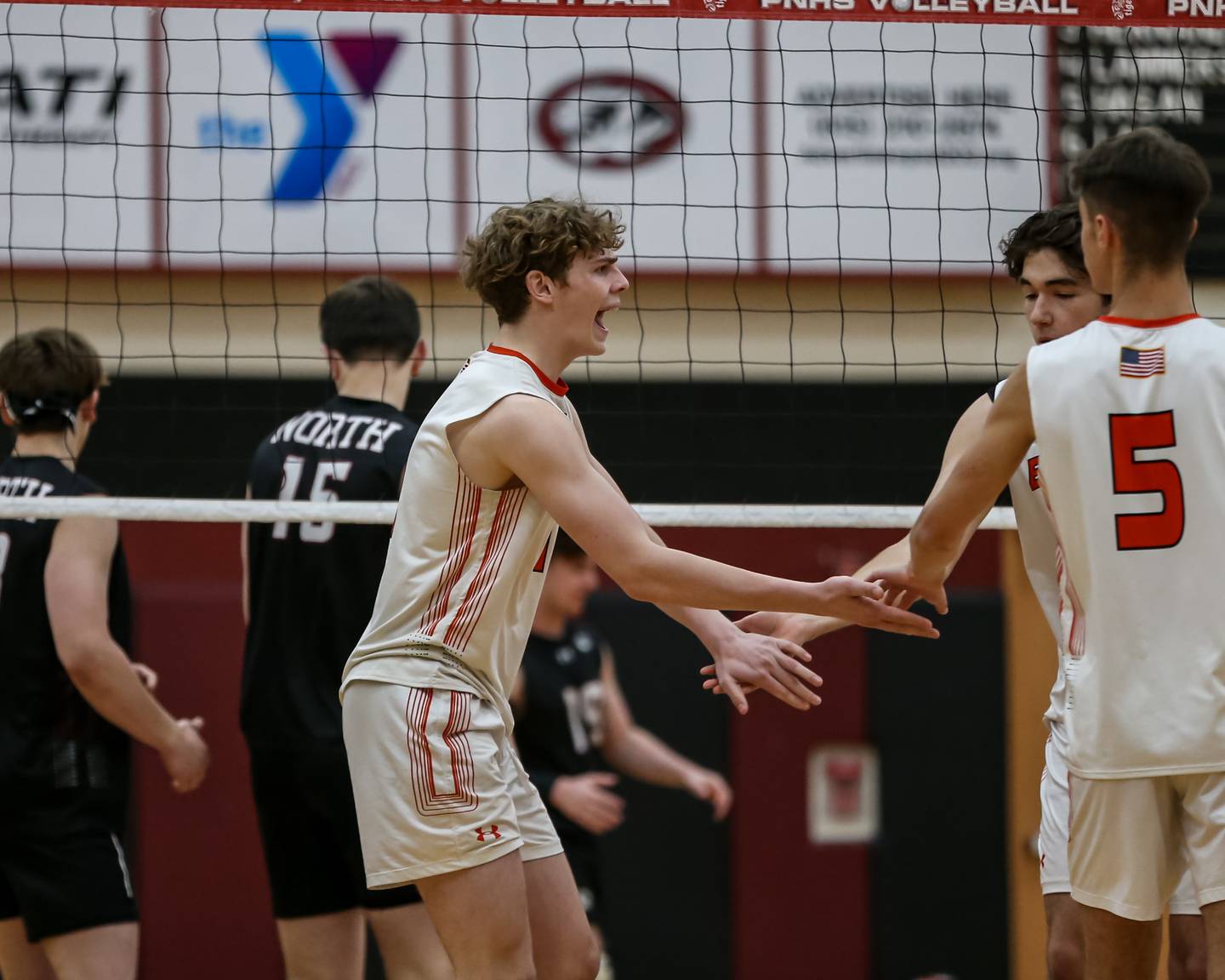 The Tigers seemed intent on just that, especially early on. With Cupps being closely watched by the Bengals' defense, teammate Jacob Seier delivered seven kills in the first set to allow North to stay close. The Bengals, meanwhile, countered with a multifaceted attack, with Grutza teaming with Braxton Francis, Timothy Bannon, Kendall Killins and Ethan Berry, as well as setter Thomas Tagtmeyer, to overcome the upset attempt.
One area in which East shined was remaining calm when things got off schedule. If the Bengals found themselves in a bad position, they didn't panic and worked together to send the ball back over the net.
"We have a lot of weapons," Grutza said. "Braxton and Tim in the middle, Kendall and Ethan and myself on the outside. And Thomas has a very good mind and knows where to put the ball. Plus, we are all good friends off the court, too. We know each other real well and have played a lot of volleyball together, so we know where everyone is going to be and what everyone can do.
"We're excited to get going in the postseason."
Grutza had four kills in each set, and his fourth kill of the first set ended it before he started the second set with another kill. Francis added six kills, two assists and three blocks for East, while Bannon had four kills and three blocks and Berry had three kills and a dig.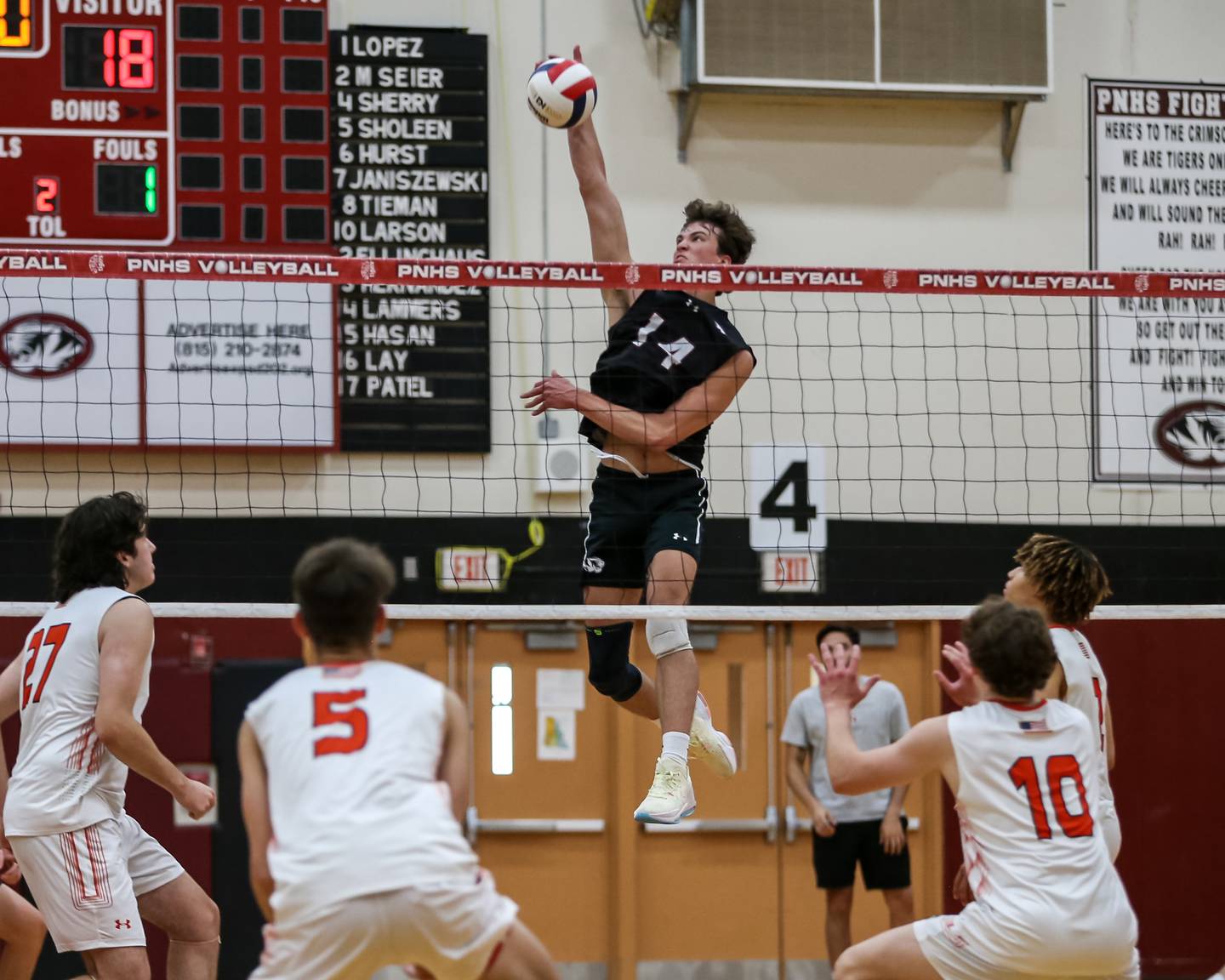 "We don't rely on just one or two players," Plainfield East coach Jeff Wilkie said. "This was a big week for us, winning the conference and playing a big rivalry game like this. I had a video playing at practice this week with a lot of crowd noise trying to prepare the guys for what they would face tonight and in the postseason.
"This match was all about pride and finishing the season the right way, and we did a good job of that tonight."
After Grutza gave the Bengals an 18-12 lead in the second set, they cruised the rest of the way for the win, getting kills from Bannon and Grutza and two from Berry.
"On paper, this game should have been undefeated North against undefeated East for the conference title, but we lost a couple of matches along the way," North coach Nick Ramos said. "Still, there was pride on the line, like every time we play another Plainfield school. It's even higher energy when we play East since the schools are so close to each other.
"It's no secret that Aiden Cupps is our go-to guy, and when he gets on a hot streak like he did for a while tonight, you have to keep getting him the ball. But they were defending him pretty well early, and that opened things up for Jacob Seier, and he did a great job for us."