A former Joliet councilman has filed a defamation lawsuit alleging the city's mayor and inspector general falsely accused him of participating in a criminal conspiracy against the mayor.
The lawsuit was filed Thursday by Jim McFarland's attorney John Schrock against Mayor Bob O'Dekirk, Joliet Inspector General Sean Connolly and the City of Joliet. The lawsuit will mark O'Dekirk's third since 2019.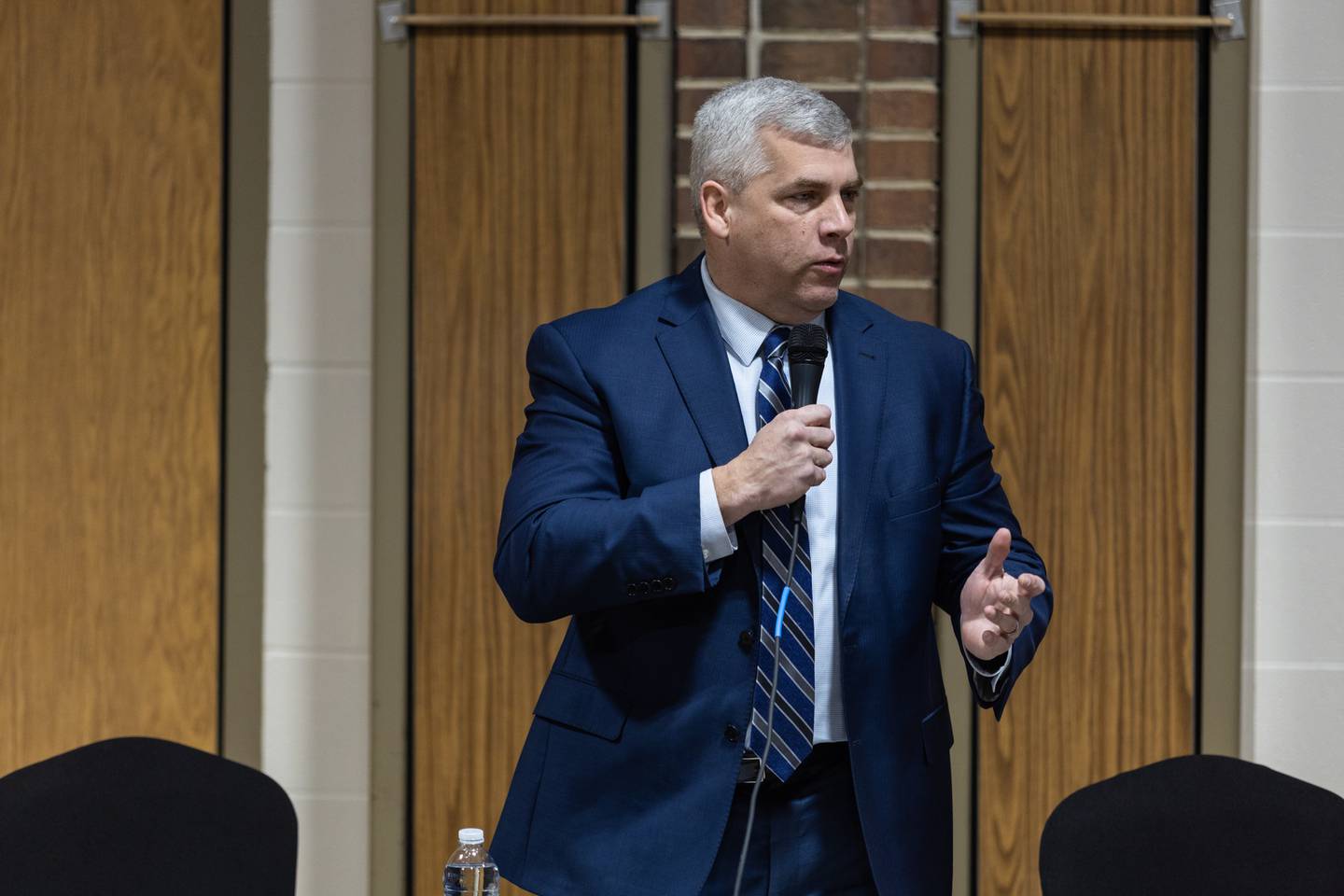 Connolly issued a report dated March 1 that alleged McFarland, retired Joliet Police Chief Al Roechner and several others were part of a "cabal" that pressured former council member Don "Duck" Dickinson into filing a false police report against O'Dekirk.
Connolly's report followed a 2020 Illinois State Police investigation into allegations that O'Dekirk was possibly blackmailing Dickinson and was in possession of his nude photos. That investigation led to a special prosecutor charging Dickinson last March with attempted obstruction of justice for allegedly filing a false police report in the case – a charge that was dropped in November.
McFarland's lawsuit asserted that Connolly began a "partisan, unfair, biased investigation that was outside the standards generally recognized by inspector generals to apply to their investigations to target [McFarland]."
"The investigation by Sean Connolly of [McFarland] was outside of Sean Connolly's enumerated powers as [McFarland] who was a private person and was not a resident, official, officer, agent, subcontractor, contractor of the City of Joliet or involved in any function or program of the City of Joliet," the lawsuit said.
The lawsuit alleged O'Dekirk and Connolly made false statements that McFarland committed the criminal offense of conspiracy
McFarland's lawsuit asserted he never attended any meeting at Roechner's residence, which was alleged in the inspector general report, and never conspired with others to charge O'Dekirk with a crime.
The lawsuit also alleged McFarland "did not lie about being told by a prominent elected Will County official that O'Dekirk had photos of Dickinson's genitals and [McFarland] had no conversations with the prominent elected Will County official about Dickinson at all."
McFarland did not respond to a call Thursday.
Schrock said McFarland was not interviewed by Illinois State Police in the Dickinson investigation. He said McFarland also did not a return a call regarding Connolly's investigation into the same matter.
"He had no obligation to," Shrock said.
McFarland did not tell Dickinson that he heard O'Dekirk was in possession of Dickinson's nude photos, Shrock said.
"All McFarland did was call [Dickinson] on [Oct. 23, 2020] and say don't resign," Shrock said. "That's it."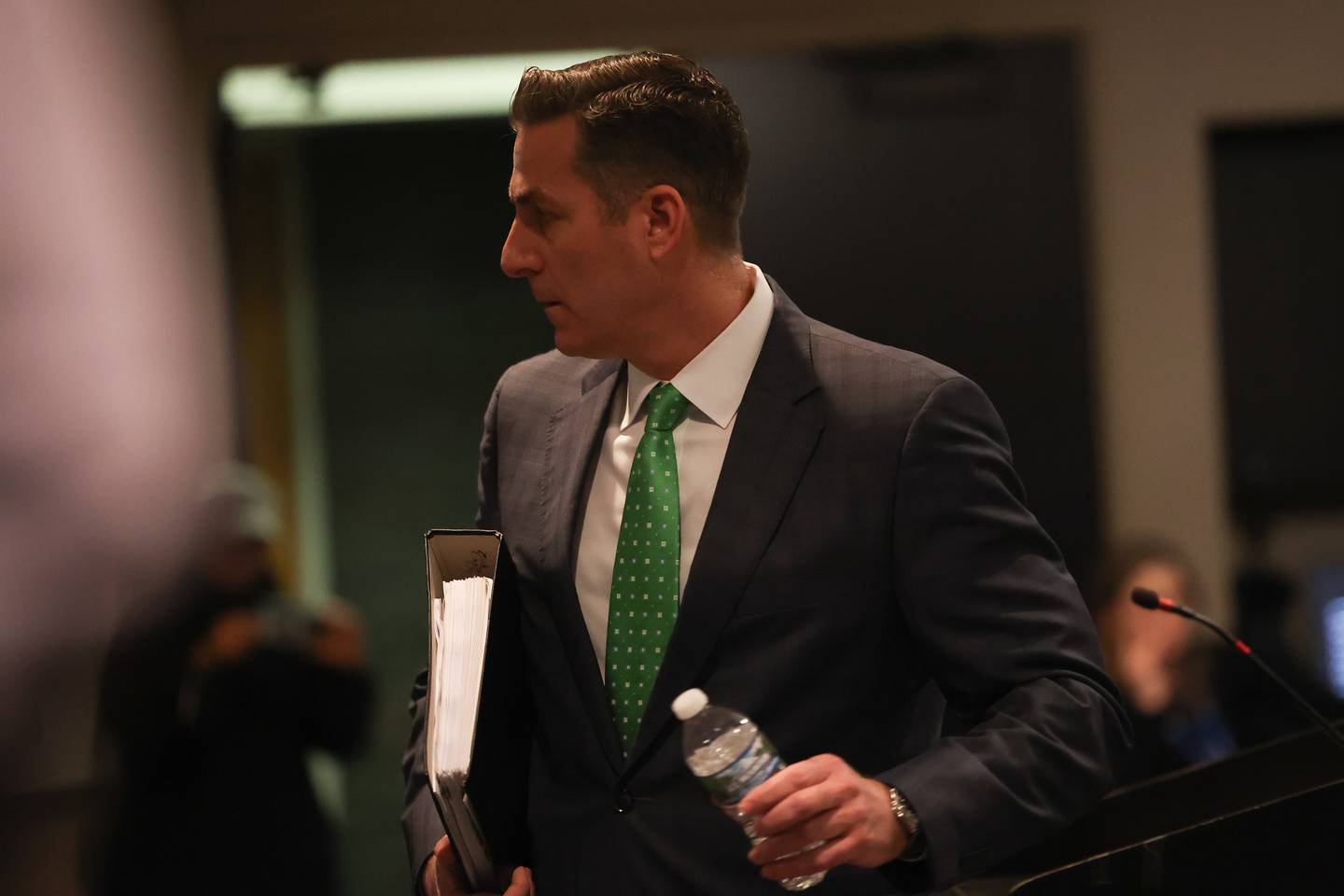 O'Dekirk on Thursday said more information is yet to come on the Dickinson matter and defended the allegations made against McFarland.
"McFarland's role in all this was documented in multiple police reports," O'Dekirk said. "I didn't create those reports. I didn't make those allegations and neither did the inspector general."
McFarland's lawsuit, however, argues that certain conclusions made in the inspector general's report, including his alleged participation at the meeting at Roechner's house, are contradicted by the state police reports.
Connolly did not return calls for comment.
But Patrick W. Walsh, an attorney for Connolly, sent a statement saying Connolly did not make false statements or defame McFarland and "will not be intimidated or bullied out of fulfilling his duties as Joliet's inspector general."
The statement also said, "If Mr. McFarland does not dismiss his complaint after the elections, the judicial process will permit the inspector general's counsel to finally ask Mr. McFarland questions under oath about the facts, his reputation, and what his role was in all matters raised by the complaints."
O'Dekirk has been sued two other times while in office. Both cases resulted in settlements.
In 2020, O'Dekirk was sued by brothers Victor Williams and Jamal Smith over a May 31, 2020 altercation. The case resulted in a $93,000 payout by the city of Joliet.
An insurer for the city paid a woman $50,000 to settle her 2019 lawsuit against O'Dekirk, who crashed into her car while driving his stepdaughter to school in a city vehicle.