A special prosecutor has charged a former Joliet councilman with providing police false information that the Mayor Bob O'Dekirk had threatened him.
On Wednesday, Special Prosecutor Bill Elward charged Don "Duck" Dickinson, 59, with attempted obstruction of justice in connection with the Nov. 2, 2020 incident. The charge is a class A misdemeanor punishable by up to a year in jail.
Elward's criminal complaint alleged Dickinson – with the intent to commit obstruction of justice – performed a "substantial step toward the commission of that act" by knowingly providing false information to former Joliet Deputy Police Chief Marc Reid, as to the conduct of Joliet Mayor Bob O'Dekirk.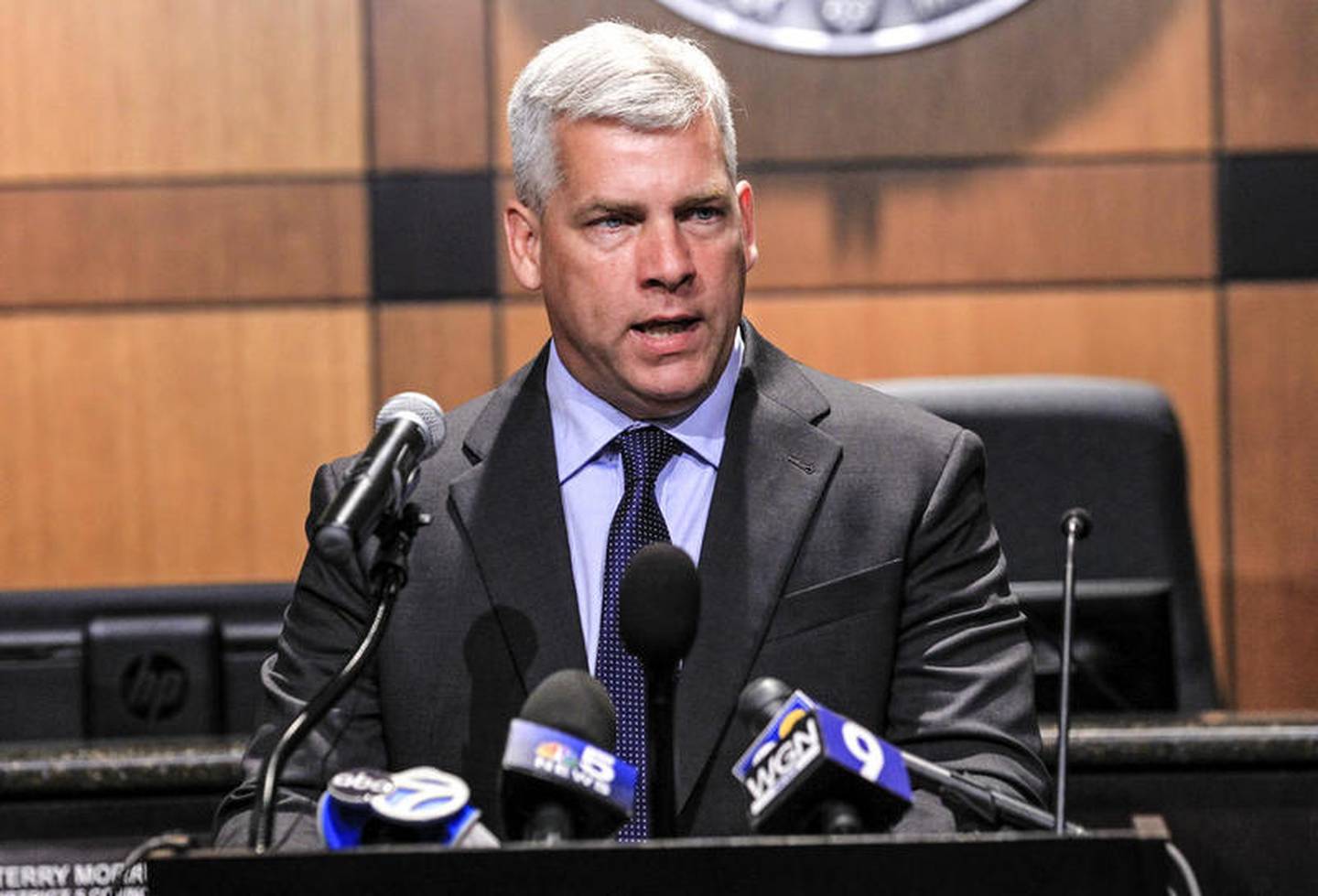 The false information given to Reid was that O'Dekirk had threatened him, the complaint said.
The case was investigated by Illinois State Police. Officials with state police did not immediately provide further information about the case as of Thursday.
No warrant was issued for Dickinson's arrest. Instead, Judge Art Smigielski signed a summons for Dickinson to appear in court on April 11 to answer the attempted obstruction of justice charge.
In a report filed on Nov. 2, 2020, Dickinson accused O'Dekirk of "intimidation" and somehow getting his hands on nude photographs of him, according to a Joliet police report obtained by The Herald-News.
The report lists Dickinson as a victim in the case, O'Dekirk as a suspect and Joliet Park District Commissioner Jennifer Jobe-Gavin as "other."
"During executive session of a city of Joliet Council meeting, Robert O'Dekirk (Mayor) turned and look(ed) at V/Dickinson and stated 'And you Dickinson, the truth is going to come out about you,'" the report said.
Dickinson "was later advised that S/O'Dekirk was informing people that S/O'Dekirk claimed to have nude photos of V/Dickinson," according to the report.
The incident occurred in March 2020, the report said.
After the report was filed, O'Dekirk denied having any photographs of Dickinson other than one he says the councilman sent of himself from when he was in high school.
"It's outrageous that he would say that," O'Dekirk said in 2020.
"Filing a false police report in Illinois is a crime," O'Dekirk, who is an attorney, said at the time. "And without reading the report and just taking your representation, Don Dickinson committed a crime and I fully expect him to be prosecuted for what he's done."
On Thursday, O'Dekirk characterized Dickinson's allegation as "a lie."
"I don't know how many people ever believed it in the first place," O'Dekirk said. "I said a year and a half ago it was a lie, and I think it was evident when he quit the council."
Dickinson resigned from the council a few weeks after filing the report and making a public statement at a council meeting the same day that he believed he had been harassed and blackmailed.
The mayor said he has not heard from Dickinson since.
"He never set the record straight," O'Dekirk said. "I guess it speaks to his character."
Dickinson could not be immediately reached for comment.
Elward would not discuss the case.
"Yeah, I got no comment," he said.
In 2020, Dickinson confirmed that he suspected a Joliet elected official had been plotting to blackmail him with a nude photograph but would not comment on the police report or the alleged involvement of O'Dekirk or Jobe-Gavin.
Dickinson is a former employee of the park district.
"I feel like I'm being hunted, harassed, intimidated, blackmailed," said Dickinson, telling how the pressure prompted him to announce he would not seek reelection to the city council in April 2021.
At his last City Council meeting on Nov. 2, 2020 Dickinson read a statement saying, "Over the last six months I have been put in a position that has been very uncomfortable for me with my role on the council. This has affected all the decisions that I need to make to help the city of Joliet move forward."
Dickinson said he had been "harassed, badgered, tormented and now blackmailed unfairly."
"This is over a relationship I had a few years ago with another consenting adult," he said. "Photos were sent between us, for us and for us only. This issue is being held over my head."
O'Dekirk questioned the statement Dickinson made during the meeting, saying, "It looks like a political stunt."
Reporter Bob Okon contributed to this story.