JOLIET – Senior Night 2023 will be one to remember for Lanie Czerkies.
The Joliet Catholic Academy senior was 6 for 6 from 3-point range in the second half Monday night and her 18 points helped lead the Angels to a 57-51 win over nonconference rival St. Francis.
"I knew I made most of my shots in the second half," Czerkies said. "I didn't know I made all of them. Coach [Kaitlyn Williams] says that she will take me out if I don't shoot, so I am supposed to shoot when I'm open. That's what I am out there for."
Czerkies may be primarily on the floor for her shooting ability, but she also played a big role in the JCA defense that shut out St. Francis in the second quarter. The Angels (14-16) trailed 11-9 after one quarter, but held the Spartans (17-14) scoreless in the second to take a 20-11 lead into halftime.
"The energy just got up for us in the second quarter," Czerkies said. "We were a little low on energy at the start of the game for some reason, but we picked it up in the second quarter."
JCA got a 3-pointer by Allison McCarthy to start the second quarter and another by Symone Holman to end it. In between were baskets by Ingrid Troha, Cayla Czerak and Layla Pierce, who tied Czerkies for team scoring leader with 18.
Czerkies hit three straight 3-pointers for the Angels to start the third quarter, and her hot shooting moved them to a 29-15 lead.
St. Francis' Téa Rubino (game-high 21 points) matched Czerkies, and her three 3-pointers early in the third kept the Spartans in it.
JCA threatened to run away and hide late in the third, as a putback by Ingrid Troha put the Angels ahead 44-23. St. Francis, however, scored the final eight points of the quarter as Riley Austin (11 points) and Halle Rubino each hit a 3-pointer to cut the score to 44-31 entering the fourth.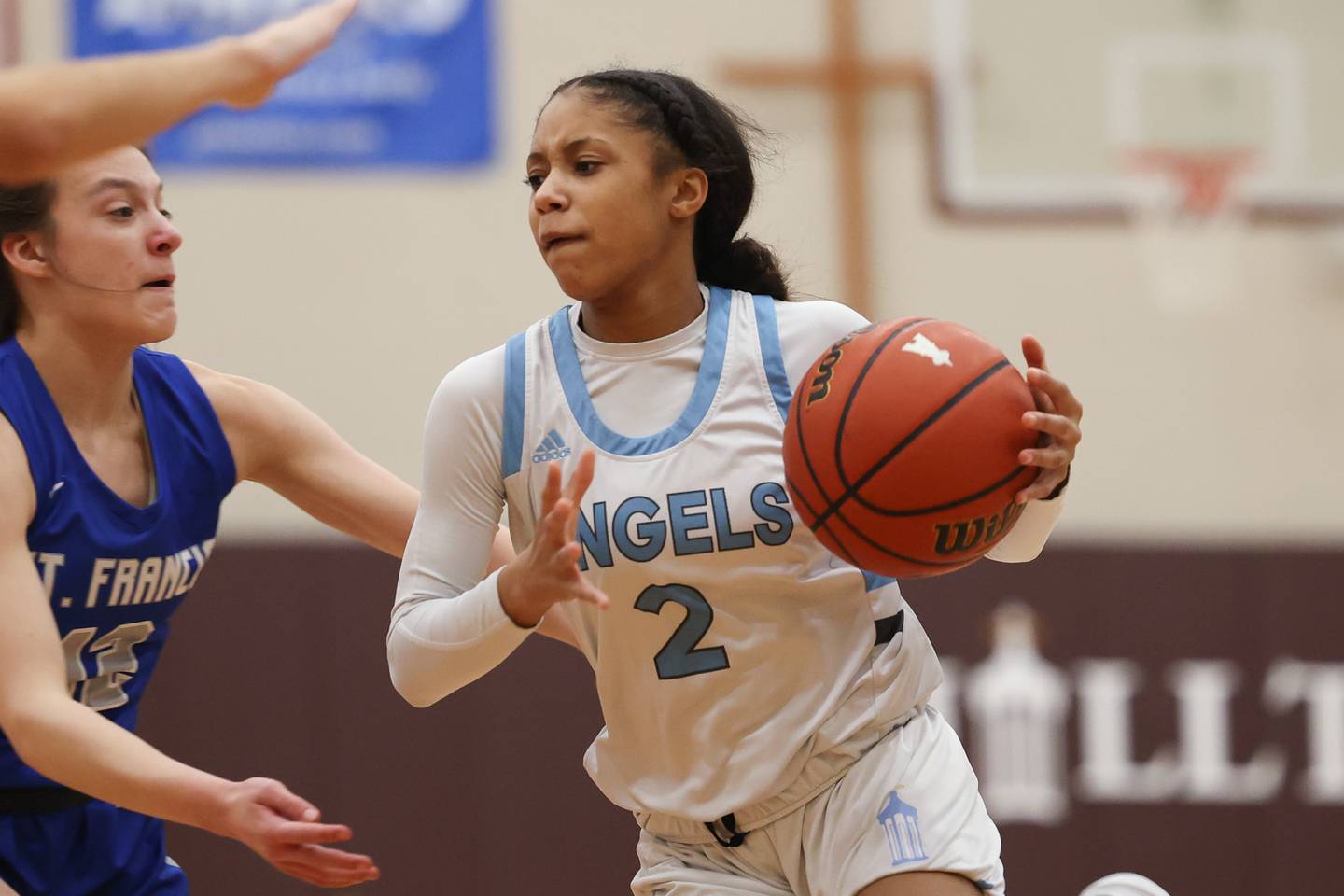 After going 4 for 4 from deep in the third, Czerkies opened the fourth with another 3-pointer. After St. Francis got a free throw from Dolly Smith and another 3 from Téa Rubino, Czerkies connected again for a 50-35 Angel lead.
"I like to say Lanie wears No. 3 for a reason," Williams said. "She's out there to shoot and make those for us. What a special night for her, to go 6 for 6 in the second half in her last game on this court.
"Our defense in the second quarter really got us going when we shut them out and took a nice lead into halftime."
St. Francis fought back in the fourth, utilizing a trapping pressure defense to force JCA into turnovers and eventually cut the lead to 52-49. JCA senior Kaylee Vercelote iced the game with 1:31 remaining by hitting a pair of free throws.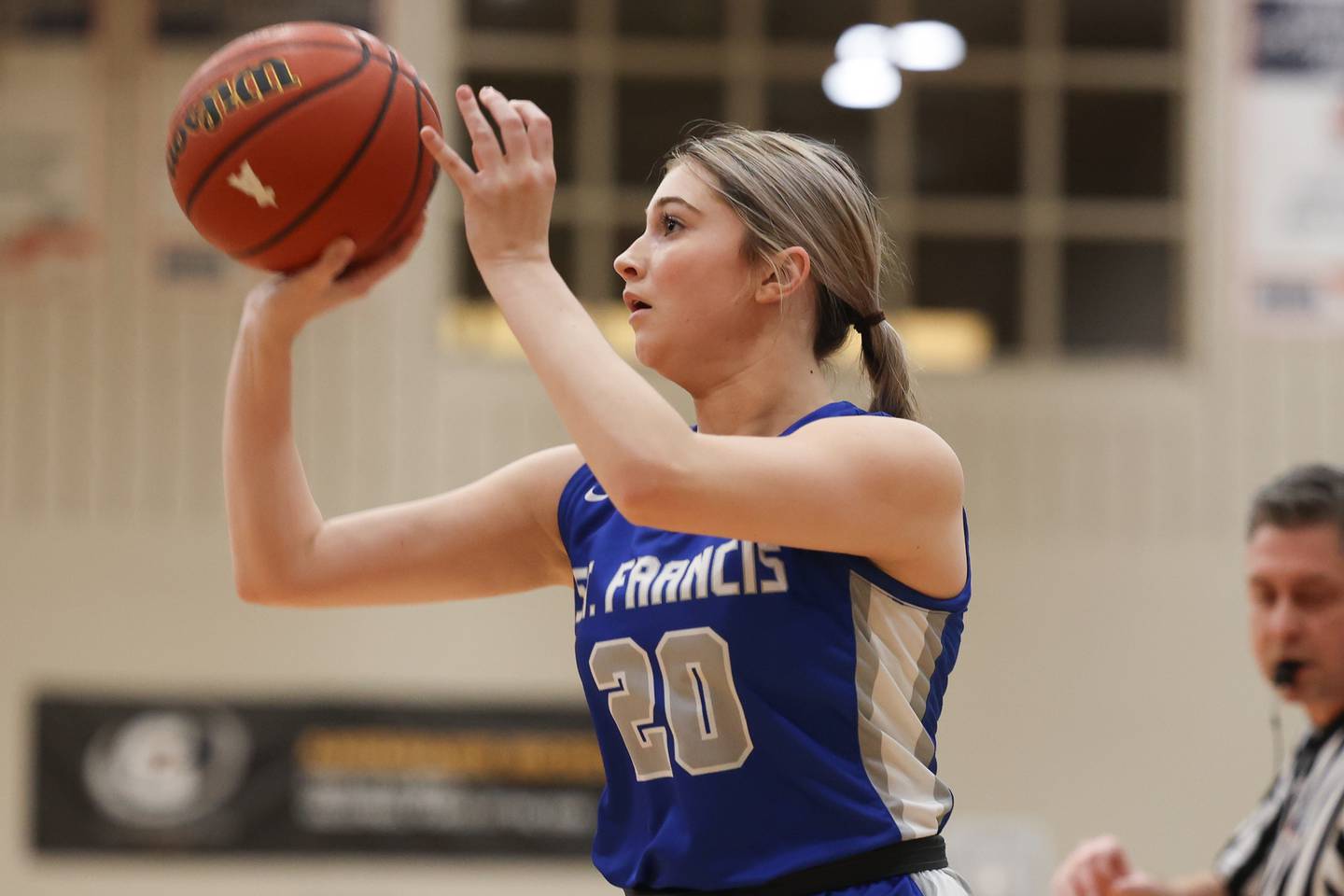 "I was a little disappointed in how we played in the first half," St. Francis coach Jeff Gerdeman said. "We talked to them about it at halftime and they responded well. There's only a week before regionals, so I hope we can learn from this and be more consistent.
"JCA shot the lights out. You have to give them credit. I thought our pressure defense got us back in it, and I was really proud of how Téa Rubino played. She's only a sophomore, but she is aggressive taking the ball to the hole and shooting her shot when she's open."