STERLING – The Oregon Hawks just kept pushing, but the Newman Comets always seemed to have the answer in their nonconference match Wednesday night.
With the teams going back and forth with little runs all match long, both sets were tied late before the Comets pulled away for a 25-20, 25-22 win.
[ Photos from Newman vs. Oregon volleyball ]
Kennedy Rowzee was the big hitter in the first set for Newman (10-2), and fellow senior Jess Johns had some key kills down the stretch in the second set. But the rest of the Comets also stepped up when they needed to. Sam Ackman and Addison Foster dove for some clutch digs, Molly Olson spread the wealth on offense, and Sophia Ely and Ellie Rude both had strong service games to keep the Hawks at bay.
"We're just slowly starting to figure out that we need everyone," Rowzee said. "It's not just one person, so when we get those key passes and key sets, we really put it down. I think it's a really great team effort."
Meanwhile, Oregon (4-5) found some consistency from the service line and at the net, and senior hitter Kenna Wubbena likes the progress she's seeing from her inexperienced team.
"Honestly, I think our tournament last weekend really helped our team come together," she said. "We filled some holes and just really learned how to keep our energy more consistent. We have a pretty new team this year, and we've definitely, just as the season goes, every game, we come together more and more."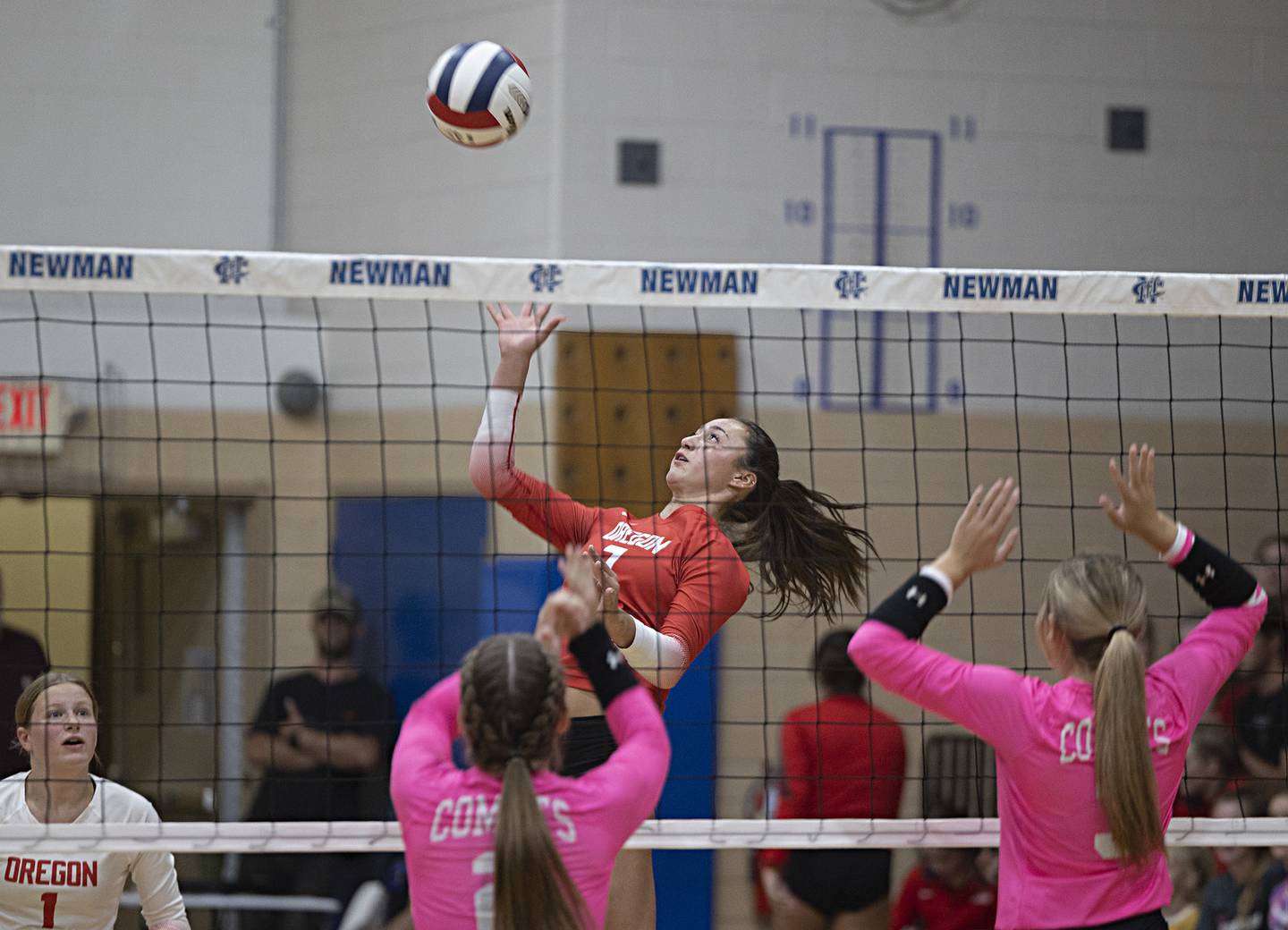 Newman built an 8-5 lead on Rude's ace and a 9-6 lead on a Johns kill in the first set, only to see Oregon score four straight points out of a timeout to take a 10-9 lead. The set was tied 15-15, then a Rowzee kill and block on consecutive points gave the Comets the lead again.
Back-to-back kills by Wubbena tied the set 19-19, but Johns had a pair of tip-kills and Rude served the final two points on Oregon errors to finish the opener.
Newman led by a point or two in the early stages of the second set, then Oregon took an 11-10 lead on an ace by Olivia Thomas. After ties at 13-all and 14-all, back-to-back Newman errors gave the Hawks a 16-14 edge.
But back-to-back Oregon errors tied the set 16-16, and Johns ripped three straight kills for a 19-16 Newman lead. A Rude ace made it 21-18, then Wubbena and Johns traded kills before Lexi Ebert's kill and two straight Comet errors tied the second set 22-22.
A hitting error by Oregon gave Newman a 23-22 lead, and Rowzee spiked a kill before Ely reeled off an ace for the final point.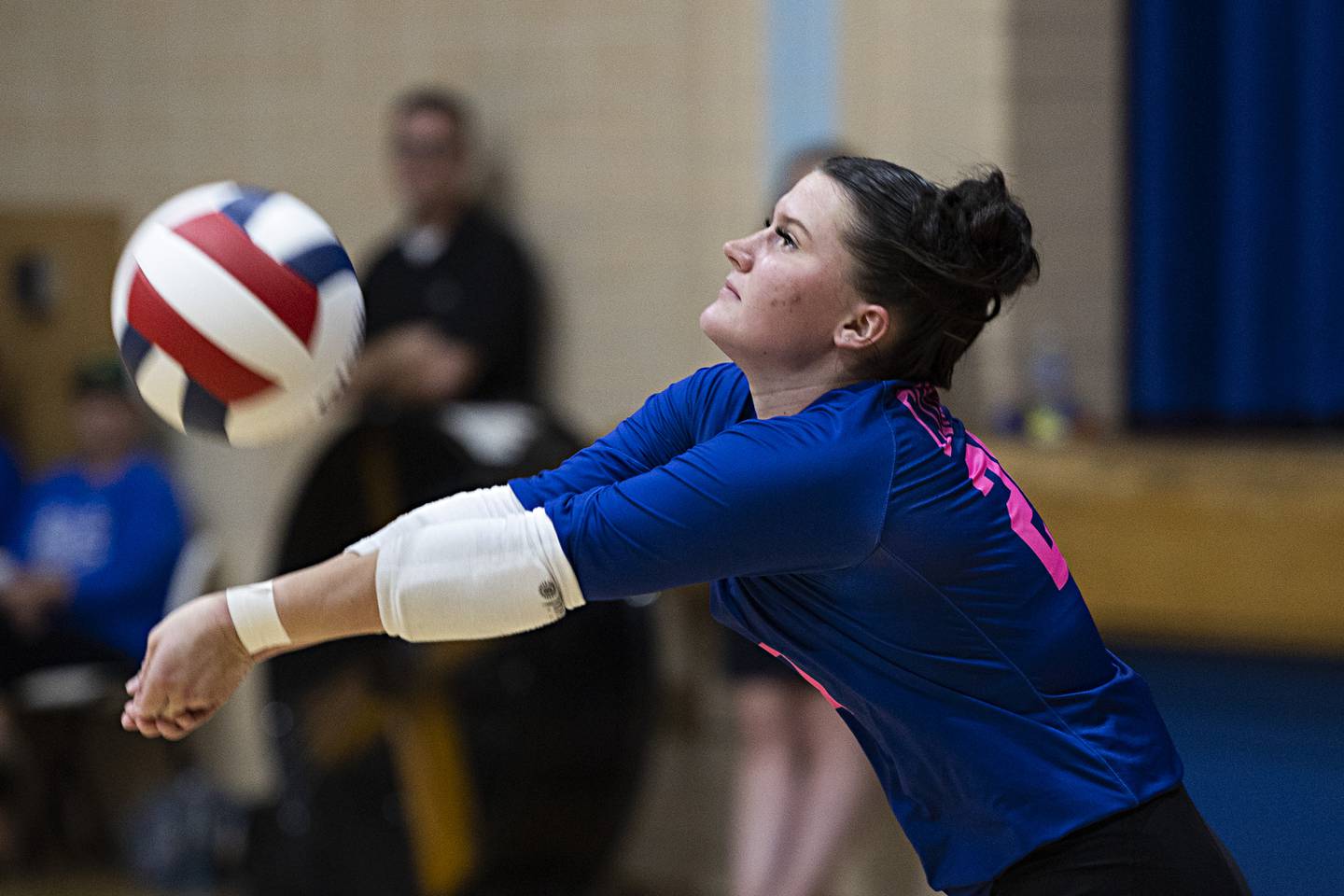 The back row provided the spark for the Comets, with defense, passing and serving.
"It's really fun, and I really enjoy that part of the game, because you can't really do anything without a good pass. Sometimes it goes unrecognized, but it's really fun when you get a good [pass] up and everyone's cheering for you," Foster said. "On Monday in practice, we just really worked on getting the ball up to our setter, because some of our passes in past games have been off the net, so we've been really working on getting it up, and I think that's really helped."
Johns finished with 11 kills and 12 digs, and Rowzee had nine kills and two blocks. Olson dished 17 assists to go with nine digs, and Foster had seven points, five digs and two assists. Ackman had nine digs and two aces, Rude served six points and two aces, and Ely had eight points and an ace for the Comets.
"This was a really fun game. I think our servers did an amazing job at keeping the balls in and playable, to put pressure on the other team. I think that was just a really big key for us tonight, keeping our serves in," Rowzee said. "And the best part is when we get those passers to make a great pass to the setter, and that makes the setter's job so much easier – and then the hitters can just put the ball down."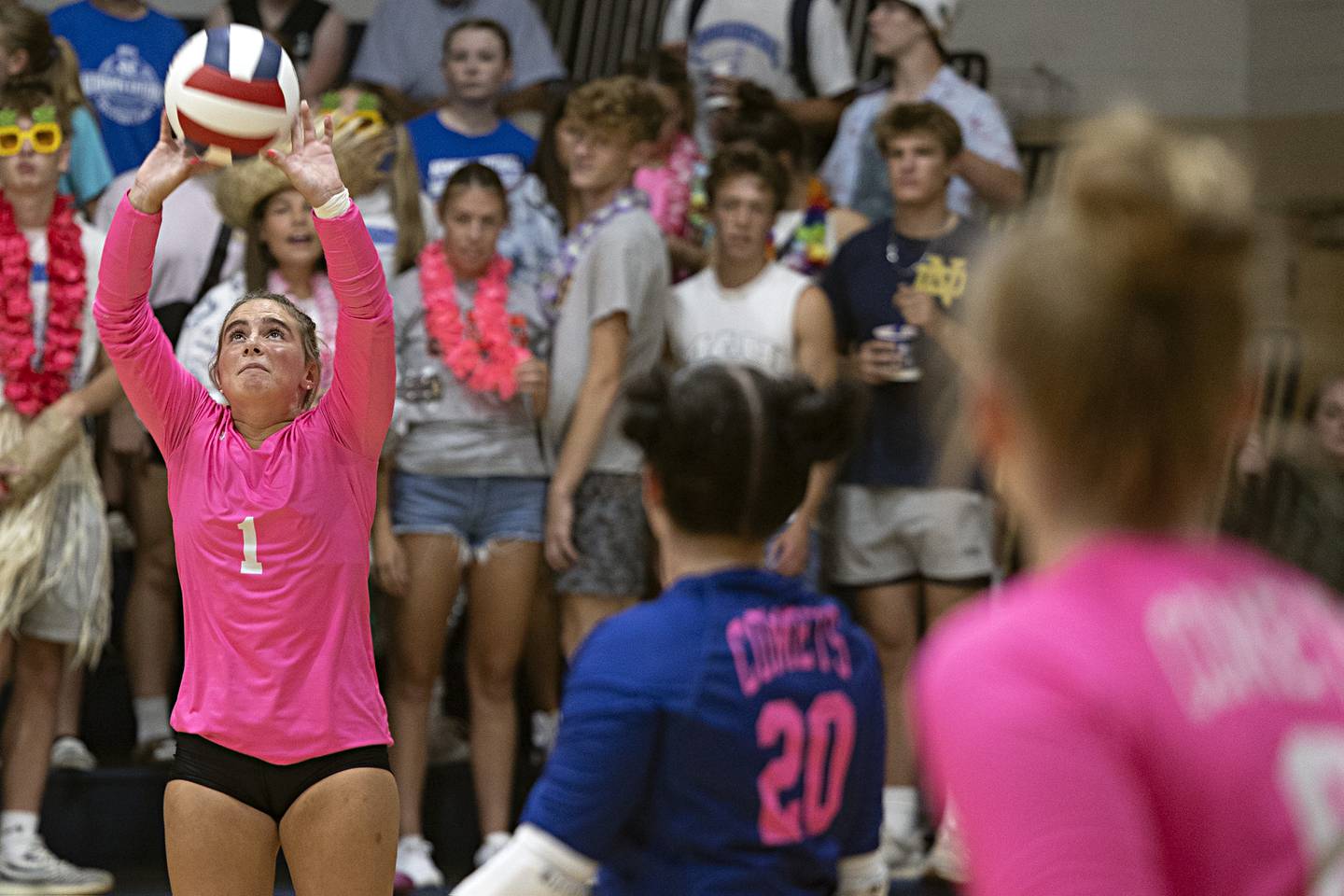 Wubbena had seven kills and two aces to lead the Hawks, and Ebert finished with seven assists and nine digs. Madison Shaffer had six digs and six points, Anna Stender dished four assists, Grace Tremble spiked two kills, and Skylar Bishop chipped in two blocks and a kill.
Oregon's ability to keep the Newman defense on its toes and run some offense off the Comets' serves were key to keeping the score close throughout the match.
"We really mixed up our shots, we ran some different plays, and honestly, our serve receive has improved," Wubbena said. "And overall, just our energy has gotten better."