Sterling has produced some very good volleyball players over the years, especially in the last decade. On Sunday afternoon, the impact of that talent could be seen in Virginia, of all places.
In an ACC match between the Virginia Cavaliers and the Clemson Tigers, the northern Illinois town with a population of 15,500 had a pair of former Golden Warriors facing off in Charlottesville.
Kaylee Martin and Brooklyn Borum grew up together, but were separated at Sterling by four years. Martin was the half-sister of one of Borum's best friends, Lexi Rodriguez, so the two know each other very well. It struck both of them as they walked onto the floor for the match how far they'd come, and how odd it was to meet up again so far from home.
"I never played against her because of the age gap, but I thought it was kind of fun to do it now," said Borum, a freshman hitter at Virginia. "We grew up together, and seeing each other across the net, I was just thinking about how successful both of us have been, and the opportunity to play against an amazing athlete – who's a girl from my hometown who I'm pretty close to – was such a great feeling and such a great experience."
"I actually had that thought, too," said Martin, a super senior hitter for Clemson. "Sterling's not the biggest, and when you think of players who come from the same town, let alone the same high school, you don't think of a small town in northern Illinois. It's just amazing."
The match itself was pretty amazing, too. After Clemson won the first two sets, Virginia staved off elimination in the next two, forcing a fifth and decisive set after winning the fourth set 28-26.
But Clemson prevailed in the final set for a 25-22, 25-19, 22-25, 26-28, 15-12 victory to improve to 11-6, 3-3 in the ACC; Virginia fell to 8-8, 1-5. Martin led the Tigers with 17 kills to go with eight digs and a block, while Borum finished with eight kills, six blocks and 13 digs for the Cavaliers.
Though the two didn't get a chance to spike on or block the other, both enjoyed playing in the match immensely.
"It was a really exciting match, always close most of the time, just really good volleyball," Borum said. "We were down two sets and battled back, won 28-26 in the fourth to take it to five. We were doing amazing things, they were doing amazing things, just plays after plays being made on both sides."
It was a match Martin was looking forward to as soon as she realized they would meet up, and it didn't disappoint.
"I actually didn't know they were in the same conference before I committed to Clemson, but once I looked it up, I thought about it right away," Martin said. "I was so eager to play against Brooklyn, because my whole life, I wanted to play with her and her sister and my sister. There was a four-year gap, and I always wished I was a year younger or they were a year older so I could've played a season with them. I didn't get to live out my dream of playing with her, but playing across from her was fun, too.
"She played phenomenal, and it's great to see all her hard work pay off and watch her be so successful in the ACC. It's amazing to see her come in and make an impact right away."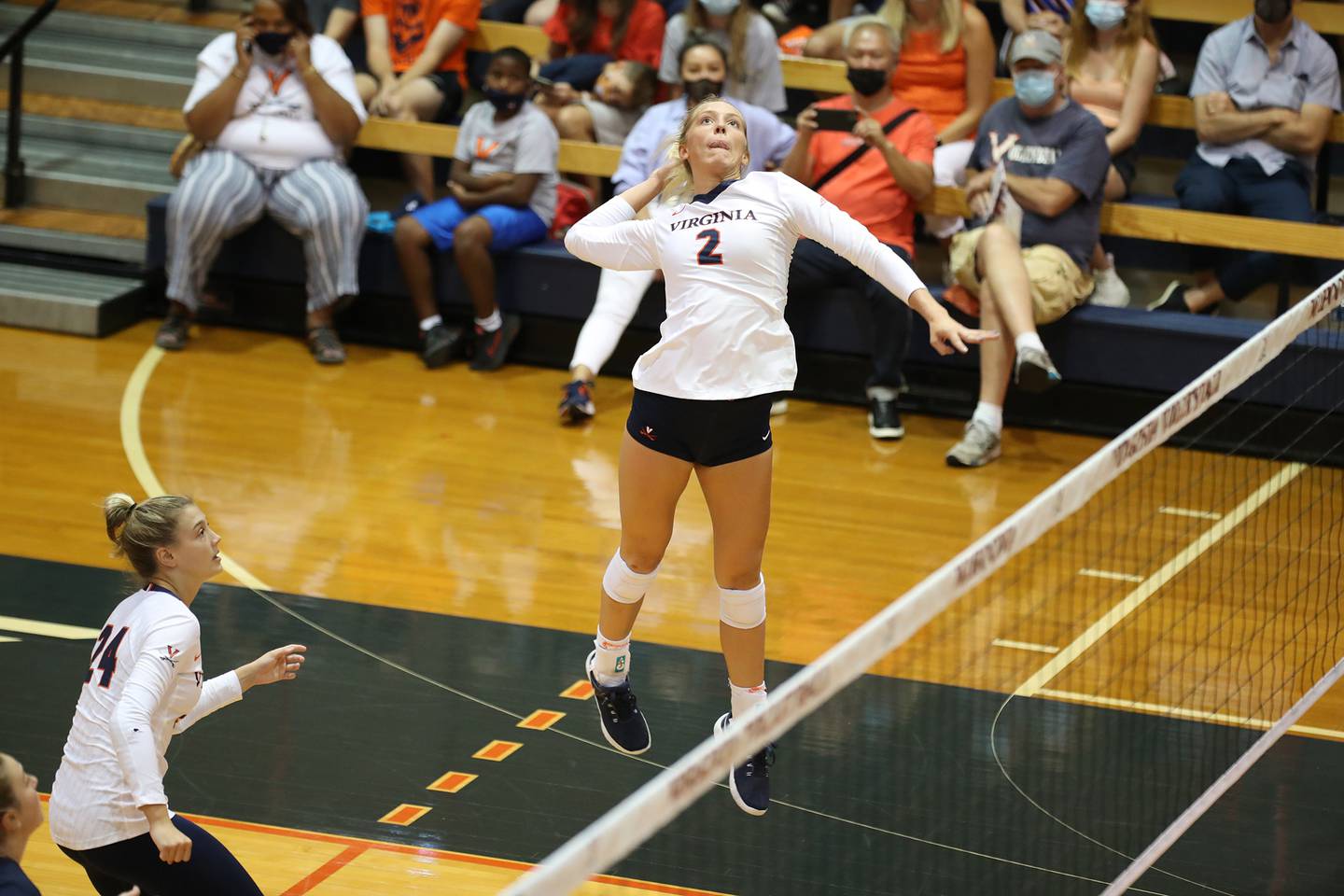 •••
Martin graduated from Sterling in 2017 having set almost all of the offensive records as a hitter. The next fall, the Borum twins and Rodriguez joined the middle Borum sister, Josi, and in November 2018, the Golden Warriors won the program's first state championship. A year later, when Rodriguez and the Borum twins were juniors, Sterling repeated as 3A champs.
The Warriors won both titles on Martin's home court at Redbird Arena in Normal.
"I never got to make it to state, and that was obviously something I always wanted to do," Martin said. "It was great to see everyone I played with in high school put Sterling volleyball in a good position to keep improving for the future, and they had so much talent and took that next step. I was their biggest fan, and the fact that they got to play on my home court and win the title there was amazing."
Borum knew things would be different when she chose Virginia. The program was in full rebuild mode, so titles weren't going to be the goal in her first season. But she liked Charlottesville, she liked the coaching staff, and she wanted to be a part of what was happening at Virginia.
"That was a really big part of why I wanted to play at Virginia, to come here and make a difference and change the culture, to help out being a part of a rising program," Borum said. "It's been incredible, but it's been hard building a team and a culture from scratch with a brand new coaching staff. But when you look back at a match like Sunday against Virginia, you can see how far we've come since workouts in July.
"It's not always about the outcome when you're building a foundation of a program. You just want to get 1% better everyday, and then just continue to keep getting better."
Borum didn't really know what to expect when she got to Virginia, but was prepared to accept whatever role she could earn. After being the star in club and high school volleyball, Borum just wanted to find her place on the team and help make a difference.
She's definitely done that. Borum is second for the Cavaliers with 142 kills and 136 digs, and tied for fourth with 32 blocks; she also has 17 assists and 12 aces while playing in 56 of the team's 58 sets this season.
"I was kind of expecting a big role, but didn't think I was entitled to it; I knew I was going to have to earn it," Borum said. "I'm happy I can make an impact in the team and benefit them in any way I can. I just love knowing that they rely on me and I rely on them."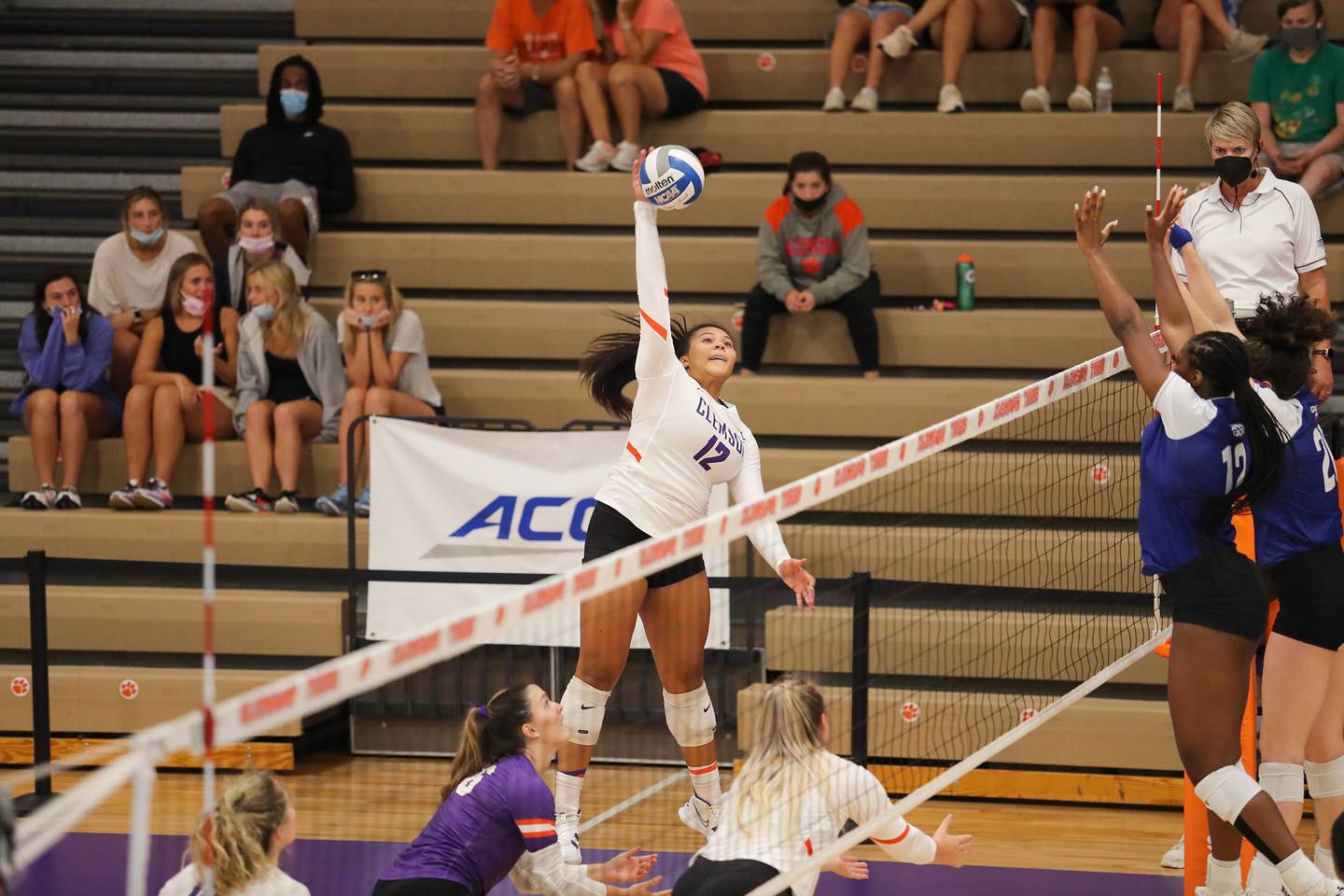 •••
Martin, who started her career at Northern Illinois before transferring to Illinois State after her freshman season, is making the most out of the extra year of eligibility she gained from the COVID year.
She's working on her Master's degree in Athletic Leadership, and leads the Tigers with 195 kills, is fourth on the team with 15 blocks, and is sixth with 64 digs while playing in 59 of Clemson's 60 sets.
The choice to transfer to Clemson was seemingly preordained – by Martin herself.
"It's going to sound weird, but the year before when I was home, I told my mom that I didn't know what it was, but something was pulling me to South Carolina," Martin said. "I don't know why I was feeling it or where the feeling came from, but it was just kind of an intuition I had that I should move to South Carolina after I was done at ISU.
"So when a South Carolina school called me I thought, 'This just makes sense.' Maybe somehow I was predicting it a year early, I don't know. But it's just weird how everything worked out."
Martin led NIU in kills as a freshman, then led ISU in kills for a couple of seasons during her career there. So with the chance to lead a third Division I program in kills during her college career, it seems the choice was the right one.
Martin had no doubts, even without that weird intuition.
"As soon as I went into the [transfer] portal, Clemson was the first school to call me personally," Martin said. "I had other emails, but 11 minutes after I put my name in the portal, I got a phone call. They were super eager and showed interest right away, and I loved how much they wanted me to play there.
"Plus, the coaching staff that's here coached at Iowa, so I was already familiar with the coaches because they tried to recruit me out of high school. So it seemed like the perfect fit."
After playing in the Mid-American and Missouri Valley conferences, Martin is relishing the chance to take on even tougher competition in the ACC.
"I love it; we have three teams in the top 25, which is insane, and it's always fun to go into a match and have to compete hard and play your best to win every time you step on the court," Martin said. "It's also fun being the undersized one; nobody who's 6 foot or taller likes to get blocked or scored on by a 5-8 girl, so that's fun and exciting. The game is a lot faster, the girls are a lot bigger, but I'm learning so much more about the game, and it's a lot of fun."
As for what's next, Martin says she doesn't know. Her Master's course is online only, so she has a lot of free time without going to an actual classroom – "Honestly, since I haven't been in a classroom for two years, I don't know how I'd react to being in one, so it's not that bad," she said – and knows she'll have even more time on her hands between the time volleyball season ends and she finishes her degree in August.
For now, she and former ISU teammate Alyssa Kronberg share an apartment and are doing what all college seniors do as their college careers wind down: trying to figure out where to go from here.
"I've thought about it a little bit, but I try to avoid thinking about it as much as I can," Martin said with a laugh. "I think about how for the past I don't even know how many years, volleyball has been a huge part of my life. I've traveled the country, seen different places, met different people, experienced different schools. It feels like all I've done for so long, and it's been so much fun. I'm going to hold onto it until the very end.
"I'm living with my best friend ever, got to move across the country with her, and we talk about it a lot. I don't even know life without volleyball, so it's going to b a tough transition. But it's been so cool, and I've loved every minute of it."