The following is a list of events and upcoming activities going on in the Sauk Valley. Don't forget to check out 5 Things To Do for other opportunities.
Do you have information on an upcoming event or attraction? Be sure to let us know. Submit information for Sauk Valley Media's weekly calendar to news@saukvalley.com. Include a contact person and phone number.
This weekend
In the mood for crafts? Rock Falls American Legion Post 902 will be having a craft and vendor fair from 10 a.m. to 4 p.m. on Sunday, Oct. 24 at its hall, 712 Fourth Ave., Rock Falls. Other activities are a bake sale, cookout and silent auction. Proceeds will be sent to the Cystic Fibrosis Foundation. For more information call 815-590-7500.
More than 50 handmade makers will take part in the seventh annual "Fall In" with New Life Craft Show, 9 a.m. to 3 p.m. Saturday at 702 W. Lynn Boulevard, in Sterling. For more information, call 815-535-7862.
Morrison Fall Festival will be 1 to 4 p.m. at 201 W. Winfield St., Morrison. There will be a Halloween costume parade, a trunk or treat, door decorating contest, games, activities and music.
Halloween on the Prairie will be noon to 4 p.m. Sunday at Byron Forest Preserve. There will be a free customer appreciation hot dog lunch, family friendly hayrides, live owl and hawk shows, pumpkin painting, native American tools, weapons and skills demonstrations. There will be outdoor games for a small fee, apple slingshot, kids crafts.
The Franklin Creek Conservation Association will have An Evening at the Mill at 5 p.m. on Sunday. It includes a dinner and a presentation of 'grave' subject matter — "Dead People of Illinois" — a slideshow presentation by John Lynn. Tickets are $25 or $15 for students.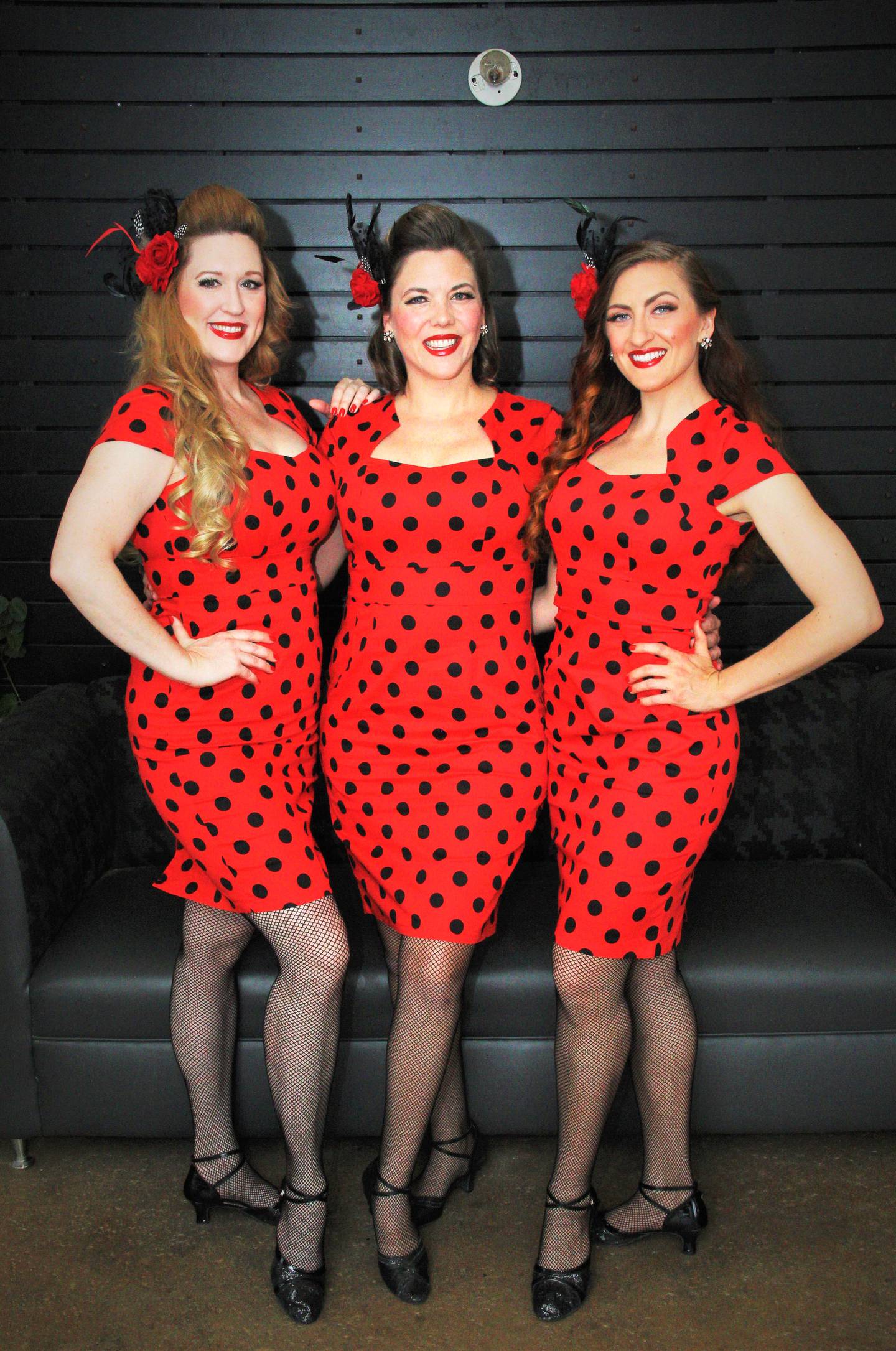 Festival 56 will present the three-part female vocal trio The Manhattan Dolls in two concerts: "Sentimental Journey," which will be 7:30 p.m. Friday and "Rockin' with The Dolls", which will be 7:30 p.m. Saturday. Both shows are at The Grace Theatre, 316 South Main Street, Princeton. Tickets are $25 online at festival56.com or from the box office 815-879-5656. "Sentimental Journey" features music from the 1930s and '40s in the close-harmony style of the Andrews Sisters while "Rockin' with The Dolls" focuses on music of the 1950s and 1960s. The Manhattan Dolls are an international touring trio founded by and featuring Festival 56′s Heather Stricker.
Books on First, 202 W. First St., Dixon, has its last fair-weather Music on the Stoop, featuring Maggie Hilliard on guitar, 5:30 p.m. on Saturday.
Music
Clinton Symphony Orchestra has performances Nov. 6 at Centennial Auditorium in Sterling. Dec. 11 at Vernon Cook Theater at Clinton High School, Jan. 16 at Lutheran Church in Clinton, Iowa, Feb. 19 at Morrison High School, and April 30 at Vernon Cook Theater in Clinton.
First Friday Open mic, from 6 to 10 p.m. at Northside BarBQ, 117 N. Fourth St., Oregon. Draw for performance positions begins at 5:45 p.m. for a 15-minute time slot. When not onstage, groups will perform outside. No charge to listen, donations accepted. Find First Fridays Open Mic in Oregon on Facebook or 815-449-2660.
Theater productions
Historic Dixon Theatre
Tickets are on sale for the following shows at Historic Dixon Theatre, 114 S. Galena Ave. Go to dixontheatre.com/events/ for tickets or more information:
• Completely Unchained, The Van Halen Tribute Band, 7:30-10 Oct. 27, delivers songs like "Running With The Devil" and "Ain't Talking";
• Who's Bad: The Ultimate Michael Jackson Experience, 7:30-10 p.m. Nov 5-6; a celebration of pop music's one true king from the longest-running Michael Jackson tribute band;
• Guitar duet, 5:30-8 p.m. Nov. 11; Goran Ivanovic and Fareed Haque put on a performance inspired by the rhythms and melodies of flamenco, jazz, classical, rock and the Balkan region;
• A Christmas Carol, a faithful, fast-paced rendition of the Dickens classic; Dec. 3-5 and 10-12; times vary.
• Across the Board Jazz Quartet, traditional holiday tunes and new arrangements by its violinist, Katherine Hughes; 5:30-8 p.m. Dec 9.
Timber Lake Playhouse
Timber Lake Playhouse, 8215 Black Oak Road, Mount Carroll presents Timber Lake Terror, Friday and Saturday evenings at 6:30 p.m. through October. Also upcoming: Rocky Horror Picture Show, Oct. 30.; Boy Band Night, Nov. 13; BritBeat, Nov. 20; What A Wonderful World, Dec. 2 - Dec. 12. Tickets available at www.timberlakeplayhouse.org or by calling the box office, which is open daily from 10 a.m. to 5 p.m. and until intermission on show days, at 815-244-2035.
Art exhibits
Prize-winning artwork from the 13th annual Juried Art contest and 75 other works are on display at Woodlawn Arts Academy, 3807 Woodlawn Road in Sterling, through Nov. 19. The exhibit is free to view from 9 a.m. to 8 p.m. Monday through Thursday and from 9 a.m. to 5 p.m. Friday. Go to WoodlawnArtsAcademy.com for details on classes, private lessons and upcoming events.
Lions, Tigers and Bears exhibit, presented by The Next Picture Show, runs through Dec. 31 and can be viewed during regular business hours at KSB Commerce Towers, 215 E. First St. in Dixon. The exhibit features more than 40 works by local and regional artists.
Debbie Thompson's gallery, "Paintings and Constructions," is on display through Dec. 3 at Sauk Valley Community College. Various works, including her piece Basic Construction, a mixed media piece in a shadow box from 1986, will be installed. Admission is free. Contact art professor Glenn Bodish at glenn.s.bodish@svcc.edu for more information.
Autumn festivals
Byron Museum of History is hosting an indoor market from 10 a.m. to 1 p.m. Nov. 13 and Dec. 11. The museum's permanent exhibits include Agriculture Then and Now, Underground Railroad, Local Veterans, Byron Business, Outhouses, Trains, and A.G. Spalding. It's open Wednesday through Saturday 1rom 10 a.m. to 3 p.m. at 110 N. Union St.; www.byronmuseum.org.
Havencrest Castle Tours, self-guided tours of 26 rooms on two floors, an exploration of romance, history and art, 140 N Fifth Street, Savanna, on Saturdays and Sundays in October. Runs 10 a.m. to 4 p.m. Tickets must be purchased in advance. Tour includes gowns worn by Adrianne St. George and replicas of RMS Titanic sculptures.
Markets
Twin City Farmers Market, 8 a.m.-noon Saturdays, year-round indoors and out; 106 Avenue A in Sterling, 815-626-8610, twincitycarmersmarket.com and Facebook.
Haymarket Square Farmers Market, 7 a.m.-noon Wednesdays and Saturdays through October; 513 W. Second St., Dixon; fresh produce and crafts; dixonparkdistrict.com/farmers-market and Facebook.
Lanark Farmers Market, 3-6 p.m. Tuesdays through October at Broad and Locust streets; fresh produce, demonstrations, classes, music, food, arts and crafts, kids' events and more; visitcarrollcountyil.com or Facebook.
Rock Falls Farmers Market, 7 a.m. to 1 p.m., Wednesdays and Saturdays through October, 400 W. Second St.
Mount Carroll Farmers Market, 8 a.m.-noon Saturdays through October on the courthouse square, 301 N. Main St.
Chana Route 64 Auction Barn Inc. auction, 10 a.m. (first and third) Sunday; flea market, 8 a.m. to 4 p.m. (second and fourth) Saturday and Sunday at 620 S. Stone Hill Road. Find Chana Auction Barn on Facebook or call 815-830-3898 for more information.
Museums, exhibits and attractions
Illinois Humanities brings exhibits to Savanna, Thomson. Two traveling exhibits arranged by Illinois Humanities will be making stops in Savanna and Thomson starting Saturday. Both will be on display through Nov. 13. Voices and Votes: Democracy in America highlights the nation's history of civic action. It will be at the Savanna Museum and Cultural Center. The exhibit is part of Museum on Main Street, a collaboration between the Smithsonian Institution and State Humanities Councils that shares world-class exhibits with small communities. Support was provided by the U.S. Congress. Illinois Freedom Project will be at York Township Public Library in Thomson. It highlights pursuit of civil rights by and for African Americans in Illinois.
Amboy Depot Museum, 10 a.m.-4 p.m. Saturday 1- p.m. Sunday through October, 50 S. East Ave. It offers 19 rooms filled with items specific to the Illinois Central Railroad and local history. The Freight House and Palmer one-room School House also are open. Donations welcome.
Franklin Grove Grist Mill, noon-4 p.m. Friday-Sunday, 1893 Twist Road; natural history and locally made gifts; the last guided hikes of the Franklin Creek State Natural Area will be held from 9 a.m. to noon Oct. 30; franklincreekconservation.org or 815-456-2718.
Loveland History Museum, 9 a.m. -2 p.m. Thursdays and Fridays, Loveland Community House, 513 W. Second St., Dixon; free; lovelandcommunityhouse.org or 815-284-2741.