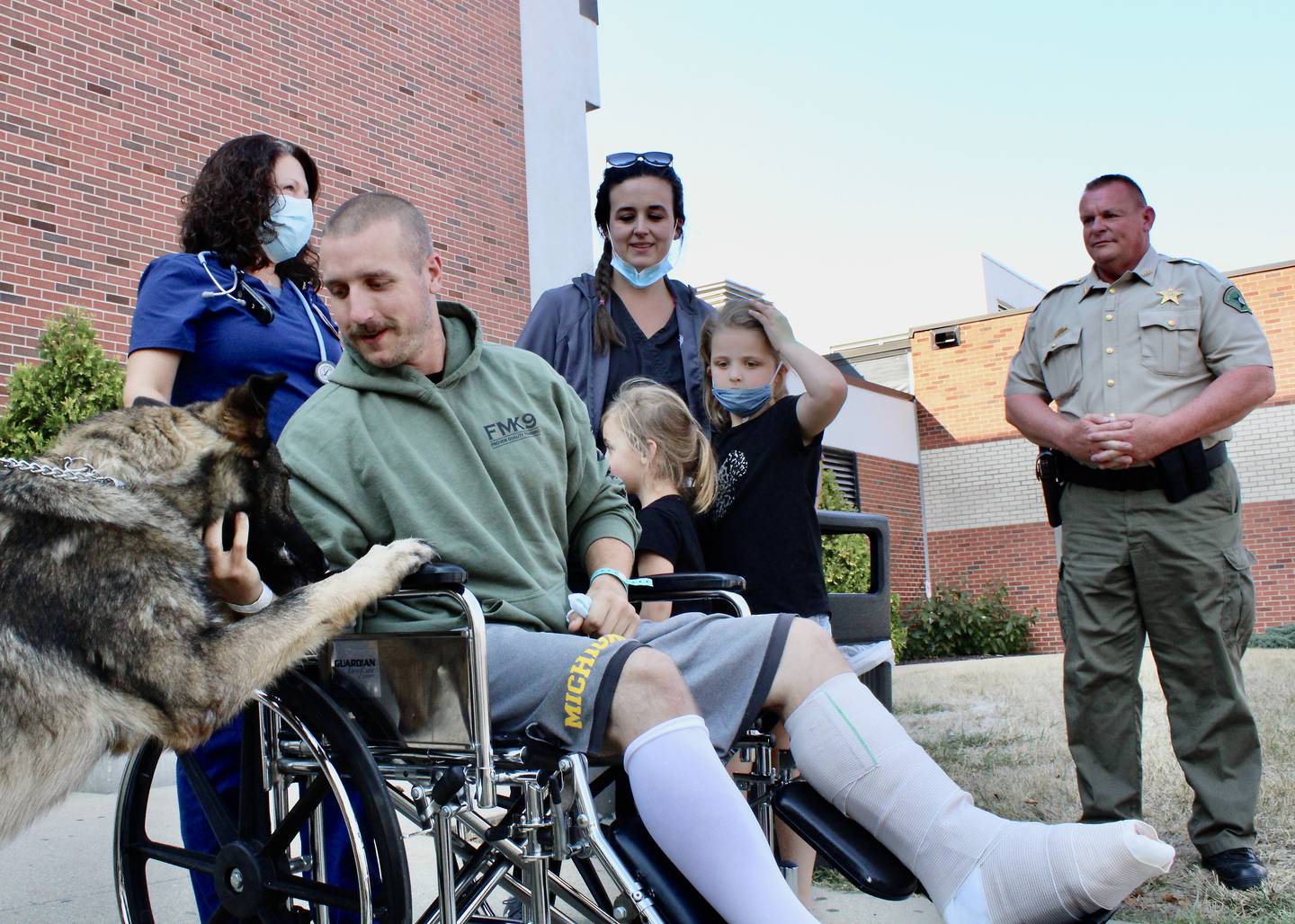 STERLING – Colleagues, friends and family gathered at the East Entrance of CGH Medical Center on Thursday afternoon to greet Deputy Derek Hamstra as he was discharged.
Also on hand was his K-9 partner, Amor, who was quick to lick his face.
Hamstra, with the Whiteside County Sheriff's Department, accidentally was shot in the left foot by an Illinois State Police trooper during a search for burglary suspects on Monday morning.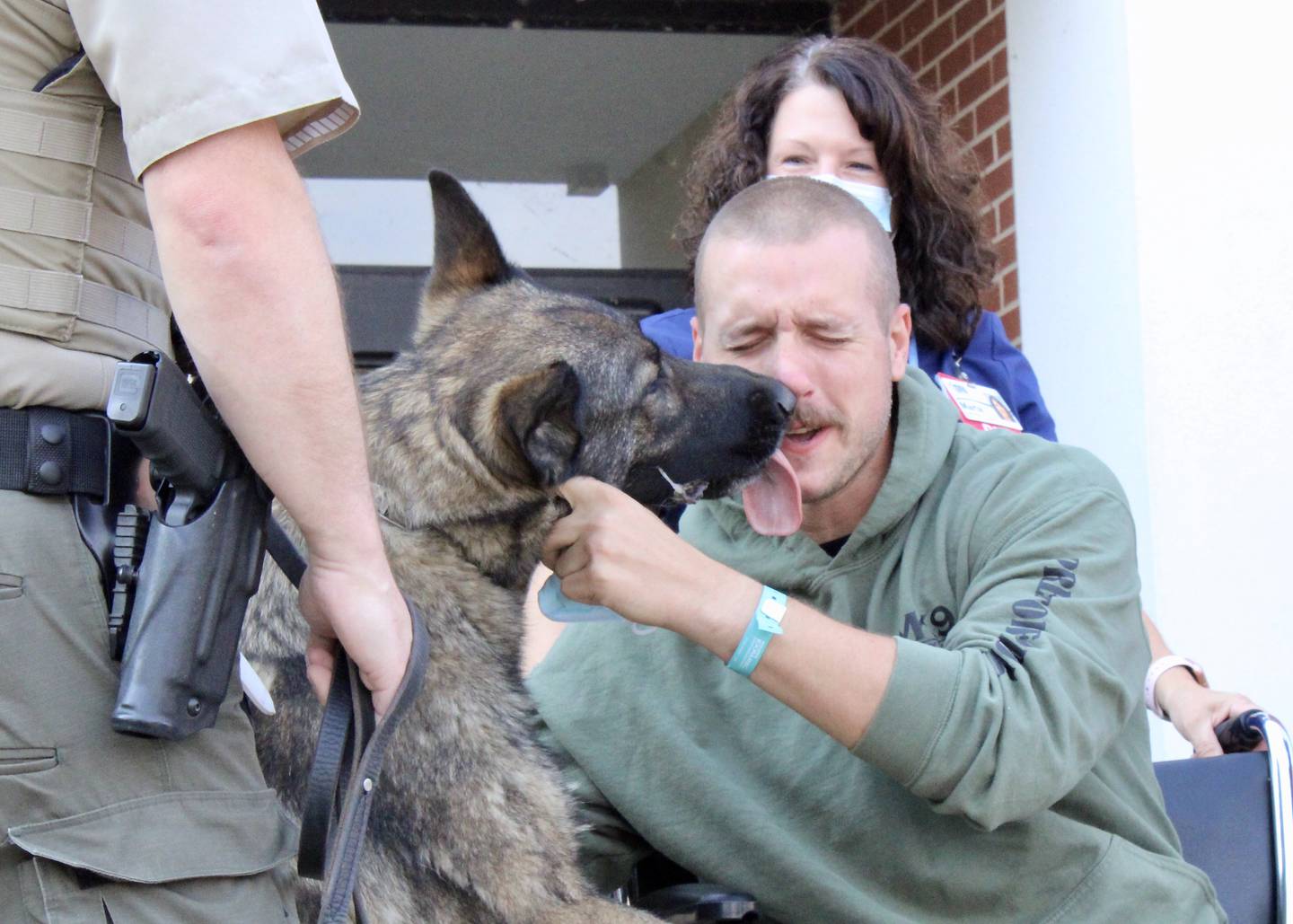 Some three dozen police officers, firefighters and emergency medical workers stood in front of a line of emergency vehicles with their lights flashing as Hamstra left the hospital in a wheelchair.
Above the entrance were more onlookers – mostly CGH staff – who stood at the two large atrium windows overlooking the exits, mobile phones in hand, taking pictures and video. The medical center's emergency room on-duty staff also opened a side door to observe.
At street level, Hamstra was greeted by Sheriff John Booker with a handshake and an embrace.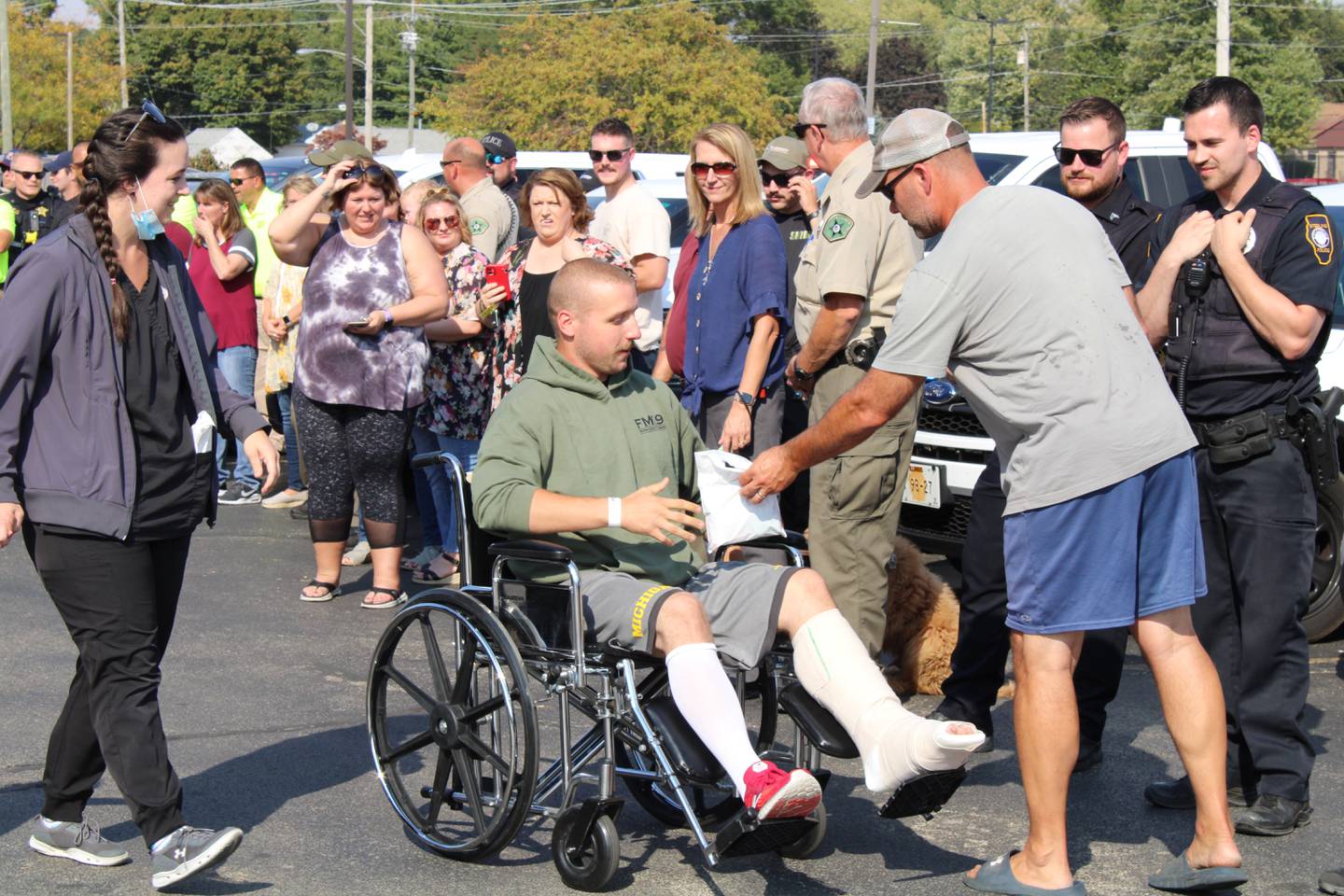 Accompanying Hamstra from the hospital was his wife, Brianne, a CGH occupational therapist, and two of their three children, Harper, 6, and Paislee, 4. Their son, 11-month-old Maddax, was not in attendance. In turn, Hamstra gave each of his children another hug.
Perhaps the most enthusiastic welcome, though, came from Amor, Hamstra's German shepherd partner since February 2020. Hamstra patted Amor on the head, then Amor reared up and began licking Hamstra on the chin. Hamstra then rubbed Amor on the scruff of the neck.
He thanked those for coming out, then went down the line of officers. Eventually, the line collapsed and just gathered around offering well-wishes. One person gave Hamstra a gift bag of candy, saying it was for rehab workouts, which drew some good-natured laughter.
The incident on Monday that led to Hamstra's hospitalization took place when Sterling District 1 ISP responded to assist deputies in the search. During the search a bullet was inadvertently fired from a state trooper's weapon.
The ISP Division of Internal Investigation is investigating. The two suspects, a man and woman from Beloit, Wisconsin, were caught and charged.