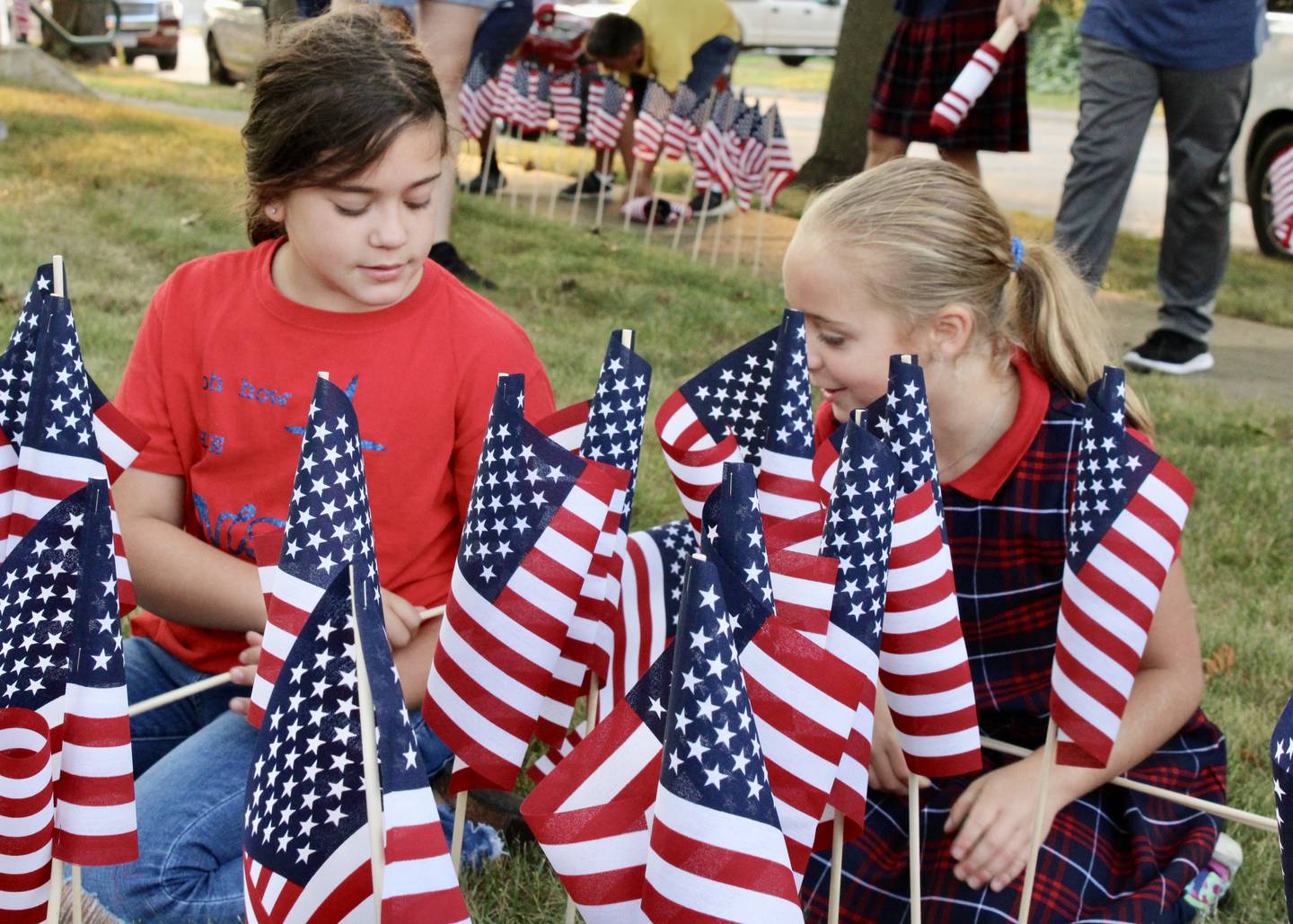 In Dixon, then later in Sterling, observances were held Saturday morning to mark the 20th anniversary of 9/11.
Individuals who worked at New York City's Ground Zero in the aftermath of the attacks served as featured speakers. Both shared personal, sometimes poignant descriptions of their experiences.
There were moments for reflection, instruction, quiet levity and even some thoughtful pauses. There were also dashes of impromptu patriotism.
The Rev. Scott Porter, pastor of Abiding Word Church, provided the invocation for both ceremonies. Yet, with about 100 people in attendance at the Reagan Boyhood Home in Dixon, he moved quickly, righted and then held steady the U.S. flag near the podium that had toppled, doing so without missing a beat in his invocation.
At Sterling's Central Memorial Park, the recorded version of the "Star Spangled Banner" missed its cue, so organizer David Murray exhorted those assembled, saying, "Oh, let's just sing it." The crowd of about 150 then struck up a rendition of the national anthem without music.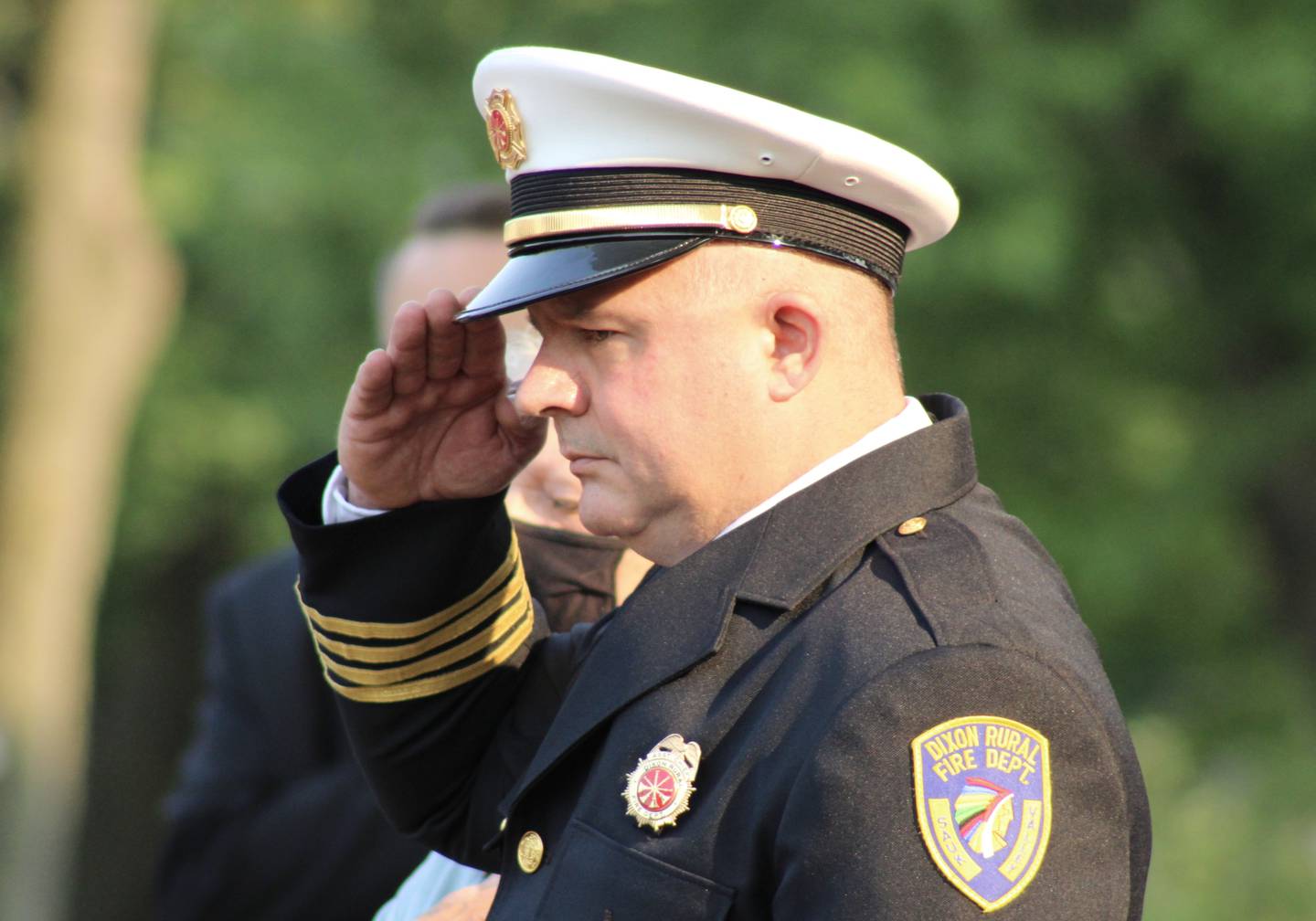 Dixon
Volunteers placed 2,977 American flags — one for each victim of the attacks at the World Trade Center, Pentagon and Flight 93 — on the grounds of the Reagan home in conjunction with the Young America's Foundation 9-11 Never Forget project.
YAF has been doing this on campuses nationwide since 2003, but this is the first time, as the new owner of the Reagan home, that it happened there.
Bagpipe player Shawn McDonald of West Dundee opened the observance with a rendition of "Amazing Grace" while standing in the morning shadow of the Reagan statue in the center courtyard.
Sue Coers, a retired nurse who had been with the National Organization of Victim Assistance in 2000, was called away from a workshop with school superintendents on terrorism crisis management when word came of the attacks and she was sent to New York.
Her descriptions of the scene in New York emphasized the efforts of rescue and recovery teams, the diligent but difficult work of sifting debris for remains and the hazards of working in that environment.
But she also shared stories of successful heroism: teachers who evacuated students from the World Trade Center site, of Marines who served as a protective cordon for children who were in the Pentagon and the more than 300 K-9 rescue dogs engaged in the largest search effort in history.
Brian Segren, assistant chief for the Rural Fire Protection District, spoke to how training and expectations for first responders changed after 9/11.
Pat Gorman, executive director for the Reagan home, Kyle Ferrebee, program director at the home, the Dixon High School Honors Choir, Dixon American Legion and Veterans of Foreign Wars, Madison Loomis, a student at Newman Central Catholic, and Dixon Mayor Liandro Arellano Jr. also took part in the program.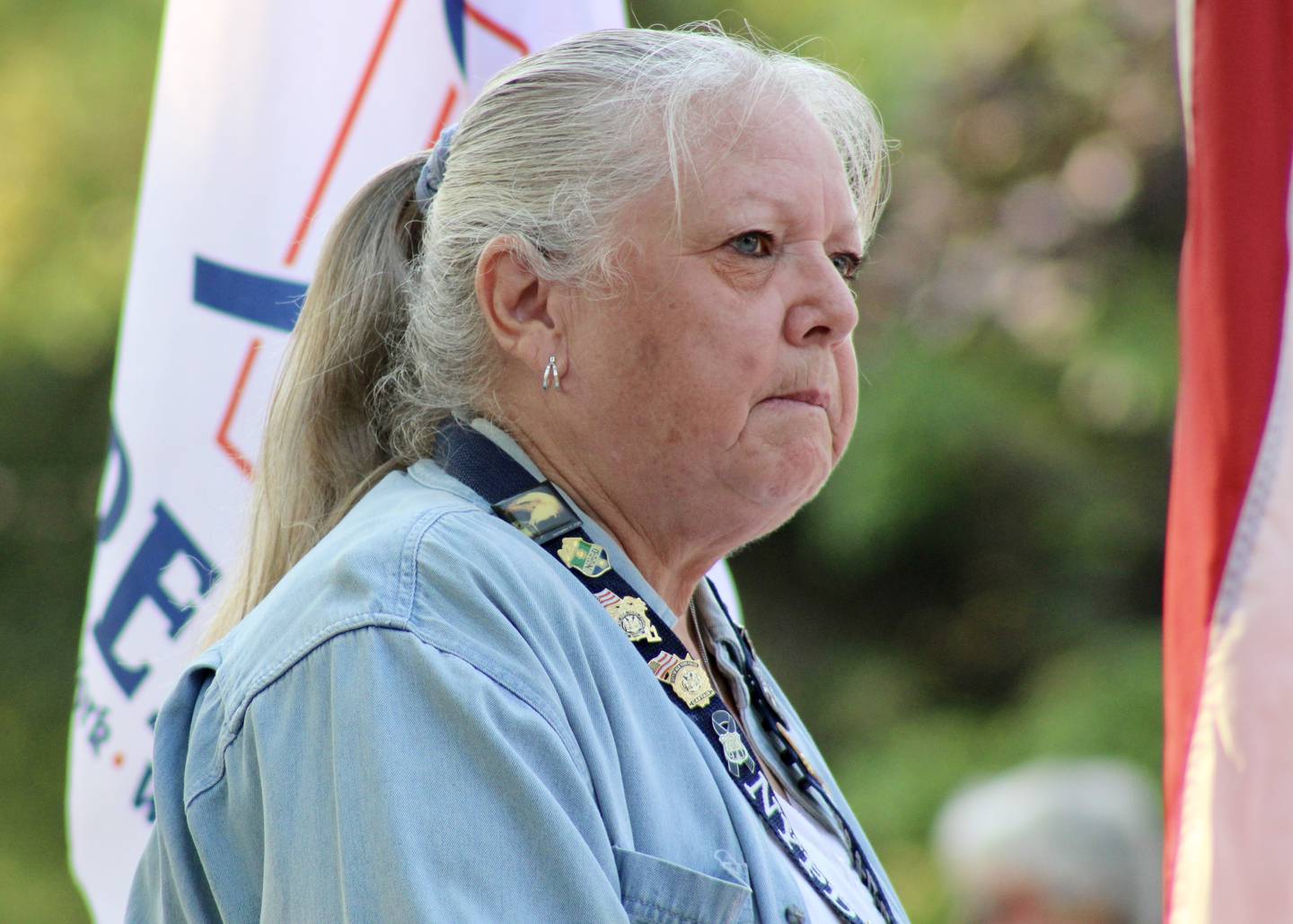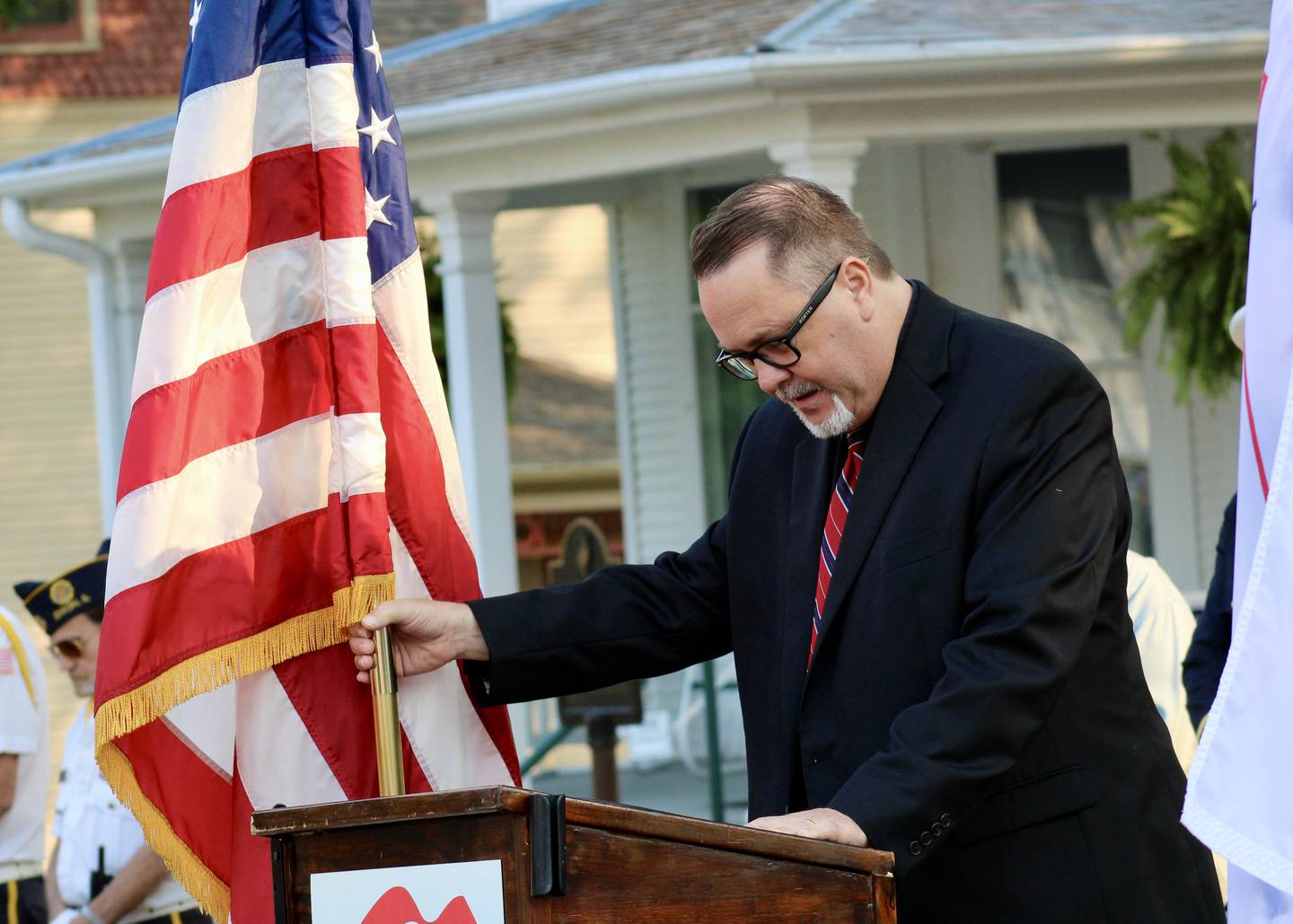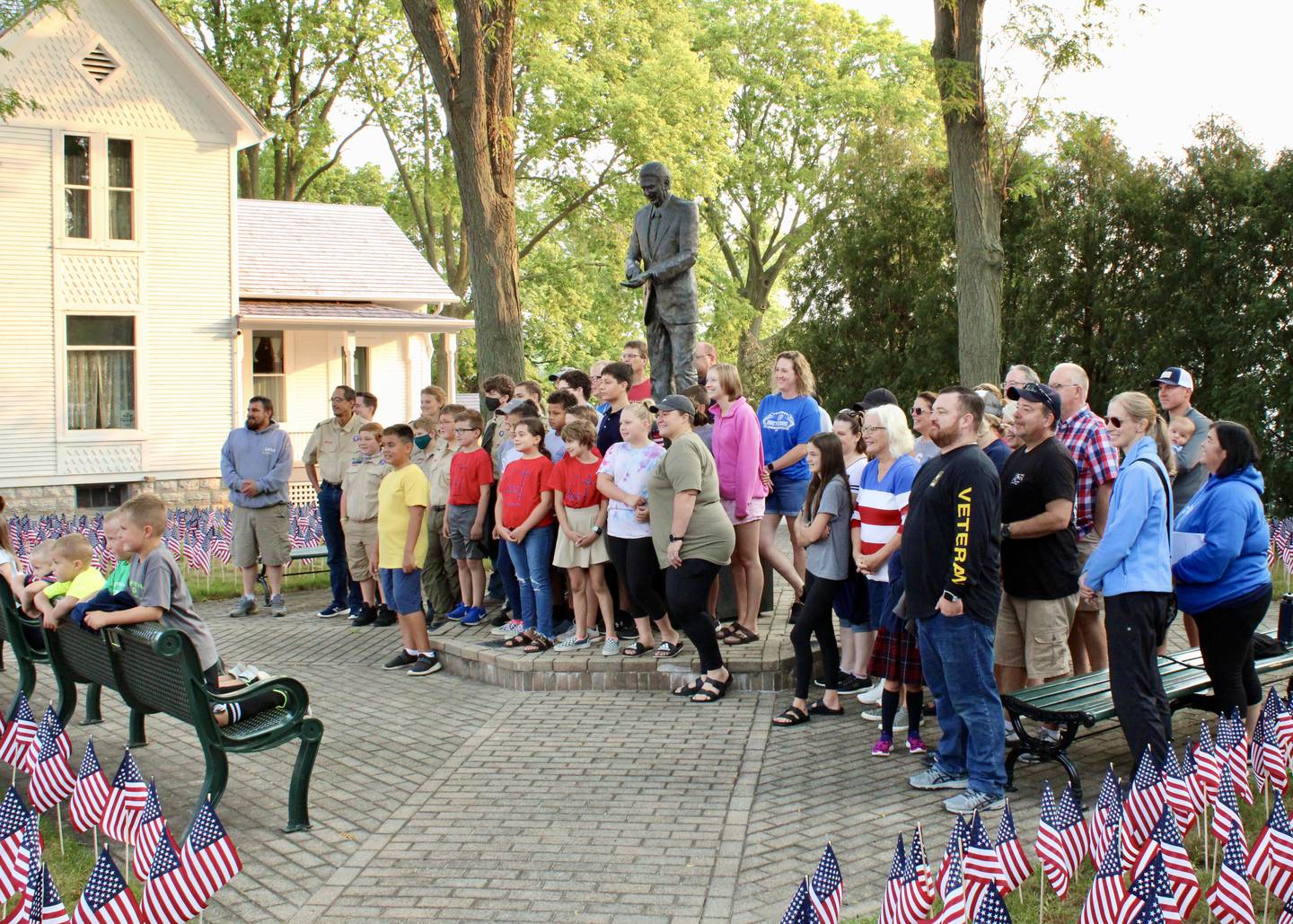 Sterling
Grandon Civic Center bandshell served as the backdrop for a ceremony that emphasized uniformed service and sacrifice.
There was recognition of armed service members and veterans, first noting their participation in foreign conflicts and then by service branch. Representatives from area fire, police and EMT departments were also given a moment of recognition. Members of the American Legion were acknowledged, while Rock Falls Post 902 and Sterling Post 296 provided a 21-gun salute followed by a playing of Taps.
Fran Dunham, who had volunteered with the Red Cross, was in the audience and recognized for her efforts.
Alma Austin, Sterling Mayor Skip Lee and Porter served as speakers. Then Sterling's Kenneth Zuithoff, who was a police chaplain, talked about his experience during his NYC tour of service during the difficult week before Thanksgiving.
He discussed having emotional exchanges with first responders and workers, including those who kept going because they received letters from everyday school children. He remembered seeing fire engines, vehicles he thought nearly indestructible, left as shattered hulks in the landfill. And he remembered consoling those Ground Zero workers who were grieving, not just from their everyday experiences, but from lifelong wounds that the attacks had made worse. It made for a memorable Thanksgiving that taught him humility, he said.
The service included 13 empty chairs for those service members killed during the withdrawal of troops from Afghanistan in August.