OREGON – Gary and Eddie Monnahan eat with their breakfast club every week.
But last week, they received something extra special that's not usually on the menu at Bela's Cafe in Oregon.
The Oregon pair received the Oregon Chamber of Commerce's Community Hero award for their work at Lifeline Food Pantry during the pandemic.
"They kept it a very good secret," Eddie said. "Everybody did. We just appreciate the community. We can't tell you enough how good these people are. Some people that you don't think, they just have hearts of gold."
The Monnahans received a $4,000 check and $1,000 in chamber bucks to spend at any Oregon business. The award is funded by Exelon Generation.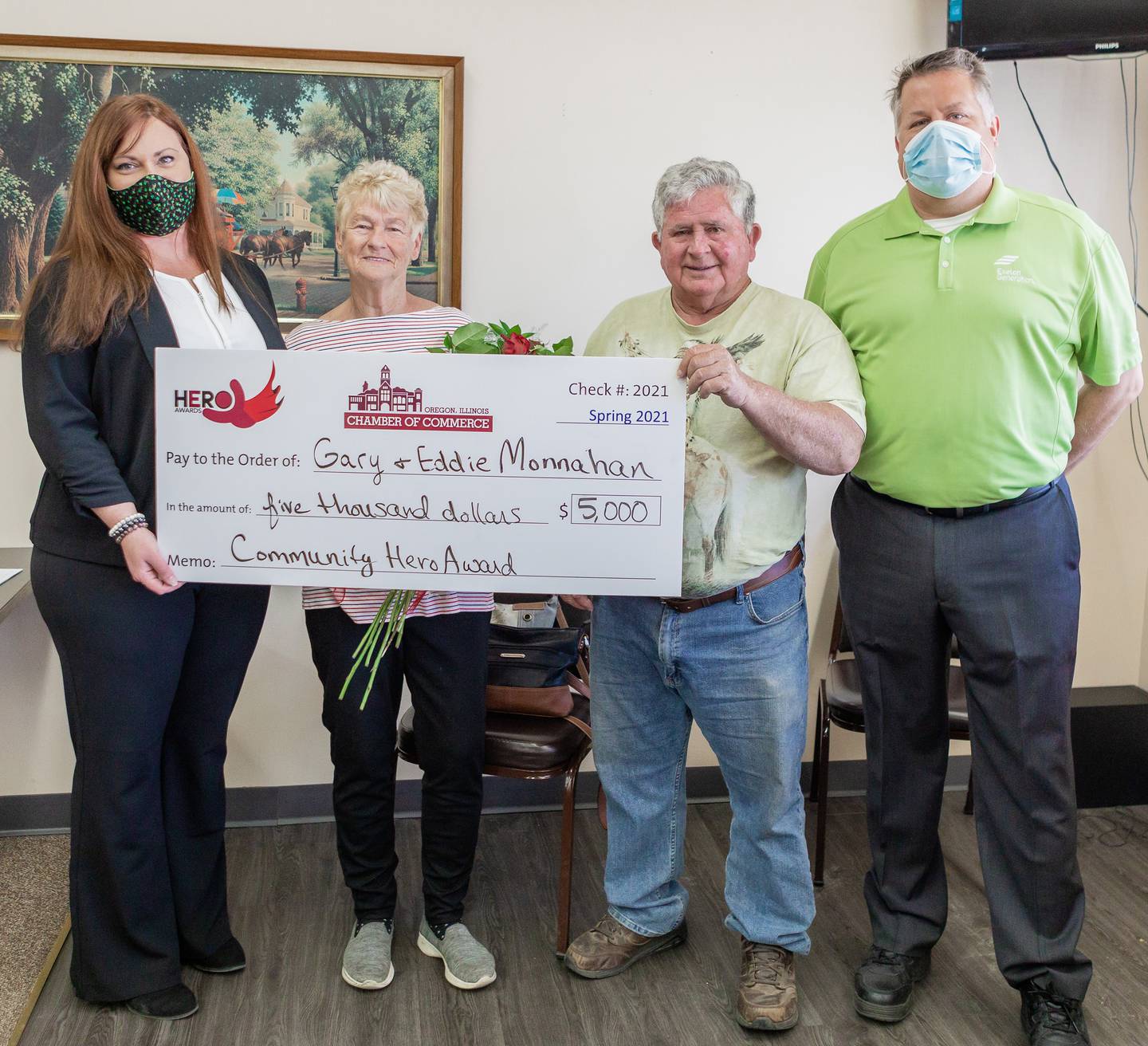 Eddie said working the pantry during COVID-19 has been difficult. Food has to be coordinated and boxed up differently with a mask and gloves. Some people have been nervous about coming in. Everything, including the carts used to move the food, is sanitized.
"They help a lot of people in need," Eddie said. "When you have a lady with children in need that you can help, it makes you feel great. There's hardly a better feeling. They're happy over a little food and bread. If anybody needs us, just reach out."
The Monnahans said donations have still been "very good" during the pandemic. Lifeline services Oregon, Chana, and part of Grand Detour.
"Generous," Eddie said. "Whoever is donating it, they're phenomenal. So far we haven't run out of food, and with donations we've been able to buy a new freezer. I think the need stays about the same. It's the clientele and when they feel comfortable coming. We normally have over 100 families and their children. It can be 300 people total. It's a lot of food."
The Monnahans volunteer for many other things in the community, including Autumn on Parade, Knights of Columbus and the Rock River Center.
Gary made and donated wooden doll houses for the Rock River Center to sell since they were not able to have their usual fundraisers during the pandemic. They volunteered so much over the past year that family members voiced concern for them. Gary is 76, Eddie is 74, but that didn't stop them.
The pair also helps care for their grandchildren and great grandchildren.
"We volunteer at the fairgrounds, too," Eddie said. "Gary mows the lawn. We're hoping to have a huge fair this year. Whatever else needs fixing, he fixes it. Anything in town. We just do things and don't think about it."
"We always kid that almost at the end of every time we do something, everybody got a raise today," Gary said. "Nothing to nothing is still great."
Lifeline Food is located in Conover Square Mall at 201 N. 3rd St. #6 in Oregon. It can be reached at 815-732-7891.
"We all run it together and pick up where the slack is," Eddie said. "I know this is for Gary and I, but it takes everybody. I can't think of anybody who doesn't deserve it. It's like, wow. Terrific."