While partisan politics in Congress feels as bad as ever amid gridlock in the nation's capitol, those inside politics indicate they will miss U.S. Rep. Cheri Bustos' ability to be a bipartisan voice in a polarized climate.
Bustos, an East Moline Democrat, decided last year not to run for a sixth term in Congress.
"It's a real loss," said U.S. Sen. Dick Durbin, D-Springfield. "I'm disappointed because she really showed a talent at public service. She does it for all the right reasons.″
First elected to Congress in 2012, Bustos announced in 2021 that she would not be seeking reelection in 2022. Named one of six congressional Democrats to watch in 2018 by The Wall Street Journal for their ability to move up to leadership positions, Bustos became chair of the Democratic Congressional Campaign Committee and was charged with getting more Democrats elected to Congress.
After a 2020 election that saw Democrats lose seats in the House, Bustos stepped away from the role, saying she now is ready to leave Congress.
"I served five terms. I never planned to make this my final career. I was not going to be a career politician," Bustos said. "On a personal level, I reassess my life every 10 years; it's what I've always done.
"And every 10 years I've made some kind of change. ... I just turned 60, and I just ask the question: 'Am I doing everything I want to do on a personal level, a professional level?' And my family was ready for me, after Jan. 6, they were ready for me to do something else. And I'm looking forward to my next chapter."
Bustos said she isn't sure what she plans to do after Congress. Her husband, Gerry, also announced last year that he would not be seeking another term as Rock Island County sheriff.
Those who have worked with her in the district said they will miss her dedication to the community.
"She's been a real blessing to our whole region, but also to the party. We need leaders like her who are conscientious and interested more in moving the community forward than advancing her own career," said Kai Swanson, a Democrat on the Rock Island County Board who has worked with Bustos going back to their time as journalists in the Quad Cities.
A bipartisan attitude in a partisan climate
A year after the Jan. 6 insurrection, Bustos said partisan politics is as bad as ever.
As one example, Bustos said, several Democrats in the House refuse to work with any of the 147 Republicans who objected to certifying the 2020 Electoral College results.
"I view it differently," she said. "I can compartmentalize. I have to compartmentalize if I'm going to get done what I want to get done for our district. I'm in a Republican-leaning district, and I'm a Democrat. So the expectation of people is to work together, even if you disagree on a vote that is that important."
Bustos understands well how partisan politics has become, said Durbin, who first got to know Bustos, also a Springfield native, when she was a kid and babysat for Durbin's family.
"Unfortunately, she's very spot-on and correct in her analysis," he said. "Our nation is really divided, and so is our state."
As chair of the Democratic Congressional Campaign Committee, Bustos had to balance her vision for bipartisanship with others in her party who wanted take a more progressive position. She pulled out of a fundraiser for former Democratic Chicago U.S. Rep. Dan Lipinski, who opposes abortion. U.S. Rep. Alexandria Ocasio-Cortez, D-New York, and others called for small donors to skip donating to the DCCC after Bustos put forward a rule prohibiting the committee from working with donors who spent money to challenge incumbent Democrats in primaries.
Ultimately, Republicans gained 14 seats in Congress in 2020 under Bustos' leadership of Democrat campaigns.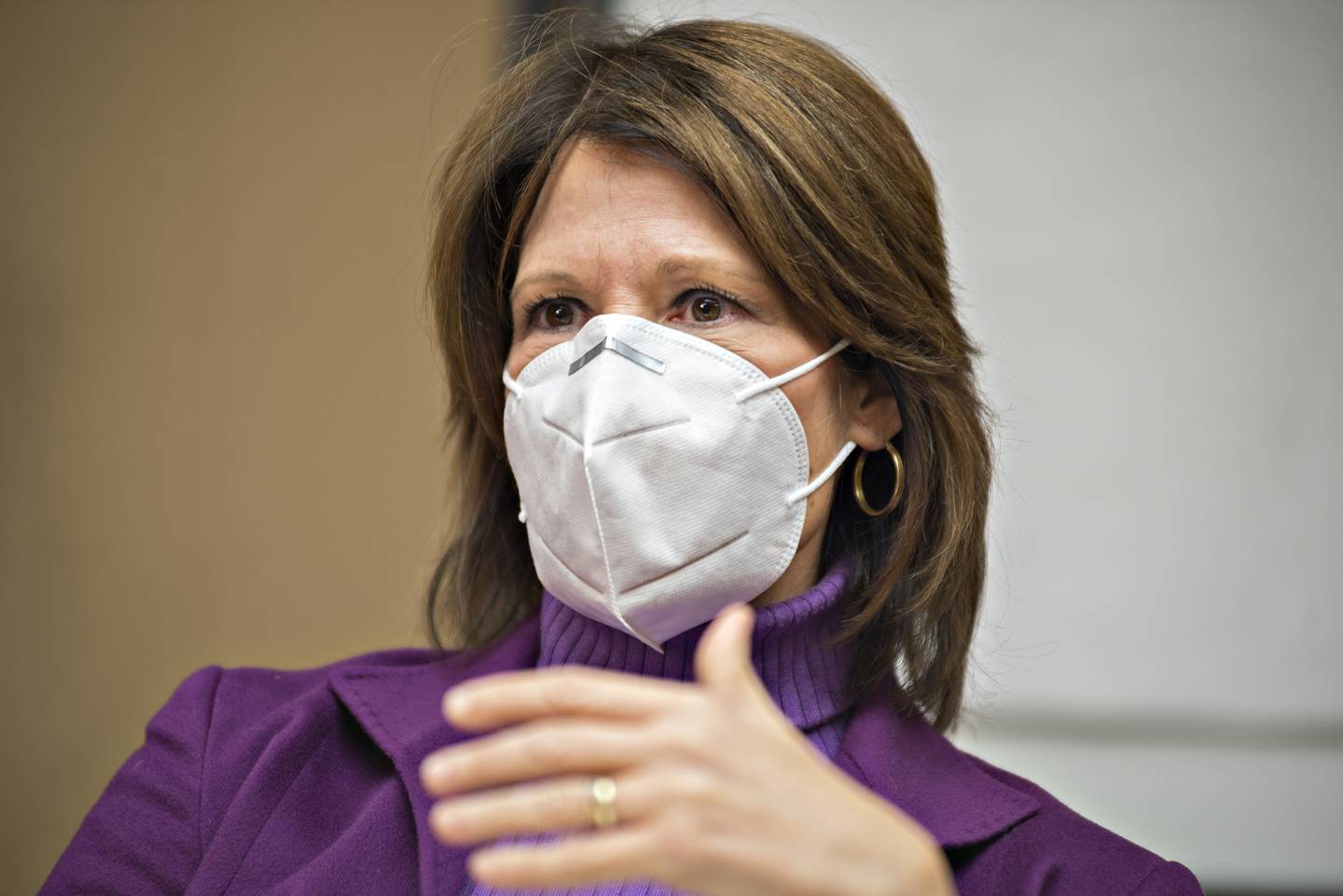 University of Illinois at Chicago political science professor Chris Mooney said there are some reasons Republicans gained seats in Congress in an election that historically benefits Democrats, but one sticks out.
"She was up against this very gerrymandered map," Mooney said. "That was certainly a big part of why the Republicans with few votes ended up [winning more in] Congress."
Mooney said maps that were drawn to benefit a certain party in many states contribute to a candidate's success. He said many Republican state legislators drew maps to favor Republicans in Congress in 2011, and those gerrymandered districts proved beneficial for the party in 2020 in an election where a Republican president was defeated.
By stepping down as chairman of the DCCC after the 2020 election, Mooney said, Bustos showed she took responsibility for the defeat.
Going forward, Bustos said, it's important politicians realize American voters lean more toward the middle than to the fringes of either political party.
"America, we're more middle of the line overall," she said. "I think long-term success will show that [Democrats have] got to deliver, and how you deliver, it's a compromise. We can't look at compromise as being wrong. And I think there are some people who are so to the extremes they view compromise as a bad thing."
Her district's future
The future of Bustos' own district also was put into the hands of partisan mapmakers. Illinois Democrats passed new congressional maps last fall, which were drawn to increase Democrats' chances of winning seats in Congress.
The new 17th Congressional District in Illinois was designed to elect a Democrat in a largely rural, conservative area by picking up Democratic voters in Rockford, the Quad Cities, Sterling, Peoria and Bloomington. However, Mooney said, despite the best efforts of Democrats, the district still could swing toward a Republican, especially since Bustos isn't running.
"If you would've had a popular incumbent who had been around a while, that would've helped a Democrat retain [control]," Mooney said.
The Cook Political Report named the 17th District one of only 14 toss-up districts in November's election out of 435 congressional districts.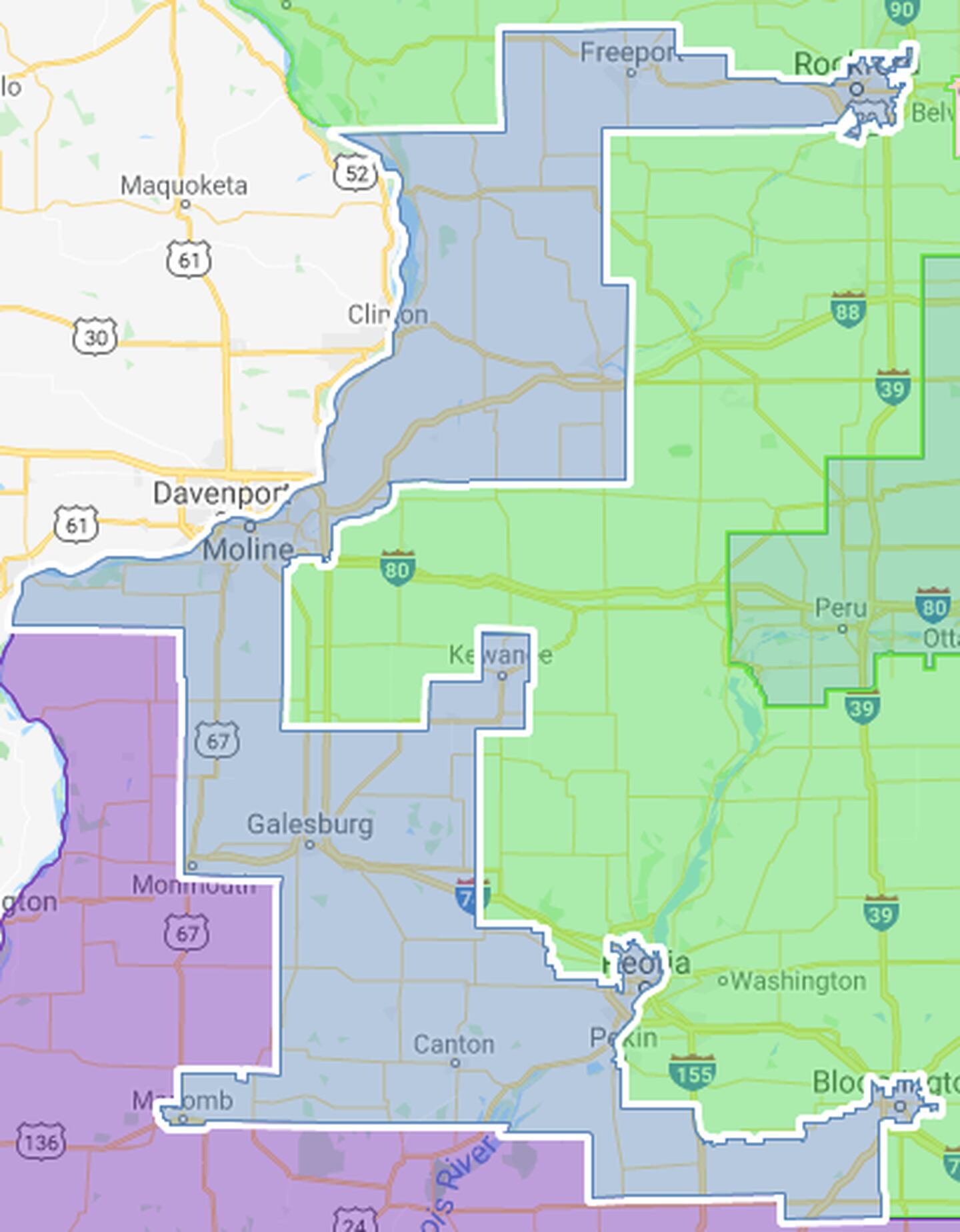 At least six Democrats have announced they are running in the June Democratic primary for Bustos' seat, along with two Republicans, including Esther Joy King, who gave Bustos the closest election of her congressional career. So far, no one is an obvious front-runner, Mooney said.
Bustos would not say who she would support in the Democratic primary, but she said she thought the field of candidates was good.
"My advice is going to be: Stay focused on the people you represent, stay focused on what's important to them," Bustos said.
Swanson has decided he will support fellow Rock Island County Board member Angie Normoyle in the primary, but said Democrats will need to understand the political diversity of the district like Bustos did in order to win the seat again.
"We have to recall the size of our party is the strength of our tent," Swanson said. "If we spend too much time analyzing too much real estate under that tent, then we suffer from it in northern Illinois."
However, Swanson added that Republicans also must be honest about what they believe to win the seat, which includes being honest about what they think Jan. 6 represents and where they stand on former President Donald Trump's presidency. He said the future of the district will be decided by how independents vote.
Before she leaves
There is less than a full year before Bustos leaves Congress, and in that time, she said she still has results to deliver for her district.
Bustos is chair of the House agriculture Subcommittee on General Farm Commodities and Risk Management and said one of the most important objectives over the next year will be making progress on the 2023 Farm Bill. In her position, she plans to focus on the risks to farmers, particularly as a result of climate change and severe weather.
"I'm in a pretty good position to help lay the foundation for making sure that we do right in the 2023 Farm Bill," Bustos said.
She and her Republican counterpart, U.S. Rep. Austin Scott of Georgia, plan to travel across the country this year meeting with farmers and producers to "make sure we are hearing from the people who we need to hear from to get the Farm Bill in the right place," Bustos said.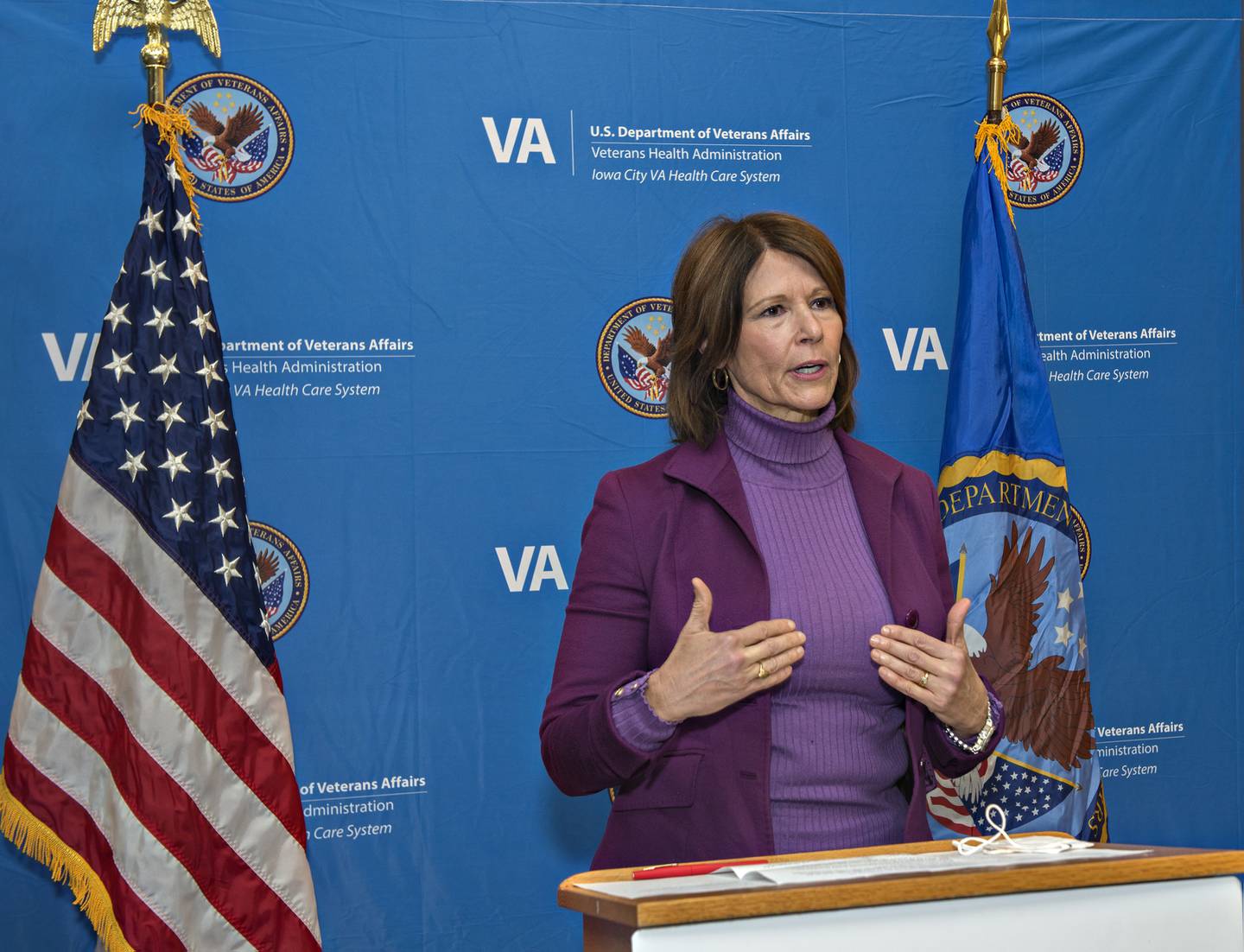 Also on the agenda is expanding access to high-speed internet in the 17th District.
"We finally have the money ... and the plan there is to make sure every house, every business has high-speed internet," she said.
The state is receiving $100 million for broadband expansion thanks to the infrastructure bill Congress passed late last year, Bustos said. More work still is necessary to accurately map out exactly where high-speed internet is needed.
"What we do know is that there's 1 in 4 people in our congressional district who don't have access to high-speed internet, so that's a real problem for our kids trying to learn during the pandemic, a real problem for telehealth," Bustos said.
It's working on issues such as these that are close to people's lives that make her office the best at providing constituent services in Congress, Bustos said. Her office received an award from the Congressional Management Foundation in October recognizing how well it works with people in the district.