TAMPICO – The owner of the Ronald Reagan Birthplace and Museum last week transferred ownership to the conservative group that recently bought the Reagan Boyhood Home in Dixon.
WPW Partners of Chicago, which bought the two connected downtown Tampico properties at 111 and 113 S. Main St./Route 172 in 2003 for $105,000, gave the site to Young America's Foundation, Whiteside County property records show.
Savanna native Wayne W. Whalen, a prominent Chicago attorney long active in Democratic politics, said at the time of the purchase that he was impressed with the Republican Reagan as president and thought that the demise of his museum would be a great loss to history.
Whalen died June 20, 2022, at the age of 82.
His wife, Paula Wolff, director of policy and planning for former Republican Gov. Jim Thompson and now policy advisor for the Illinois Justice Project, among many other appointments, has since been looking for someone to take over the birthplace, its longtime volunteer coordinator, Joan Johnson, said Sunday.
Johnson does not yet know what plans, if any, the foundation has for the site. Perhaps some upgrades – the home, which now is open seven days a week, has no central heating or air conditioning, for example, said Johnson, who has volunteered there since 2005.
"We're just waiting to see what they have in mind for us," she said.
The foundation could not be reached for comment because of the holiday weekend.
The YAF, based in Reston, Virginia, bills itself as "the leading organization for young conservatives." It was founded in 1960 as Young Americans for Freedom.
In December 2020, the YAF took ownership of the Reagan Boyhood Home and Visitors Center at 810 and 816 S. Hennepin Ave. in Dixon, and two other neighboring sites, from the Ronald Reagan Home Preservation Foundation, which had owned it since 1980.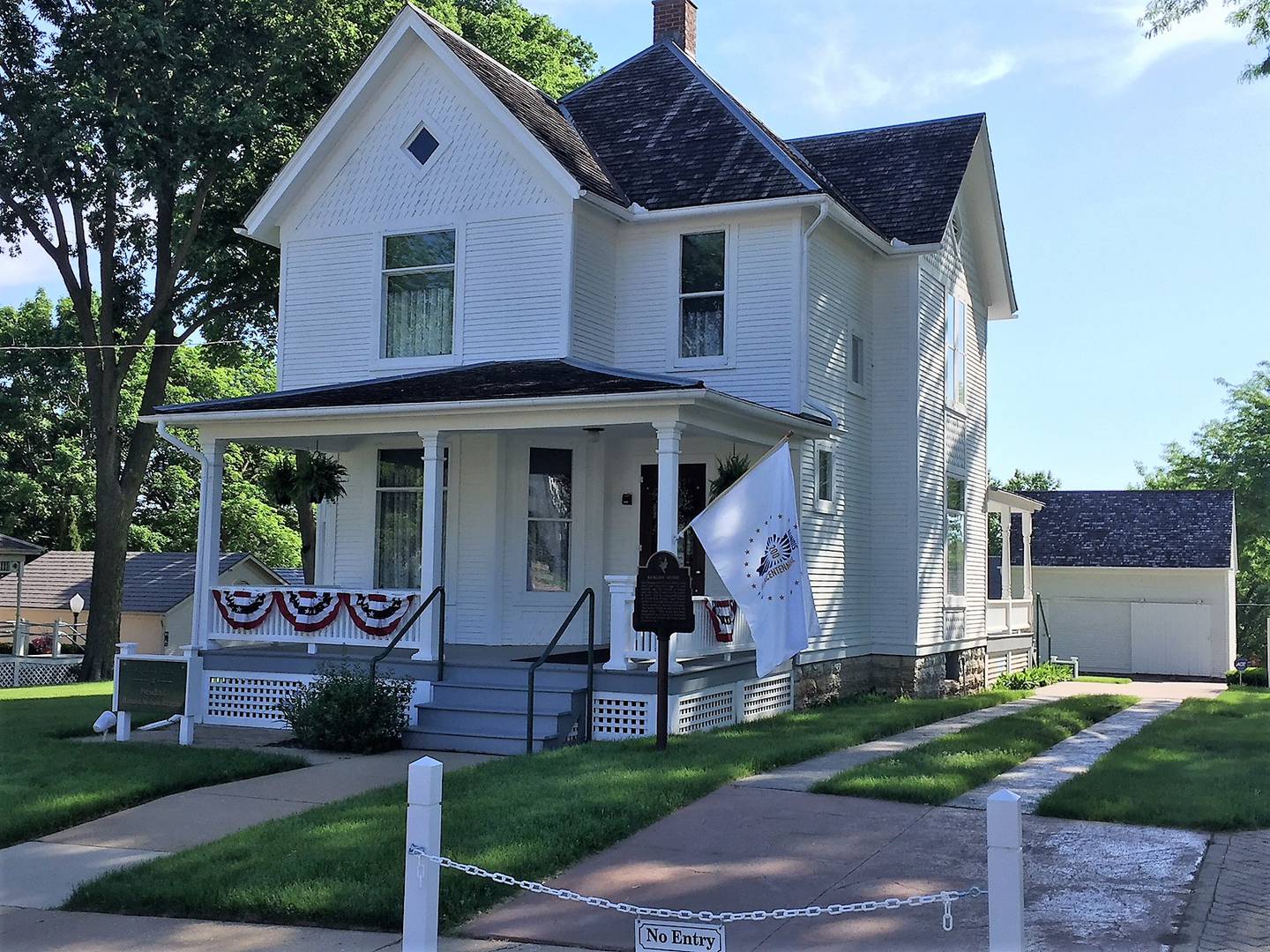 The takeover was welcomed as a means to stave off closure.
The home, which had been hit by a decline in visitors in part because of the COVID-19 pandemic and in part because of a waning interest in Reagan's presidency, was struggling to pay for much-needed maintenance for the structure, which was built in 1891 and added to the National Register of Historic Places in 1982.
It also was trying to pay off debt from the purchase of those neighboring properties, which were bought for a site expansion that did not materialize.
The acquisition of the birthplace completes a trifecta of sorts.
The YAF also has owned Reagan's 688-acre Rancho del Cielo in Santa Barbara, California, known as the Reagan Ranch and the only home he owned while president, since 1998.
Reagan was born Feb. 6, 1911, in an apartment on the second floor, and his family moved that May to a nearby house in Tampico, where they lived until late 1914, when they moved to Galesburg.
They moved to Monmouth in 1918, returned to Tampico in 1919, then moved to Dixon in late 1920, where Reagan spent his formative years, and which he always considered to be his hometown.
In 1962, two years after it was founded, Reagan joined YAF's National Advisory Board, eventually becoming its honorary national chairman.
In 1974, the foundation sponsored a nationally syndicated radio program featuring Reagan as the then-California governor.
During each year of Reagan's presidency, he hosted students attending YAF's National Conservative Student Conference at the White House.
The 40th president – the only one to have been born in Illinois – died almost 20 years ago on June 5, 2004.