STERLING — Sterling Public Schools will spend $27,000 in each of the next two years – providing scholarships so employees with associate degrees can study while on the job and eventually become credentialed teachers in the district.
The board of education unanimously approved the expenditure during Wednesday's regular meeting.
The contribution serves as the backbone for a larger recruiting and instructional effort called SPS University – designed to address the acute teacher shortage by helping people with Sterling ties become teachers within the district.
"It's all been planning, and so now it's 'Go time,' " said Sara Dail, assistant superintendent who is leading the SPSU effort.
The hope is this will produce four qualified teachers in time for the start of the 2026-27 school year.
Superintendent Tad Everett informed the board that by approving this recommendation, the process of signing up employee applicants can begin April 1 with the intention that their participation will begin in August.
Now that I have the green light, the next step is to reach out to our staff that already have their associates to get the numbers of who is going to apply."

—  Sara Dail, assistant superintendent in charge of SPS University
From the perspective of applicants in non-certified positions, it's an opportunity to improve their qualifications for a higher-paying job in the field of education.
"We are not a perfect organization, but we definitely have perfect intentions," Everett said: "This is just another example of how we value our employees and invest in them and grow with them. And so we're excited about this."
Everett said the district has tried to jump start a Grow Your Own Program for several years. The biggest barrier has been finding a way to meet the financial concerns of paraprofessionals and other staffers interested in pursuing a bachelor's degree program in education but can't afford to give up their day job.
Previous iterations required that person to take a leave of absence, especially in the student teaching phase. Under this plan, paraprofessionals can stay in Sterling and still earn a degree.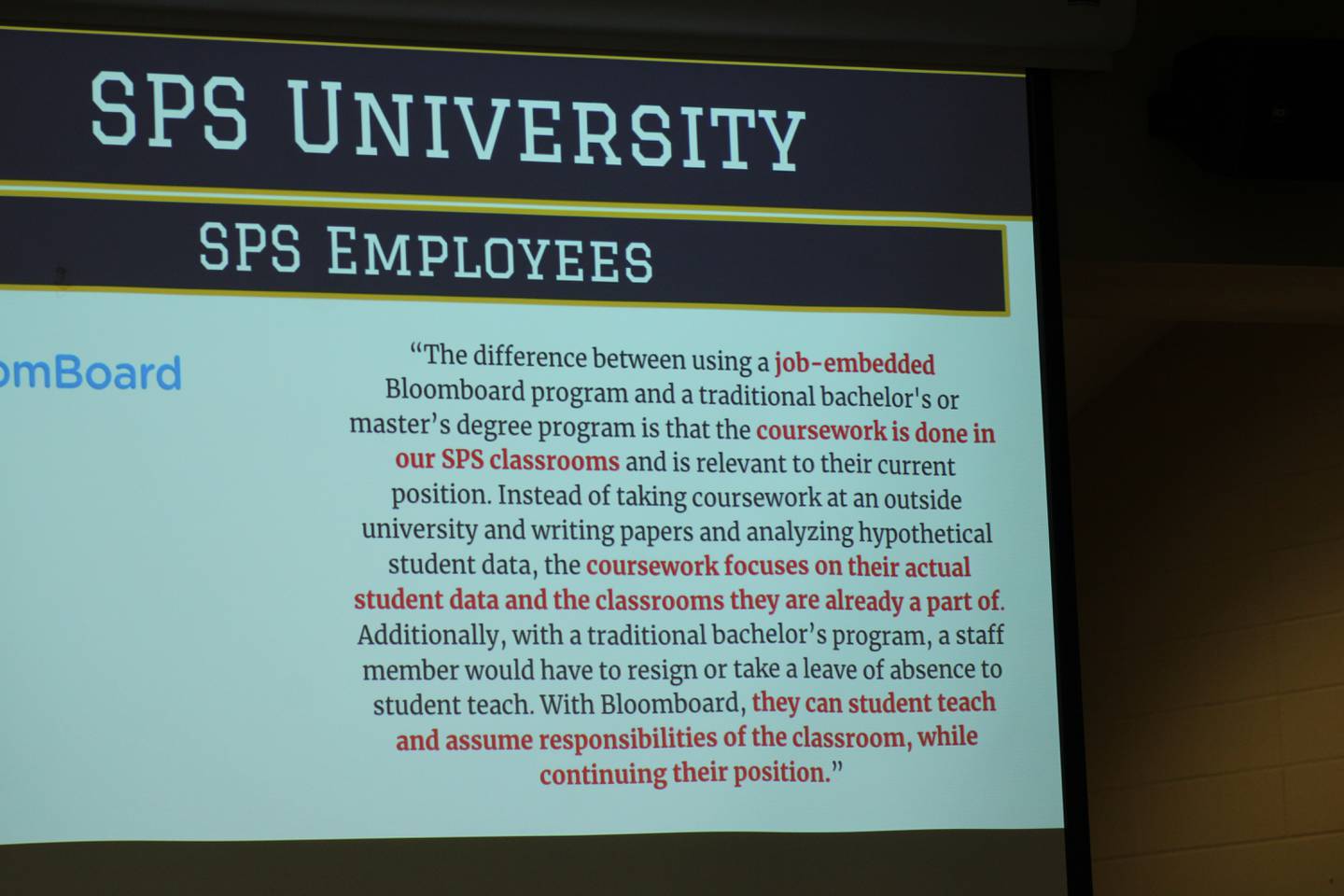 Sterling's partner for this is Bloomboard, which specializes in job-embedded instruction.
Bloomboard's teacher apprenticeship program provides 60 credit hours of college coursework and meets the requirements for a professional educator license in Illinois.
(Bloomboard also provides a master's degree program and certification endorsements for teaching English learners or for teaching students with disabilities – which the existing teaching staff can also avail themselves of.)
The apprenticeship program costs $13,500 per year.
Initially, Sterling Public Schools can provide $6,750 scholarships to four employees to go through the program. The scholarship recipient would pay the other half, and be contractually obligated to teach at the district for a specified period. Some of those details, including the selection process, are left to the administration.
Before the board vote, the administration provided evidence of how applicants for teaching vacancies have tapered off – and in some instances, all but evaporated.
For example, a 2021 posting for an elementary teacher with bilingual endorsement has yet to produce an applicant while a current posting for a math interventionist produced one external applicant.
The district has received just two applications – one coming from Australia – for a high school science position that opens up in June.
Since 2021, there have been seven openings that generated only one external applicant. Except for a first grade teacher opening that produced 19 external applicants, there hasn't been a position that brought in more than 10 external inquiries. In the instance of an opening for a middle school special education teacher, there were four applicants, but only one had the certification required.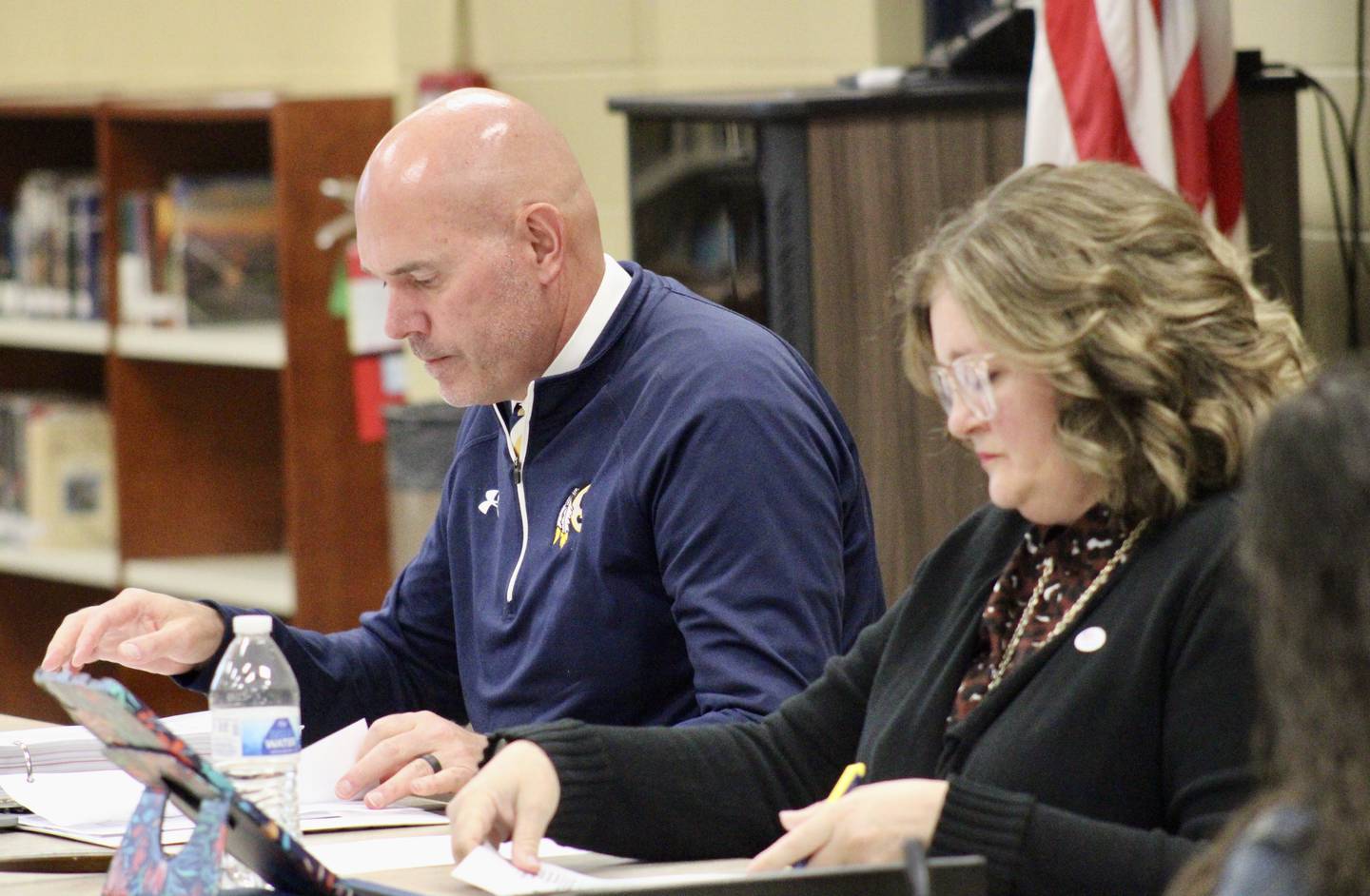 As points of comparison, the administration said a posting in 2004 for four elementary school openings generated 1,100 applicants and a 2011 posting for an English language arts position yielded 74 applicants.
According to Northern Illinois University, which administers teacher licensing tests for the Illinois State Board of Education, there were 5,100 tests given in 2021, a drop from the 51,000 tests given in 2015.
Against such dwindling prospects, Dail said she is excited to move on this aspect of SPS University.
"Now that I have the green light, the next step is to reach out to our staff that already have their associates to get the numbers of who is going to apply," Dail said.
Sterling Public Schools
Teacher applications since 2021
Listing by position, number of internal and external applicants
Elementary art (2021), 2 external
Elementary bilingual, none
First grade, 1 internal, 19 external
Elementary STEM, 4 total
Elementary STEM, 1 internal, 7 external
Elementary Art (2022), 4 external
Kindergarten, 2 external, 6 external
Third grade, 1 internal, 9 external
Elementary math interventionist, 1 internal, 1 external
High School science (2021), 1 internal, 3 external
High school English, 1 external
High school special education, 1 external
High school special education life skills (2 positions), 10 external
Middle school English language arts, 1 internal, 2 external
Middle School social studies, 5 external
Middle school special ed (2022), 1 external
Middle school bilingual, 1 external
Middle school reading interventionist, 2 internal
Middle school math, 3 total
Middle school special education LBS1 endorsement, none
High school science, 2 external