DIXON – After a 50-year hiatus, Alberta Duffy and Belle Long are neighbors again.
After raising their families right next door to each other on Fourth Street in Dixon, they find themselves together again on the same floor of Heritage Square on the city's north side.
The are members of America's Greatest Generation. Born during the Roaring '20s, they lived through the Great Depression, a bloody world war and the struggle to raise large families in a small blue-collar town that witnessed profound cultural changes over the years.
Alberta turned 102 on Aug. 16; Belle just turned 97. Their beloved husbands, Harold Duffy and Ed Long, died a year apart, in 1998 and 1999, respectively. Both husbands served in World War II, while Alberta and Belle did their part for the war effort working in area defense plants.
They went through so much with their husbands as their partners, and now they've survived another generation without them.
If you ask Alberta and Belle about their lives, they will modestly tell you they did nothing out of the ordinary, but make no mistake, these two women lived remarkable lives.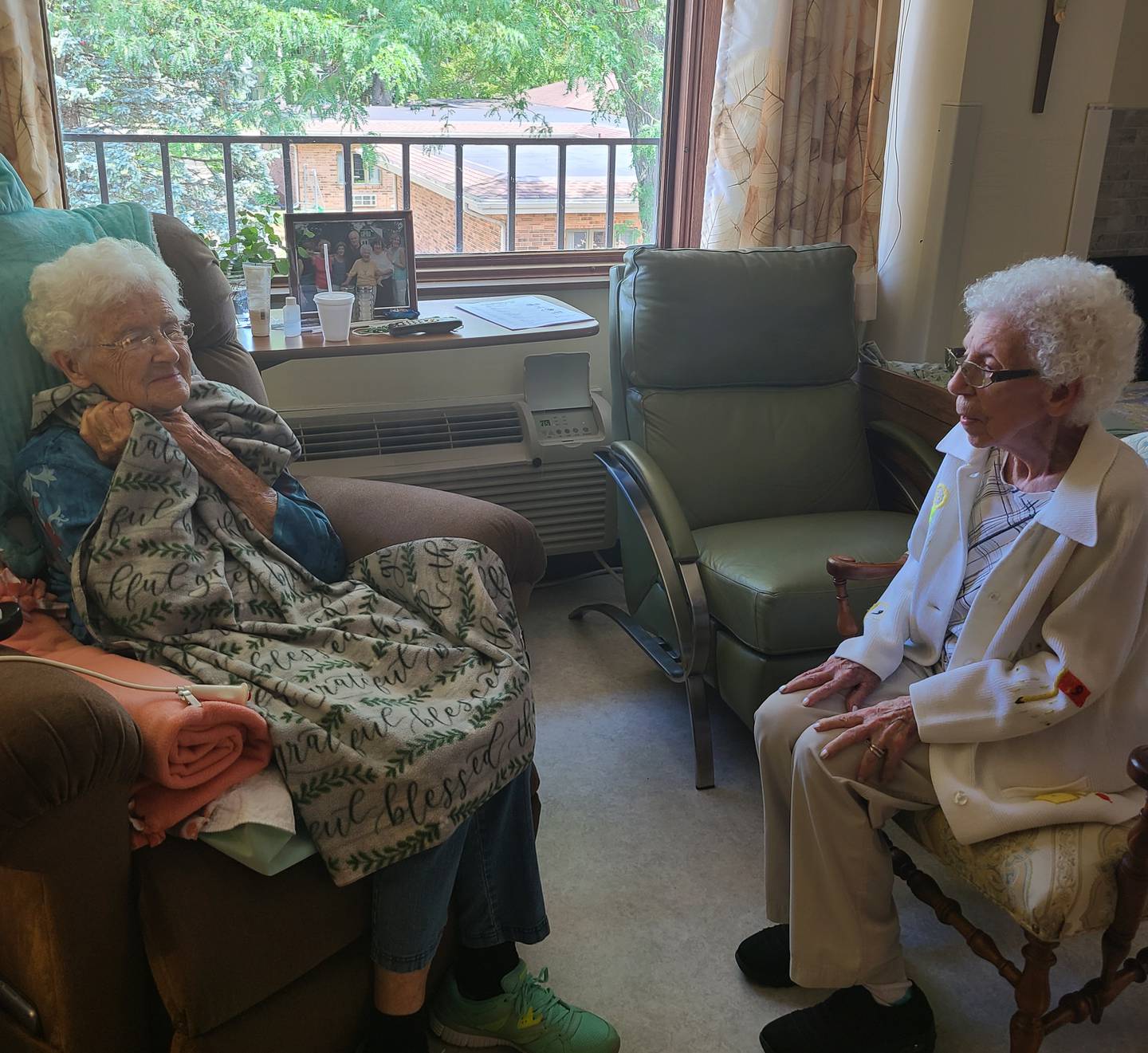 Their story is of two Irish-Catholic families in post-World War II America who survived and thrived through hard work, faith and family.
It was not an easy life – pennies were pinched – but it was based on the values that they grew up with and practiced every day. Both came from strong, family-oriented beginnings, and their adult lives were characterized by hard work, integrity and putting their own needs second to others.
After the war, as did many across the country, Alberta and Belle picked up their lives by starting a family and getting back to normalcy.
They were instrumental in providing a solid home life as the matriarchs of their large families. Harold and Alberta had six boys, starting in 1947, and Ed and Belle had five girls and a boy, starting in 1948.
Because money was tight, both families had to rent the upstairs of their two-story homes until their sixth child, each born in 1959, forced them to take over the entire house.
The neighborhood was flush with families with school-aged children who played without a care, while Alberta and Belle tended to the house and the kids with the ever-present anxiety of dealing with an austere budget.
It is no surprise that Alberta and Belle became fast friends as next-door neighbors. They had common upbringings, both were young wives struggling to raise their growing brood and it just made sense to lean on one another.
Their friendship started in 1950, on the day Alberta and Harold moved in next door with their three young sons. Belle welcomed the new family, and Alberta knew that they found a home and she a new friend.
Photographs of the kids growing up in those households show classic small-town Americana, but an innocent '50s grew into the turbulent '60s that presented different challenges they grew into adolescents.
Both families consisted of basically good kids, but Alberta had her hands full with six boys who clearly were no angels. Belle had a much easier time with her five older girls, but she was never one to be challenged. Her authority was unquestioned.
Nevertheless, raising six kids was never an easy proposition for either woman, testing their patience and sanity trying to keep them to a standard that was rooted in their own upbringing.
In 1970, after 20 years on West Fourth Street, Harold, Alberta and the three boys still at home moved to the east side of Dixon, away from Ed and Belle.
The families remained friends through church and school. The two youngest, being born in the same year, had been friends since they could remember, and their close relationship lasts to this day, despite them being in their 60s and living in different cities.
As the years rolled by, Alberta and Belle dealt with all that life serves up – the good, the bad and the tragic. Both had to contend with losing grandchildren way too early in their young lives, and Alberta also had to deal with heartbreak of burying her oldest son.
Alberta's mantra these days is, "It's a great life, if you don't weaken."
Neither she nor Belle ever have weakened in the face of life's twist and turns. They are to this day incredibly strong women, dealing with a new sedentary life that is hard for the energetic pair to adjust to, even at their advanced ages.
In fact, neither woman seemed to have an off switch; maybe that's the key to their longevity.
Alberta moved into Heritage Square seven years ago, when she was 95 while Belle, incredibly, lived alone in her Fourth Street home all those years, until moving in a month ago, at the age of 97.
They've been brought together again, 20 feet away from each other, to face the closure of their lives as they shared the beginnings of their family lives decades ago.
They are still vibrant women who represent the best that Dixon has to offer, truly remarkable women from our country's greatest generation, with a couple centuries of living between them that could teach us all how to live a profound and meaningful life.
Editor's note: Mike Duffy is Alberta's youngest. He lives in the Chicago suburb of Park Ridge and drives to Dixon every other week to visit his mom.