Having accomplished something no other Newman volleyball team has ever done before, it still hasn't really sunk in for the Comets that they'll be playing at Redbird Arena on Friday morning.
Three days after winning the Class 1A Eastland Supersectional, and having a weekend to think about it, Newman's players were still trying to wrap their heads around the upcoming trip to the state tournament during Monday's practice.
"I think we're all still in shock. There are random times when everyone will just tell each other, 'Oh my God, we're going to state.' It's so surreal to all of us, I feel like," said setter Katie Grennan, the only senior on the team. "We knew we could get there, but being there now, it's just insane."
The Comets (29-7-1) are one of only four teams in Class 1A, and 16 teams in the state, still practicing this week – and despite the running of laps after making mistakes during their usual serving session, they were enjoying themselves.
As close-knit a team as they come, most of these players have known each other their entire lives, despite being from different communities, and they've been dreaming about – and preparing for – this moment their entire volleyball careers together.
"I think it's pretty crazy that we've been able to get here," junior middle Sophia Ely said. "All of us have grown up with each other throughout the years, we've all been around the same towns. Most of us have been on the same team since we were in fifth grade, so when we came to Newman, it was like we already knew each other and we were already together, and we've just gotten closer ever since."
Ely cites that as a big reason why Newman has been able to put together this postseason run. A team that has consistently grown throughout the season, the Comets are definitely a different team than they were back in August – and even from a few weeks ago as they finished off an undefeated run through the Three Rivers East.
The regular season didn't end as strongly as Newman would've liked. Back-to-back losses to finish fourth at the Linda Ludwig Memorial Tournament in Lanark were followed by a TRAC crossover win on the road against Erie-Prophetstown, then a lackluster loss on the road against Oregon that left a bad taste in the Comets' mouths as they prepared for the postseason.
But it's been a different team the last five matches, and the historical nature of this run is something that's not lost on the players.
"I think starting the postseason, it was such a drastic change from the team we were before, and as we continue to be now," Grennan said. "Our communication, the excitement on the court, it's just really brought us together, and this is something no other team has done, so I think that really makes the connection with every single one of these girls."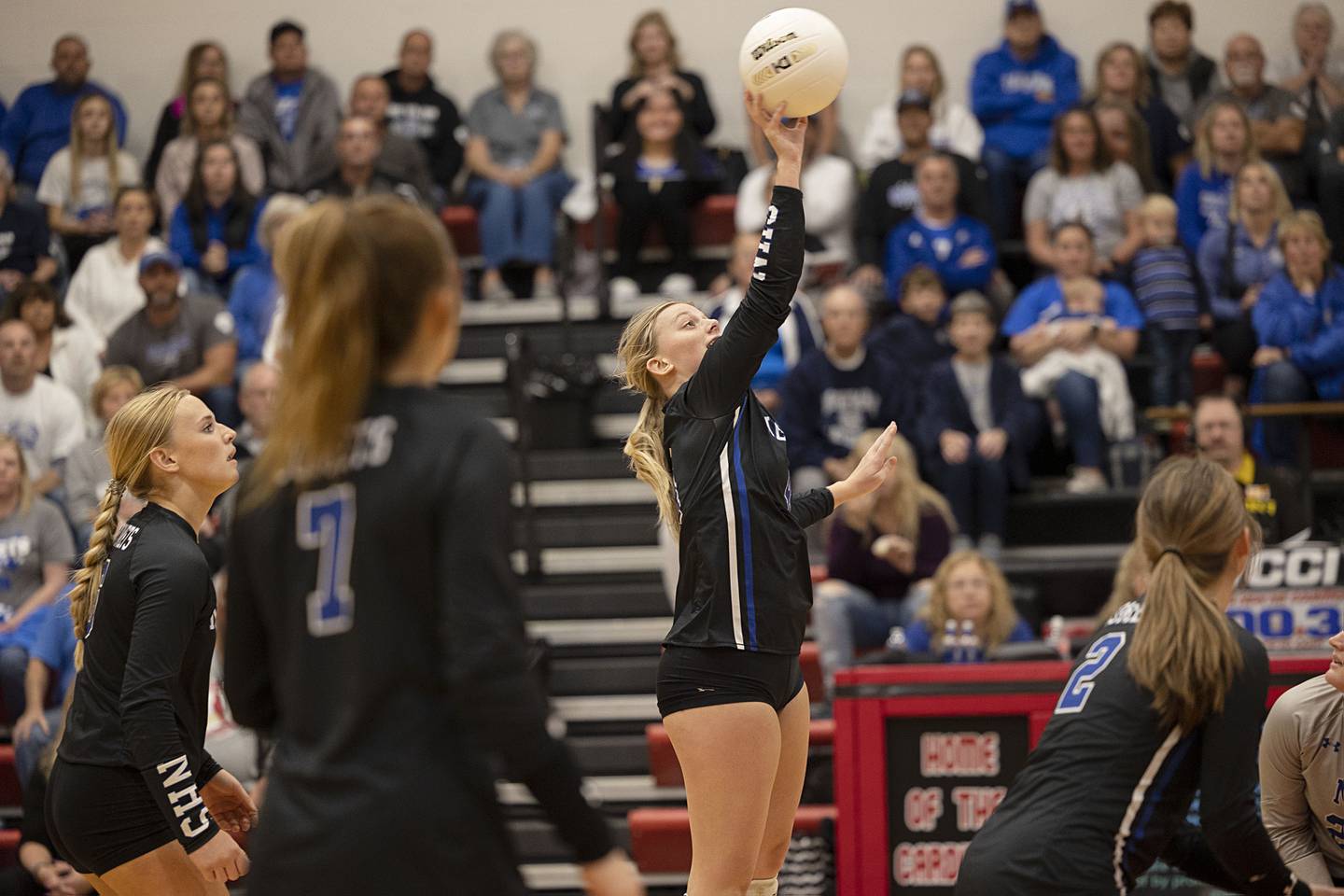 That connection includes a teammate who has missed most of the season after being injured early on.
Junior Ellie Rude has been out since Labor Day weekend after being hit in the eye with a volleyball during the Rock Falls Invite. But as tough as it's been for the ever-active Rude to have to sit and watch, what she's seen from her teammates has been special.
"It's really cool to see how they've grown. I like seeing them connect. It just shows we're doing this all from our hearts," she said. "It's been really hard because I just want to go out there and play again, because that's all I'm used to is just playing sports all year long. It's just been a hard time for me, but I'm so happy for the girls, because I know they want this, and I want this for them. It's been very special to me, and it's still really exciting even though I'm sad that I can't be out there on the court with them."
The turning point in the postseason was something the Comets maybe didn't even notice as it was happening.
With their backs against the wall after losing the first set to Fulton in the Polo Regional final, a late second-set rally seemed to spark something. Fighting for its season, Newman turned a 15-12 deficit in the second set into an 18-16 lead, then broke a 20-20 tie with the final five points to force a third set.
Then, leading 14-11 in the third set, the Comets scored 11 of the final 14 points to pull away for the win and the regional crown.
Not only did it clinch the win and keep the season live, it also led to a "Eureka!" moment of sorts.
"I think in that regional final game when we were down in that second set, they just knew they had to come back and get that win, and then once they were kind of up at that height, now they've just learned how to stay up there," Newman coach Debbi Kelly said. "They're maintaining it, they're working hard in practice for that, and they're not getting down when a point doesn't go our way; I think they've realized that that doesn't work. We've just got to stay up and just take one point at a time, and we're really stressing that: don't look at a game, look at a point, and take one little step at a time and we'll get where we need to go."
It certainly seems to be working: Newman didn't lose a set in the next three matches, and are currently riding an eight-set winning streak into the Final Four. The Comets have only lost one out of their 11 sets in the postseason.
"It's pretty unbelievable, but I think it's because we've had a lot of realizations at different tournaments and in matches that one wrong step can change a season for you," Ely said. "Recently, we've been making the choices that brought us up and helped us win throughout the season.
"I think a huge help has been our serve-receive, because we work on it every practice and we're pretty strict on it. Also, our communication has helped us a lot. And as a team, we've gotten a lot closer, and that's helped us a lot too."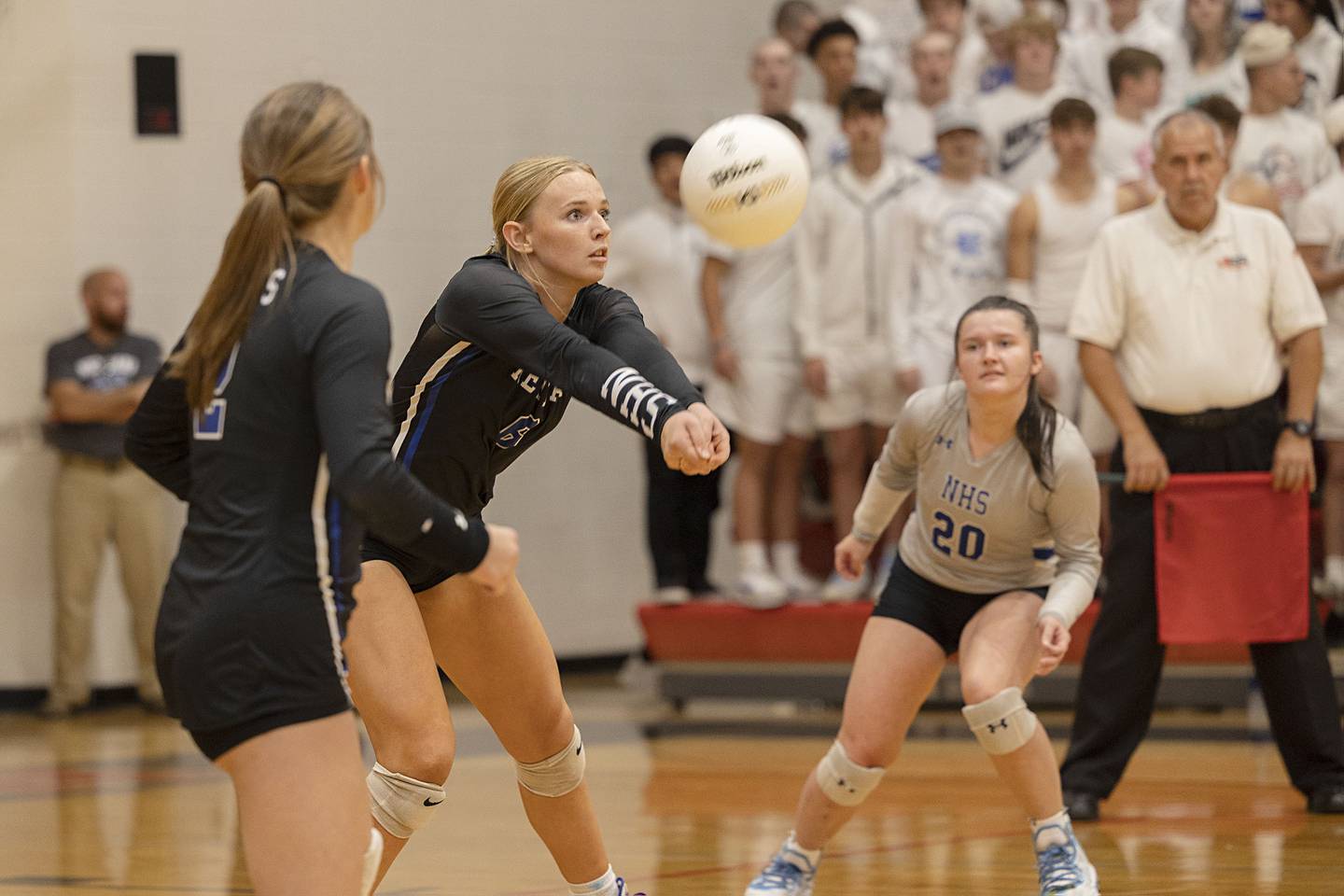 Grennan credits the current momentum to supporting each other on the court, even when things aren't rolling Newman's way.
"I think it's all about talking each other up. When one person gets down, I think as a team we don't go down with them; we're all in it together to bring that person up," she said. "I think that and our communication with each other on and off the court, and just boosting each other's confidence throughout the whole match is keeping us in the game as well."
Rude has seen it all unfold from the sideline, and she's done her best to help in any way she can. She has the unique perspective of being a player who knows what it looks like on the court in the thick of it, but also a different view where she can see the whole court from her seat on the bench. That allows her to provide valuable intel to her teammates during timeouts and between sets.
She's also the biggest hype-person on the bench.
"I have been trying to help the team during timeouts with what I'm seeing from the bench, and mostly I've just been lifting them up," she said. "I can obviously see everything from the side, and you can just tell when someone gets down. I just want to lift them up, because that could affect their play."
As the lone senior, Grennan is appreciating this ride more than most. As a natural leader on the court at the setter position, she's also enjoying all the time she gets to spend with her talented junior teammates.
And the fact that she's not the only player with varsity experience coming into the year – juniors Jess Johns and Kennedy Rowzee have played alongside Grennan the last three seasons – also helped take some of the weight of leadership off her shoulders and allow her to excel in multiple roles on the court.
"It's really special, what we're doing," Grennan said. "I just think with other returning varsity players like Jess and Kennedy, it's helped me not have to take on that role of the only one who has been on varsity before. So I think that's pretty cool that I get to share that with them too, because I've played on varsity with them for three years now, so it's really special for us."