STERLING – When the Golden Warriors struggled Monday night in their nonconference match at home, Washington took advantage.
Too many Sterling mistakes led to runs by the Panthers in both sets as Washington won 25-15, 25-13 at Musgrove Fieldhouse.
[ Photos from Sterling vs. Washington ]
The Warriors (6-7-2) had nine errors either hitting or serving in the first set, and 12 in the second set, and those miscues, along with three violations throughout the match, kept them from ever getting the momentum.
"A few too many first- and third-contact errors, something we've been fighting a little bit all season that we're trying to get a little better at," Sterling coach Dale Dykeman said. "Service errors and hitting errors went for 21 points, so when you're giving away 21 out of 50 points, it's hard to come back from. We're just trying to be a little more efficient."
A kill by Kirra Gibson and consecutive errors by Washington (13-7) tied the first set 6-6, but the Panthers seized momentum soon after. A kill by Teriana Jones, two kills by Sam Puent, a block by Jori Dowling, and an ace by Elena Cataldo turned a 7-7 tie into a 13-8 lead for Washington.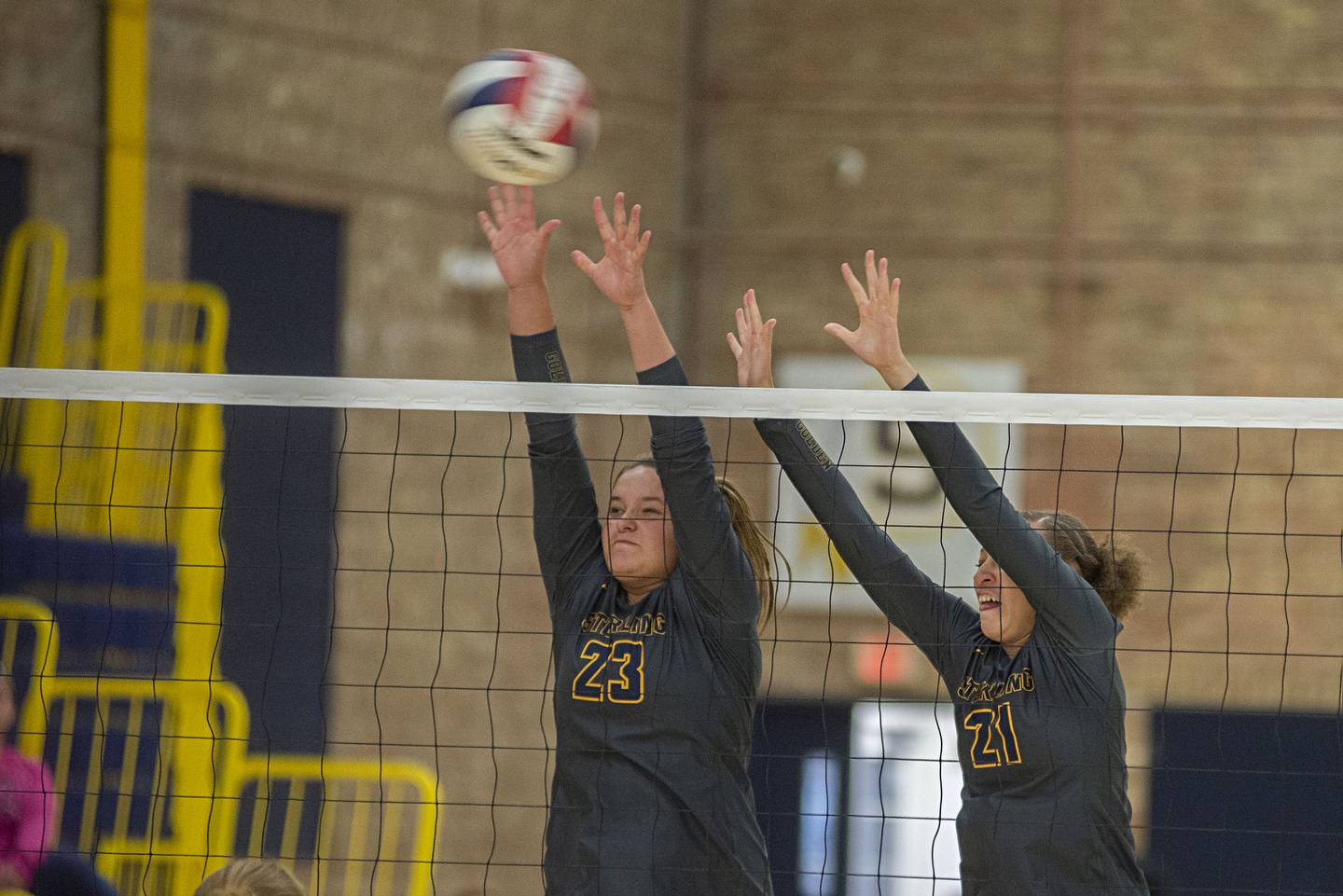 A kill by Kathryn Rowzee stopped that surge, but kills by Becca McDougall and Dowling and an ace by Puent pushed the margin to 17-10. Gibson twice had kills to cut the deficit to 19-13 and 21-14, but a block by Dowling after a few Sterling mistakes put the Panthers at set point. Rowzee spiked a kill, but a service error ended the opening set.
Washington coach Kary Dowling credited her team's serving and setter Grace Scrivner as being the biggest keys for keeping the momentum in both sets.
"I think serving was big. We were really consistent from the serve line tonight, and I thought we were aggressive," she said. "We've been working hard on going deep with some serves, then pulling it back short with others, and trying to change that up, and I thought our servers did a nice job.
"And our setter's been working really hard, and we've been on her about different things in the offense, and I thought she called a great offense tonight as well. I felt like she kind of got it and started clicking really well with our hitters."
The second set saw kills by Jori Dowling, Puent and Jones, and an ace by Puent send Washington to a 7-2 lead. Rowzee slammed a kill, but an ace by Dowling and kills by Jones and Malone McKinley stretched the lead to 11-3.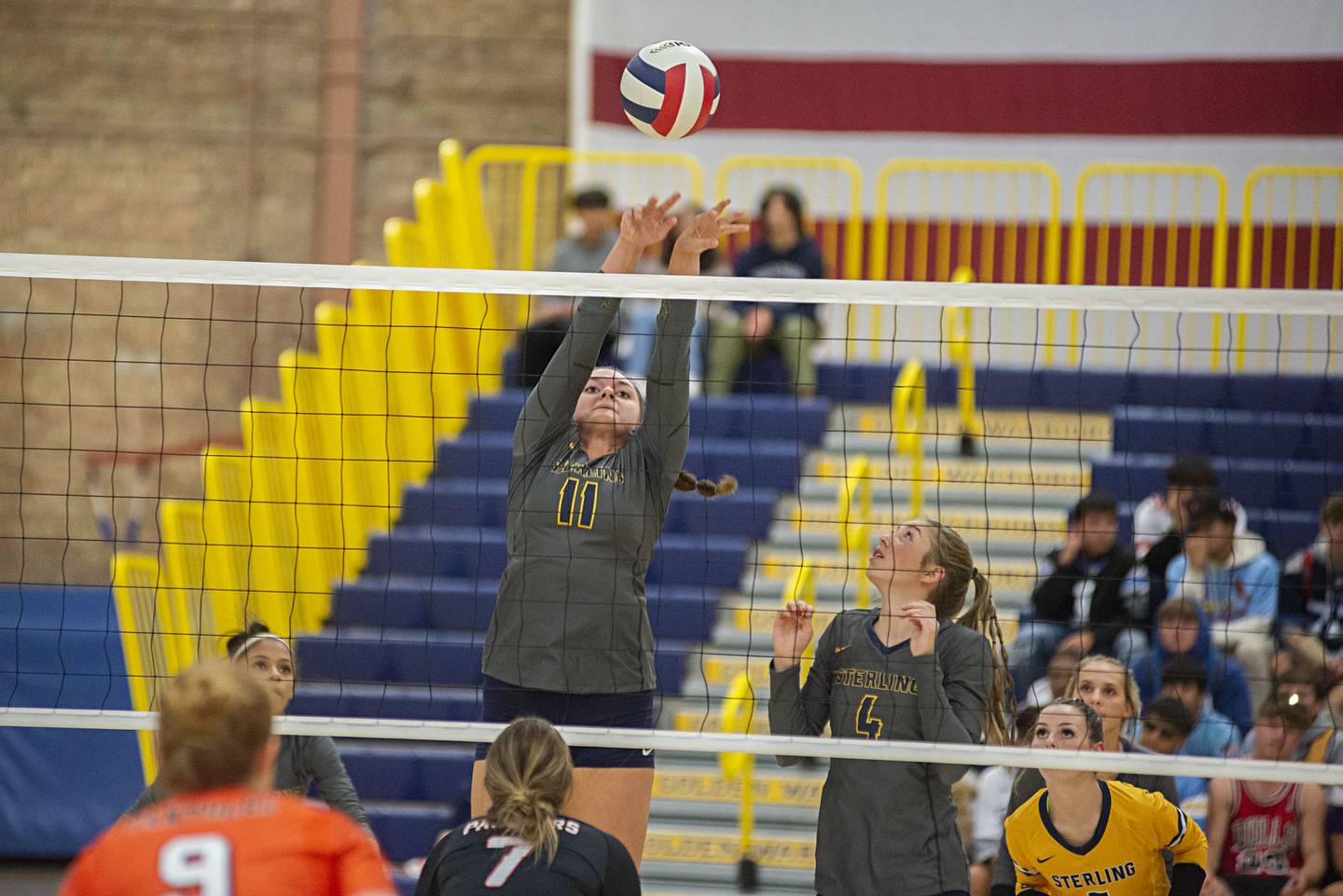 The teams traded errors before another McKinley kill, then a few points later, Rowzee and Gabby Lucas traded kills to make it 18-7 Panthers. Rowzee stuffed a block on an overpass to get Sterling within 18-10, but a kill and an ace by Jori Dowling around a few Warrior errors made it 23-11. Gibson spiked one final kill, but another service error ended the match.
Rowzee finished with five kills and a block, and Gibson had four kills to lead Sterling. Delali Amankwa had eight assists and four digs, libero Emma Smith led the way with eight digs, and Aubri Menchaca (5 digs) and Julia Thormeyer (4 digs) also contributed in the back row.
"I thought our middles ran really well tonight; both Kathryn and Kirra did a nice job out of the middle. And Emma was all over the place," Dykeman said. "We've just got to get a little bit more consistent on our pins and not so high-volume errors."
Jori Dowling and Jones both had five kills, while Dowling added two blocks and an ace, and Jones chipped in three digs. Scrivner finished with 15 assists and three digs, Puent had two kills, three digs and an ace, McKinley added two kills and a block, and Cataldo led the way with six digs and an ace from her libero spot.
"I thought Sam Puent really passed the ball well tonight. She kind of did a lot of things well, but that just kind of helped settle us down. She's really confident in there," coach Dowling said. "And we've been hit-and-miss connecting with our middles, so it was nice to get them involved tonight. And I actually thought we did a great job hitting on the right side; we hit a couple balls down the line, which is a big improvement for us."