With practices officially starting for all fall sports on Monday, athletes all over the area will be back in season for the 2022-23 school year.
The upcoming volleyball season brings with it many questions for a lot of teams in the area, with lots of last year's star players having graduated all around the Sauk Valley. Here are some storylines to watch this fall:
Can Rock Falls reload after an Elite Eight run?
The Rockets came up one win short of a trip to the state tournament last season, and notched a school-record 37 wins while claiming their first sectional title since 2012. But star outside Maya Sands – SVM's co-player of the year – is now playing at UNLV, and star middle Mallory Pinske is playing at Pitt-Johnstown.
Also gone are setter Cadence Stonitsch and libero Cara Goff, meaning Rock Falls is looking to replace a key player at each position on the court.
But there were a lot of younger players who stepped up throughout the 2021 season for the Rockets, and will look to take over those starring roles this fall. A host of juniors saw varsity action last year, including hitters Claire Bickett (209 kills, 189 digs, 23 aces in 2021), Nicolette Udell (94 kills, 34 blocks) and Taylor Reyna, setter Denali Stonitsch (378 assists, 142 digs, 31 aces), and back-row players Carli Kobbeman and Sophia Moeller.
Throw in seniors Emily Lego (58 kills, 49 blocks) and Cadence Williamson at the net, and there is definitely some experience coming back for the Rockets. So who will be the next underclassmen to make their mark on the court?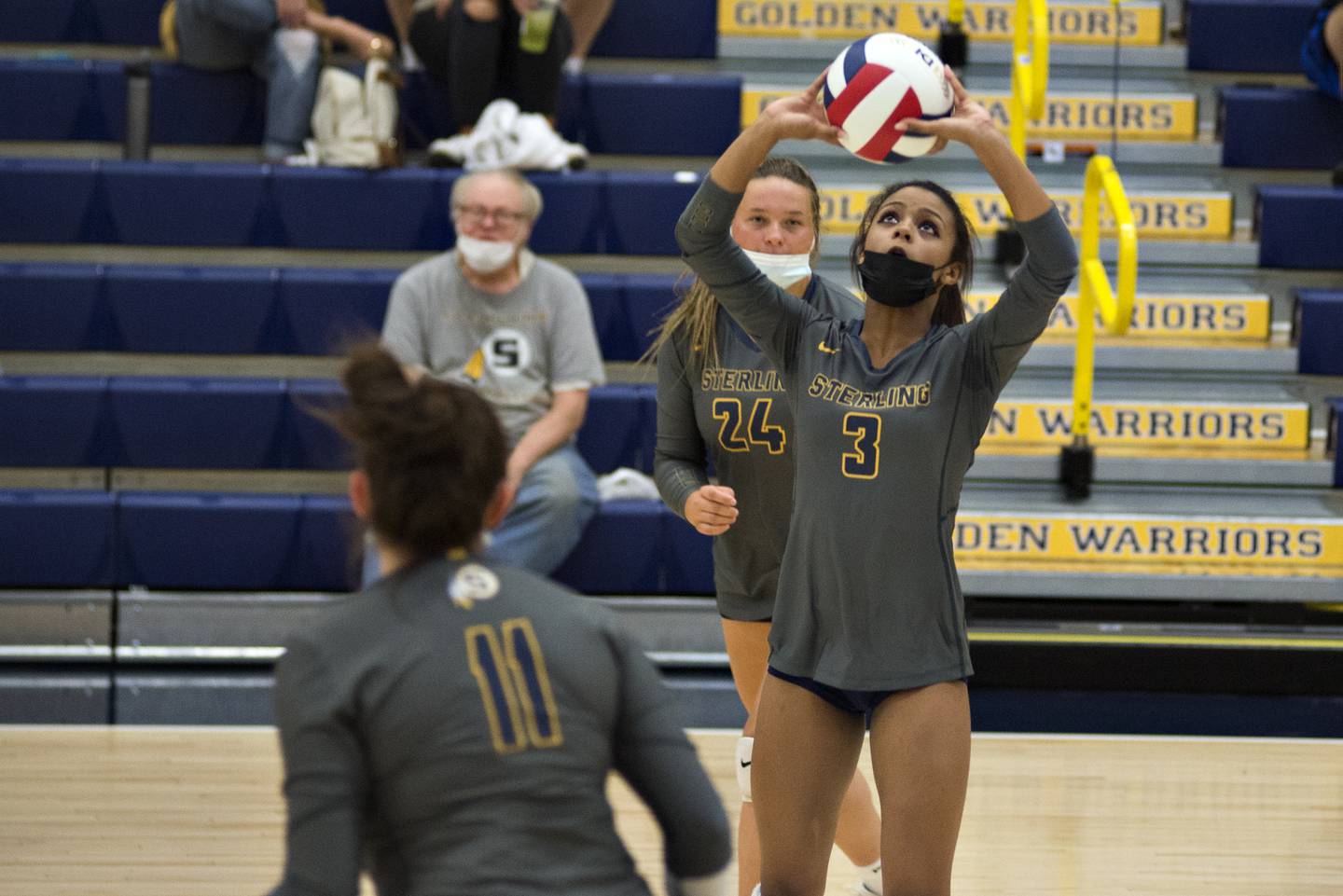 Will Sterling's experience lead to another deep postseason run?
Last fall was a bit of a rebuilding year for the Golden Warriors, after losing three Division I players from the previous group that won back-to-back state championships in 2018 and 2019.
But behind Ohio State commit and SVM co-player of the year Grace Egan, Sterling hit its stride down the stretch and won its eighth straight regional title with a strong showing on its home court.
Egan is back for her final year, fresh off a national championship with her club team, and she'll be a load again this fall. She led the area with 471 kills, and led her team with 263 digs and 35 aces, and was second with 39 blocks.
But that's not all: libero Karmen Weinrich was the only senior on the roster last fall, so the Warriors will look very familiar this year as they bring back their top attackers, setter and blockers, as well as five of their top 6 in digs, and six of their top seven in aces.
Seniors Kathryn Rowzee (158 kills, 25 blocks, 20 aces), Katie Dittmar (63 kills, 48 blocks, 26 aces) and Mallory Osborn will look to take pressure off of Egan at the net, junior Sienna Stingley was a starter at the end of last season, classmate Addy Sullivan (105 digs) comes back to help anchor the back row, and sophomore setter Delali Amankwa (570 assists, 115 digs, 16 aces) now has an entire season of running the offense under her belt. Throw in some other strong all-around athletes, and the Warriors have the makings of another special squad.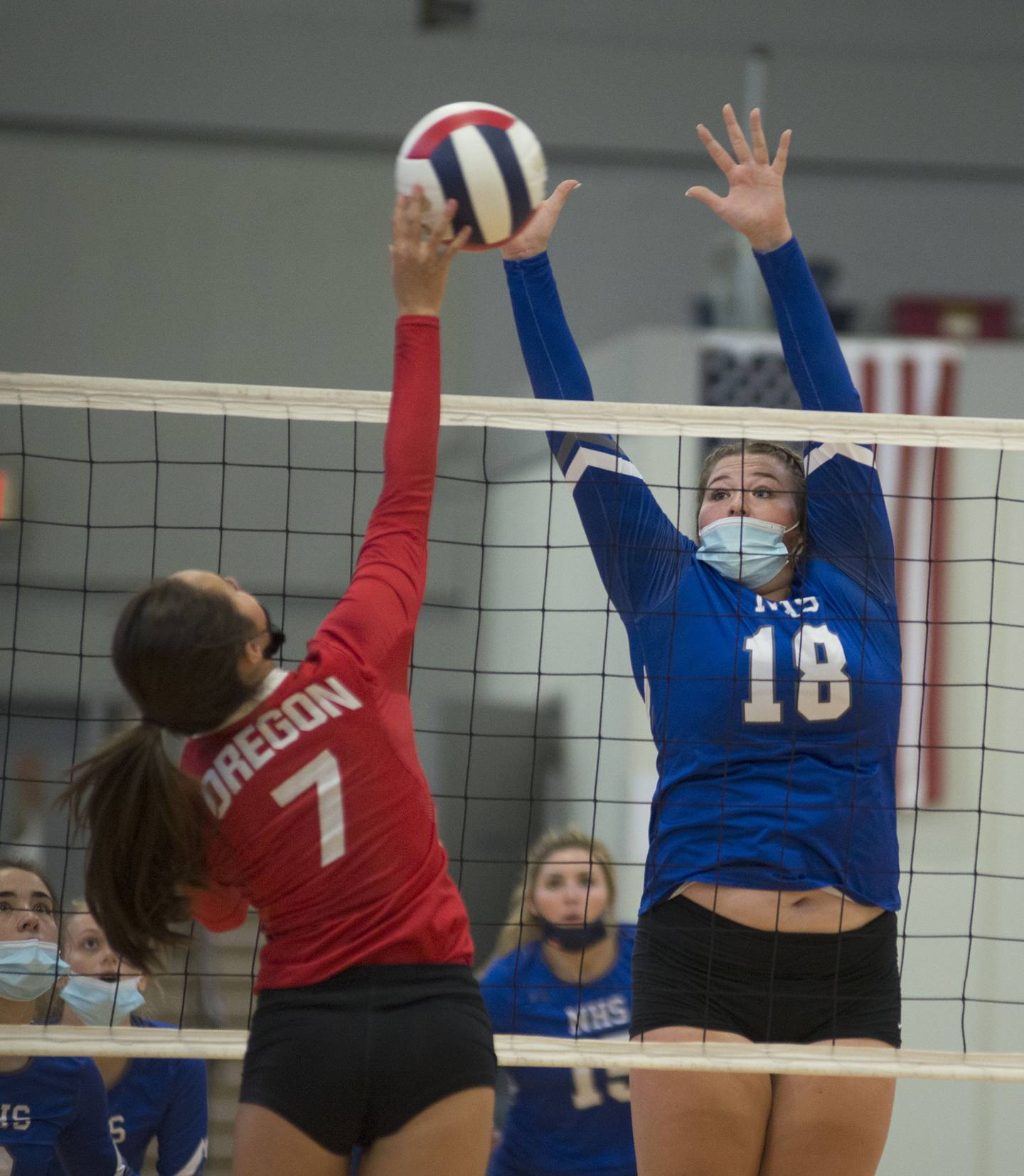 How will Newman bounce back from a tough loss to end last season?
The Comets won 26 matches and the Three Rivers East title in 2021, but the season ended in heartbreak with a 26-24, 25-23 loss to host Eastland in the 1A regional finals.
While nearly half of that roster graduated in the spring, the returning players are likely to be hungry to get that bitter taste out of their mouths this season. Newman will bring back two of its top three net players in juniors Jess Johns (209 kills, 276 digs, 48 blocks, 31 aces) and Kennedy Rowzee (227 kills, 142 blocks), a senior setter in Katie Grennan (307 assists, 132 digs, 33 aces, 28 blocks), and three of its top six players in digs.
But the Comets will also need some new faces to step up and fill the shoes of last year's leaders like hitter Ally Clevenger, libero Paige Grennan, setter Shae McNeill, and blocker Shannon Kelly. So who will that be? Only time will tell.
One thing is for sure, though: Newman has some strong athletes who will be in the mix to take over those spots, and the Comets will likely be in contention for another conference crown – and possibly a third regional title in the last four seasons.
Who will step up for Dixon?
The Duchesses lost as much from last year's starting lineup as any team in the area, and will have to replace some strong leaders who anchored the team in 2021.
Gone are hitter Mallory Coley and libero Elena Castillo-Wetzell, as well as setter Holli Miller and steady role players Ainsley Govig, Izzi McCommons and Sam Tourtillott. But there are also several players who kept getting better as the season went on last fall for Dixon.
Middles Ella Govig and Olivia Cox, hitter Joey Brumbly, and defensive specialist Natalie Davidson all cracked the starting lineup at times last season, and setter Sydney Hargrave battled back from an early injury to become a key piece of the puzzle by the end of the year. Hanna Lengquist also saw her role grow throughout the season.
Now it will be up to some new faces to find their niche and help the Duchesses find success.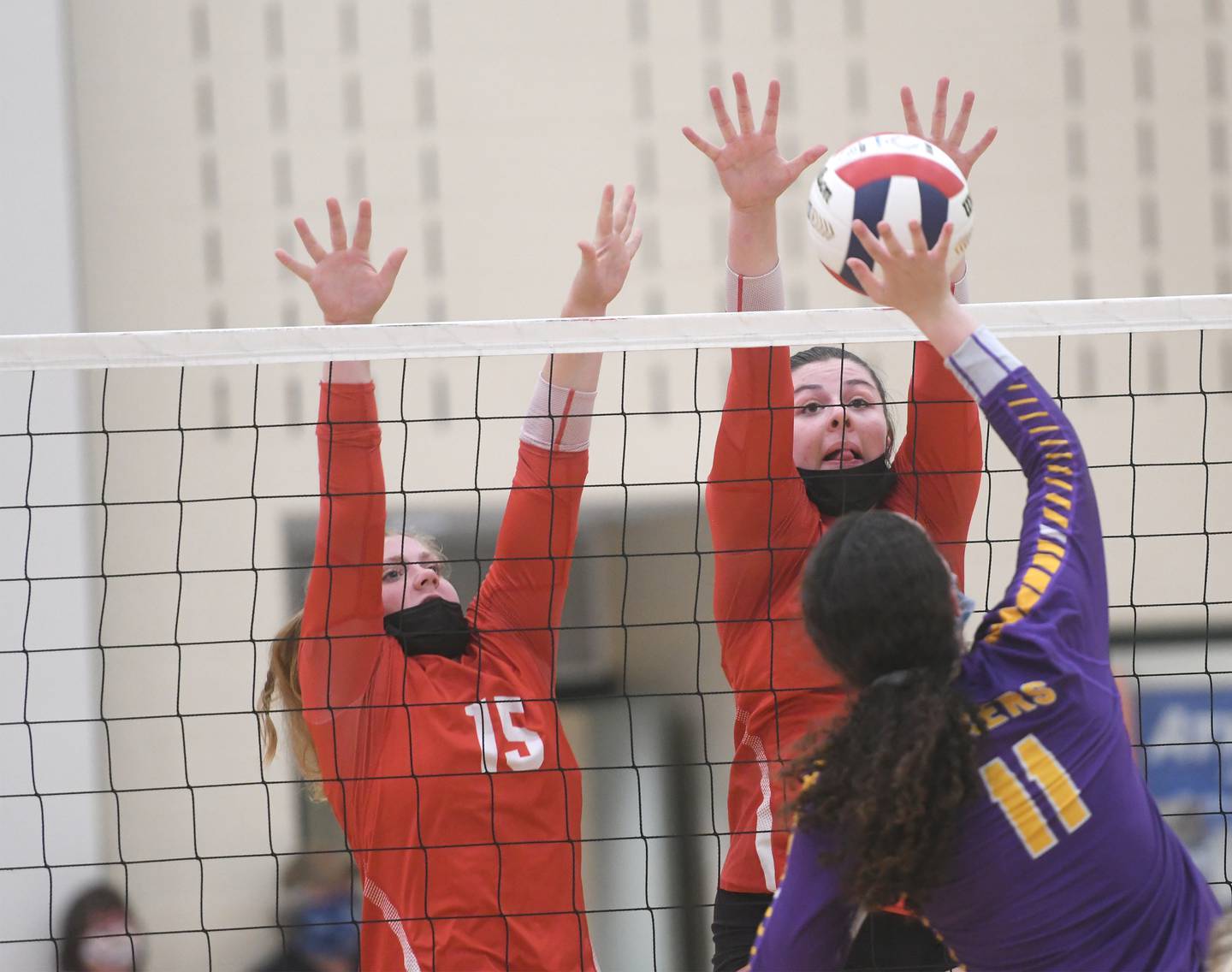 Who will be the breakout stars around the area?
Last season's final stat leaderboards were littered with seniors at the net and in the back row. While four of the top five setters will return, six of the top eight hitters and the top 14 players on the final digs list have all graduated.
Stars like Polo's Nicole Boelens, Eastland's Addison Burkholder, and Oregon's Jenae Bothe will no longer be controlling the nets for their teams, and strong defensive players like Forreston's Kara Erdmann, Eastland's Chloe Sweitzer, Erie-Prophetstown's Emma Davis, and Fulton's Teegan Germann will no longer cover the court from the libero position.
But that just gives some new players the chance to play a starring role, and there were likely quite a few future standouts waiting in the wings a year ago.
If the teams around the area can find a new batch of athletes to fill those shoes, it could be another strong volleyball season in the Sauk Valley.
And speaking of strong seasons at Sauk Valley …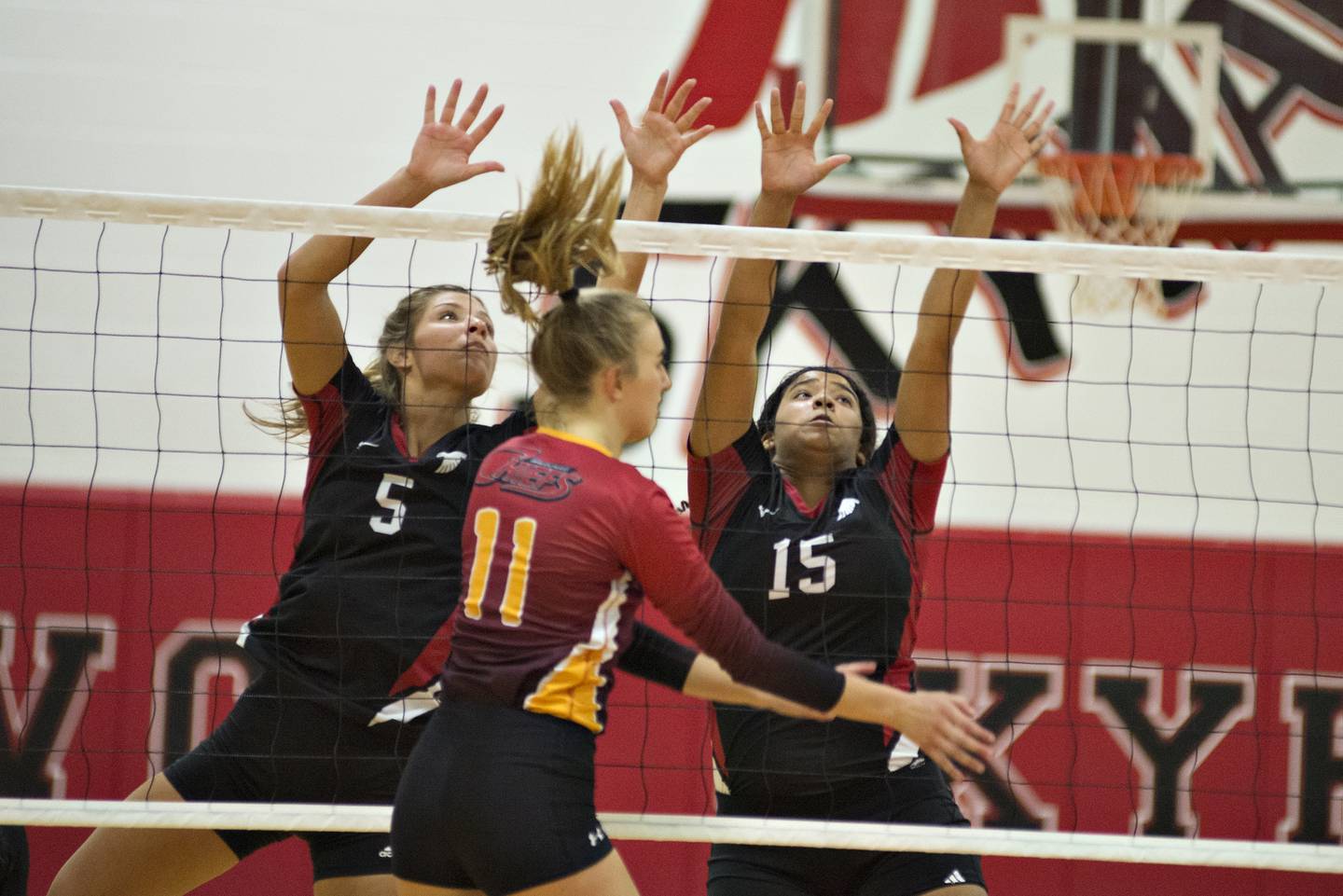 Can the Skyhawks continue their string of success?
The Sauk Valley Community College volleyball team enters 2022 fresh off back-to-back fifth-place finishes at the NJCAA National Championships, their sixth trip to the national tournament in the last eight years.
Michal Willman was the ringleader of last year's group that finished 42-3, leading the NJCAA with 865 kills (a new Division II record in the rally-scoring era), 5.69 kills per set, 162 aces, 1.01 aces per set, 1,107 points, and 7.3 points per set to earn Division II Player of the Year honors.
But Willman is gone, as is fellow All-American Kiley Sanders – SVCC's inaugural Female Athlete of the Year – setter Audra Goff, libero Maddie Sands, hitter Juliana Rotella, and server Hannah Adams.
The cupboard is far from bare, however. Setters Gabby Jones and Addyson Kinn both return, as do hitters Tiana Tichler, Kierra Collins and Jaelyn Fitzgerald. And freshmen Mikayla Gazo and Kara Stoecker from Fulton, Cadence Stonitsch from Rock Falls, Nicole Boelens from Polo, and McKenzie Hecht from Princeton will help the Skyhawks reload.
While Sauk might not be as dominant as it was last season – the Skyhawks lost only 23 of 153 sets on the season and won 28 matches in straight sets – look for more local talent to lead the way to another strong season.