DIXON – After Rock Falls got out to a hot start, Dixon battled back to tie the first set of Tuesday's Big Northern Conference volleyball match at Lancaster Gym.
The Rockets then regained their footing to take the opening set, before building another early lead in the second set – then the Duchesses clawed their way back in it again.
But Rock Falls scored nine of the final 11 points to take home a 25-18, 25-14 win over Dixon.
"I think that we understood that we were making our own errors, so just trying to limit that and do whatever we can to score really helped us," Mallory Pinske said. "Our defense was doing really well, so that really opened up anybody to be able to hit, and everyone can put the ball down, which is great."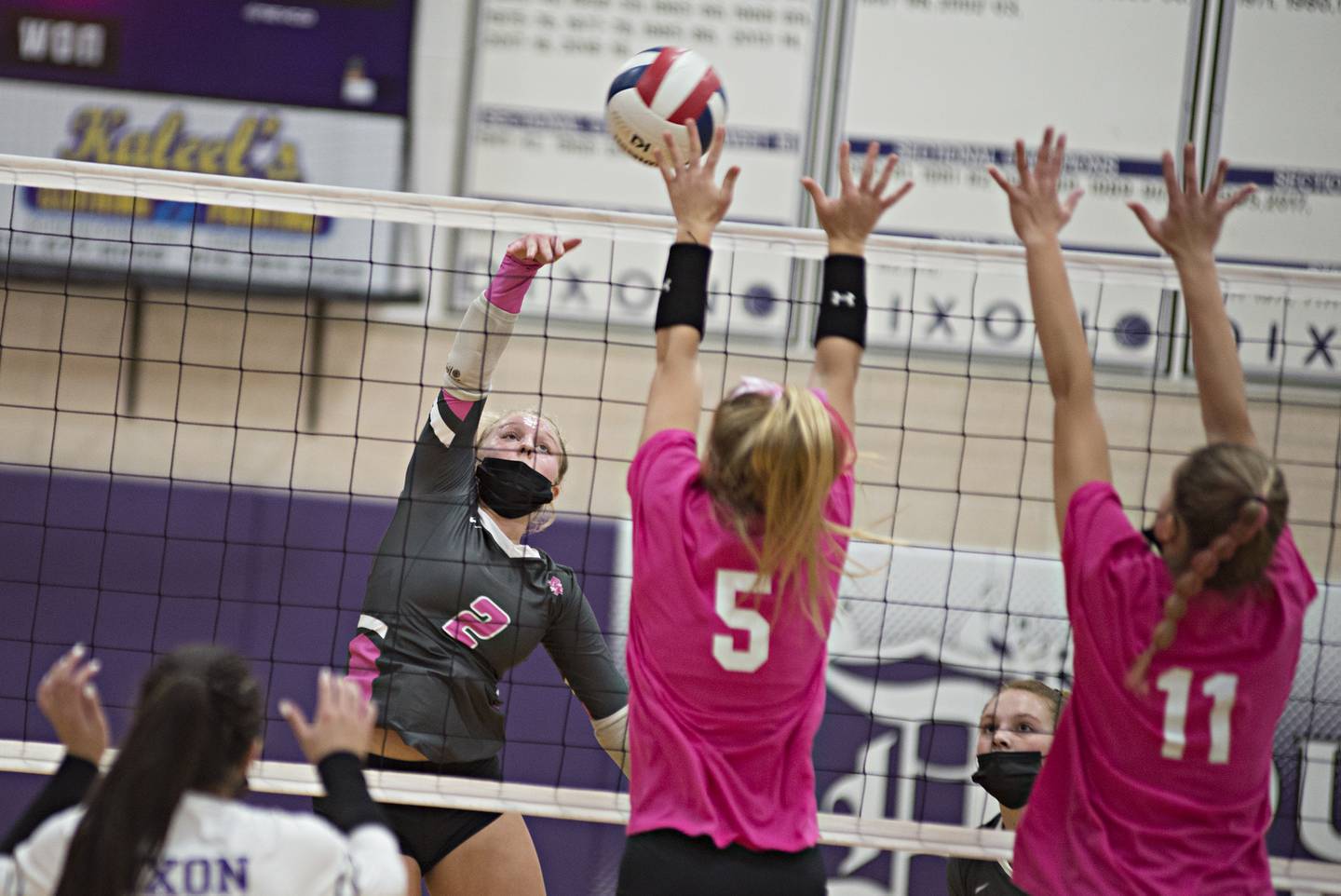 Pinske and Maya Sands each had two kills and Cadence Stonitsch added a block in the opening onslaught that saw the Rockets (26-1, 5-1 BNC) open a 7-0 lead. After Dixon got a block from Mallory Coley to get within 7-2, Sands answered with a kill and Pinske spiked two more for a 10-3 lead.
But the Duchesses (14-12, 1-5) fought back. A kill by Ainsley Govig, a back-row kill by Coley and an ace by Izzi McCommons made it 12-9. A kill and a block by Sam Tourtillott on back-to-back points then tied the set 12-12.
"I think we really started playing as a team," Tourtillott said. "They really knew how to place the ball, but no matter what our position was, we were getting the ball up and and covering really well. We started really playing as a team and working together, and that's what started working for us."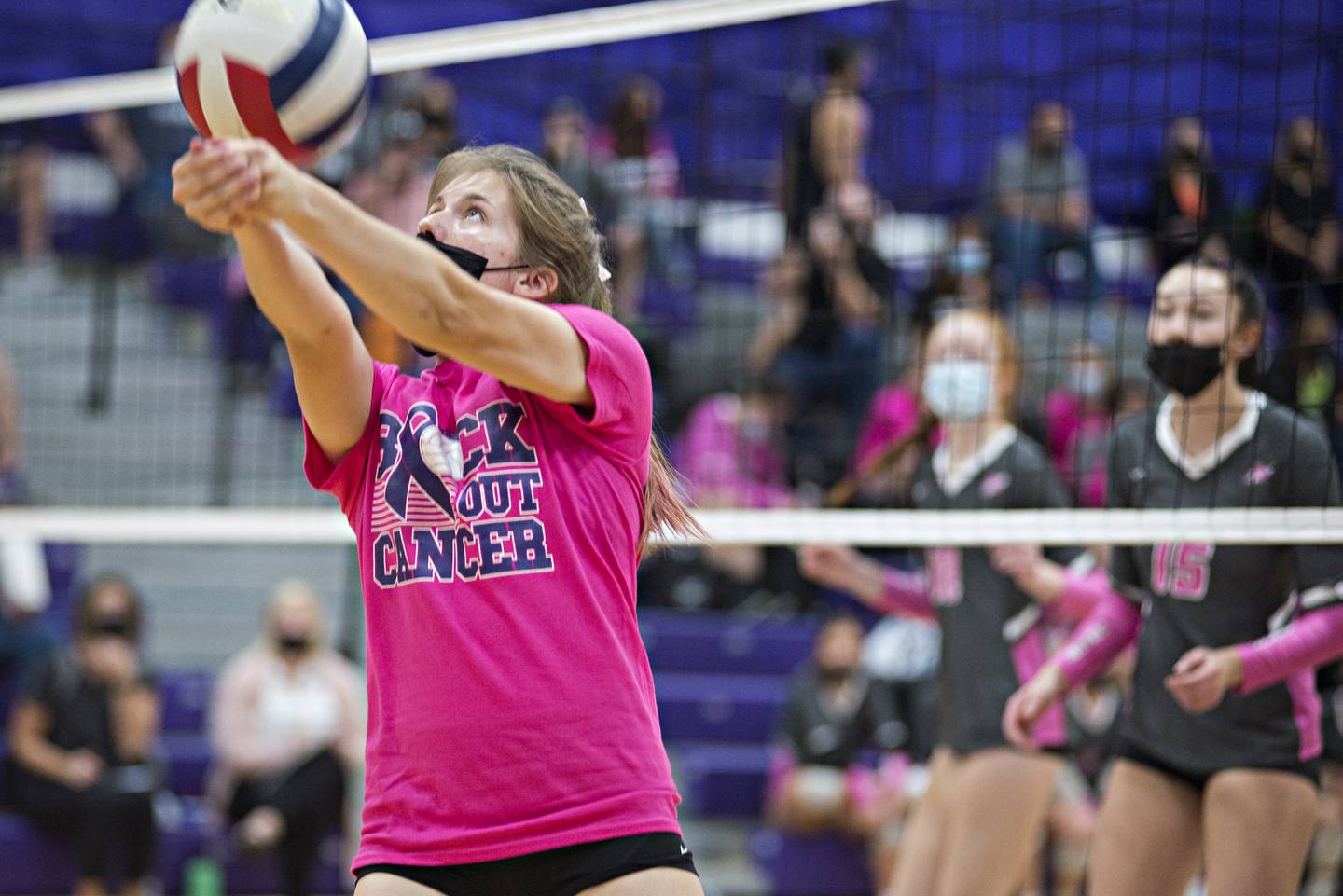 A Claire Bickett kill got the lead back for the Rockets, then she served an ace before another Sands kill and a Pinske block made it 19-13. Coley had a block and a kill on consecutive points to pull Dixon within 19-16, but Sands sandwiched a pair of kills around a kill by Dixon's Joey Brumbly, then Pinske stuffed another block and Bickett smacked a kill for a 23-18 Rock Falls lead.
Hanna Lengquist spiked a kill for the Duchesses, but Pinske slammed two straight to end the set.
"We know that Dixon is one of our rivals, because they're near us, but they're also scrappy and fight hard. We just came in knowing we wanted to beat them," Sands said. "All the time, no matter the match, we all like to contribute and work together. That's what's so good about this team is we all can contribute, it's not just one or two people."
"The first set, we regained our composure," Dixon coach Bunyan Cocar said. "They kind of threw the first punch and we kind of absorbed it and fought back a little bit, but that took a lot of our energy."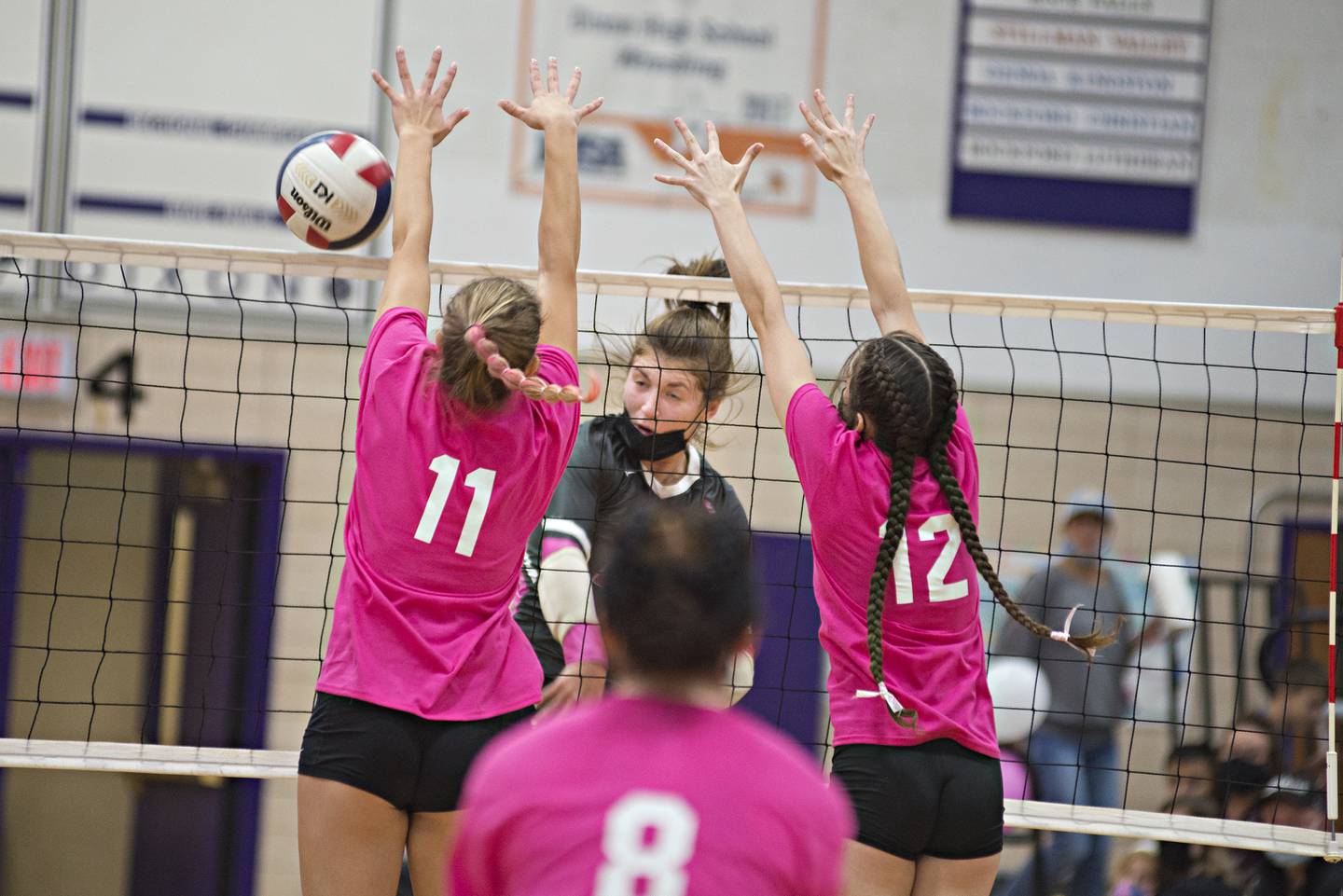 The second set started out much the same. Kills by Pinske and Sands sparked an early run, and Sands slammed three more in a five-point stretch around a Denali Stonitsch ace for a 12-4 lead.
Back-to-back kills by Tourtillott and a kill on a free ball by Ella Govig in which she had her back to the net and hit it backward over her head got Dixon within 12-8, then a more traditional Govig kill cut it to 13-9. A Pinske block gave Rock Falls a 16-10 lead, but consecutive errors by the Rockets made it 16-12.
"We know we're not the biggest team, but we just play scrappy and we cover well and we play as a team and make sure no balls hit the floor," Tourtillott said. "That's what works for us, and that's what brought us back."
But that's when Rock Falls made its final move to finish things off. Kills by Bickett and Pinske, then an ace from Carli Kobbeman and a tip-kill by Pinske stretched the lead back to 20-12, and Sands had a tip-kill to make it 22-12 and force a Dixon timeout.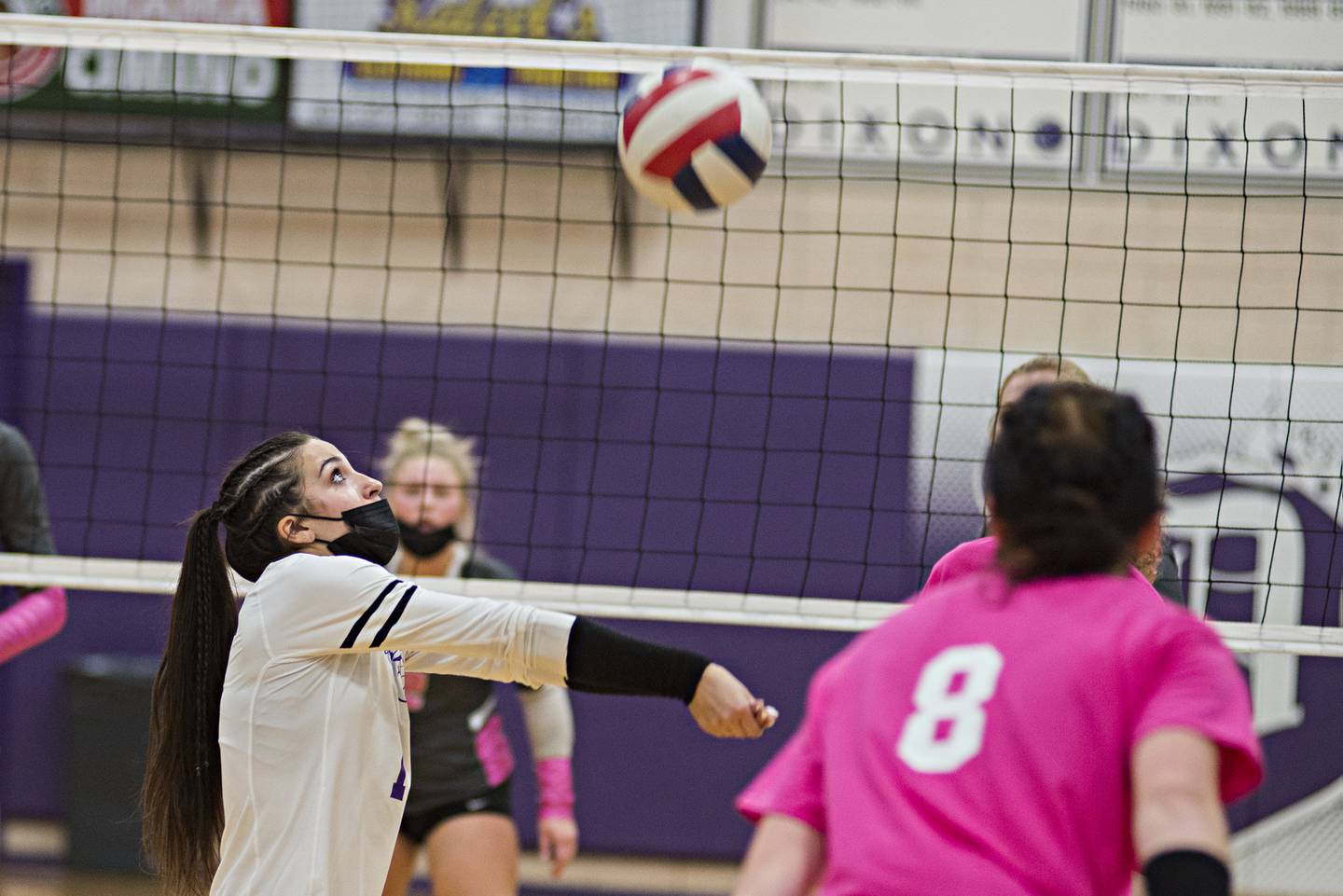 Kills by Sands and Nicolette Udell put the Rockets at match point. Dixon staved it off once with a kill from Lengquist, but Emily Lego spiked a kill to close out the victory for Rock Falls.
"The second set, we kind of switched around our lineup," Sands said. "In the first game, me and Mallory were in the front row together, then when we had the second lineup come around in the front row … that's when they came back. So the second set, we switched so I would be back row and she was front row, then I'd rotate to the front when she wasn't there. I think we just got more aggressive the second set, too."
Sands led the way with 11 kills to go with seven digs, and Pinske finished with 10 kills and three blocks for the Rockets. Cara Goff had eight points, three assists and four digs, Bickett had eight digs, three kills and two aces, Cadence Stonitsch added 15 assists, seven digs and a block, and Denali Stonitsch chipped in nine assists and six points. Kobbeman served six points in the second set.
"It definitely helped that we were in system a lot tonight, because we can mix the ball up instead of just having to put the ball to the outside or send a free ball over," Pinske said. "When we run our offense, that helps keep the other team out of system, which is where we score."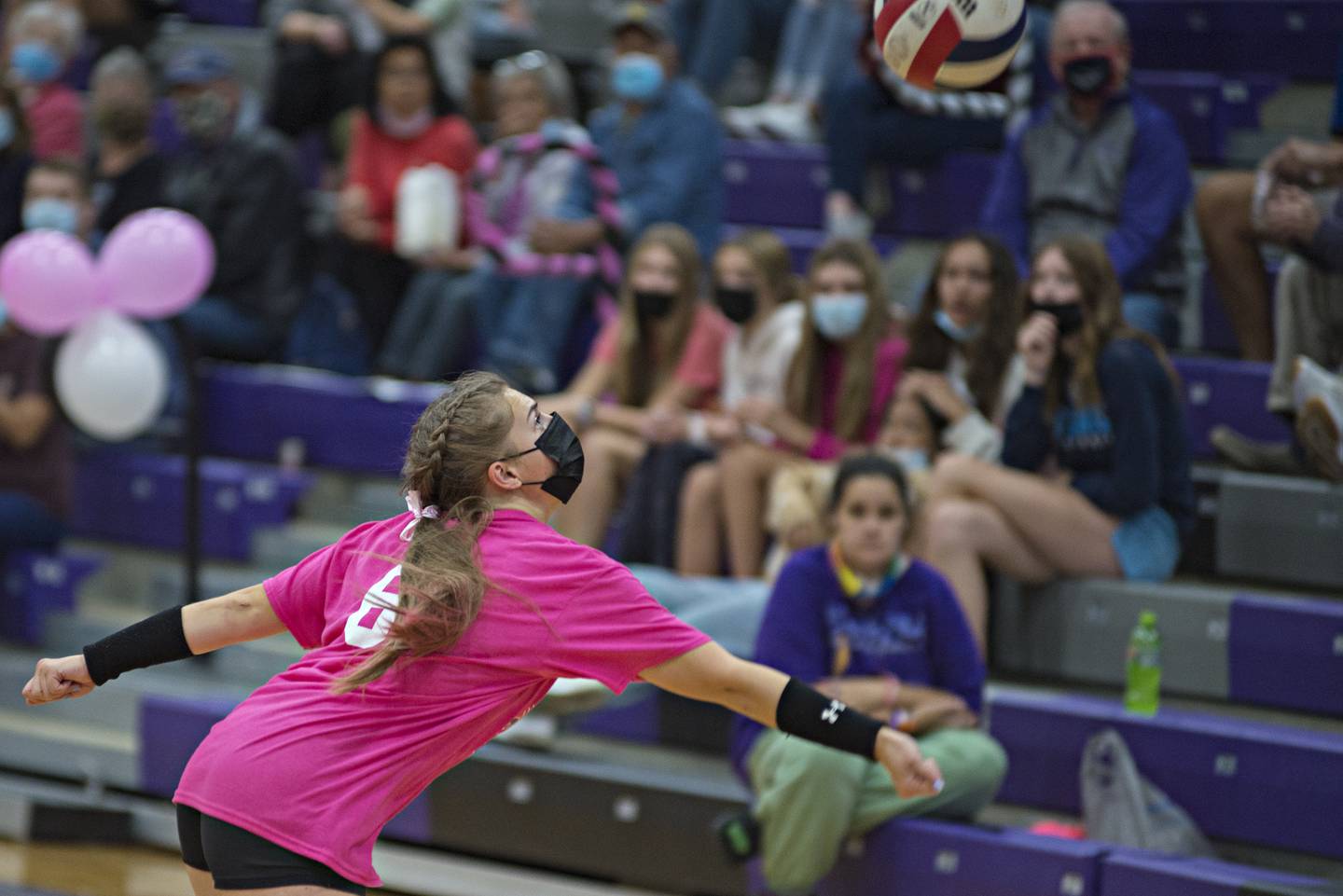 Tourtillott had three kills and a block for Dixon, and Coley added two kills, two blocks and eight digs. McCommons served for six points, Ella Govig and Brumbly had two kills each, and Elena Castillo-Wetzell had seven digs and four points. Holli Miller had four assists and four digs, Natalie Davidson led the way with 12 digs, Lengquist finished with two kills and an assist, and Sydney Hargrave dished six assists.
"Defensively, we got a little bit better at times and we picked some up, but we just didn't anticipate some of their tips, and it's hard when they tip from such a high plane," Cocar said. "They've got a lot of height, and we can't match their height and the power that they brought with Sands and Pinske. I knew they had good outsides, but the middles really did a number on us. We just couldn't catch up with their their fastballs there and the quicks that they ran, so hats off to them, they played well.
"We just made a few mistakes in the second set there that kind of took the wind out of our sails, our passing kind of fell apart a few times, and they kept the ball in play a lot. Even on long rallies, they won every long rally; we didn't get a chance to take a swing or they took advantage of a free ball. I thought a couple plays here and there we held our own against a really good team, so there are some positives there."