ROCK FALLS – Volleyball teams don't often call timeout with a lead late in a set, but in the first set Thursday at Tabor Gym, that's exactly what Rock Falls did.
Up by two, a lead that had shrunk moments before thanks to a kill from Sterling's Grace Egan, the Rockets took a moment to talk things over, then went out and won seven of the next 10 points to close the first set, and raced out to an early lead in the second set en route to a 25-19, 25-15 win over the Golden Warriors.
"I think the first set we were really just nervous, especially the atmosphere around us, and we got our nervousness out," Rock Falls hitter Maya Sands said. "I think the second set we came out more aggressive and we came together as a team. We bettered our passing as well."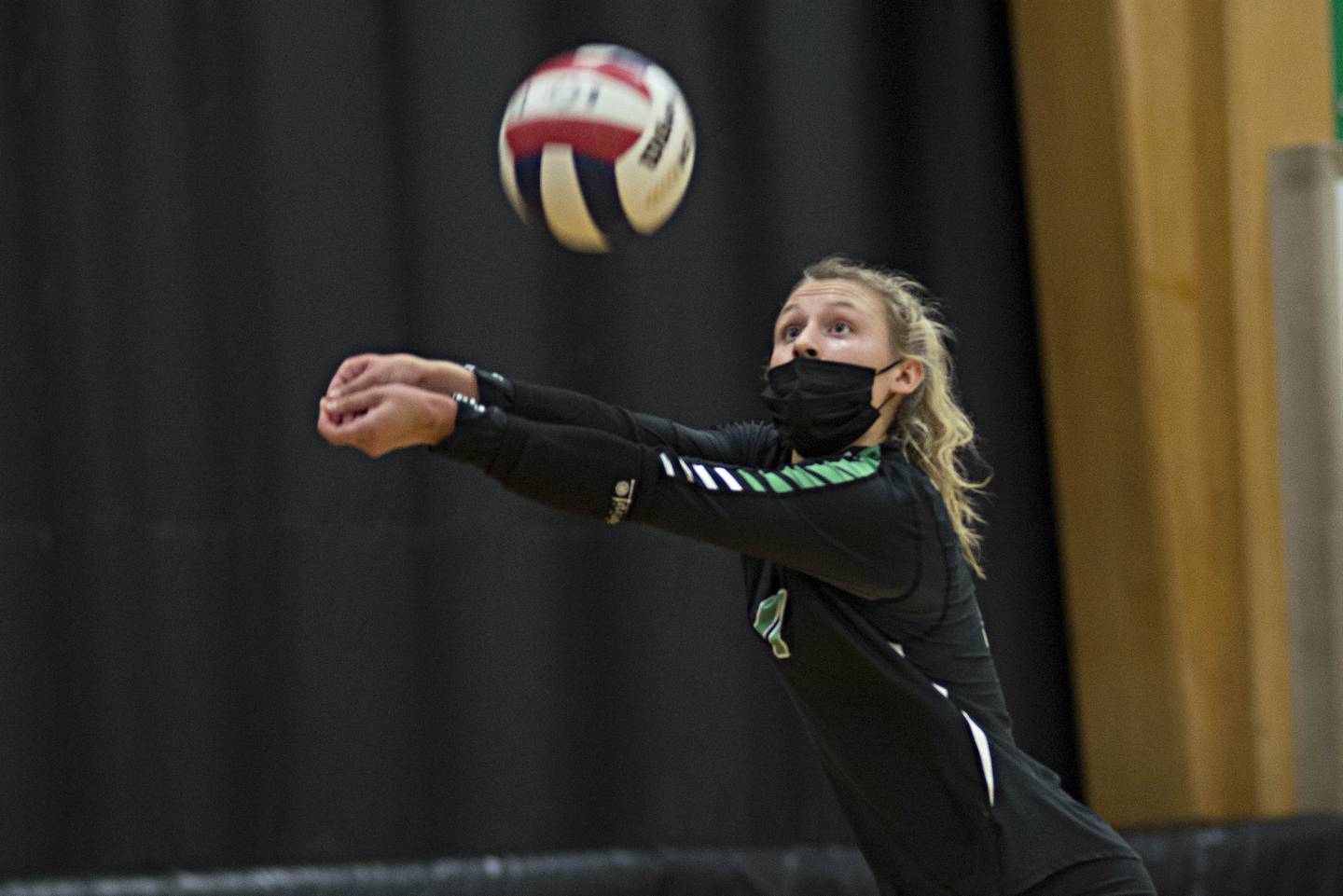 After calling a timeout up 18-16 in the first set, the Rockets got a kill from Sands and an ace from Cadence Stonitsch. Those points, plus a Sterling communications error, made it 21-16, and a pair of hitting errors by the Warriors saw the lead grow to 23-16.
Sterling (6-11) staved off the Rockets for a few points with Egan getting a kill and Katie Dittmar serving back-to-back aces, but a kill from Mallory Pinske and an Egan hit going wide ended the set.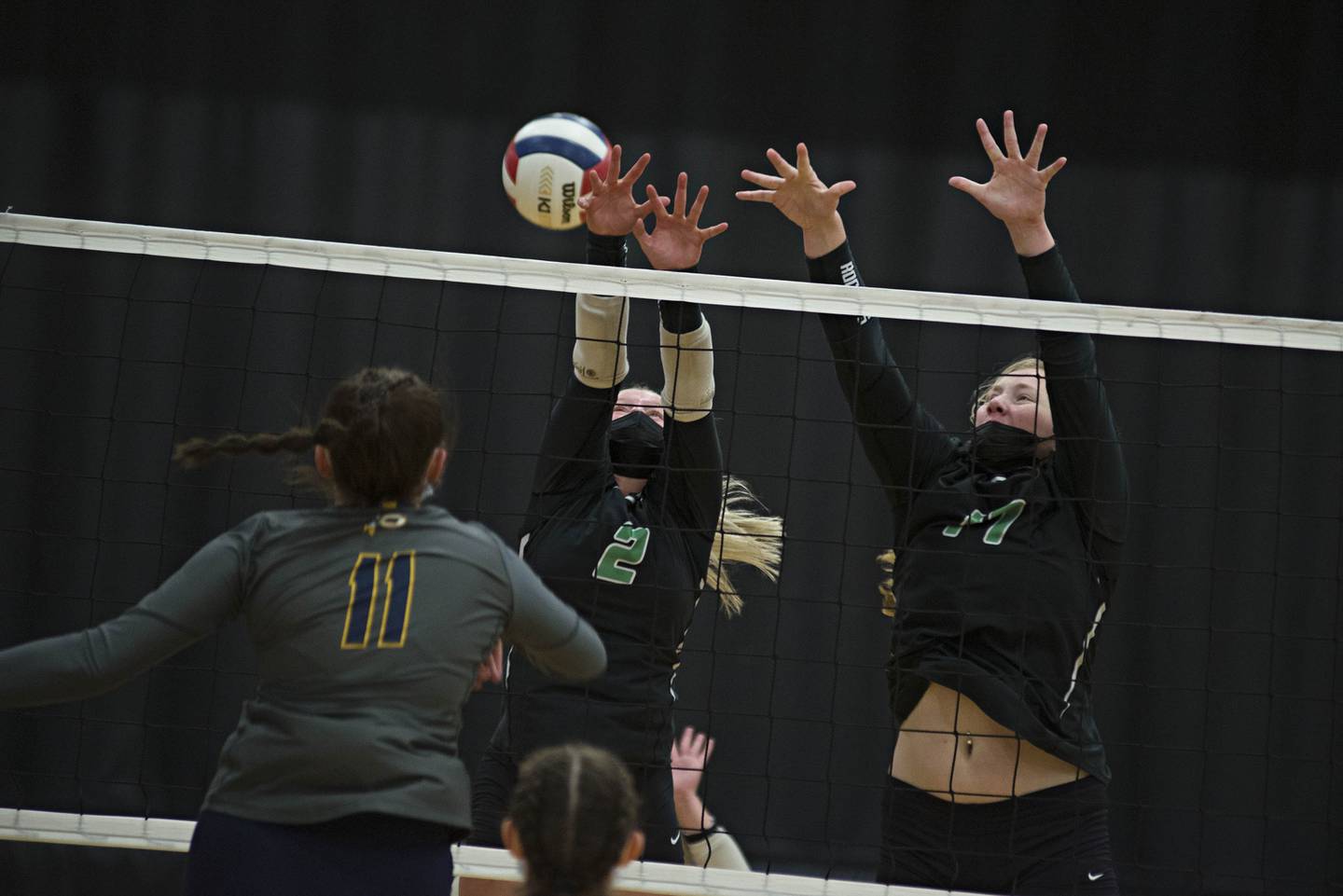 Rock Falls (18-0) jumped out to a 6-1 lead in the second set with Sands coming up with a kill, a block and a tip for another kill on the first three points, followed by a kill from Pinske.
The lead kept growing, with back-to-back kills from Pinske making it 16-7 and, after Sterling got a kill from Maggie Rowzee, a back-row kill from Sands made it 17-8.
A pair of Claire Bickett kills helped push the Rock Falls lead to 10, and eventually a Sterling hit into the net ended the match.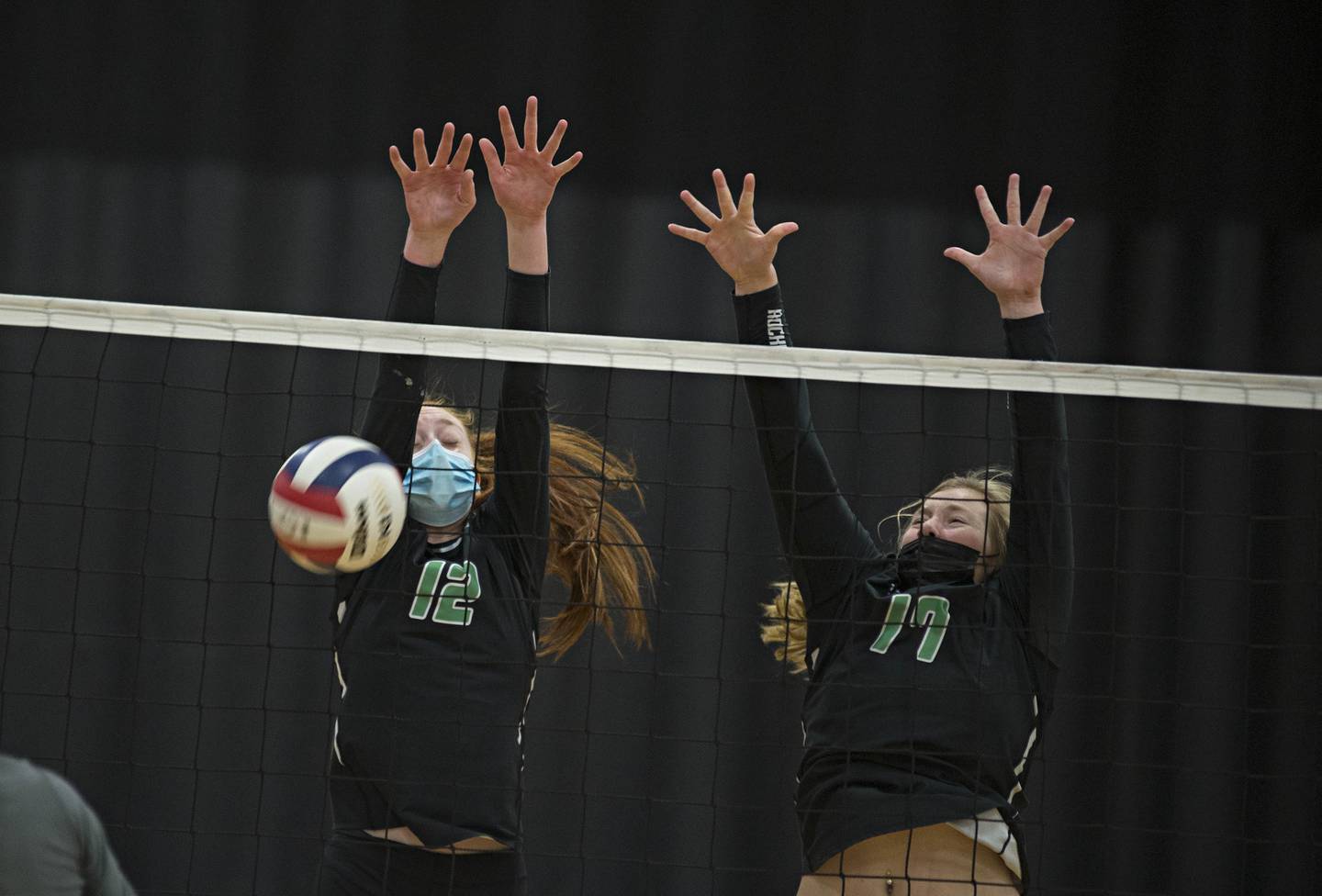 "They're a great team," Sterling coach Dale Dykeman said. "There's no doubt they're probably one of the best teams in the area, and in 2A they've got to be one of the best teams in the state, so we just wanted to put as much pressure on them to force them to work a little bit harder for everything they had to do and keep them out of the cheap, easy, free stuff, because they are so dominant when you give them that."
After a spring season in nearly empty gyms, this nonconference match between cross-river rivals was played in front of a nearly packed house, with student sections from both schools remaining vocal throughout.
"The biggest difference was, this atmosphere, I know it's a little bit nerve wracking, and the girls haven't been in it in a couple of years," Rock Falls coach Sheila Pillars said. "I just feel like the rivalry brings out the best in people, and we just needed to settle down. Our passing was a little erratic, and then I called a timeout even though we were in the lead and we tried to regroup. Our passing got a little bit better. I think we settled down a bit. We were able to run our offense. We finally got Mallory involved."
Egan had 11 kills to lead the Warriors. Nine of Sterling's first 16 points in the first set came courtesy of the Ohio State-bound junior, with eight kills and one of her six blocks.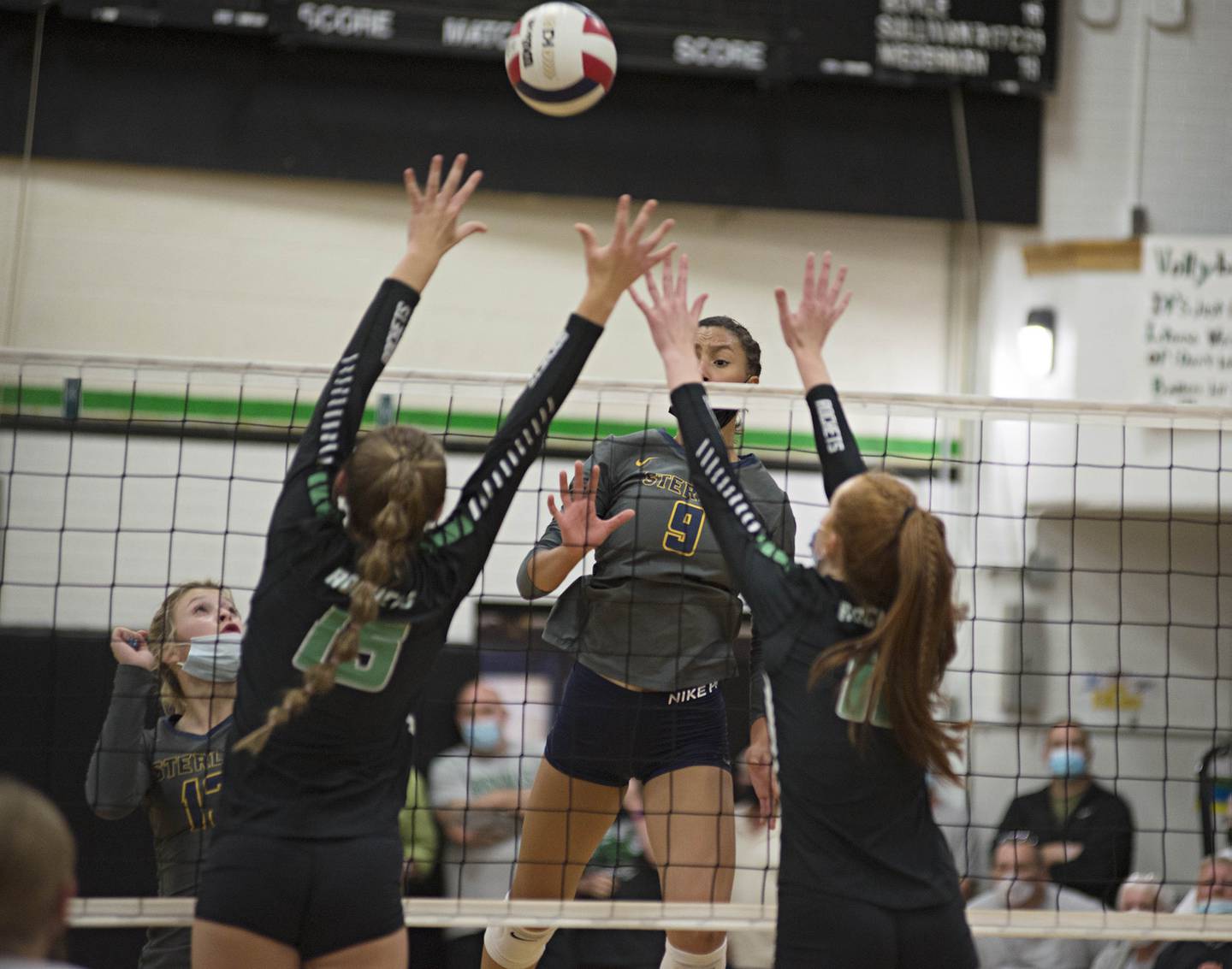 "There's not a lot that kid can't do with the right ball," Dykeman said. "We're just continuing to try to get her the right ball."
But Rock Falls was able to keep at least an eye on her most of the night. Pinske and Emily Lego each had four blocks, and when her hits got through, Sands had 12 digs, with Bickett and Cara Goff each adding five.
"I had my two tallest blockers over there," Pillars said. "We just had to work on having my outside hitters set that block. Egan's a great player and she's going to get her kills, and we tried to limit her."
Sterling got 10 assists and 10 digs from freshman Delali Amankwa.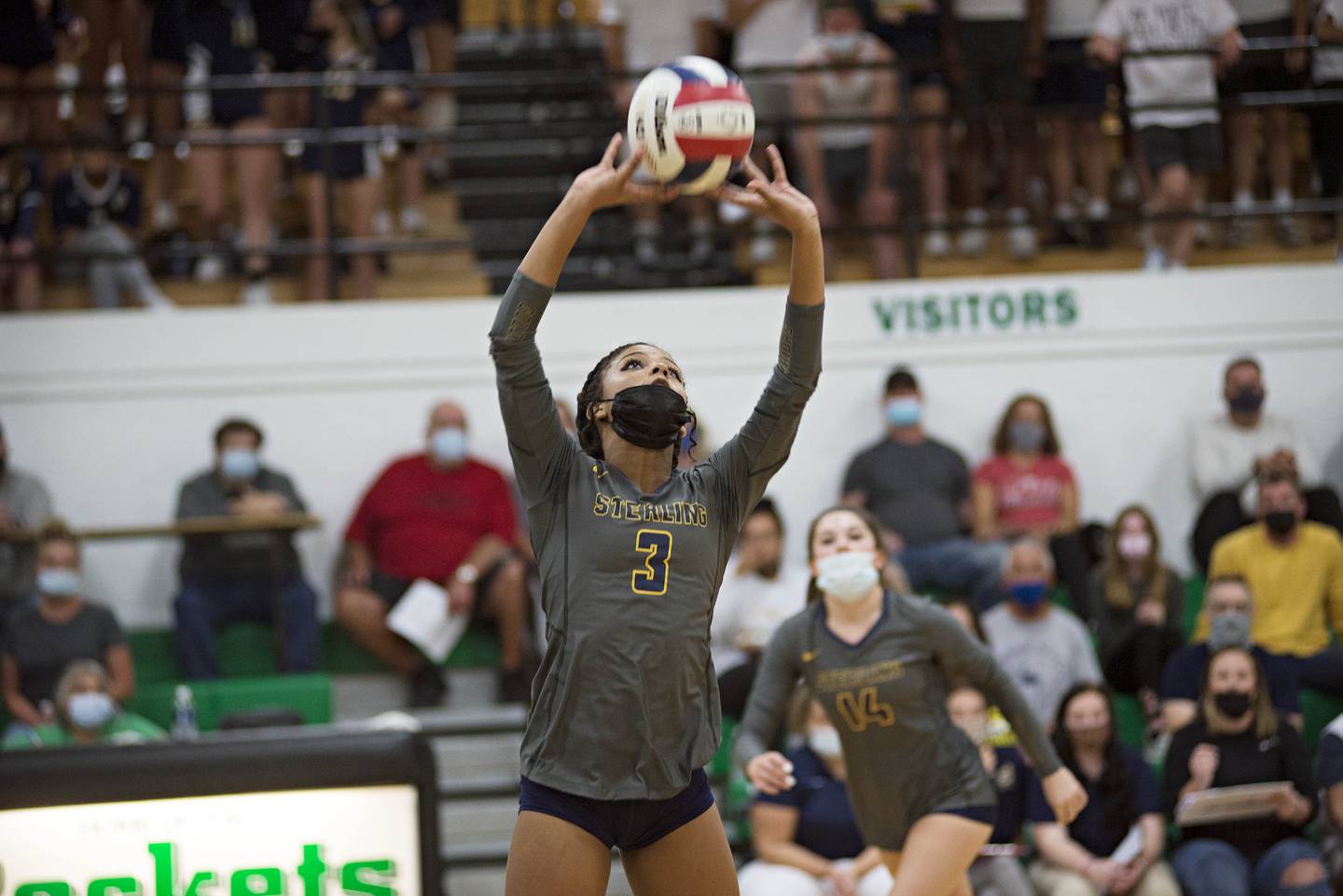 "We took her from basically the seventh-grade level with COVID last year to now varsity," Dykeman said. "She still has freshman moments, but she's doing a nice job of getting our hitters involved."
The Rockets got eight kills from Sands and seven from Pinske, with Bickett chipping in four.
"I think our setters are really being smart with the ball and mixing it up to the outside and bringing it to the middle," Sands said. "I think we used our middles a lot because they're a lot bigger than Sterling's middles. I think we used that to our advantage."
Denali Stonitsch had 13 assists for Rock Falls, with Cadence Stonitsch adding eight.