KEWANEE – The Rock Falls girls golf team is off to state after taking third at Monday's Class 1A Geneseo Sectional at Kewanee Dunes, shooting a 349 to beat fourth-place Geneseo (353) by four strokes.
Boylan won the sectional title with a 325. Peoria Notre Dame took second (336).
Eureka's Allison Pacocha was the individual champion, shooting a 73. Her back-nine 37 was capped off by a par on the 290-yard, par-4 18th to avoid a five-way playoff.
One of the players who awaited among the group with a two-over-par 74 was Rock Falls' Megan Fiorini. When she finished at No. 18, she sat tied with a pair of Boylan golfers, Ella Greenberg and Eva Greenberg, for the clubhouse lead, but two golfers were still on the course with a chance to beat them: Pacocha and Illinois Valley Central's Elaine Grant. In the second-to-last group, Grant, who had been playing even-par up to that point, bogeyed No. 18. Moments later in the next foursome, Pacocha, needing par to win, sank her par putt.
"I feel OK, but not entirely, because on No. 17 I had a double, missed a short putt, which took me out of it," Fiorini said.
Fiorini opened her round with a bogey on the 280-yard par-4 No. 1, but immediately responded with a birdie on the following hole and another at No. 4 to move to 1-under for the day. She then made par on five consecutive holes to make the turn in 35.
"I was just trying to take it one shot at a time, not trying to play the perfect shot," she said, "just to where I could get it in fairway, get it in play. I put some pitch shots close, to within three feet, made that, that was nice."
Fiorini briefly sat tied for the lead, when West Hancock's Bliss Martin, playing a few groups behind her, bogeyed No. 8 to fall to 1-under-par. But the Rock Falls sophomore gave that stroke back moments later with a bogey of her own on No. 10.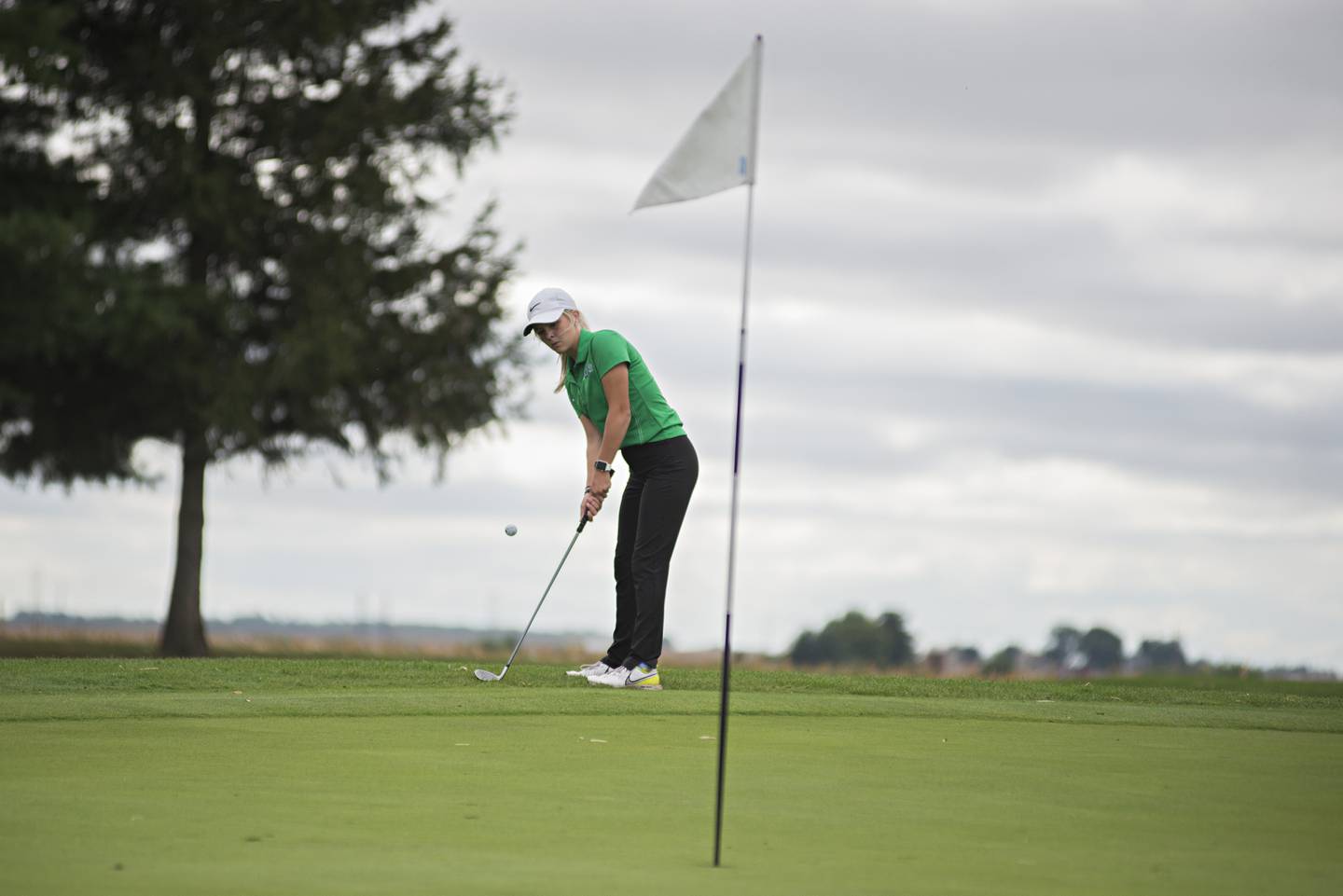 The Rockets also got an 88 from Ellie Wasson. She struggled with an eight on No. 8, a 322-yard par-4, but then followed that up with a par on No. 9. She made par again on No. 12, then another on No. 14, where she caught a bit of a break.
The green of the 328-yard par-4 is guarded by a bunker short and to the left. Wasson's second shot seemed headed straight for that bunker, but hit a rake in front of the bunker and careened off towards the green. From there, she was able to chip on and make a short putt.
Lauren Tupper shot a 91, which saw her make par on two of the par-3s, No. 6 and No. 13.
"My chipping was working well today. My tee shots were a lot better than they've been playing," Tupper said.
Taylor Brown shot a 96, which included a birdie on No. 3 and another on No. 14. Cheyenne Hansen shot a 100, and Brooke Danreiter shot a 101.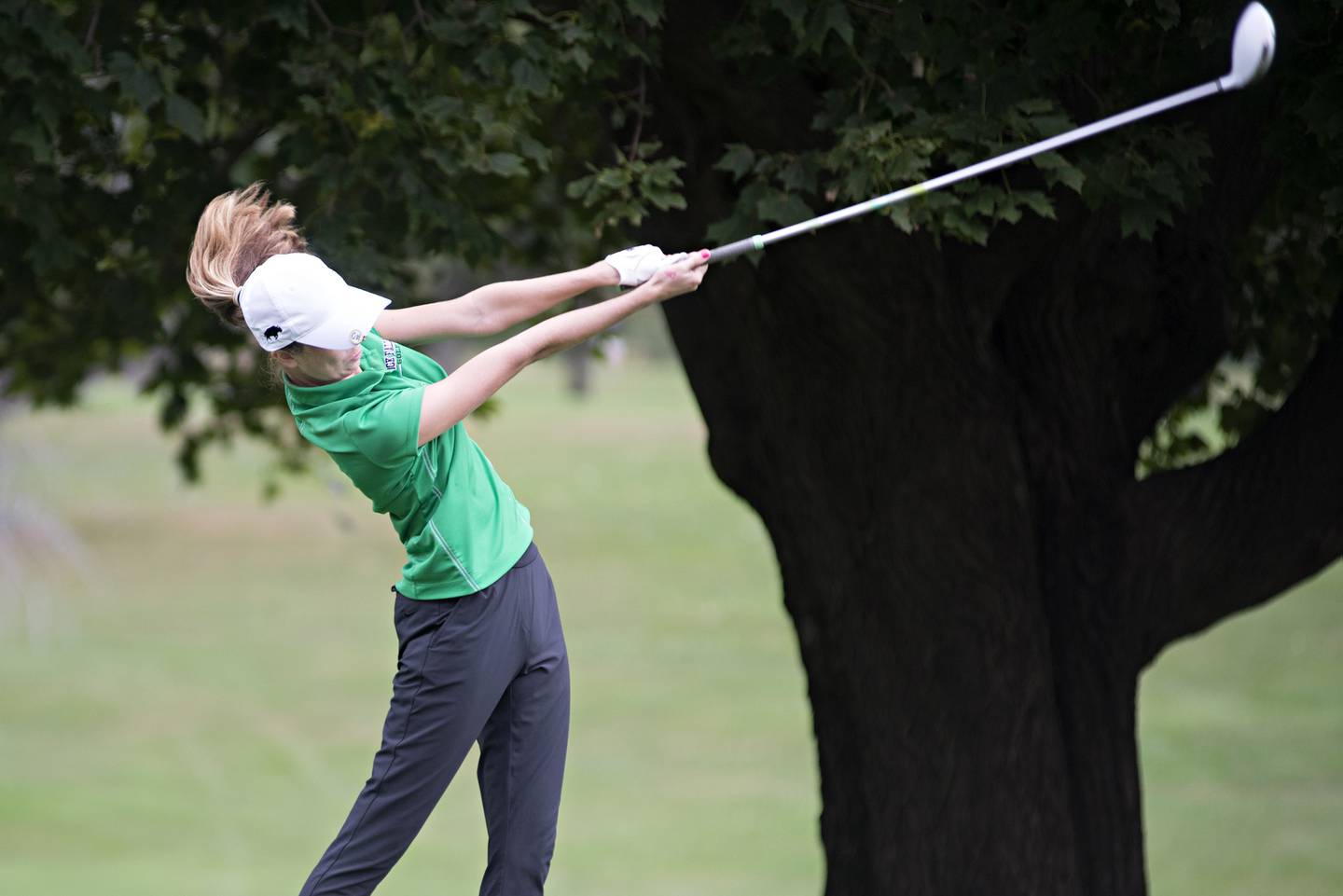 The Rockets move on to the state finals by way of finishing one spot better at the sectional than they did a year ago. In 2020, playing on their home course, Rock Falls took fourth at the sectional with a 349, two strokes behind Peoria Notre Dame.
"I'm really proud of my team, especially Lauren," Fiorini said. "She played No. 6 today, but she got third for our team. They all did really good."
Oregon's Ava Hackman hit a few bumps on the front nine, then breezed through the back nine. She shot a 79 to claim a ticket to state.
"I think that the 8 [on No. 7] made me mad, so I thought, 'I have to keep going,'" she said. "I'm glad I came back from that."
The triple bogey on No. 7 left her making the turn in 42, and she opened her back nine with another bogey on the par-4 No. 10. But back-to-back pars on Nos. 11 and 12, and a birdie on No. 15 got her on track, and she fired par on the final three holes.
"My chipping and my putting, that was the key today," she said.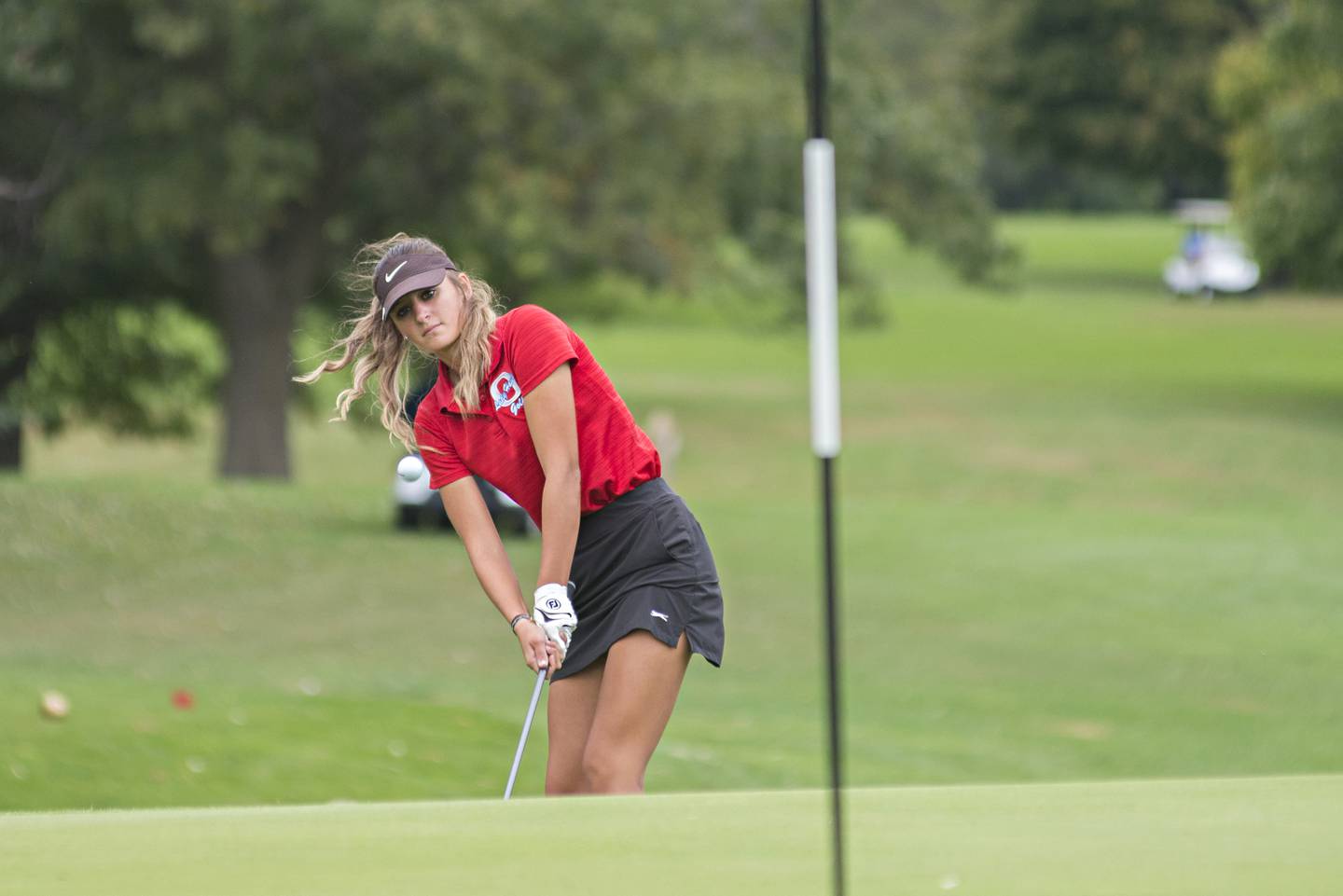 For Dixon sophomore Katie Drew, her round unfolded nearly the opposite of Hackman's. Drew put together a strong front nine, shooting a 38 which included a birdie on the par-3 No. 3, then had issues on the back nine.
"I was having misses, but my misses weren't what they've been," she said. "They were green-side misses, so I was still able to putt most of my misses."
She is through to state, but not by much. Her 81 made her the 10th and final individual qualifier.
"I definitely hung some pressure on. I think I finished 5-over through the last three [holes]," she said. "I was feeling the pressure toward the end, but it's definitely a big sigh of relief knowing we're through."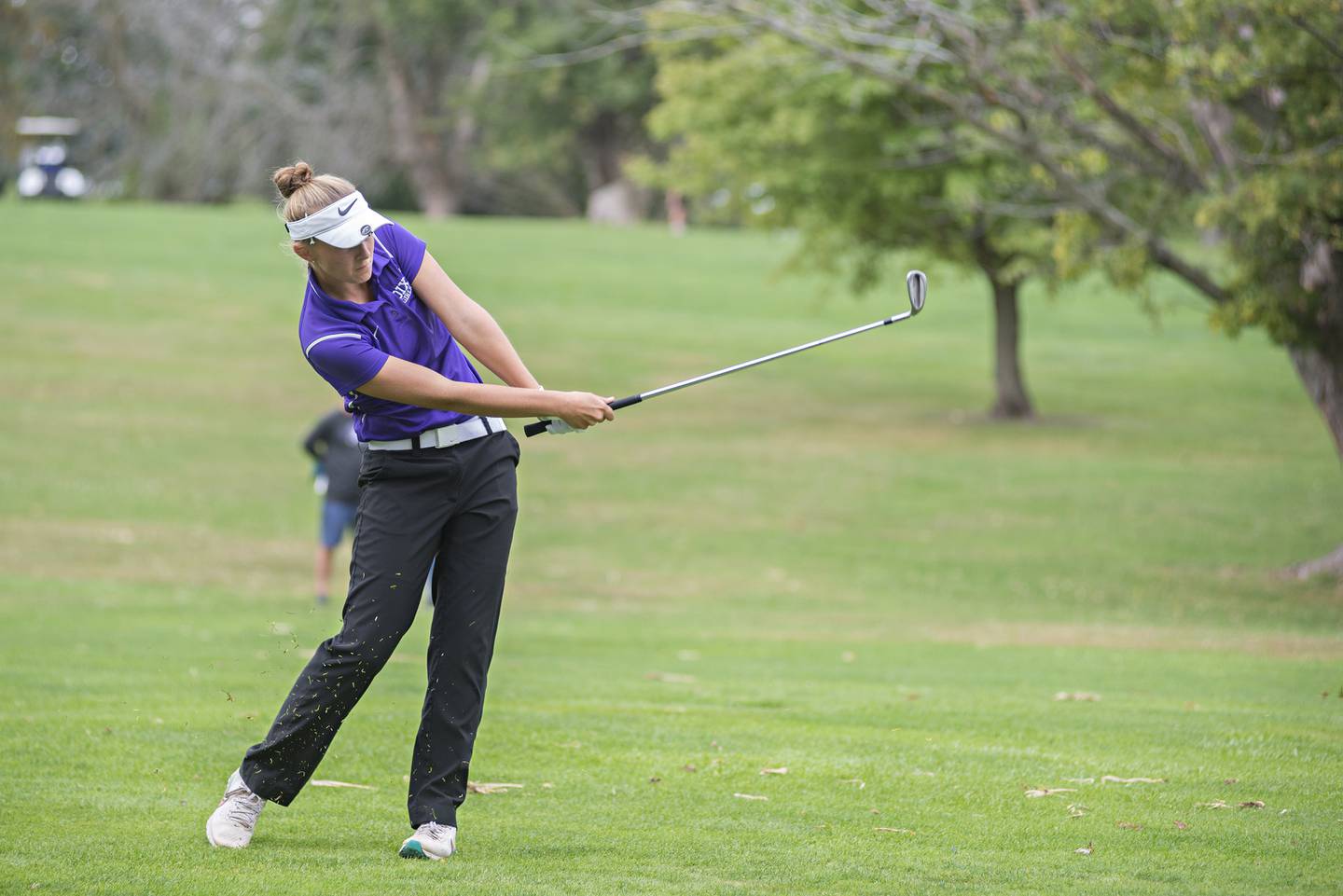 Polo's Kamryn Stockton saw her postseason come to an end with a 99. Par on three holes in the front nine helped her make the turn in 47, but a pair of double bogeys immediately after the turn led to a 52 on the back nine.
Newman's Ashley Wierman shot a 100. Her round included an 11 on the par-5 No. 5, a hole with a lot of water, which Wierman found. She began her day on the back nine where she shot a 47, and then made par on No. 1, but could not recover after No. 5.
"My round started off pretty good," she said. "My drives were perfectly straight. I was having my long irons go far, and my putting was really there, so I was happy that came together."