PEARL CITY – Morrison's best season since 2016 came to end in a 64-36 loss to state-ranked Orangeville in the Class 1A Pearl City Regional final Feb. 17.
Behind sophomore guard Kaylynn Cahoon, who led all scorers with 22 points, the Broncos (26-4) took control from the opening tipoff and never looked back. It was their first regional title since 1997.
"We were able to isolate her and go 1-on-1," Orangeville coach Jay Doyle said. "She plays with confidence, and has done it all year."
"We came our slow in the first quarter and had trouble getting back in to the game," Morrison coach Kerry Grim said.
Morrison's main focus was to slow down NUIC North Player of the Year Whitney Sullivan, Orangeville's 6-foot-3 center. With 5-9 Diana Robbins tailing her and getting backside help from posts Camryn and Shelby Veltrop, Sullivan was held to one basket and four free throws in the first half. Still, Orangeville led 30-17.
Meanwhile, Orangeville had his own strategy to combat the bigs of Morrison (23-8).
"Number 22 (Shelby Veltrop) and 21 (Camryn Veltrop) are outstanding," Doyle said. "We sagged on them and decided to let other girls make shots from the outside."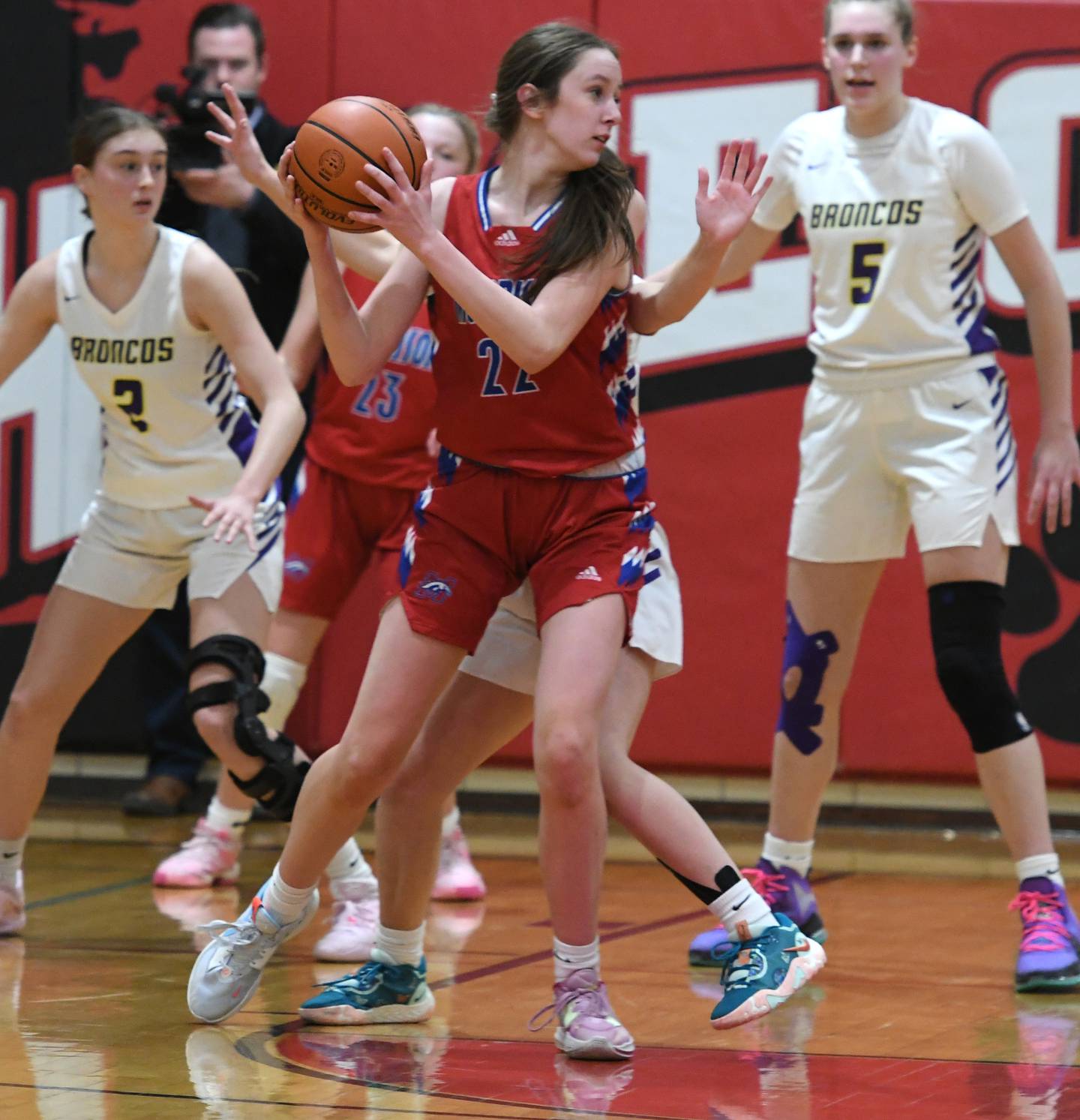 That game plan worked to perfection, as the Fillies had problems getting the ball inside and rang up 22 turnovers. Robbins had 12 points and Camryn Veltrop nine, but they couldn't muster much more scoring punch.
"We knew they were going to play us in a 1-1-3 zone," Grim said. "We practiced against it, but couldn't get our guards to capitalize on outside shots."
After Orangeville took a 20-7 lead early in the second quarter, Morrison went on its best run of the game, with six unanswered points to close with 20-13 on scores by Jordan Eads, Robbins and Camryn Veltrop. Sullivan had missed two free throws, and the Broncos committed two straight turnovers.
That momentum shift was only temporary, though, as Orangeville only had one more turnover in the next 12 minutes and nailed 11 of 14 free throws in that same stretch, doubling the score to 42-21 late in the third quarter.
"This is one of the toughest regionals in the state," said Grim of the three teams with 20-plus wins, including Lena-Winslow, which Morrison beat in the semifinals.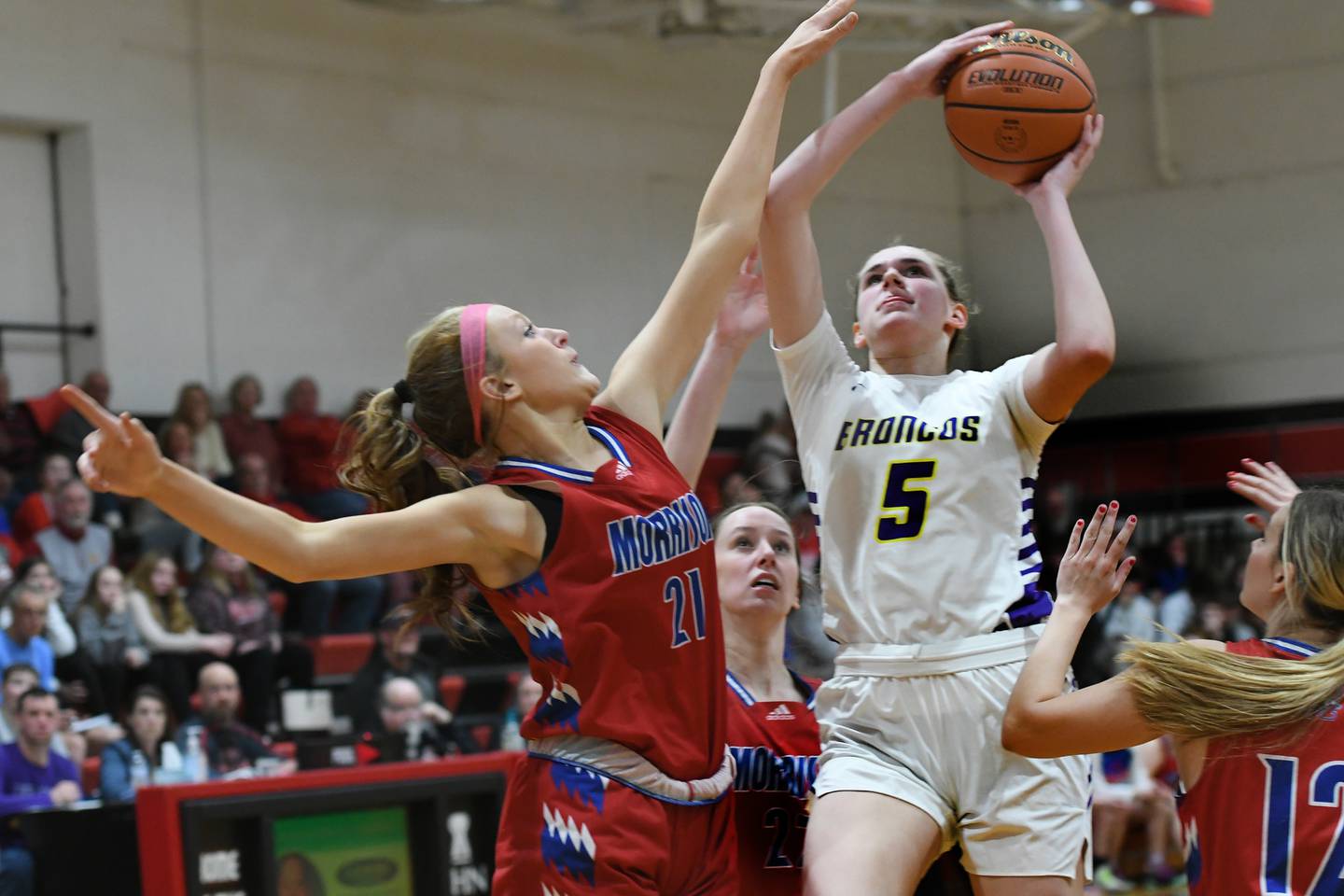 Coming back onto the court after being in foul trouble, Sullivan began to make her presence felt under the basket with 14 points in the final 10 minutes, starting with a pair of scores in identical cutter plays with an assist from the coach's daughter, freshman Nadalee Doyle.
"We did a great job getting the ball to the corner to Nadalee and letting her feed Whitney," Coach Doyle said.
In the fourth quarter, Sullivan went to the line six times, and after one of the Morrison fouls, Grim was whistled for a technical.
"Sullivan could do whatever she wanted and not be called," Grim said. "With 26 fouls for us and 11 for them, the officiating did not go our way."
Both Robbins and Shelby Veltrop saw their high-school careers come to end on the bench, as both finished with five fouls in attempting to defend Sullivan.
To their credit, the Fillies had three early blocks, but could not get any sort of offense going between turnovers and missed shots. Rebounding was about even, with 19 for Orangeville and 17 for Morrison.
"I'm still proud of the season we had," Grim said.