ROCK FALLS – After losing the first three matches in Thursday night's dual against Oregon, the Dixon wrestling team was looking for a way to take the momentum for itself.
The next four bouts turned the tide, and the Dukes went on to defeat the Hawks 44-18. Dixon also defeated Rock Falls 57-13, and Oregon topped the Rockets 52-20 in a Big Northern Conference triangular at Tabor Gym.
[ Photos from the BNC wrestling triangular between Dixon, Oregon & Rock Falls on Thursday night at Tabor Gym ]
It started with Steven Kitzman at 182 pounds; after bumping up a weight from his normal 170, he won a 9-1 major decision to get the Dukes on the scoreboard. After that, Owen Brooks – also moved up a weight class – pulled out a win in double-overtime at 195.
The score was 0-0 through the first period, then Oregon's Quentin Berry got a reversal after starting the second period on the bottom for a 2-0 lead. But Brooks escaped in the third period, then was awarded a stalling point, and the match went into OT tied 2-2.
Neither wrestler scored in the first one-minute overtime period, so it went to two 30-second OT periods. Brooks started down in the first of those and scored a reversal to take a 4-2 lead. Berry escaped with 19 seconds left in the next extra period, but Brooks held on.
"Just pin him, or just keep him down. Just do whatever I can to keep him from getting two points," Brooks said of his mindset in that final 30-second period. "You've just got to fight through it, just think of all your training and the importance to the team. You've really got to step up and do your part, pull out a win."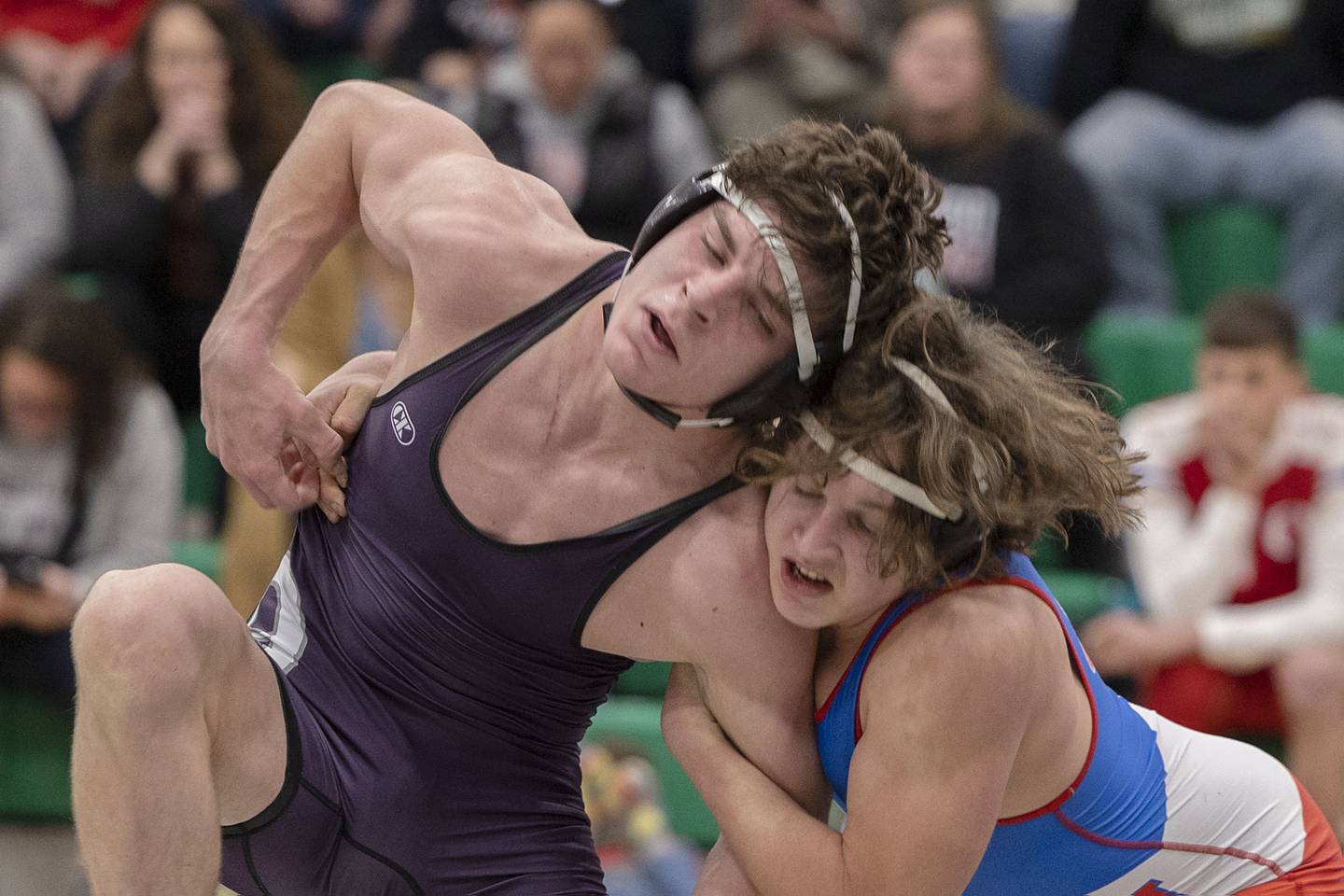 Jonathon Alaniz stopped Dixon's win streak by holding off a rally by Ethan Mick at 220. Alaniz took a 5-1 lead into the third period, but Mick got within 5-4 before running out of time on the comeback.
But the Cardiac Kid, Shaun DeVries, was up next for the Dukes. Already with a last-second win under his belt against rival Sterling last week, he matched that feat against Oregon's Evan Flaharty with a takedown with eight seconds remaining to rally for a 7-6 win.
Flaharty took advantage of DeVries getting out of position in the first period and scored a near-fall for a 6-1 lead in the first two minutes. But the Dixon senior cut the deficit to 6-4 going into the third, then recorded an escape with 1:20 remaining in the bout to set up the exciting finish.
The crowd got silent quickly after cheering at he end, as Flaharty didn't get up from the mat right away and the Oregon coaches came in to check on him. But eventually, he got up to applause from the fans to shake DeVries' hand.
"When they're so much heavier than you, you almost have to rely on your endurance and grit coming into it," said DeVries, who is much lighter than the 285-pound limit. "When they're so much bigger than you, you have to look out for those hip tosses; he did catch me with one, but luckily I was able to stay on my neck and avoid the pin that whole time, so it didn't really cost the whole match. After that…
"I wrestled him before, in the Plano tournament, and he only beat me by two points on a takedown, because I accidentally left my leg out. So I made sure not to do that again, and I did the same thing I did to him the last time: I just jacked him up, got him in a bear hug and then took him down. That last part there, he was laying on the ground and I didn't know what happened. I'm glad he's OK."
Those close matches seemed to be the spark the Dukes needed. They received a forfeit at 106 to get within 18-16, then got a 12-1 major decision from Ayden Rowley at 113 for a 20-18 lead. Another forfeit at 120 was followed by an 8-2 decision by James Simpson at 126, then Jayden Weidman won by pin in 1:47 to put the dual out of reach. An 8-4 decision by Cade Hey at 138 and one final forfeit at 145 accounted for the final margin.
Oregon built the lead with a pin by Grant Stender in 1:39 at 152. It was his second pin of the night, after he won in 4:32 against Rock Falls in the first dual.
"There's not much to say about my matches tonight. I knew I needed to get those six points, they were huge for the duals. I went in and got the job done," he said. "It's always fun to be able to have duals like this. It's pretty competitive in this area, and it's really nice to be able to have a full lineup, and guys who can score points for the team at every weight."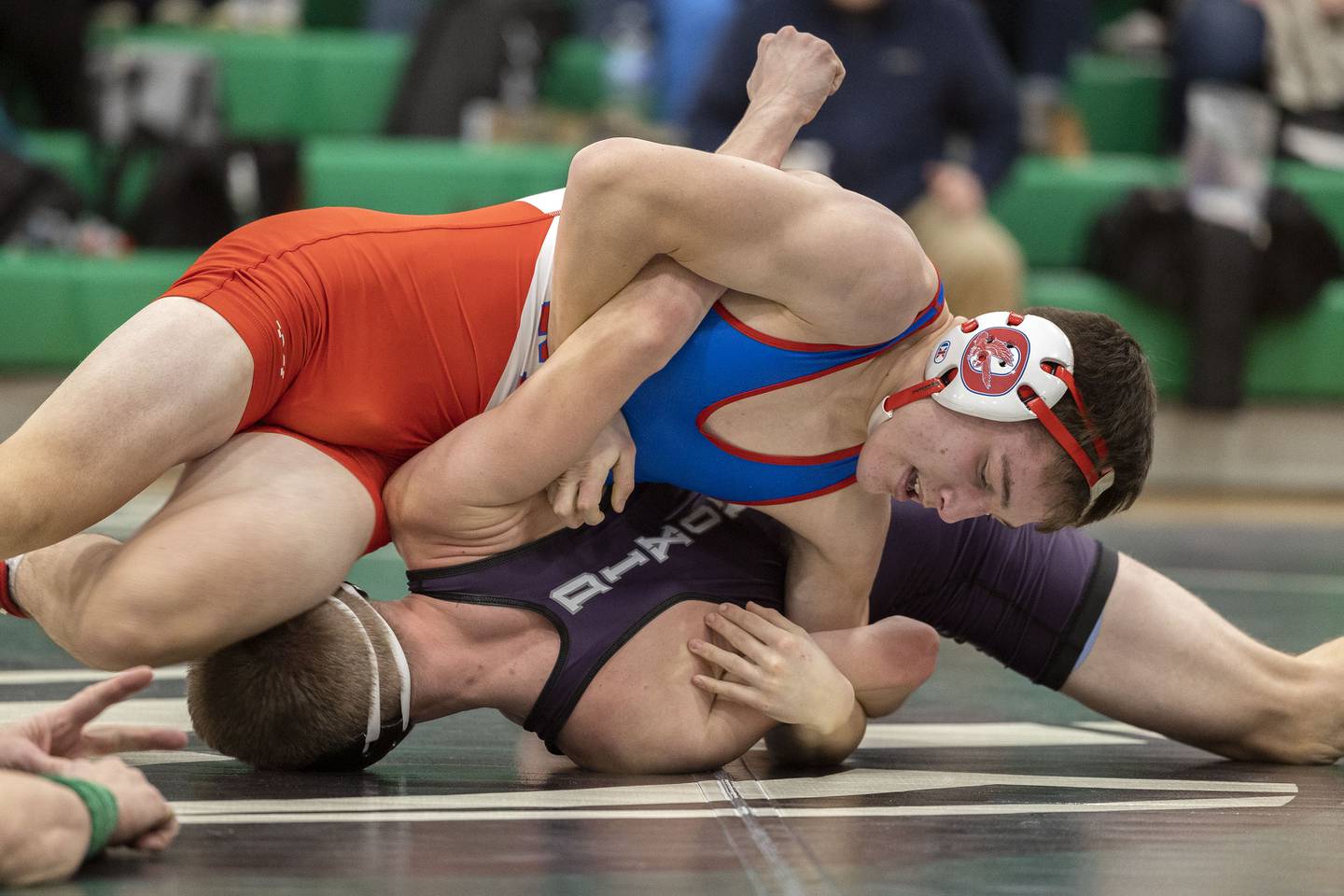 The next bout was another nail-biter. Anthony Bauer trailed most of the 160-pound match against Jayce Kastner – 4-3 after one period and 9-5 after the second – but came back to tie it 10-10 and force overtime. In the extra period, Kastner took a shot at Bauer's legs, but Bauer countered it and finished off a takedown less than 30 seconds in to win 12-10.
"In the beginning, I was trying to set up my shots and stuff. I didn't really know too much about him, and he kind of surprised me off the bat; he was pretty strong and fast. When I shot, he got behind me over and over, so I was kind of in defensive mode the whole match," Bauer said. "I was just trying to get easy points where I could, stick to the basics. Then toward the end, I got a reversal and tied it up, and had to keep him down for 30 seconds – and I'm not that good on top – or I would've lost.
"Then we go into overtime, and I'm pretty scared of overtime; it's pretty nerve-wracking and not the best experience. But right off the bat he shot in and I knew I had to get his head down, and I got behind him, got him locked up. I think he got a little too high and I got around and got the points."
A forfeit at 170 gave the Hawks a 15-0 lead, but that's when Dixon started its surge and eventually pulled away for the dual victory.
"It's amazing wrestling Oregon every year for conference, because each time it's a dogfight," Brooks said. "It's really good, a lot of good experience, and it will help for the rest of the season."
It also helped lead to a fast start against Rock Falls in the final dual of the night.
After a forfeit at 160, Kitzman notched his second win of the night with a pin in 2:37 at 170 pounds. After three more forfeits, DeVries won a 6-0 decision at 285, then Jacob Renkes got a pin in 3:07 at 106 for a 39-0 lead. After a forfeit at 113, Simpson won by pin in 2:38 for a 51-0 lead.
"I really wanted to beat the Oregon kid. That was the most important one to me because we want to be conference champions," Simpson said. "… I was more focused on the Oregon kid, but got both wins. It's great experience to see this kind of competition."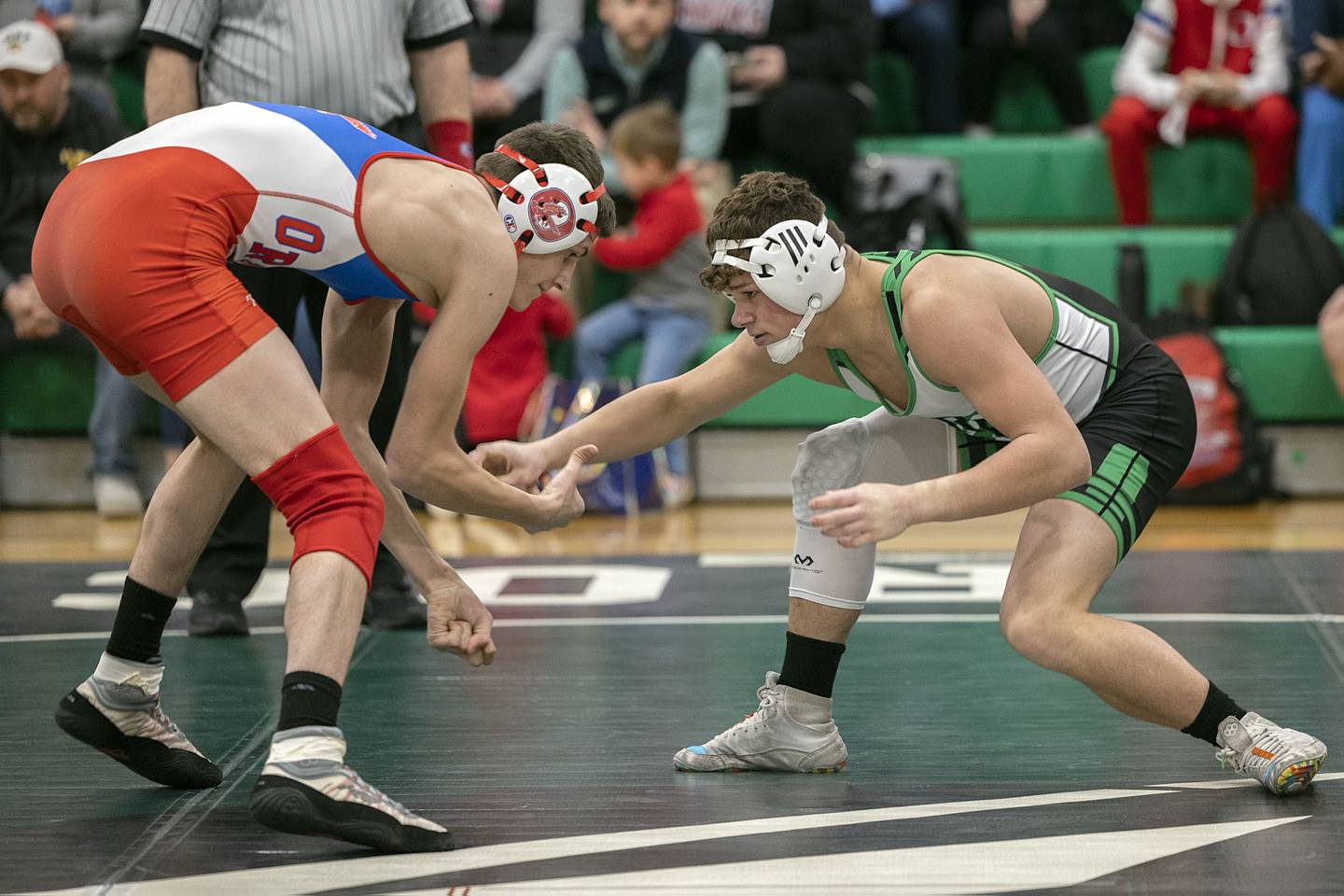 Rock Falls won the final three contested matches. Logan Williamson notched his second win of the night with a pin in 3:35 at 132, then Korbin Oligney won a 6-4 decision at 145 before Ryan McCord finished off the night with a 10-0 major decision at 152.
"It feels great, because I came into this not expecting to win that Dixon match; my confidence was low. But winning that, it felt great, and it's a big boost for me," Williamson said. "I definitely accomplished what I wanted to. I just go in to improve one thing at a time, just so I can get better one step at a time. Like getting on those doubles, I need to finish them quicker, and that's what I did today."
The first dual was Oregon vs. Rock Falls, and the Hawks won the first eight bouts by either pin or forfeit. Lane Halverson (145), Stender (152), Landyn Windham (170) and Flaharty (285) all won by pin – Flaharty in 21 seconds – for a 48-0 Oregon lead. Edward Gomez added a 15-6 major decision in the final bout of the dual at 138.
Rock Falls' Aaron Meenen won a 17-2 technical fall in 2:14 at 120 pounds, then Adan Oquendo won by injury default at 126 before Williamson won 6-2 at 132.
"Get to the offense right away, keep pushing. If I keep scoring and don't let up, no one can beat me," Meenen said about racking up points quickly in his win. "It's awesome to have duals like these. Fans love it, I love it. I like coaching, I like drilling, pushing my teammates. I also like winning, so it's a lot of fun. I just love the energy when it's local rivals."