CHAMPAIGN – While 11 local wrestlers remain alive for a medal in the IHSA State Meet, all four semifinalists lost their matches on Friday night at State Farm Center.
Sterling's Drew Kested, Newman's Will Rude, Polo's Wyatt Doty and Erie-Prophetstown's Jase Grunder all dropped their semifinal matches. They'll wrestle in the consolation fourth round Saturday morning, then either in the third- or fifth-place match in the early afternoon.
"He's not feeling well right now," Sterling coach Kevin Heller said after Kested's loss to Mason Alessio of Joliet Catholic. "But we're going to get a good night's rest and we're going to set our head right again."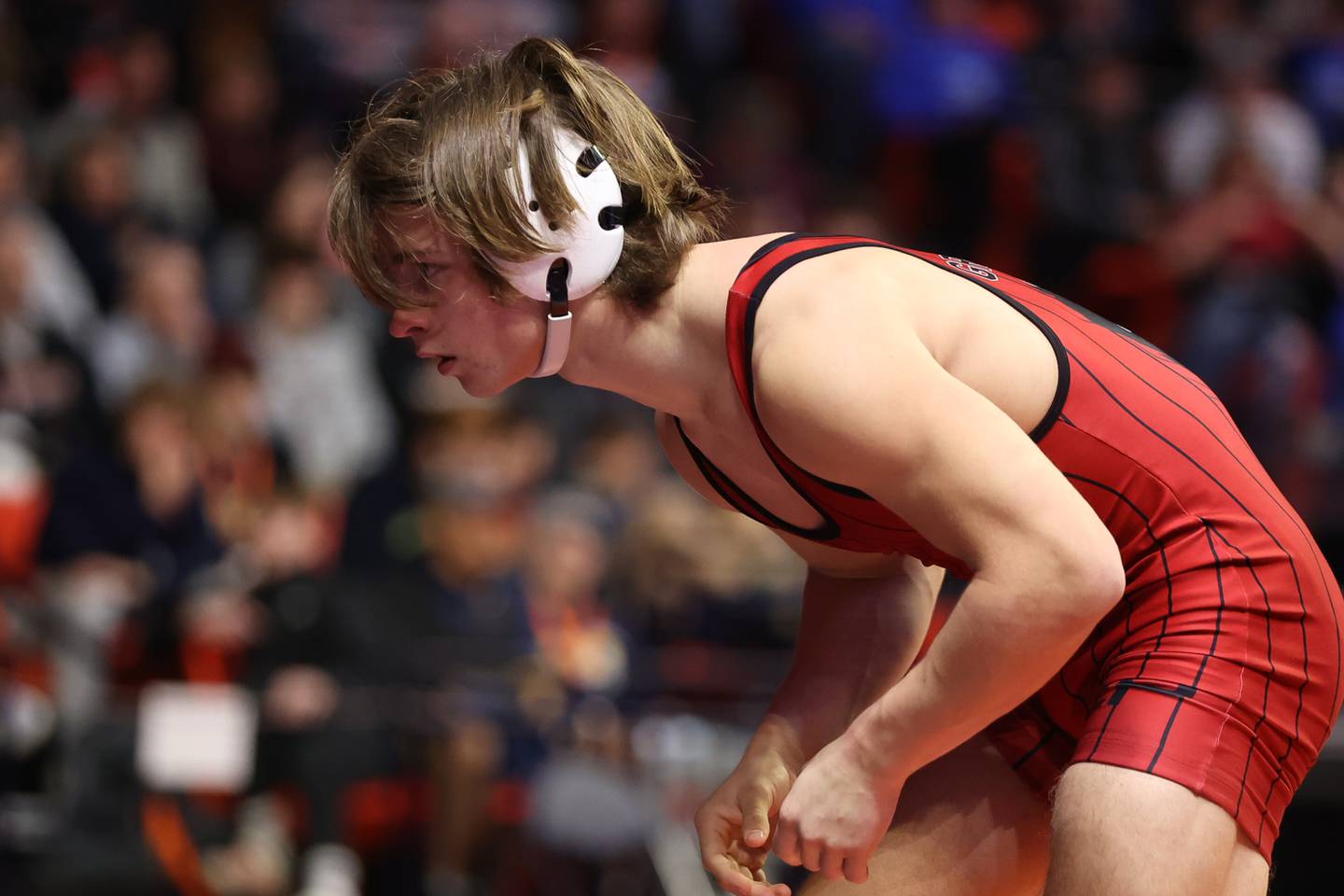 Grunder's loss came at 145 against Garrett Luke of Lena-Winslow, 1-0.
Newman coach Daryl Dieterle said with Rude having just one match on Friday, it ups the degree of difficulty when he faced Dwight's Dillon Sarff, who beat him 7-1.
"It's tough when you sit around all day and don't do anything," Dieterle said of Rude, who is now 23-2 on the year. "He's not had a lot of mat time this year due to injuries. ... It was a tough match, and that guy is pretty good."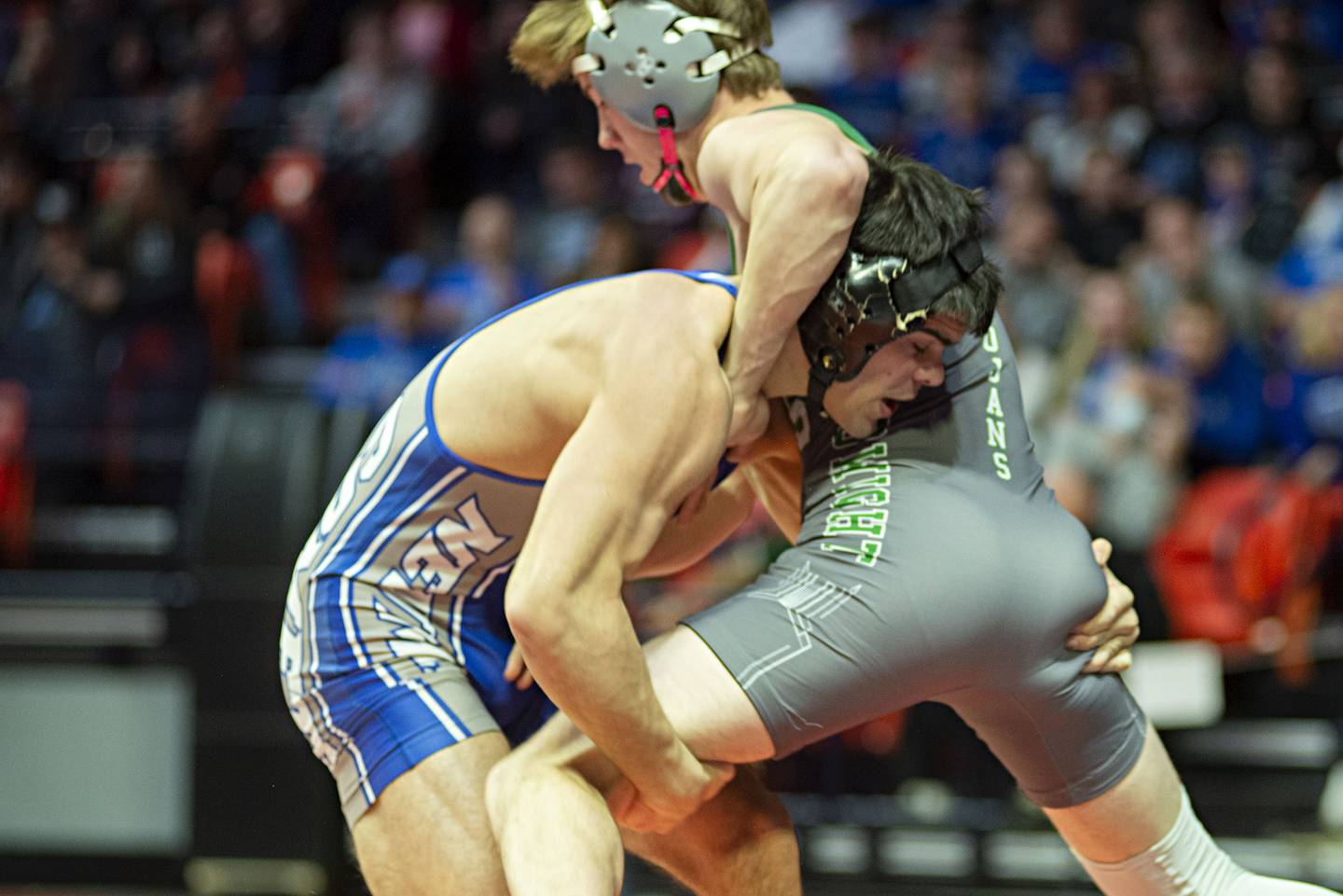 Doty lost his quarterfinal for Polo in a back-and-forth 8-6 decision. The Eastland junior started on top in the third and got three back points to erase the early lead of Benton's Mason Tieffel, but Tieffel got a takedown in the third for the win.
"It was going good there," Polo coach Jesse Culbertson said. "But he's kind of funky, diving for the legs. He wrestled different from what we've seen so far. It's hard to prepare for a kid like that."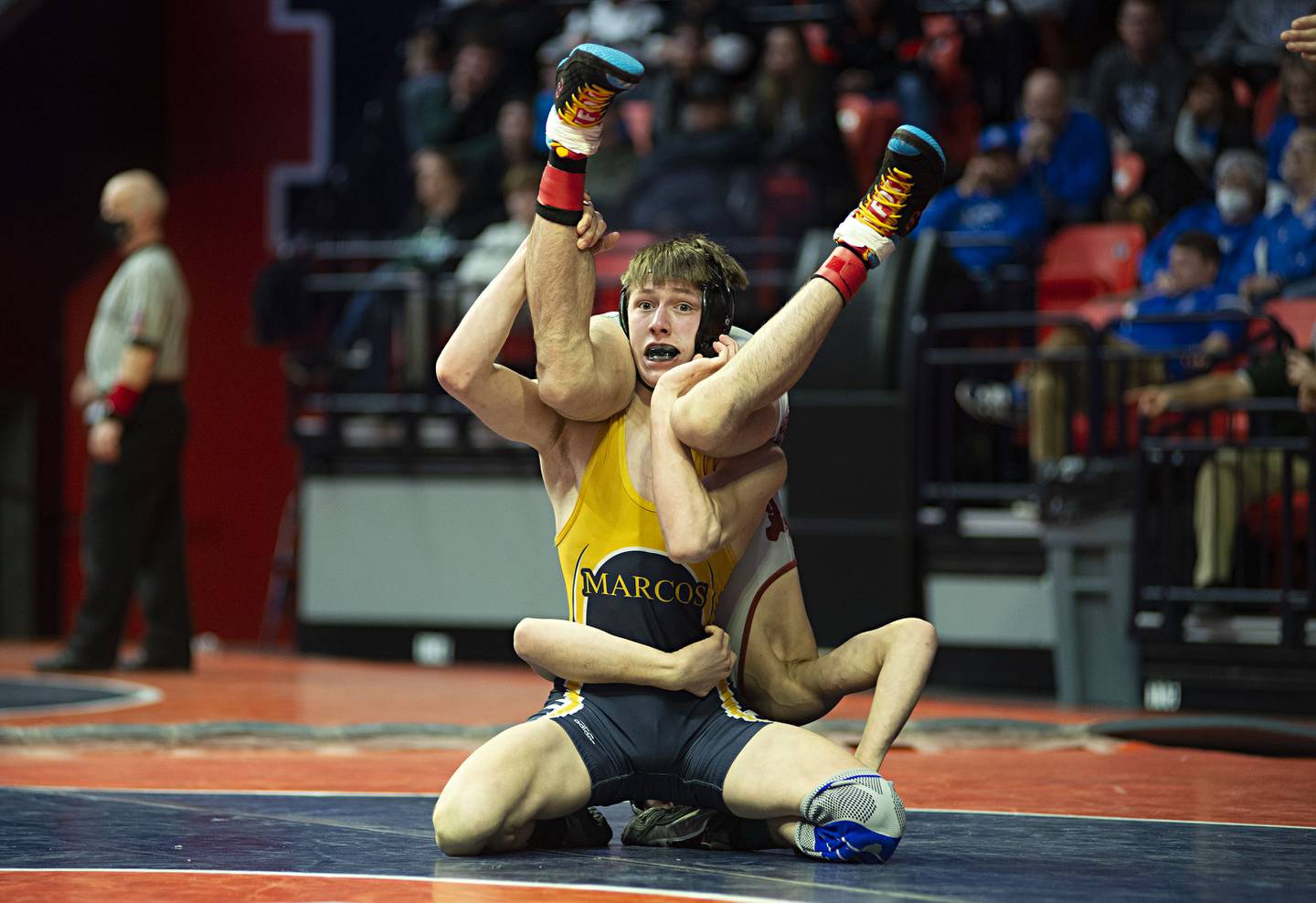 Other than the semifinalists, seven wrestlers remained alive for medals through the wrestlebacks. A win in the consolation third round on Saturday morning guarantees a top-six finish and a medal. After a consolation fourth round determines who wrestles for third and fifth, medal rounds begin at 1 p.m. with title matches to follow at 5:30 p.m.
Sterling's Tommy Tate was still alive at 160 in the 2A bracket with a pin in his lone match Friday. At 1A, Justin Dallas got a second-period pin in his consolation second-round match to stay alive.
After losing to IC Catholic's Jadon Mims in the quarterfinals, Dallas bounced back with a pin to move within one win of a medal, wrestling in the consolation third round Saturday morning.
"He did awesome," Dixon coach Micah Hey said. "He's had a great tournament so far. He did great [Thursday], lost a tough match to a kid who has a good chance to win it, and just did awesome today."
Brady Grennan eked out a 3-0 win to stay alive at 120, as did Newman teammate Carter Rude with a 17-4 major decision at 126.
"I'm looking for both of them to get to the medal round," Dieterle said of Grennan and Carter Rude. "They're both capable of winning matches, but you've got to wrestle smart. They've got to wrestle their match and take control of their match."
For Morrison, Kayden White won at 182 by a tech fall to move a win away from a top-six finish, as did Daniel Engel of Polo with a second-period pin in his 1A 285 match.
Culbertson said Engel was giving up a lot of pounds in the match against Isaac Espenschied of PORTA and got worried when Espenschied started on top in the second. But that worry didn't last long.
"We were worried having a big kid on us like that," Culbertson said. "He about turned us, but Daniel found his way back on top."
Fulton's Zane Pannell stayed alive in the consolation bracket with a pair of pins at 170, defeating Manteno's Wyatt Young in 1:40 and Cumberland's Iysten Syfert in 2:32.
Dixon's Ayden Rowley (106), Oregon's Lane Halverson (132) and Morrison's Nate Schaefer (220) all went 1-1 in the consolation bracket on Day 2, while Newman's Briar Ivey (113), Erie-Prophetstown's Wyatt Goossens (113), Oregon's Seth Stevens (138), Dixon's Mitchell White (195) and Erie-Prophetstown's Elijah Friedrichsen (285) all lost their first consolation bouts.
Rowley defeated LeRoy's Brady Mouser 8-0 in a first-round wrestleback, but fell by tech fall to Peoria Notre Dame's Ian Akers in the second round.
Halverson won a 12-4 major decision over Phoenix Academy's Omar Ramirez in the first round, but lost 12-3 against Auburn's Dresden Grimm in the second round.
Schaefer was a 5-0 winner over Tolono Unity's Oran Varela in the consolation first round, but lost by pin against Hillsboro's Magnus Wells in the second round.
Ivey fell 10-2 to IC Catholic's Andre Alvarado, Goossens lost 13-7 to Ridgeview's Danny Tay, Stevens was pinned by Anna-Jonesboro's Blake Mays, Mitchell White lost 3-1 to Macomb's Ethan Ladd, and Friedrichsen was pinned by Cumberland's Noah Carl.