BYRON – As swimmers balance weekday dual meets with morning and evening practices throughout the week, it's always nice to have some familiar faces to compete against to break up the monotony.
There's a little bit closer connection between the Sterling and Byron boys swim teams than with a lot of their other opponents, mainly because of proximity and shared club experiences, so when the two get together for their annual dual, it's usually a fun competition for everybody involved.
The two met up Tuesday evening in Byron, and the Water Warriors defeated the Tiger Sharks 77-21.
"It's a fun meet, because there are a couple of guys on their team that I've known from club my whole life – Tyson [Politsch] and Carson [Faley] – and it's pretty fun to race against them," Sterling senior Reiley Austin said. "It's nice to come out here with all the guys and get some good racing and come back with a W."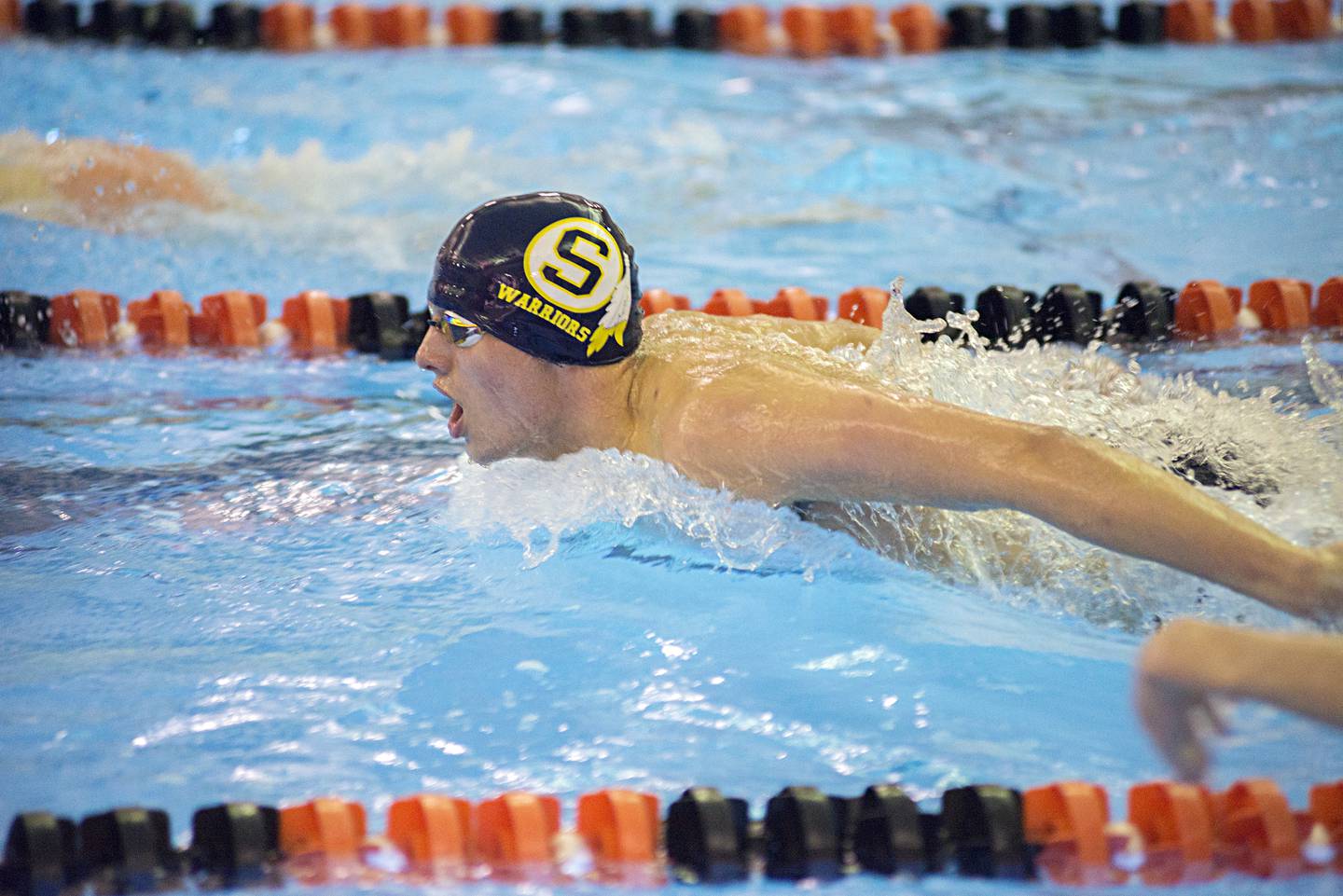 "It's a pretty fun meet to come to," Sterling junior Skylar Drolema added. "I know most of the guys from Byron, so it's a pretty fun rivalry, and all-around good competition for us."
Drolema was the star of the meet for Sterling, winning both his individual races and swimming on a pair of relay winners. He won the 50-yard freestyle (23.65 seconds) and 100 freestyle (51.56), and swam legs on the winning 200 medley relay (1:43.52) and 200 free relay (1:34.38).
He teamed with Austin, Braeden Ruiz and Michael Garland in the 200 medley relay, and joined Mason Adams, Austin and Garland in the 200 free relay.
"You always want to win your races," Drolema said. "I vary between the 50 and 100 [freestyle] and the 50 [free] and 100 fly, and the relays of course; I'm always the flyer. Since we lost Calvin Sandefer last year, I kind of took over his spot this year in the 50 and 100 free, which gives me some pretty good goals: I'm going to try and chase down his records this year."
[ Check out photos from Tuesday's Sterling-Byron dual meet ]
The Warriors have been strong in both of those relay races all year, and the team members say it's the camaraderie that gives them the edge.
"I feel like relays are one of the best parts about swimming, because you really get to cheer for your teammates – and that cheering makes you go even faster than when you regularly swim by yourself," Adams said.
"It's all about hyping each other up and cheering each other on," Garland added. "In relays, right before you get to swim, you get to cheer on your teammates as they swim. That really helps you out in your swim. It's just all about that team bonding."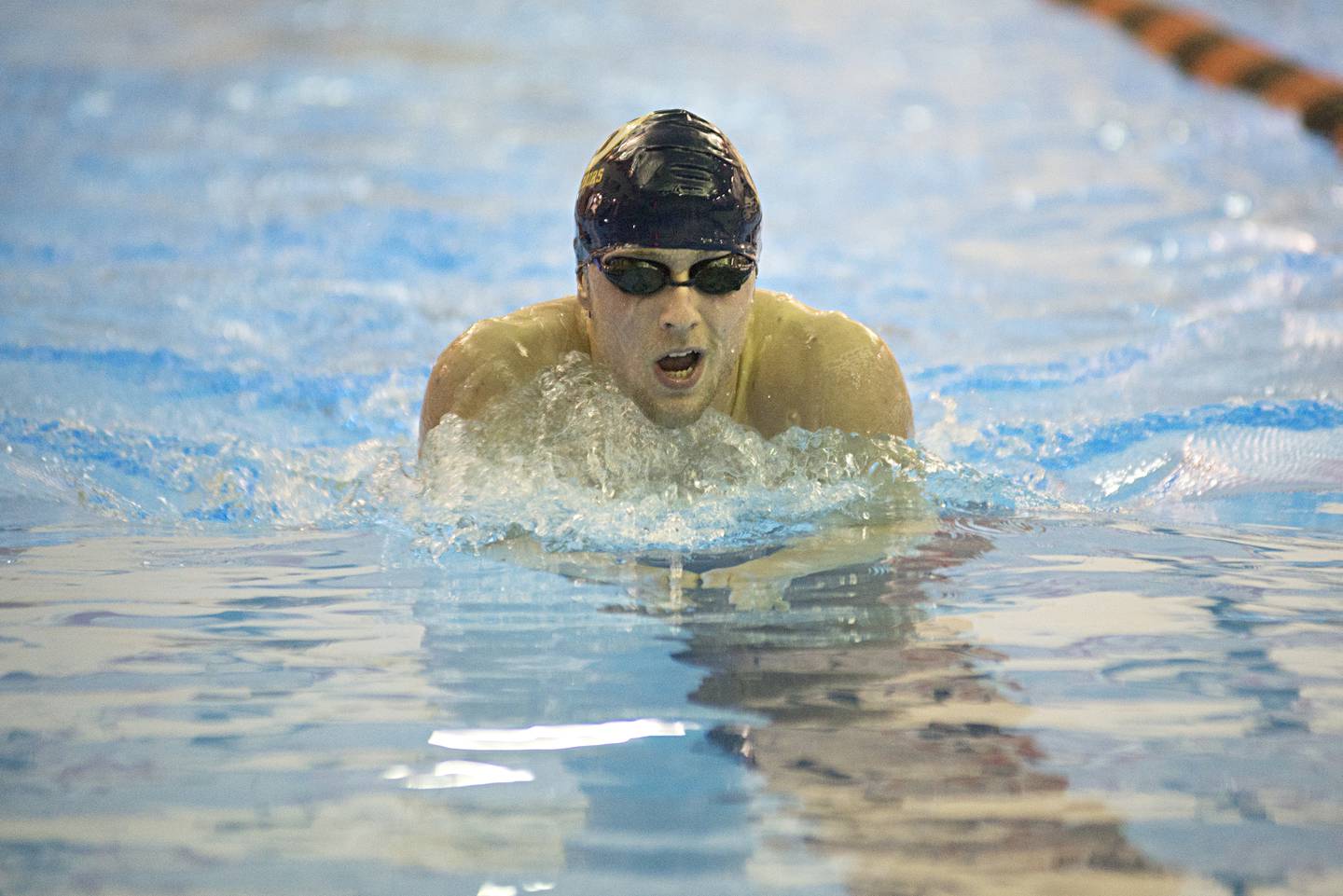 Faley, a Dixon senior, was the star for Byron, notching all three of the co-op's victories. He defeated Austin in what turned out to be the closest race of the night in the 100 butterfly, building a lead before holding off the Sterling senior's late charge to win 55.56-55.62.
Faley also won the 200 IM (2:04.46), and gave the Tiger Sharks an insurmountable lead as the leadoff leg in the 400 freestyle relay (3:34.16). Byron a led by more than seven-and-a-half seconds after his opening leg, and the winning margin ended up being 7.26 seconds.
"I think I performed pretty well today, especially because in dual meets, you don't get much rest, it's pretty much back-to-back, and you're really tired from morning practice," Faley said. "I performed really well for being as tired as I am."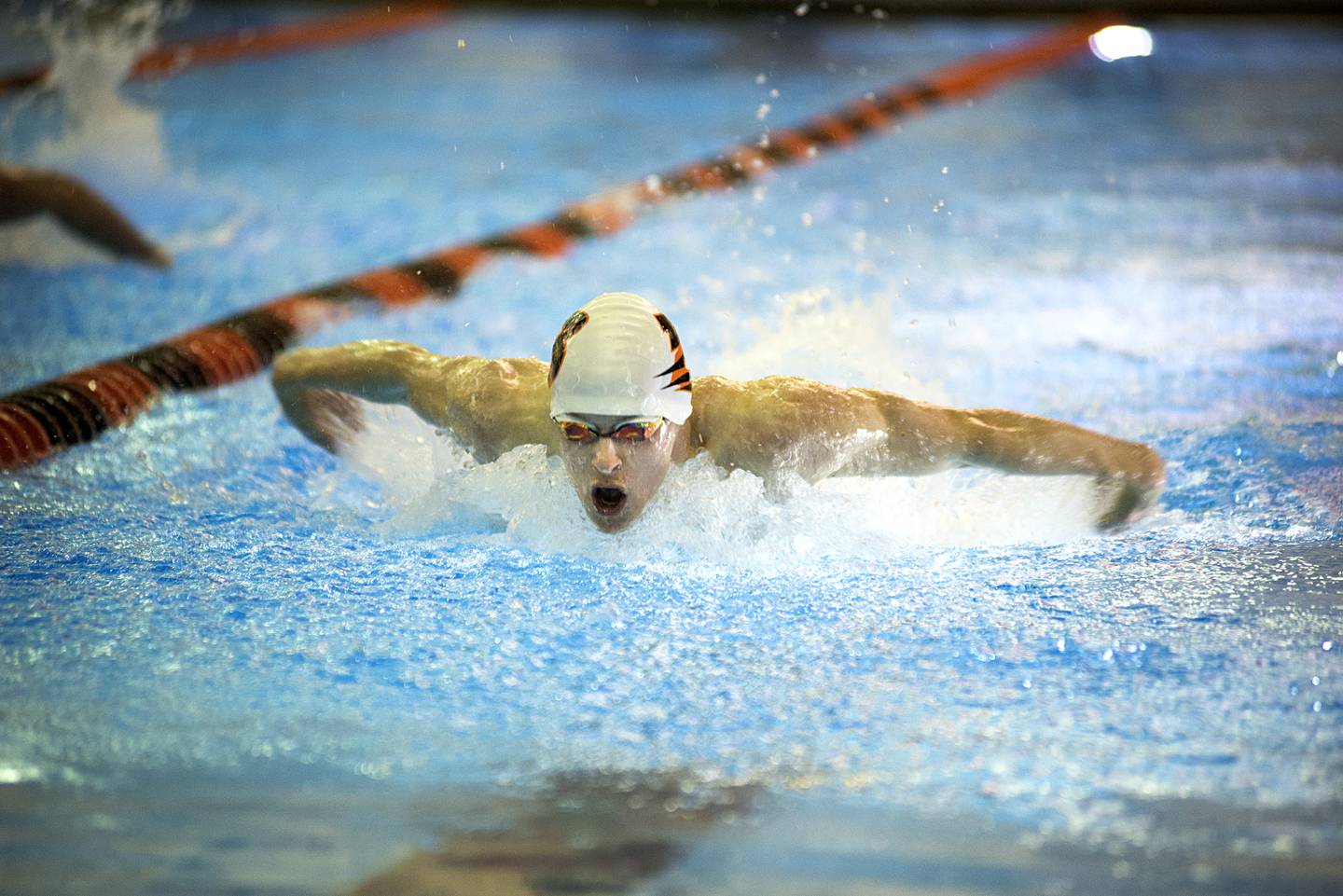 He said the best part was finally having a meet at his home pool, and facing off against friends from Sterling was icing on the cake.
"It was really nice, because we haven't had a home meet yet; they've been getting canceled. So finally to have a meet on a weeknight where we're able to host has been really nice, and being able to compete with one other team instead of multiple other teams was also nice," he said.
"And it's great that it was against Sterling. We always have a dual meet with them, and I'm glad this one didn't get canceled, because it's always fun to race against people I know. I like racing against them because it's always a good competition where we really push ourselves. That always makes it fun."
Faley teamed up with Levi Schamper, Nathan Bell and Politsch to win the 400 free relay, and that same quartet also notched the Tiger Sharks' lone runner-up finish in the 200 medley relay (1:46.36).
Schamper added a third place in the 200 IM (2:16.36), Bell was third in the 100 butterfly (56.66), Politsch placed third in the 100 breaststroke (1:05.93), and Nolan Stoll took third in the 100 freestyle (59.97).
Sterling took the top two spots in seven events, and swept the top three in five of those, including the 200 free relay.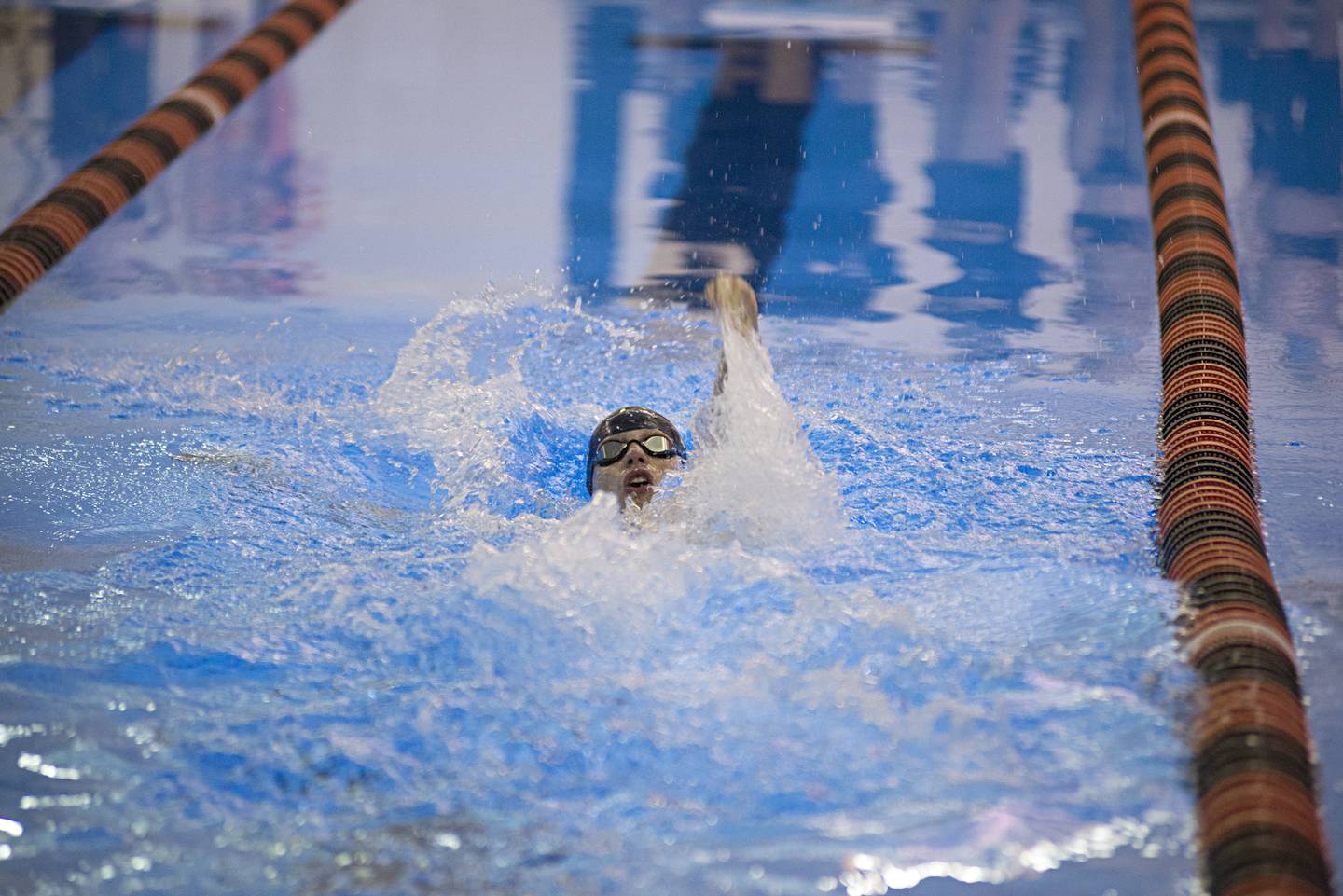 Adams (1:56.71), Luke Clark (1:59.82) and Conner Porter (2:00.69) went 1-2-3 in the 200 freestyle; Drolema, Peter Garland (24.44) and Connor Pham (24.84) did it in the 50 freestyle; Clark (5:17.13), Porter (5:17.49) and Samuel Richards (5:39.97) achieved the feat in the 500 free; and Austin (59.34), Adams (1:03.60) and Patrick Riley (1:17.47) went 1-2-3 in the 100 backstroke.
Drolema and Peter Garland (54.57) took the top two spots in the 100 freestyle, and Michael Garland (1:02.64) and Ruiz (1:03.70) went 1-2 in the 100 breaststroke. Braiden Herrera scored a 160.70 as the meet's lone diver.
Michael Garland added a runner-up finish in the 200 IM (2:10.84), and the team of Clark, Peter Garland, Adams and Ruiz took second in the 400 free relay (3:46.36).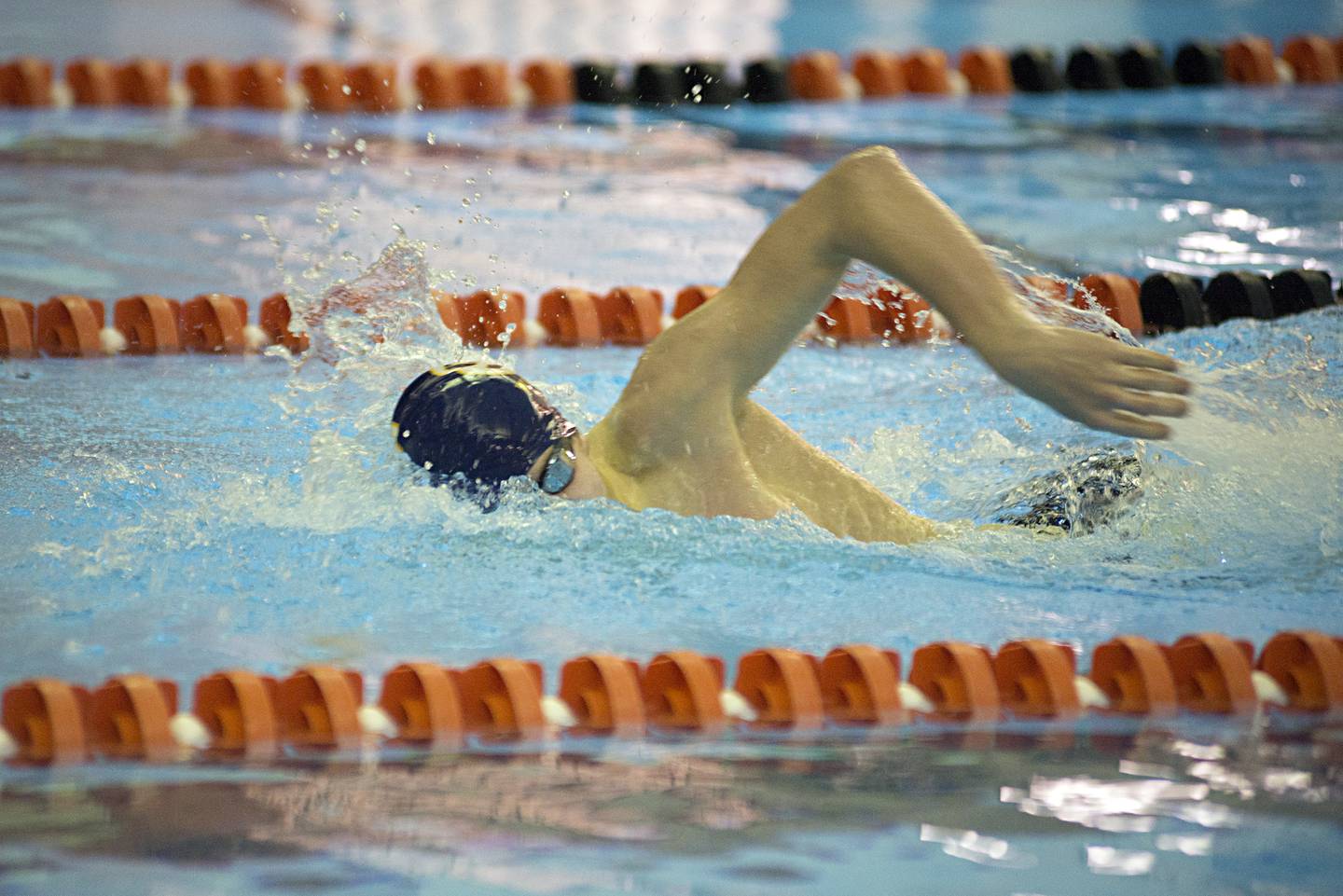 Austin and Adams were both happy with their swims, and said it's all about mental toughness during dual meets in the midseason dog days.
"We're pretty tired because we have morning practice every day during the week, and night practices Monday through Thursday, so we're just going out there not to try and get our best time, but just go out there and put up a good time, just give all-out effort," Austin said.
"I thought we did pretty good tonight," Adams added. "We just get more tired as more meets happen, so you can go a little slower in some of them, but you've really got to give it your all and just go for it. I feel like we did that tonight."
Michael Garland said the key to doing that Tuesday comes from the camaraderie in a Sterling-Byron dual. He said it's always easier to get in a good head space and have fun despite the physical fatigue when you've got friends on both sides.
"It's always really fun just to swim against them, just because we're close and there's always that competition there," he said. "It's fun to cheer people on from the other team. That makes it a great meet. It's better than swimming against people that we don't know, because there's just that added connection when you know the other guys."