OREGON – For a number of Sauk Valley area golfers, Wednesday's 18-hole round at the Class 1A Oregon Regional at Silver Ridge Golf Course was their last of the 2022 high school season.
But for five local guys, the dream of winning a state championship continued – and the regional served as a stepping stone to next Monday's 1A Riverdale Sectional at TPC Deere Run in Silvis.
Byron's Maison Brandt topped the individual leaderboard with a 72, while Amboy's Wes Wilson had a pair of birdies as runner-up with a 74. Rockford Lutheran's Nathan Ling fired a 79 for third place.
"It was my best round as a high school golfer, so that was really good. And overall, I had one double bogey, which was all right, but it was pretty good," Wilson said. "I made a couple putts off the fringe, and I didn't have a three-putt, so that really helped the round. Hole 1, my drive went left, it was in the rough, and then I put it on the fringe, and I made like a 40-footer for birdie to start. On 16, I made another birdie after putting it on the green in two.
"It feels really good [to be advancing to sectionals]. I can't wait to play at TPC Deere Run, and hopefully, move on to state."
Newman's Logan Palmer and Kyle Wolfe finished in a three-way tie for fourth with Byron's Aaron Lorenz, as each recorded an 80.
Palmer's round heated up after making the turn.
"It started slow and it was cold, but I kind of picked it up and played pretty solid at the end. It was a nice day. It was fun," Palmer said. "I would say off the tee, on those last nine holes, my driver was really solid. I struggled a little on the front, but I figured it out, and I think that really helped me.
"On Hole 3, which would have been my 12th hole, I hit the fairway and put a 5-iron right next to the green, and got it up and down. I had a pretty close birdie attempt – it would've been maybe Hole 5 or 6 – but just missed the putt. But other than that, it was a pretty solid round.
"It feels good [to be moving on]. Me and my teammate Kyle and his brother [Garet], get to go play a pretty fun course, so we're excited to move on."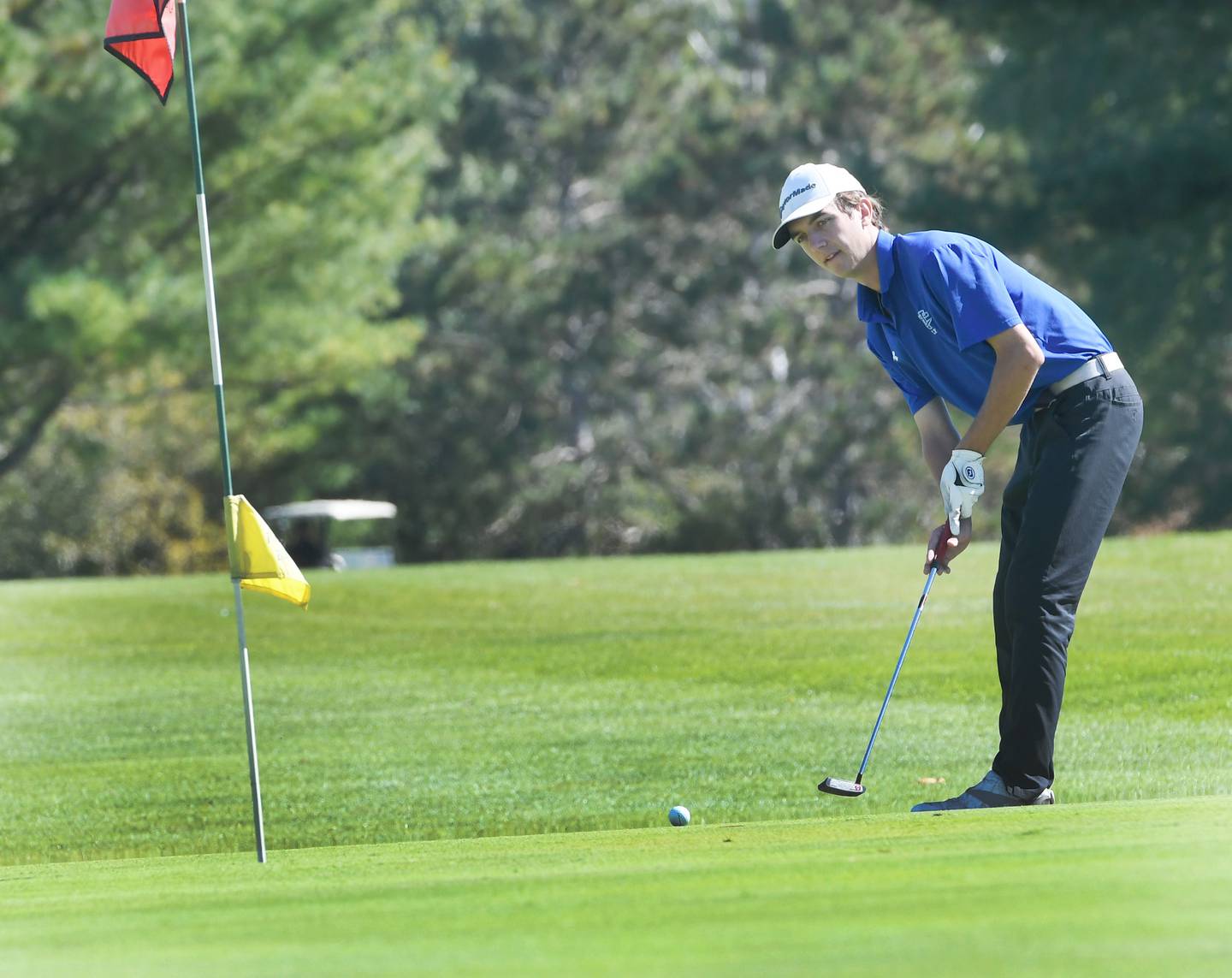 Kyle Wolfe used a strong start to ignite his round.
"I felt like I played pretty good. I got off to a good start, which was exciting because of the cold weather. I wasn't sure how I was going to be able to start when it was 40 degrees outside, but I felt like I played really well, to start," Kyle Wolfe said. "I would say chipping [was the strongest part of my game]. I felt like I chipped the ball really well, I had a lot of key up-and-downs that helped me keep the momentum. I birdied [Hole] 9, which was good. Capped off my front nine at 38 – it was a really good front nine for me.
"It feels great [to be moving on]. I'm excited to go do the practice round with [my teammates], and hopefully make some more memories."
Amboy's Hayden Wittenauer will join teammate Wilson in Silvis next week, after shooting an 86 to tie for 16th.
"I started really slow, and then towards the end, I kind of picked it up the last four holes. It was a little rough, I couldn't putt well, but other than that, it was a pretty good overall round," Wittenauer said. "Tee shots were going exactly where I wanted them to, most of them. Last hole, I almost went out of bounds and kicked out. I got lucky, and got a one-putt. That was par, that was my standout hole for the day, because I really ensured my spot when I did that.
"It's super exciting [to be advancing to sectionals]. We were talking about it all year, and actually getting it to become real is awesome. We're super excited, we can't wait."
Newman freshman Garet Wolfe snuck into the qualifying group, shooting an 88 to tie for 21st, and earn one of the last individual spots. After competing in his first golf regional this week, he's excited to be joining his brother and teammate again for the sectional next week.
"I felt pretty good. I was pretty consistent the whole round," Garet Wolfe said. "I'm pretty excited [to be advancing to sectionals]. I get to do it with my brother."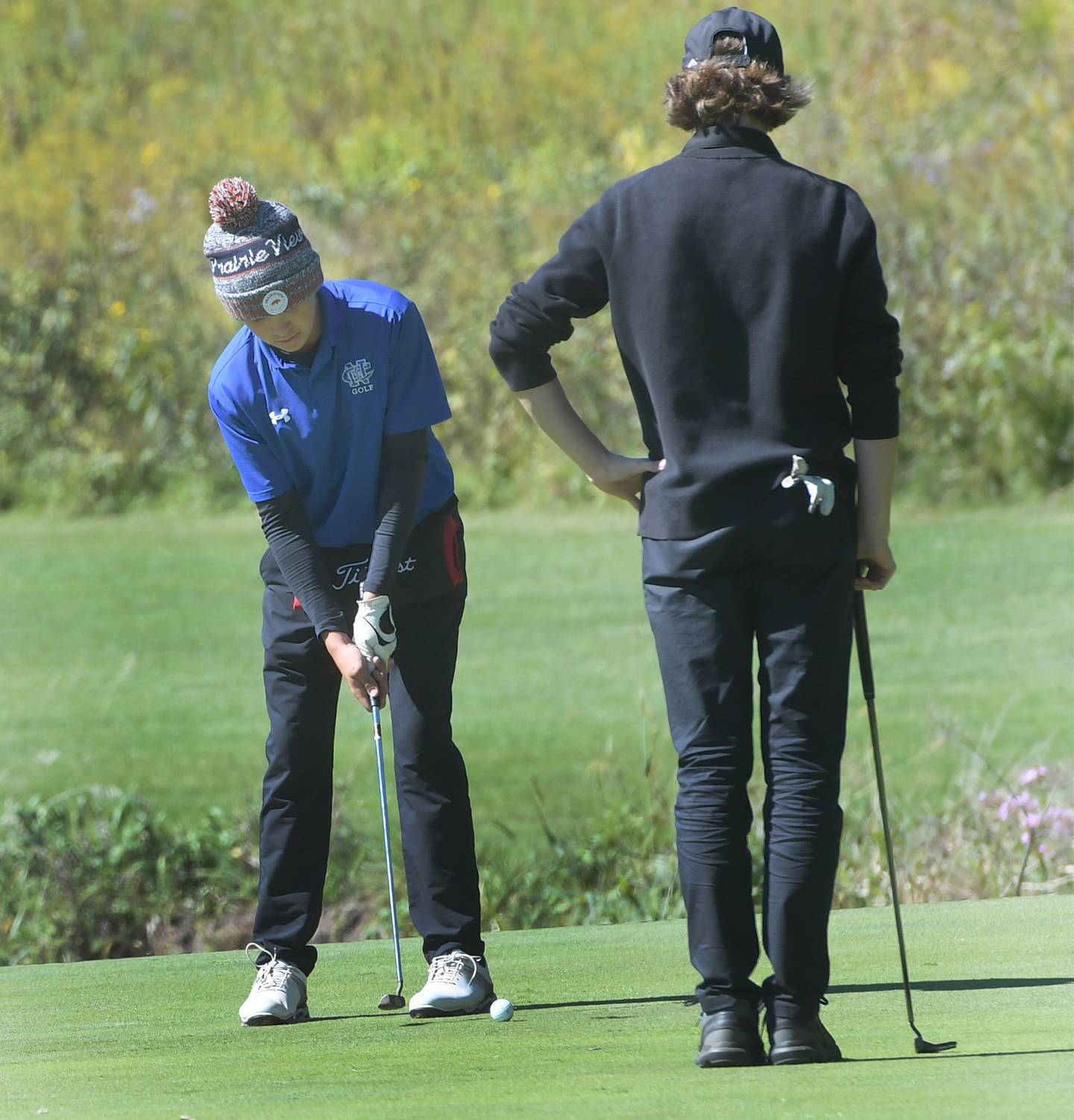 Rockford Lutheran (326), Byron (327) and Rockford Christian (336) were the top three teams in the 13-team field. Although it had three top-21 finishers individually, Newman narrowly missed the cut for sectionals as a team, placing fourth with a 340.
Amboy nabbed a sixth-place team finish with 361, Oregon took seventh with 377, Erie-Prophetstown was 11th with 442, and Morrison finished 12th with 471. Polo competed with an incomplete team.
Oregon's Brogan Wilkinson and Kylar Early narrowly missed the qualifying mark for sectionals, shooting a pair of 91s for 27th. Jackson Messenger tallied a 96, Dom Terlikowski shot a 99, Brady Davis had a 102, and Logan Sarver added a 104 for the Hawks.
Also for Newman, Carson Palmer shot a 92, Andrew Downs carded a 121 and Sam Neisewander chipped in a 125.
Austin Boonstra and Zayden Boonstra shot 106s to lead Morrison, while Adam Tichler fired a 110 and Blake Huizenga added a 149.
Erie-Prophetstown was led by Blake Geuns' 101 and Bryce VanDeWostine's 110. Keith Goodson fired a 115, Caden VanHorn had a 116, Colin Ashdown tallied a 126, and Zachary Murphy chipped in a 141 for the Panthers.
Cody Buskohl's 100 paced Polo, while Aiden Messer shot a 132 and Caleb Sutton added a 151.