The IHSA Boys Bowling State Meet will be a new experience for Dixon's Clark Bonnewell and Oregon's Gavvin Surmo.
But the two sophomores, who both qualified for state at Saturday's Rockford Guilford Sectional at Don Carter Lanes, have had a lot of new experiences the past few years.
Both bowlers picked up the sport recently, Surmo in eighth grade and Bonnewell just last year as a freshman. The fact that both are bowling on the final weekend of the season says a lot about the strides they've made in a short period of time.
Bonnewell surprised his parents last season when he announced he was joining the Dixon bowling team.
"I had a couple of friends who were on the bowling team, and I wanted to do a sport for high school. I couldn't find any other sport except bowling, which is what I stuck to, what I'm staying with, and what I want to continue on with," he said. "I just loved learning everything about it. Anything that I could learn or do. Then once I switched to two-handing, I learned a lot more about bowling, got a lot more competitive."
The switch to the two-handed style is when Bonnewell's already quick progress escalated rapidly. Adding more revolutions and speed to his throws, he started to rack up strikes and spares.
Like his decision to join the Dukes, the change in form came about on a bit of a whim.
"It was at one of my friends' birthday parties. He said, 'You should throw a two-handed ball,' and I said, 'I don't even know how to do that,'" Bonnewell said. "It took a little bit of convincing, and I thought, 'All right, I guess I'll try it.' Turns out I was pretty good at it. I did some fine-tuning from there, and switched.
"It's helped me a lot; I usually get a lot more revs. Before, I couldn't even get half as many revs as I have right now two-handing. I developed a lot more speed."
Surmo's journey to state started a year earlier, but it had been in the works for much longer. Bowling is a family affair, as his grandfather was a successful Rockford bowler and his dad has been bowling for his entire life.
After picking up the sport in eighth grade, Surmo had one goal that drove him to get better.
"I just wanted to be better than my dad, that was my goal," he said. "I'd say I can beat him now, so that's pretty cool, because it was my dad that got me into it. I'd been wanting to do it for a long, long time, so I finally started in eighth grade."
Oregon coach Al Nordman says Surmo's temperament and work ethic are the main reasons why he's become so good so quickly.
"Gavvin's really laid back, a really quiet, keep-to-himself kid, and when he's relaxed, he'll start stringing strikes. He's left-handed, and when he stays smooth and lets it happen, he goes really well," Nordman said. "He put a lot of time in; he bowls a lot. I'm not sure if he does anything else; I think bowling is about all he's doing. He's a testament to working at it, because you can't just show up and get it."
Nordman says Surmo spent his offseason bowling in a league in Rockford on Saturdays, and a league in Mt. Morris on Sundays. He averaged about 160 as a freshman, and Nordman said he got off to a bit of a slow start this season before making an adjustment that has helped him excel ever since.
"He really worked on some stuff, and I told him he needed a different ball. He needed something with a little more angle, he needed an asymmetrical so it would carry; he kept hitting the pocket and it wouldn't carry," Nordman said. "So he got a new ball, and from that moment in time, corners started to fall and he's been working on his spare shooting – he does a lot of spare shooting, because that's been a real challenge for him."
Surmo found plenty of success last weekend. After missing regionals due to a foot injury, Surmo bounced back to roll a 1,300 series and finish 10th overall at the sectional, earning the third individual qualifying spot.
Surmo said despite missing the previous week, he felt comfortable at sectionals because of his familiarity with the venue.
"When I got off the bus, I was just really confident. I bowled league at Don Carter, so I knew where I was going to go and what I was going to do," Surmo said. "I was just worried about myself and my team, not the guy ahead of me or where I was in the standings. My teammates really helped me stay focused, and I was also focused on how good they were doing, so I just bowled. My teammates are all good guys, they're close friends, and it really helped having them there to support me."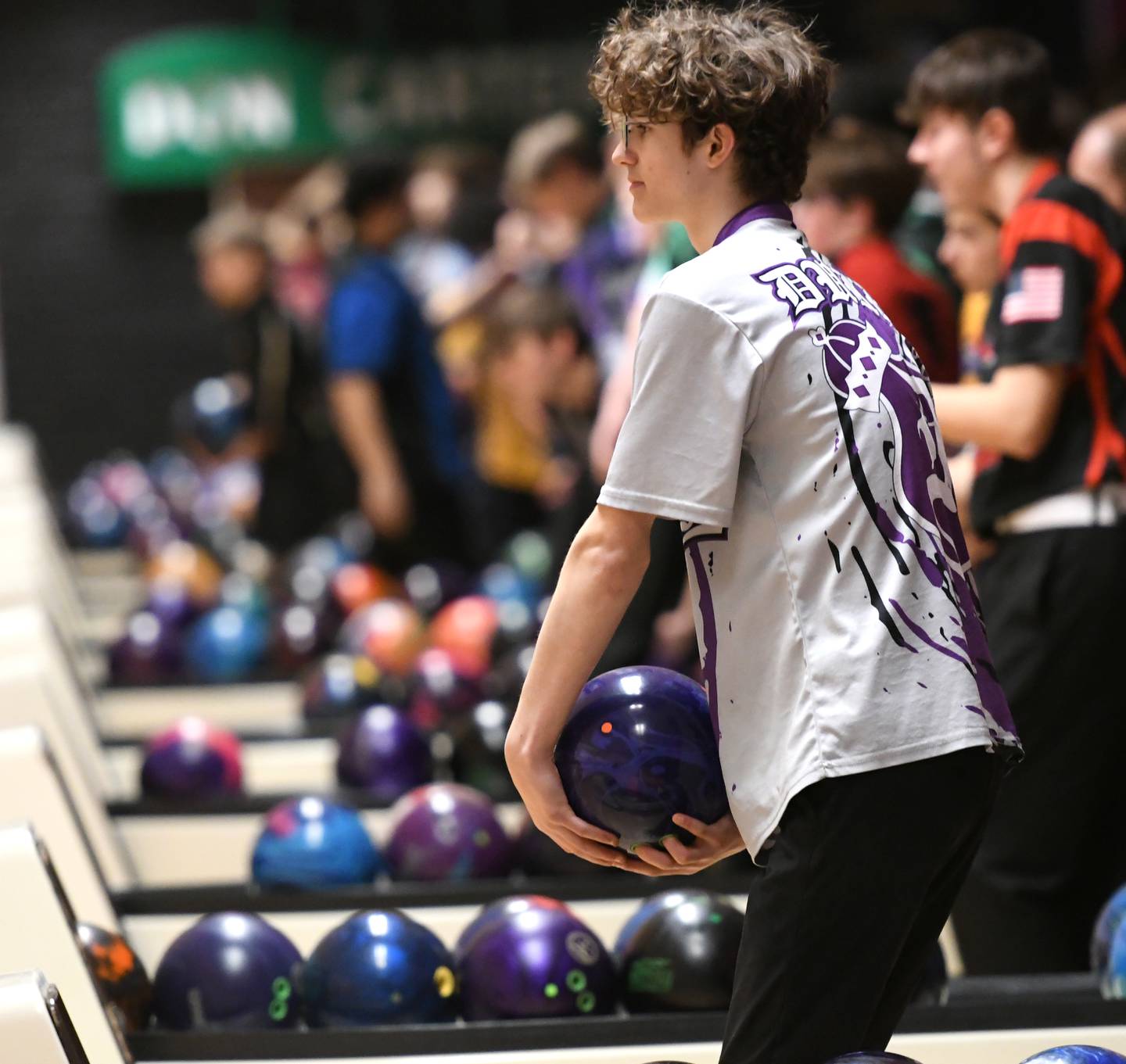 Bonnewell was also on his game at the sectional, finishing with a 1,286 to place 13th and earn the fifth of the seven individual qualifying spots.
In fact, a hot start put Bonnewell in the driver's seat right off the bat, as he opened with games of 256 and 261 and was atop the leaderboard after the morning session.
"I was in first place after three games. I didn't even know that until someone else came up and told me. I didn't even want to know. I never want to look until after the day is over," Bonnewell said.
"It was one of the boys on the Sterling team that came up to him right before we were staring practice for the second half," said Bonnewell's dad CJ, the Dixon coach. "Of course when you're not thinking about that, it's free and easy. Then all of a sudden, you're thinking, 'Oh man, I'm in the lead,' and you have to try to defend being in first place instead of just bowling."
Sure enough, a 133 game to open the afternoon put a dent in his day, but Bonnewell's approach to the final two games helped ease any pressure he might feel.
"I just told myself to have fun bowling the next couple of games. Then I just destroyed after that, bowled the best I could and had a lot of fun," he said. "My biggest goal this season was just to make it sectionals, so making state wasn't my biggest worry."
When he was done, Bonnewell wasn't sure about his chances to advance, so he and his dad were both thrilled when they found out.
"I didn't know I'd made it; we thought I didn't," Clark Bonnewell said. "It was close, and I thought I had hit the average I needed to make it, but I still wasn't sure."
"The funny part was how they announced it; they announce it from No. 1 down, because they know that everybody's fighting for spots down there, so they build the suspense," CJ Bonnewell said. "We didn't know that, since we're new coaches and hadn't been here before, but when we heard Gavvin's name, we knew Gavvin had a 1,300, and I thought, 'OK, that's it.' I literally told Clark, 'That's it, but hey, we'll get 'em next year.' And then two names later, we were shocked when we heard his name. So we were all pretty excited. It was pretty cool."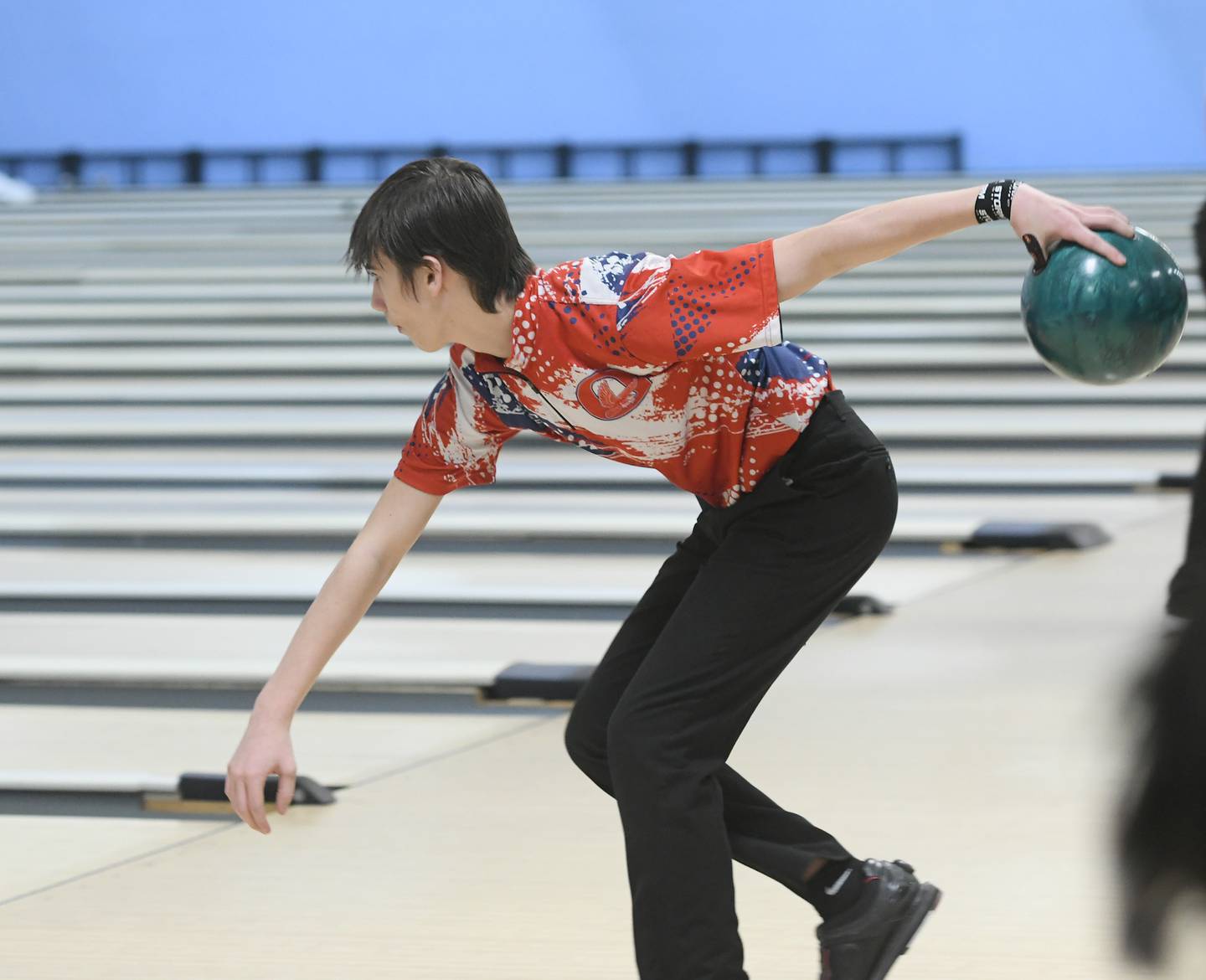 Nordman said Surmo's reaction to the news was just as excited. He had a feeling that Surmo was in the clear to advance to state, but kept the thought to himself until Surmo had rolled his last ball.
"He was really excited when he found out, because he didn't even know where he was in the standings; I don't tell the kids anything, they don't know the standings or anything like that," Nordman said. "I didn't tell Gavvin a word, and oh my God, when I told him after he got done on the approach, his eyes lit up and he jumped off the approach and said, 'I've got to go tell my grandma!' Those were his first words; it wasn't his dad, who was also standing there, it was his grandma."
"I was shocked, because I didn't think I made it," Surmo said. "When Coach told me and then I heard my name, it was such a good feeling."
The next step is sure to be another big jump for the two sophomores. But in an effort to avoid getting overwhelmed by the environment or stressed out about being on the big stage at state, both bowlers are taking an approach more focused on the little details and a few smaller goals when they get to St. Clair Bowl in O'Fallon.
"My goal is that I just want to be one kid from Harlem – it doesn't matter who, just anyone," said Surmo, who bowls with the Harlem team members quite a bit. "I'm just going to be confident and tell myself it's going to be all right, no matter what happens."
"All I want to do is qualify for Day 2, and just bowl and have fun," Bonnewell said. "Next season, I'm definitely going to set some loftier goals. I thought I had some pretty high goals this season, and crushed those, so I'm going to try to do the same thing next year."