OREGON – Leaning on its size advantage and balanced offense, Morrison built a 22-point halftime lead against Milledgeville on Friday night at the Oregon Thanksgiving Tournament. With a strong second-half defensive effort and solid third-quarter offense, the Mustangs closed out a 51-24 win, securing their spot in Saturday's semifinals vs. Newman.
Morrison raced to a 17-9 first-quarter lead, then stretched it to 34-12 at halftime.
Chase Newman and Cooper Bush shouldered most of the offensive load in the first half, scoring nine and eight points to lead the Mustangs.
Bush drove the lane for layups twice in the final three minutes, increasing the Morrison lead to 23-11, then 31-11. His right-wing 3 with 41 seconds left expanded the advantage to 22 points.
"They really did a nice job in the first quarter. We were out of sorts a little bit. Then we changed our defense, we got settled down, and we started executing better," Morrison coach Mark Ernst said. "We had some people really start taking the ball to the hoop, more than we had before. That kind of sparked us.
"Chase Newman did a great job of sparking us, getting to the hoop and then breaking down the defense. He was the catalyst for our offense tonight."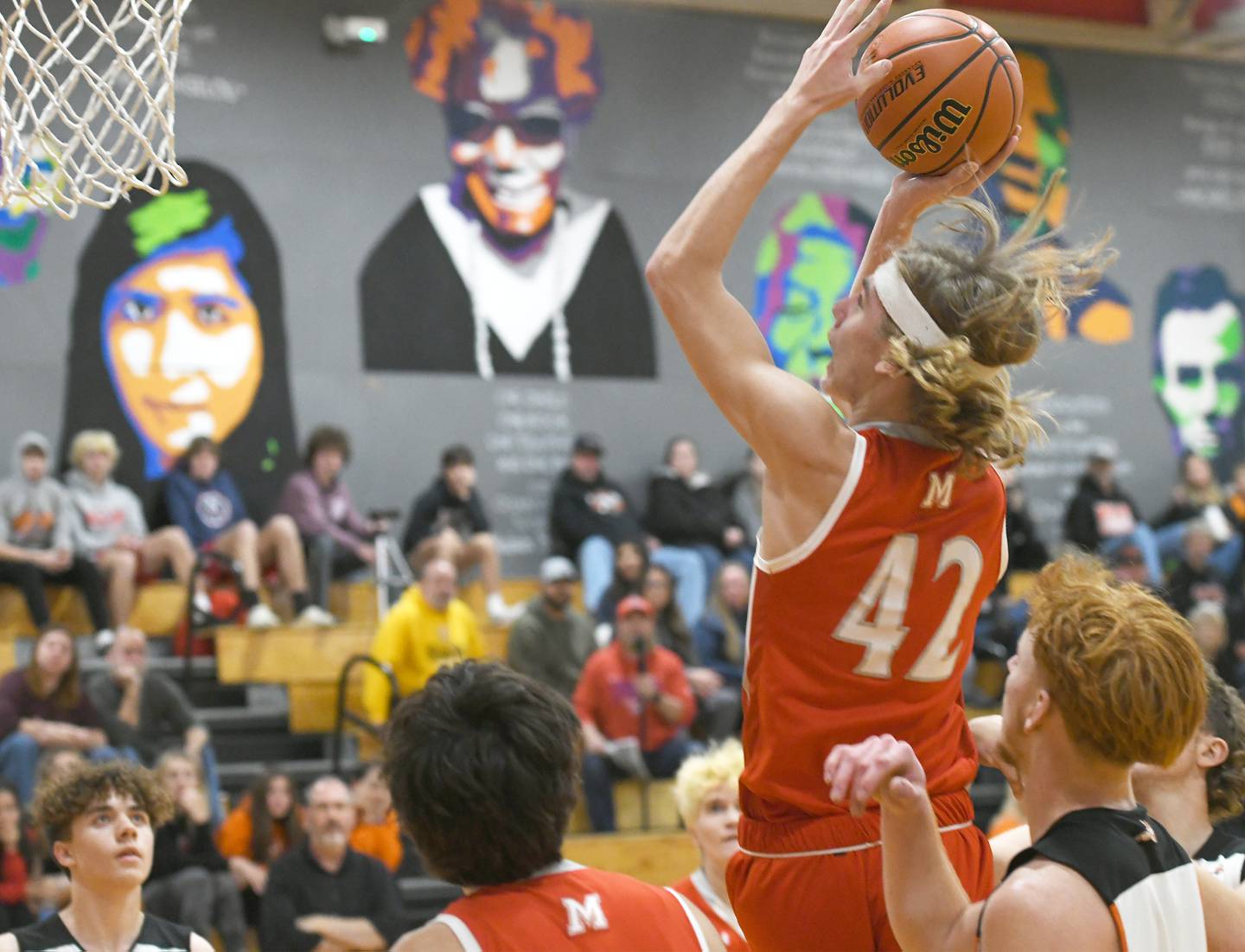 In the third quarter, the Mustangs further extended their lead, using a 15-7 scoring run – led by six points from Newman – to put the game out of reach. Morrison pulled its starters ahead of the final period.
Carson Strating connected with Brenden Martin on an alley-oop dunk around the six-minute mark, then hit a top-of-the-key 3 about 1:15 later for a 39-14 lead midway through the third quarter. DaeShaun McQueen scored back-to-back fast-break layups for a 47-18 lead with 2:27 left.
The Mustangs led 49-19 heading into the fourth quarter.
"We turned the ball over a lot. They're good at defense, and they rebounded very well. They're big, and it was hard to box out," Milledgeville coach Kal Engelkens said. "I don't know how tall that one kid [Brenden Martin] is – 6-7? We have a hard time matching up with that when our tallest guy is 6-2.
"They're a good team. We had a hard time getting anything going on offense."
Newman scored a game-high 15 points. Martin and Danny Mouw scored 10 points apiece, and Bush added eight points. Mouw dished seven assists and nabbed three steals, and Martin pulled down 10 rebounds.
Connor Nye led Milledgeville with seven points, five rebounds and two steals. Kacen Johnson and Eric Ebersole added six points apiece.