After advancing to the Elite Eight in each of the last two seasons before falling one tantalizing game short of a trip to the state finals, the Comets finally took that final step on Monday at the Class 1A Rockford Supersectional.
After back-to-back season-ending losses at Rivets Park the past two seasons, Newman (22-8) broke into the win column with a 3-2 victory over Chicago Hope Academy to earn the program's first-ever trip to the Final Four.
"It was surreal, really. It was definitely awesome finally winning it; even going back to it again for the third time was special. But it was definitely a really, really good feeling to win that one finally," junior center fielder Brendan Tunink said. "It made it so much more special that we had been there before and not won it. You almost feel bad for the other team, because you know what it's like and it sucks so much. But it was awesome being on the winning side finally."
When the final out was recorded, the Comets broke into a frenzied celebration on the infield, with seniors Jaesen Johns and Nolan Britt leaping into each other's arms for a hug before the players found themselves in a huge dogpile on the pitcher's mound.
Senior Kyle Wolfe carried his brother, Garet, a freshman, to the traditional postgame huddle in short right field as the two celebrated. Garet is the third Wolfe brother to play in the Elite Eight; two years ago, when Newman made its first trip to the supersectional, older brother Blake Wolfe was a senior leader for the Comets.
"It was absolutely incredible. Obviously all year, that was the goal, just to get another shot at supersectionals and finally come through," Kyle Wolfe said before practice Tuesday afternoon. "It was incredible, with my brother there – and with all the guys that we've gone through this with year in and year out; my older brother was there the first year.
"Then we finally get it done this time, it was an amazing feeling. And I'm still smiling today, I can't get over it."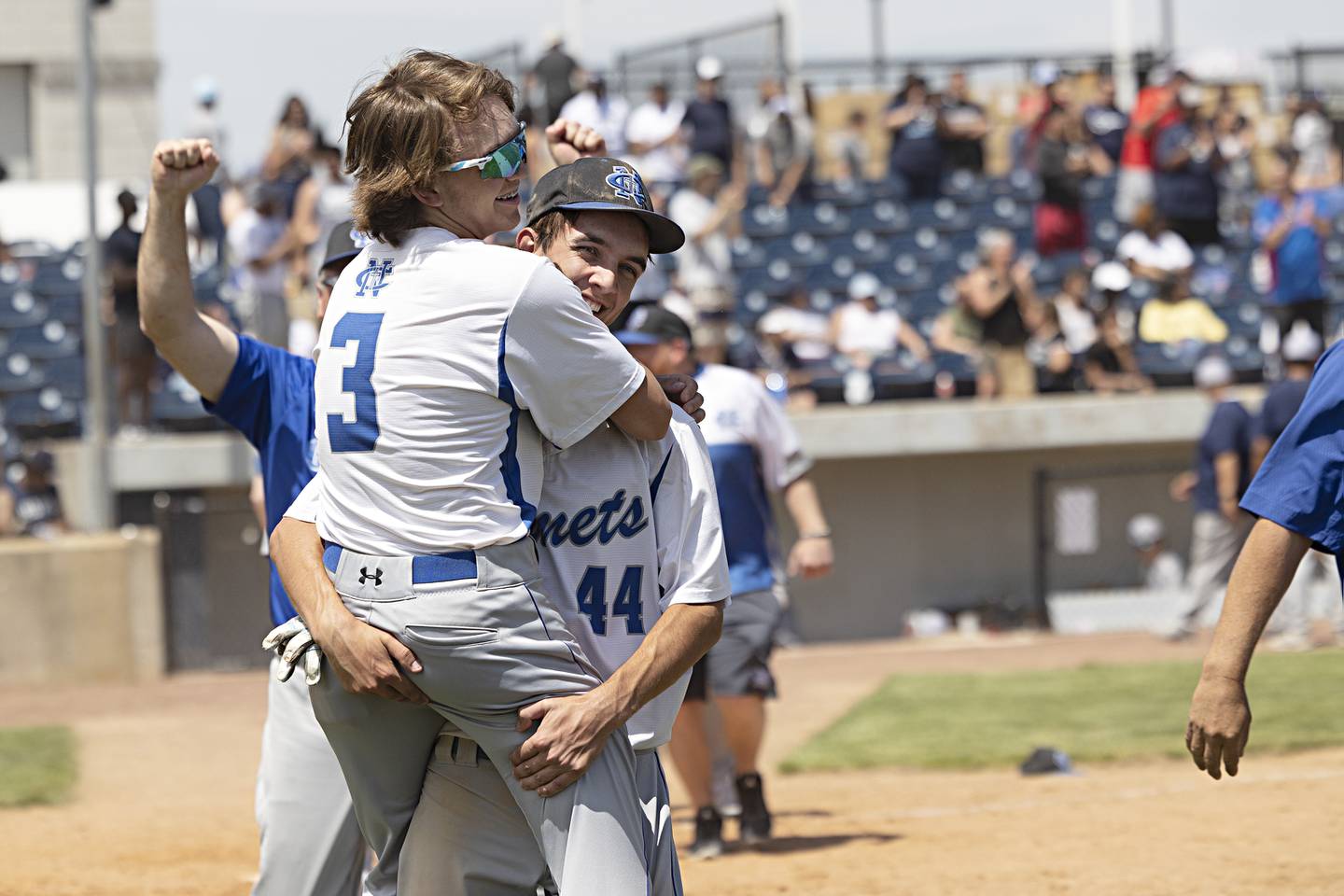 Kyle Wolfe, Johns, Britt and Tunink have been there for all three trips to the supersectional – the first three in program history. Both Britt and Johns said they're still trying to wrap their heads around the fact that they have finally earned that state finals berth.
"It was hard to believe at first, just because we've been there before and it didn't go our way the first two years," Britt said. "Just being able to get the chance to go back and prove that we can do it, that we're a good enough team to win that game, it meant a lot."
"It was amazing," Johns added. "Obviously having been there the two years before made it that much better. I don't even think it's kicked in yet, I really don't. I just feels amazing."
The Newman seniors believed the prior games in that atmosphere with so much riding on the line played a huge role this time around – especially after the Comets fell behind early in the game.
"I think it definitely had something to do with experience. It just felt a whole lot better this time. It felt really good being out there, felt great as the game was going," Johns said. "Everybody stayed up, even we fell behind; I hate to say it, but the last two times here, we had gotten down on ourselves when we were behind. This time, everybody stayed up, everybody was positive, and we got the job done."
Britt said the feeling of calm was there from the start, and he was impressed with how well the younger players handled the situation.
"I was talking to Jaesen when we got there, and it just seemed like any other game. I didn't feel the nerves that I remember feeling the two years before, and I don't think anybody on the bus really did, either – especially the underclassmen," Britt said. "I assumed they'd feel really nervous, like I did when I was younger, but they actually did a great job with it. They held their nerves in and they played great."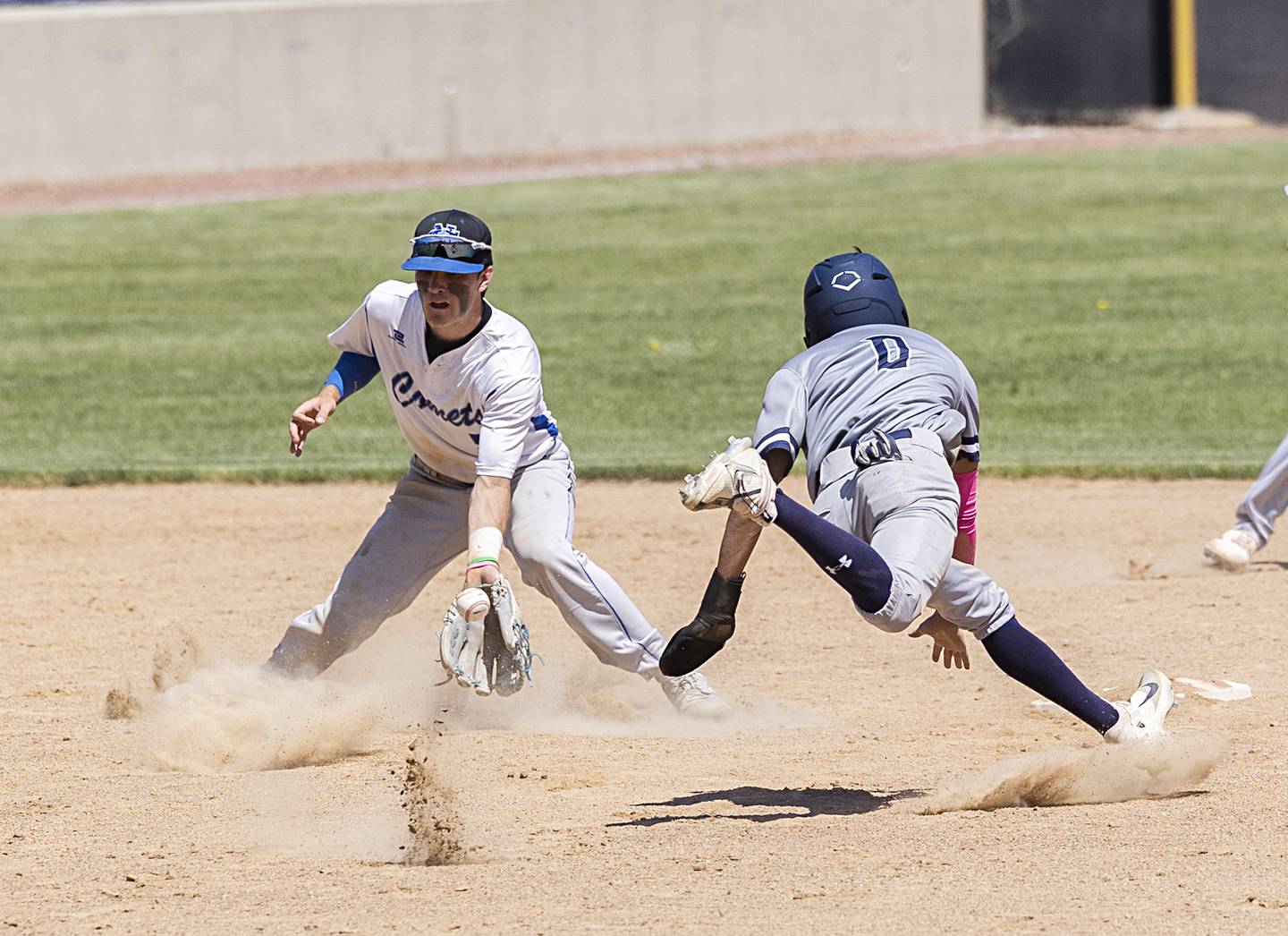 Previously experiencing those nerves and that big-game pressure played a big part, according to Wolfe. It's not that they weren't present, it's just that the Comets had a better grasp on how to play through them.
"The nerves were obviously there, but having been there the last two years, it really helped," Wolfe said. "It's just a game, we're just out there trying to do our best every pitch, and trying to have a good outcome at the end. We took that approach, and it paid off."
Head coach Kenny Koerner credited the seniors and Tunink for helping the younger guys who hadn't played in that environment before stay calm and just focus on playing the game.
"The guys that had been there before talked to the younger guys before the game, and just told them, 'The other team's going to be nervous because they haven't been here before, and we have. We just have to play through every inning, and you just have to battle every pitch.' So they did a good job of being leaders for us," Koerner said. "The kids were probably calmer than I was internally; there's a point in the game when you get there and you wonder if it isn't going to happen, are we going to break through or not? I give these kids credit; we've been behind in the last three postseason games and they've come back and just had really good at-bats. We did it again Monday."
Now, Newman will be back to square one when it comes to experience at the state finals. But all four 1A finalists are in the same boat: none of the four teams – Newman, Henry-Senachwine, Goreville and Waterloo Gibault – have been to the Final Four since at least 2019.
The Comets believe that having the supersectional monkey off their backs should loosen them up and allow them to play free and easy in Peoria – and enjoy this once-in-a-lifetime experience they've been so close to achieving the past two years.
"The pressure's off. The pressure was winning the supersectional; there's no pressure at all anymore," Tunink said. "Now we can just let it all go and have some fun."