ROCHELLE – As far as starts go, Burlington Central couldn't have asked for a much better one in the Class 3A Rochelle Regional championship against Sterling on May 27.
In the top of the first inning, the Rockets held the Golden Warriors scoreless. In the bottom of the first, they scored nine runs on seven hits.
With a three-hit shutout from sophomore pitcher Chase Powrozek and a three-run walk-off home run from junior shortstop Brady Gilroy in the bottom of the fourth, the Rockets won 15-0 in four innings, claiming the regional championship and advancing to face Lemont in Wednesday's Class 3A Kaneland Sectional semifinal.
[ Photos from Burlington Central vs. Sterling Class 3A Rochelle Regional baseball championship ]
"It's awesome. Last year we got knocked out [of the postseason] early and our main focus was to just keep going, maintain this good baseball we're playing," Gilroy said. "Winning this regional, we have huge potential going into the sectional, so we're looking forward to it."
"Last year, we lost first round of regionals and it was a game we definitely should not have lost," Powrozek said. "It was huge to come out here today and dominate. Now we have all the confidence in the world going into sectionals."
In the top of the first, Sterling looked ready to strike. Senior Trevor Dir lined a one-out single to center field and senior Braden Hartman drew a walk. Senior Ayden Schoon laid down a sacrifice bunt to get them to second and third, but Powrozek forced a groundout by the next batter for the third out.
Burlington Central exploded for nine runs in the bottom of the inning. Junior Michael Person drew a leadoff walk to start the rally and Gilroy hammered a double deep to right field. Junior AJ Payton ripped a two-run double down the left-field line to score the first runs. Sophomore Jake Johnson and senior Jake Herman drew consecutive walks to load the bases and Powrozek hammered a three-run double to right field, stretching the lead to 5-0.
"It was amazing. We came out, started swinging the bats really well after Chase shut them down on defense, on the mound," Person said. "It really just boosted our team. It brings us so much energy as a team when we have so many runs in the first. It boosted everyone's confidence, everyone felt comfortable in the box after that because we knew we could win that game."
Senior Braden Lowitzki reached on a dropped third strike and took second on an overthrow on a pickoff attempt at third as sophomore McKade Naus, the pinch-runner for Powrozek, scored for the sixth run.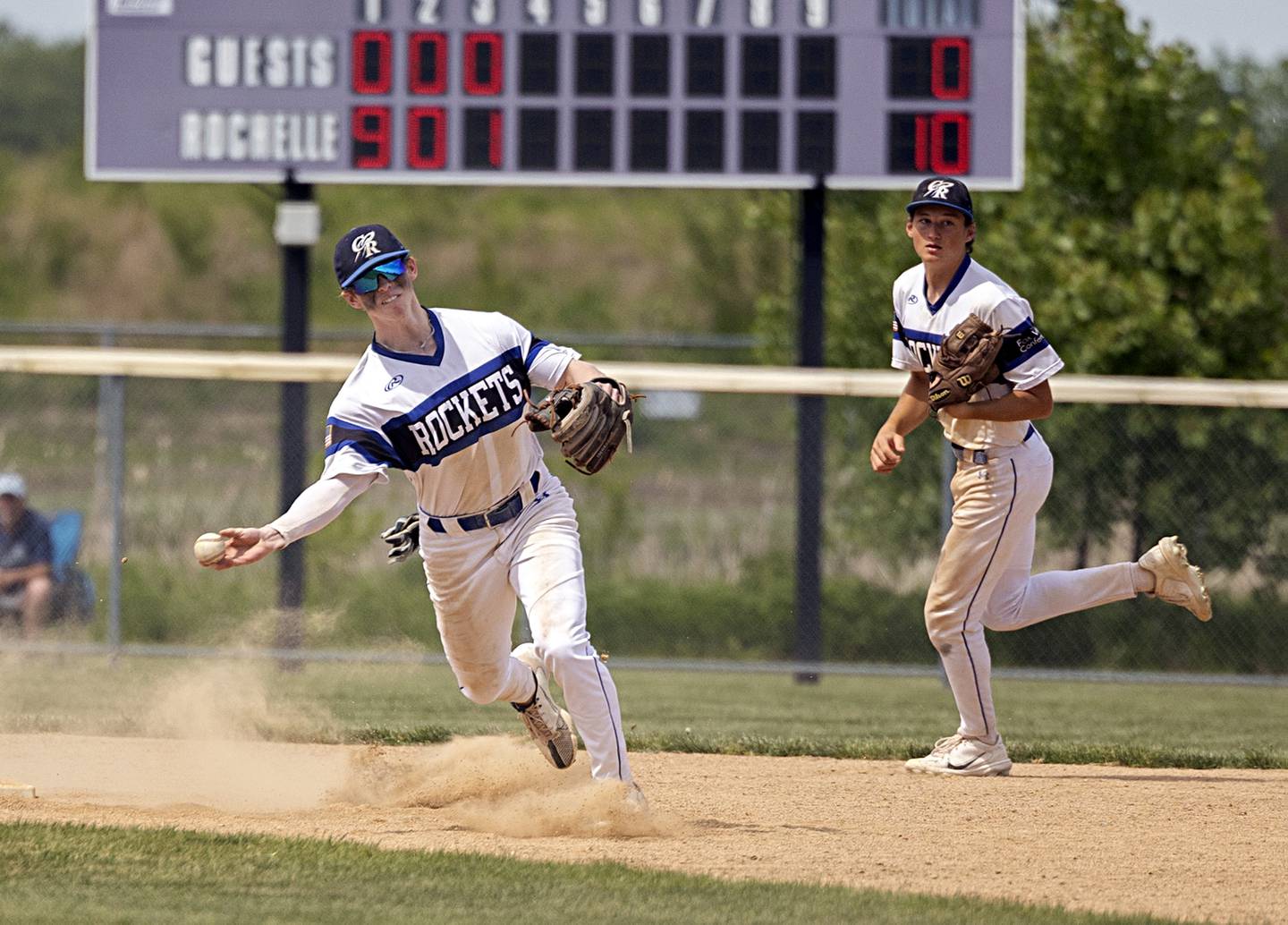 Down 6-0 with one out, Sterling made a pitching change. Braden Hartman came on for junior Garrett Polson, but the runs kept coming.
Hartman induced a fly out against the first batter he faced, but Person lined a two-run home run to left field. Gilroy and Payton smacked back-to-back singles to put runners on first and third and Johnson hit an RBI single to left field to cap the nine-run onslaught.
"It set the tone for the rest of the game, for sure. I obviously had confidence coming into the game because you have to," Powrozek said. "And then after the first inning, getting out of the second and third [situation], it helped me a lot, too. But I knew once we went up 9-0, I had to be ready to go out, throw up another zero, so I just had to make sure I went out there and did my thing."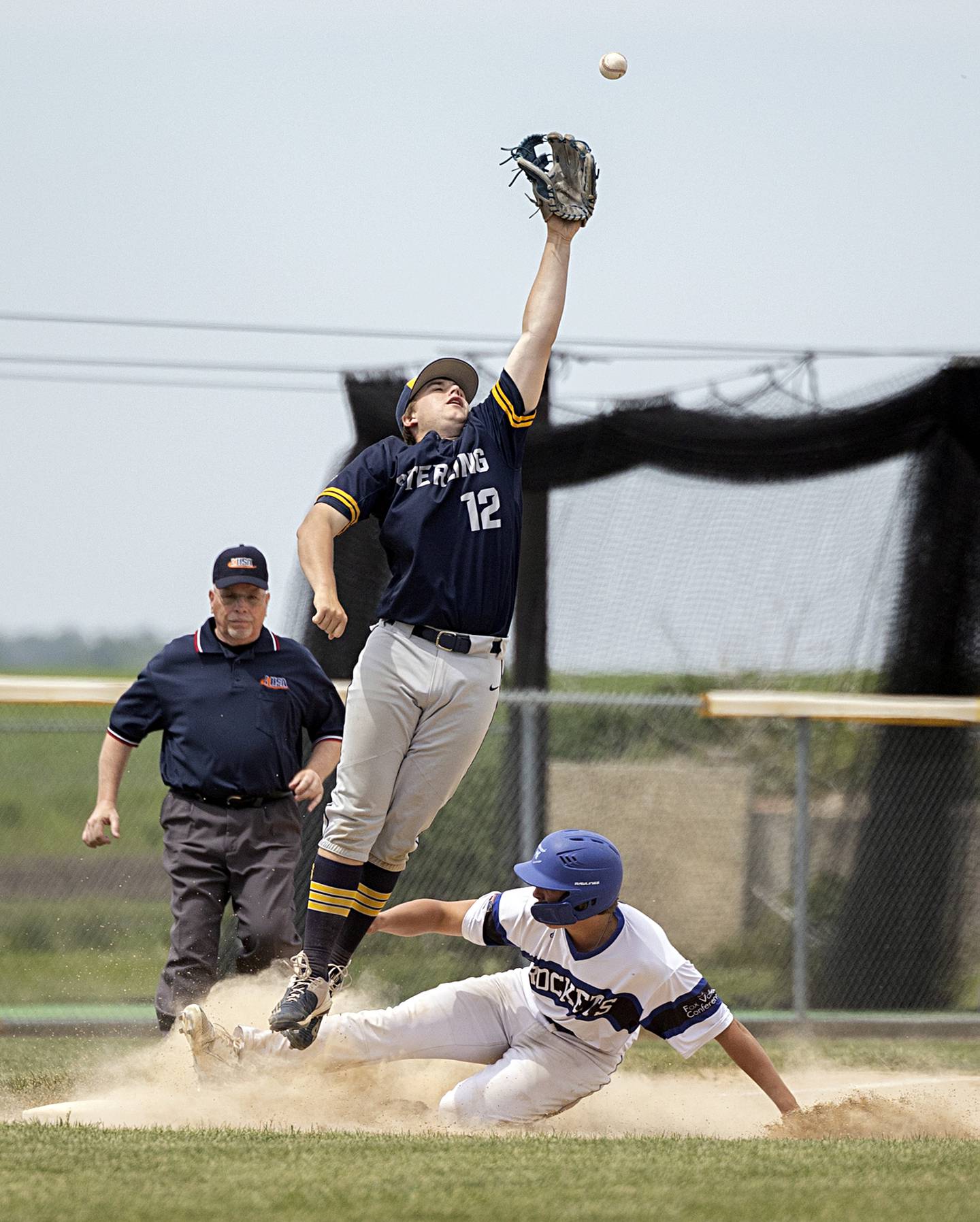 Powrozek went 1-2-3 in the top of the second, striking out the second and third batters. In the bottom of the second, Braden Hartman conceded a leadoff double, but induced a groundout and threw two strikeouts to leave a runner on third in the scoreless inning.
The Rockets took a 10-0 lead in the bottom of the third. Payton flew a one-out double to right field to start the rally, then Johnson dropped in a single over second base, rolling it into deep center field to bring in Payton.
"It was just keep it going, keep adding on runs," Person said about Burlington Central's mentality after the big first inning. "You never know what's going to happen in baseball. Teams can always, like we did, score nine runs in an inning, so we've just gotta keep on adding on to make sure we get that win."
Powrozek went 1-2-3 again in the bottom of the fourth, as Gilroy scooped three consecutive ground balls near second base and threw out the batter all three times.
"Up and down the lineup, they had really good approaches. Didn't chase the low breaking balls that looked good from where we were sitting, as far as location-wise, at least height; they didn't chase," Sterling coach Darwin Nettleton said. "They didn't expand the zone, it was more power to them. They were hitting in favorable counts, and their shortstop was really good today. I haven't seen them play, I heard a lot about him, but I think we hit four or five balls to him and he made every play."
In the bottom of the fourth, Burlington Central scored five runs to end the game via the 15-run rule.
Seniors Mitchell Pedrigi, Matt Lemon and Lowitzki hit three singles in a row to load the bases with no outs. Person crushed a two-run double to center field to bring in Pedrigi and Lowitzki for a 12-0 lead, then Gilroy followed with the three-run walk-off homer to left field.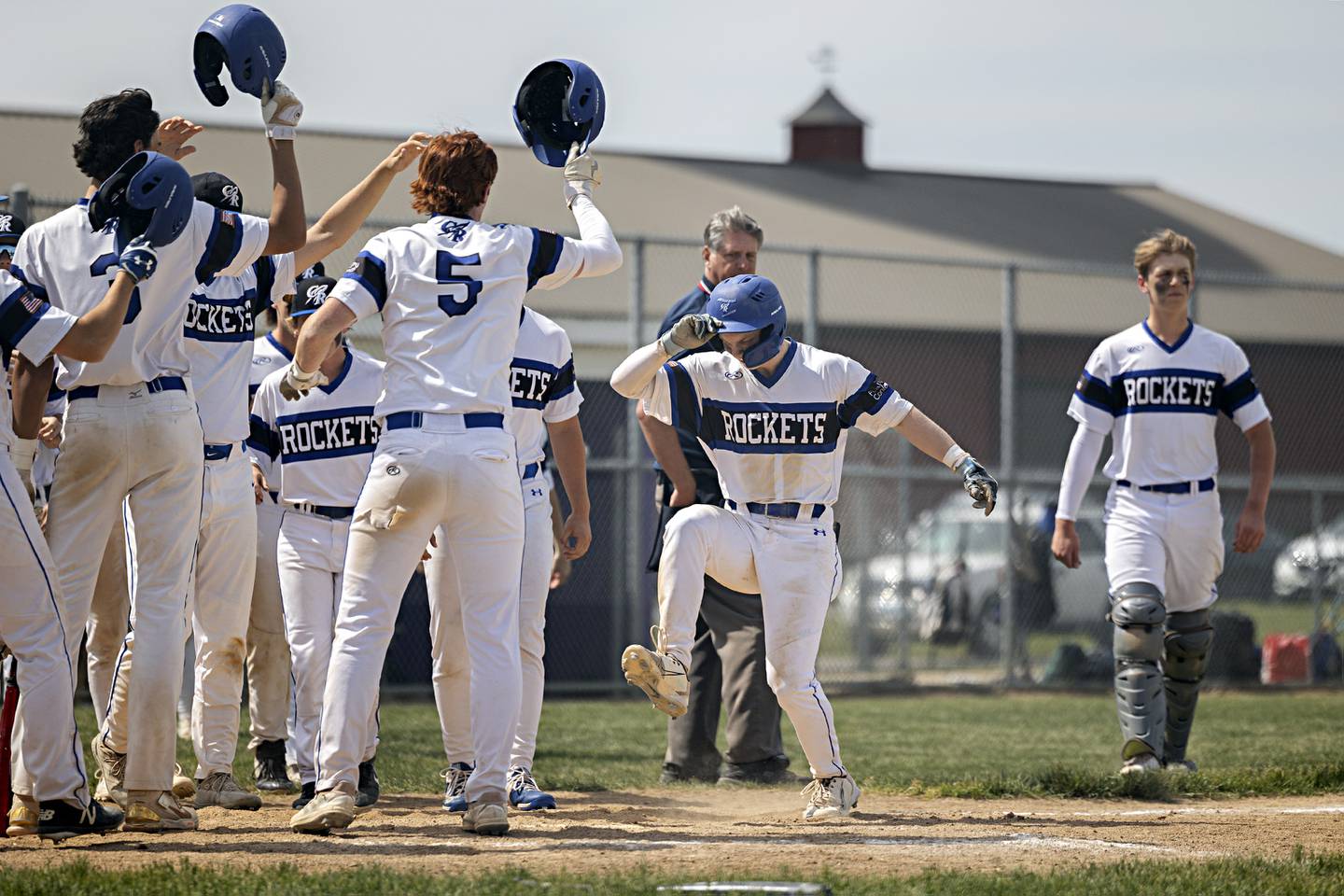 Person finished with four RBIs on two extra-base hits, Gilroy went 3 for 4 and was a triple shy of the cycle with three RBIs, and Payton went 2 for 3 with the early two-run double.
Powrozek went 3 for 3 with two doubles and three RBIs, and pitched four shutout innings, allowing three hits, and striking out two with two walks.
Dir, Gio Cantu and Bryce Hartman had one hit each for Sterling.
"Our kids, hopefully they realize they did some things that nobody expected, winning two games in the postseason coming out of the play-in game," Darwin Nettleton said. "But it's going to take a little bit more work to hopefully hold a plaque like those guys. But good for them.
"We constantly talk to our kids about believing in each other, believing in themselves, and believing that the reward is going to be worth it at the end. I told them, unfortunately, they didn't get the reward of a regional plaque, but they got the reward of seeing postseason success."