ROCHELLE – A fast start on offense and a strong pitching performance by Burlington Central was too much for Dixon to overcome Thursday in a Class 3A Rochelle Regional semifinal.
Rockets sophomore Michael Person had a no-hitter through 6 2/3 innings, and Central scored five runs in the first two innings to set the tone in an 8-0 win over the Dukes.
"We jumped on them early, and it's nice to pitch when you have a lead," said Person, who struck out 13 and walked two in a one-hitter. "The bats definitely helped; they came alive late there, too, so it was nice to see. It was a good team win."
[ Photos from Dixon vs. Burlington Central baseball 3A regional semifinal ]
Trailing 2-0 in the top of the second, Dixon (19-9) had a pair of baserunners reach to start the inning. Ari Selmani beat out a ground ball to shortstop that was bobbled, then Quade Richards worked the count full and drew a walk. James Leslie laid down a perfect sacrifice bunt to move them runners to second and third, and the Dukes were in business.
But after a strikeout, Central catcher Jake Johnson threw behind Richards at second base and picked him off. Richards took off toward third and tried to get in a rundown, so Selmani took off toward home, but was tagged out to end the threat.
Bryce Feit then drew a two-out walk in the top of the third, but Alex Harrison's line drive was tracked down by Rockets center fielder Chase Powrozek.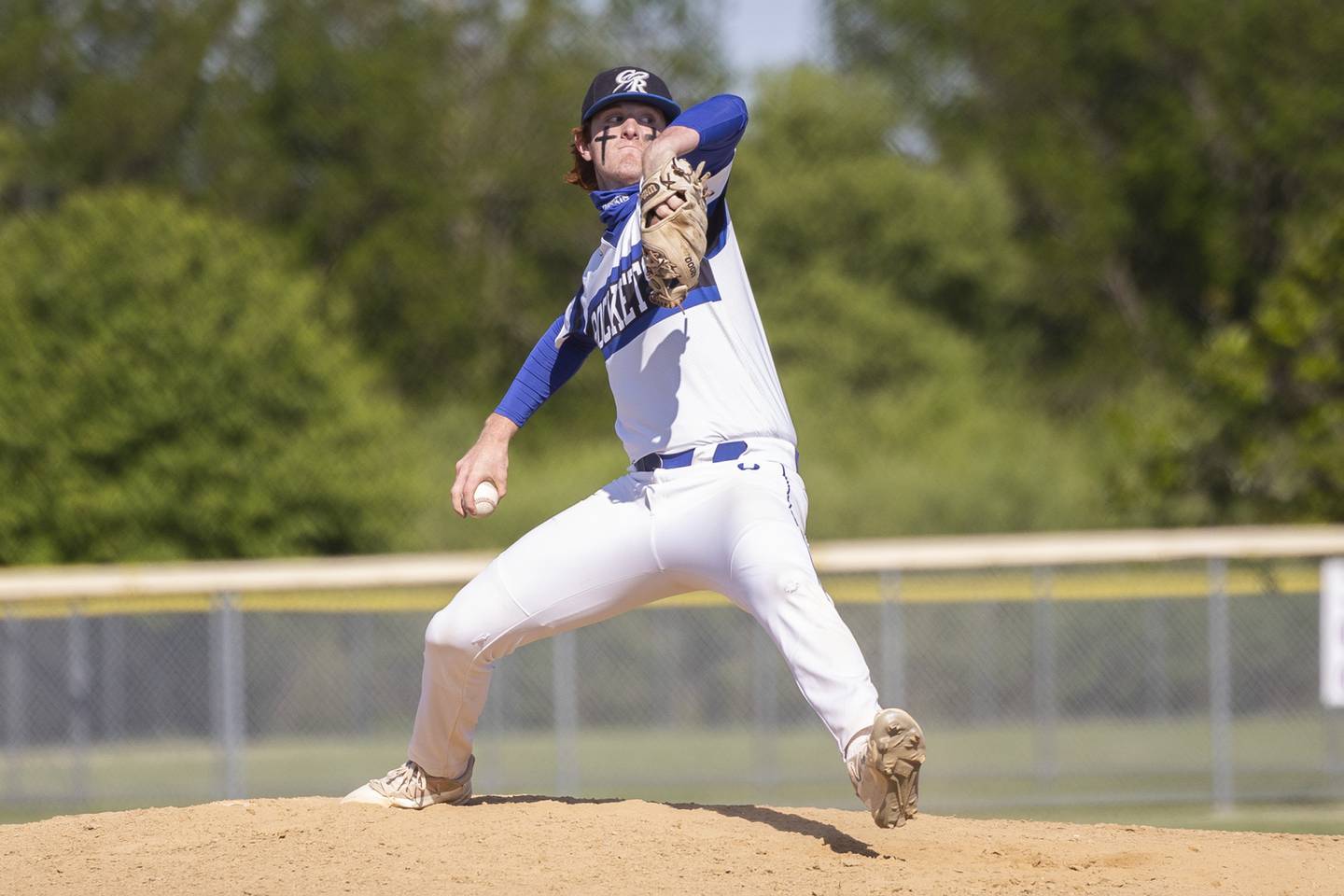 Dixon didn't have another baserunner until the seventh, when Richards broke up Person's no-hitter with a two-out bloop single right over second base. Powrozek charged hard and dove for it as shortstop Brady Gilroy sprinted out into the outfield grass, but it fell between them.
Person put his hands on his head and squatted down briefly on the mound when he saw it fall, but bounced back and got a strikeout to end the game.
"I thought Chase had it for a second. He came in hard, and props to him for the effort," Person said. "We were just working to spots today, inside, outside, up and down with the curveball, fastball and changeup; I had all three today. And my defense made some great plays behind me. It was just a good game all around."
He finished off the complete game with 96 pitches, 62 of which were strikes, and worked 1-2-3 innings in the first, fourth, fifth and sixth.
"We ran into a buzzsaw. They can hit, and that young man threw a great game," Dixon coach Jason Burgess said. "We didn't catch up to him very well, we didn't adjust – obviously, it took us until the seventh inning to get a legit base hit. The guys battled and battled, but 13 strikeouts, you're not going to win a regional game striking out that often.
"And again, kudos to them, they've got a great team, and they can swing it. One through nine, they can hit."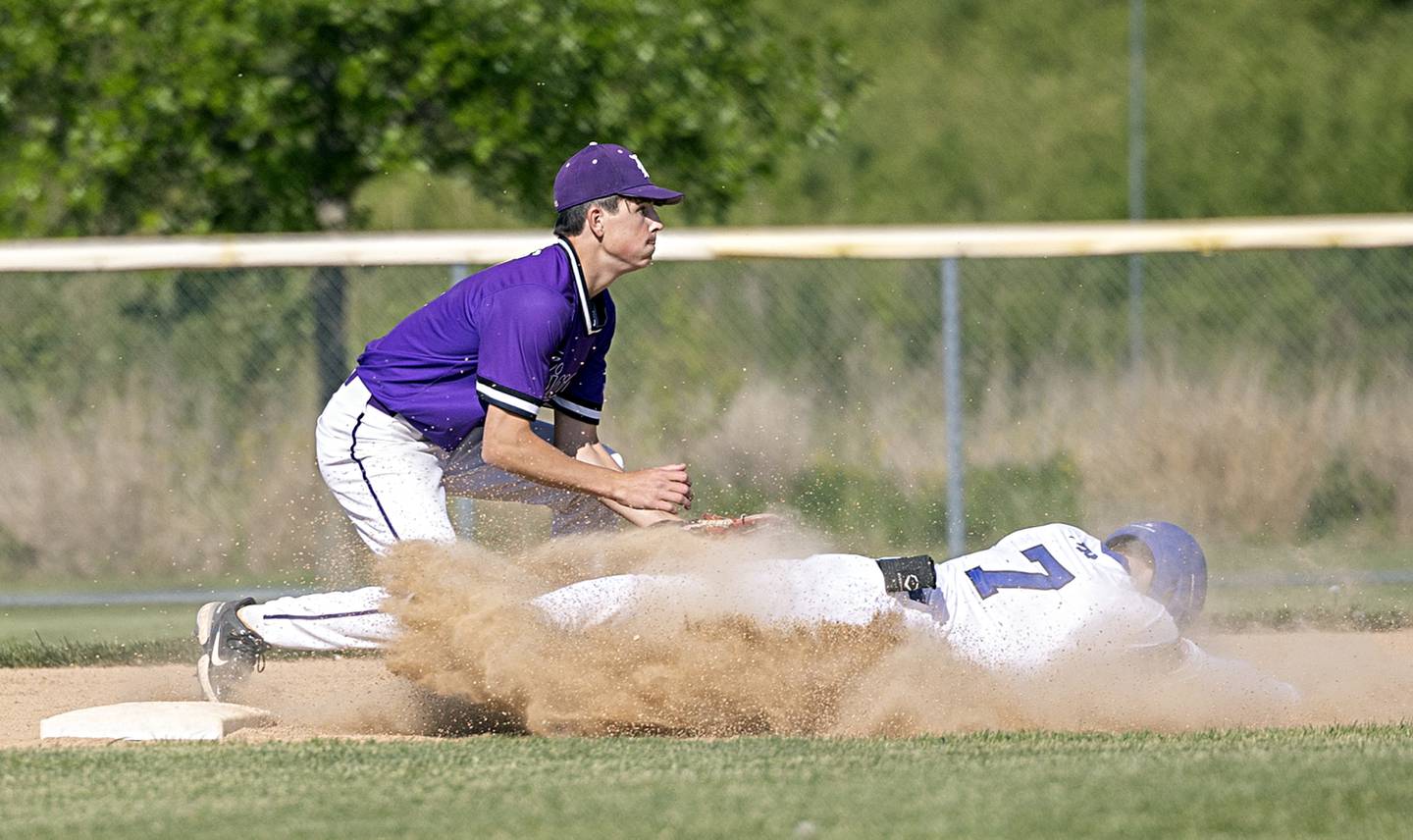 Central (18-17) got a solo home run from Gilroy with one out in the bottom of the first, then scored another run when Mitchell Pedrigi was hit by a Harrison pitch with the bases loaded and two outs before Harrison got a strikeout to leave the bases loaded.
Matt Lemon, the Rockets' No. 9 hitter, led off the bottom of the second with a solo homer, then AJ Payton ripped a two-out single and scored on Johnson's double right behind him. An error allowed courtesy runner Cam Sarallo to score, then Harrison hit Powrozek and walked Pedrigi to load the bases.
But Burgess went to James Leslie, and the lefty came through. He got a strikeout to end the second-inning threat, then worked around a two-out error in the third before pitching 1-2-3 innings in the fourth and fifth on a total of 18 pitches.
"I just hit my spots, really, just put it where Aiden told me to. I just got them to ground out, fly out, whatever I had to do to get out of there," said Leslie, who finished with six strikeouts and two walks. "Their early home runs kind of flipped the mood a little bit, took a little energy away, but we clawed back and got some energy going. I delivered my pitches, which got some energy."
"James Leslie threw a gem, just phenomenal," Burgess said. "He did an awesome job."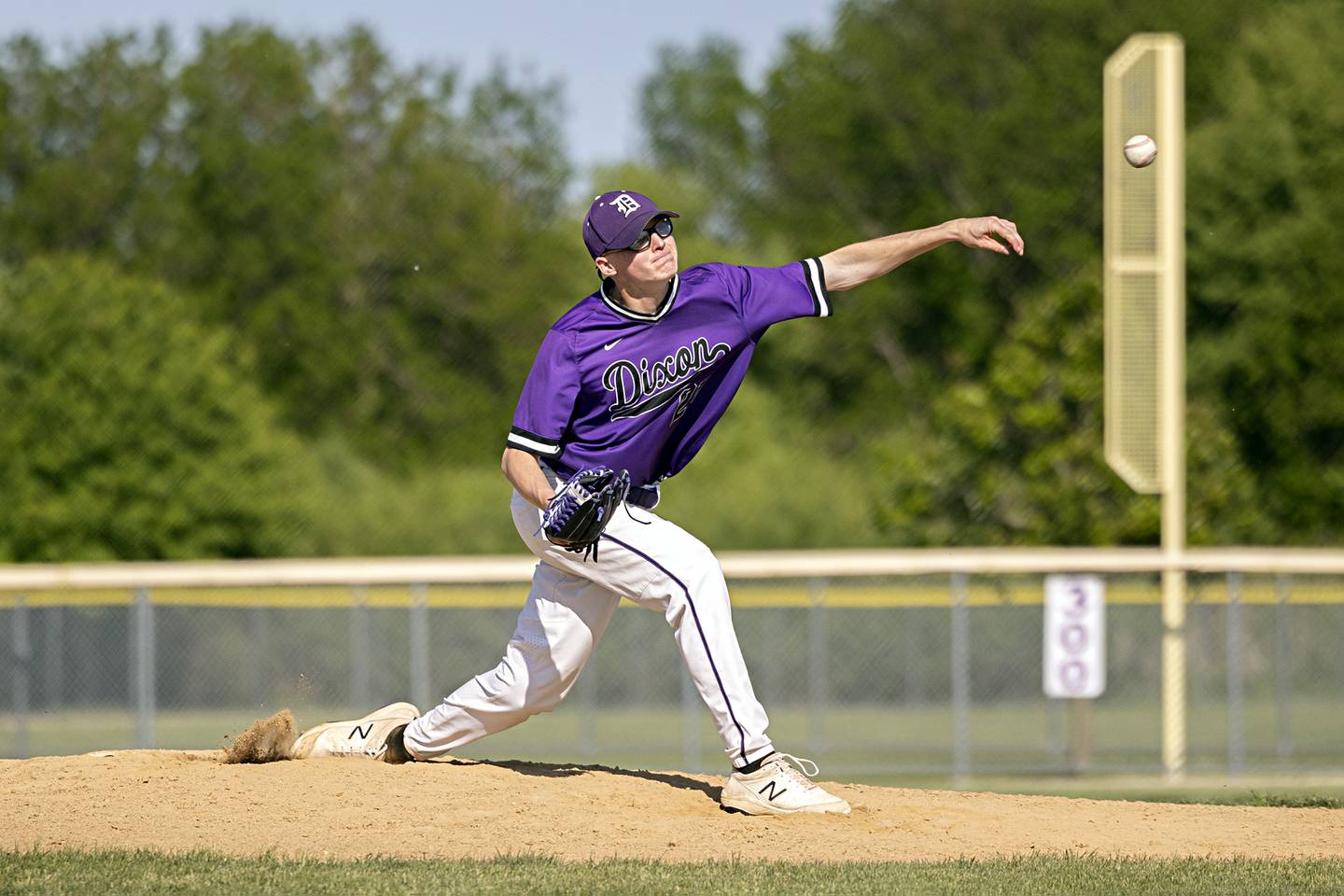 But despite Leslie keeping Central at five runs, the offense couldn't get anything going against Person.
Central tacked on three unearned runs in the bottom of the sixth. Person singled to start the inning, then Payton hit his third single of the game up the middle. Johnson walked to load the bases, then Jake Herman hit a comebacker to Leslie on the mound for what looked like a tailor-made 1-2-3 double play.
But his throw glanced off the glove of catcher Aiden Wiseman, allowing Person to score; Wiseman chaws the ball to the backstop and fired to Leslie covering the plate, and Payton was tagged out as tried to score. Powrozek then smacked a two-run single to left to drive in Johnson and Herman for the final margin.
Leslie's line in relief was three unearned runs and three hits in 4 1/3 innings, striking out six and walking two. Harrison allowed five runs (four earned) and six hits in 1 2/3 innings, striking out three, walking two and hitting two batters.
Still, even with the early deficit and the offensive struggles, the Dukes kept fighting.
"We like to stay mainly positive. We don't allow negative talk in our dugout. So we stayed positive and just hyped each other up," Leslie said. "It just didn't go our way today."
"Very proud of the guys for the season, we had a really good year," Burgess added. "We won the conference for the fourth year in a row, and I really thought we'd compete a little bit more here, but we didn't. But again, hats off to them, they're a great team and they really played well. It's tough to come back with a guy throwing like that, but our guys kept battling."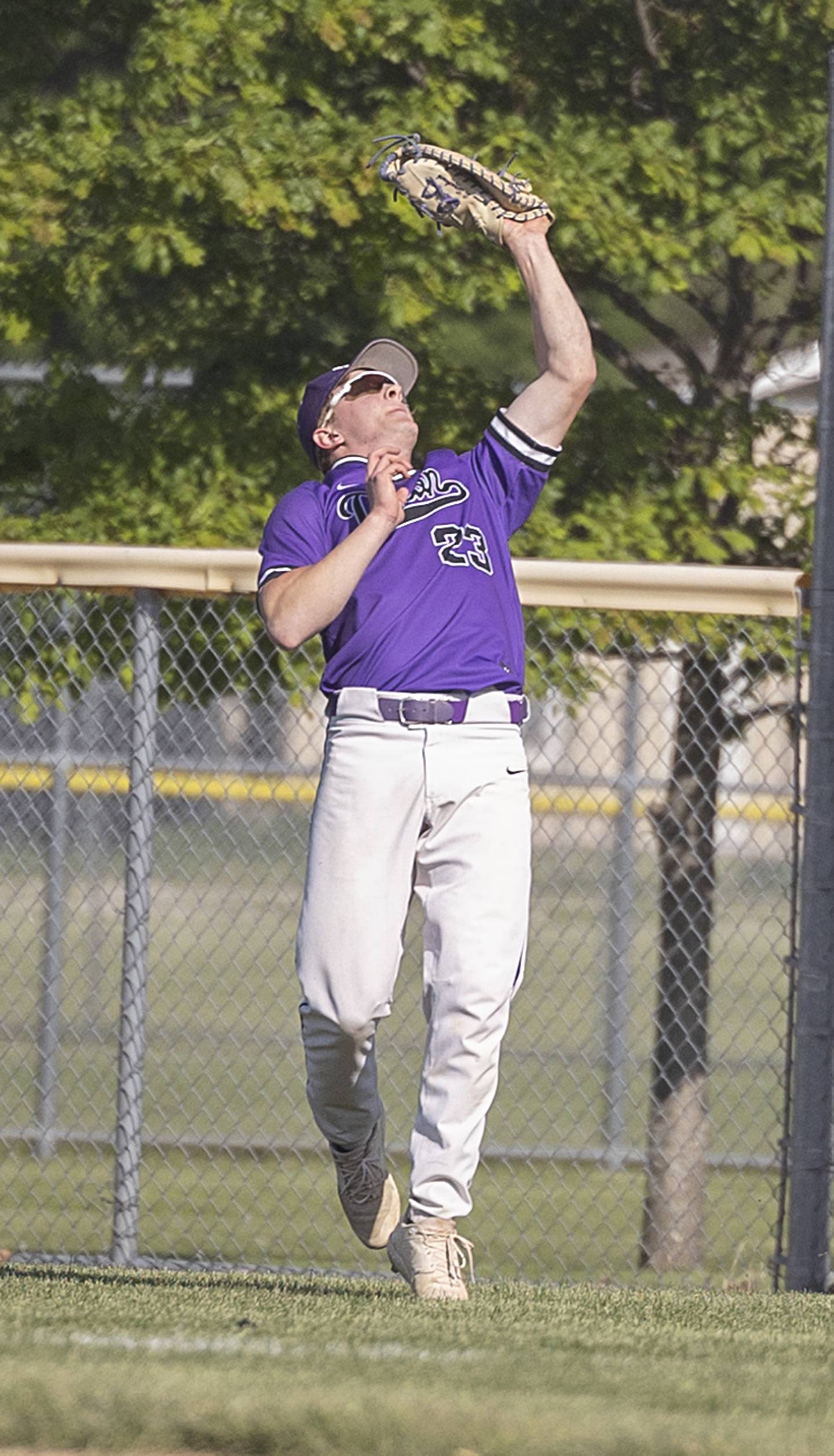 The Dukes lose five seniors for next season, with three of them playing a role in the starring lineup: first baseman Quentin Seggebruch, right fielder Kyan Adkins and designated hitter Hunter Vacek. The rest of the core will return, which has Leslie and Burgess excited about the future.
"Losing like that definitely makes us want to work harder," Leslie said. "We've got some spots to fill, so a lot of guys are going to have to put in some work to fill those spots. We've got some big shoes to fill."
"We've got a lot of juniors coming back – we're only losing three real starting seniors who played big roles for us – so a lot of good stuff to look forward to next year if these guys really work," Burgess added. "A couple of my bench guys can fill in some voids, and we'll probably bring up a few younger guys too."
Still, it's always tough for coaches to say goodbye to senior leaders, and Burgess couldn't say enough good things about what Seggebruch and Adkins in particular have meant to the Dukes program the past few years.
"Losing my seniors will be tough. Quentin has had a really good year, really stepped forward and did some great things for this team. His leadership as a hitter and as a person, both in the classroom and out of the classroom, you can't find a better kid that'll work that hard, and he's competitive; he likes to get down to the grind," Burgess said. "Kyan's another one; he didn't have the offensive season he wanted, but he's a great defender. He's supposed to go to Sauk, and hopefully he moves on. I told him, 'Work on that offensive part of your game, and great things will happen for you,' because he can play D. He's got the arm and the range."