ROCKFORD – All through the postseason, the Newman baseball team has been finding ways to score runs early in games, then taking that momentum and pulling away late.
In Monday's Class 1A Rockford Supersectional, Ottawa Marquette turned the tables on the Comets and used that same formula in a 12-1, five-inning win to end Newman's season in the Elite 8 for the second straight season.
"They did exactly what we did in the regional and the sectional, death by a thousand paper cuts," Newman coach Kenny Koerner said. "You just get a guy on and you get bloopers or a nice kind bounce, and then somebody finds a gap.
"I tip my hat, that's a good baseball team over there."
Both teams stranded baserunners in the first 2 1/2 innings, then the Comets (19-8) took a 1-0 lead in the bottom of the third. Brendan Tunink tripled to deep center field with two outs, on a ball that looked like Marquette center fielder Julian Alexander had a bead on, but just kept carrying and drifting in the wind.
Ethan Van Landuit followed with a single just past the shortstop on an 0-2 pitch to drive in Tunink.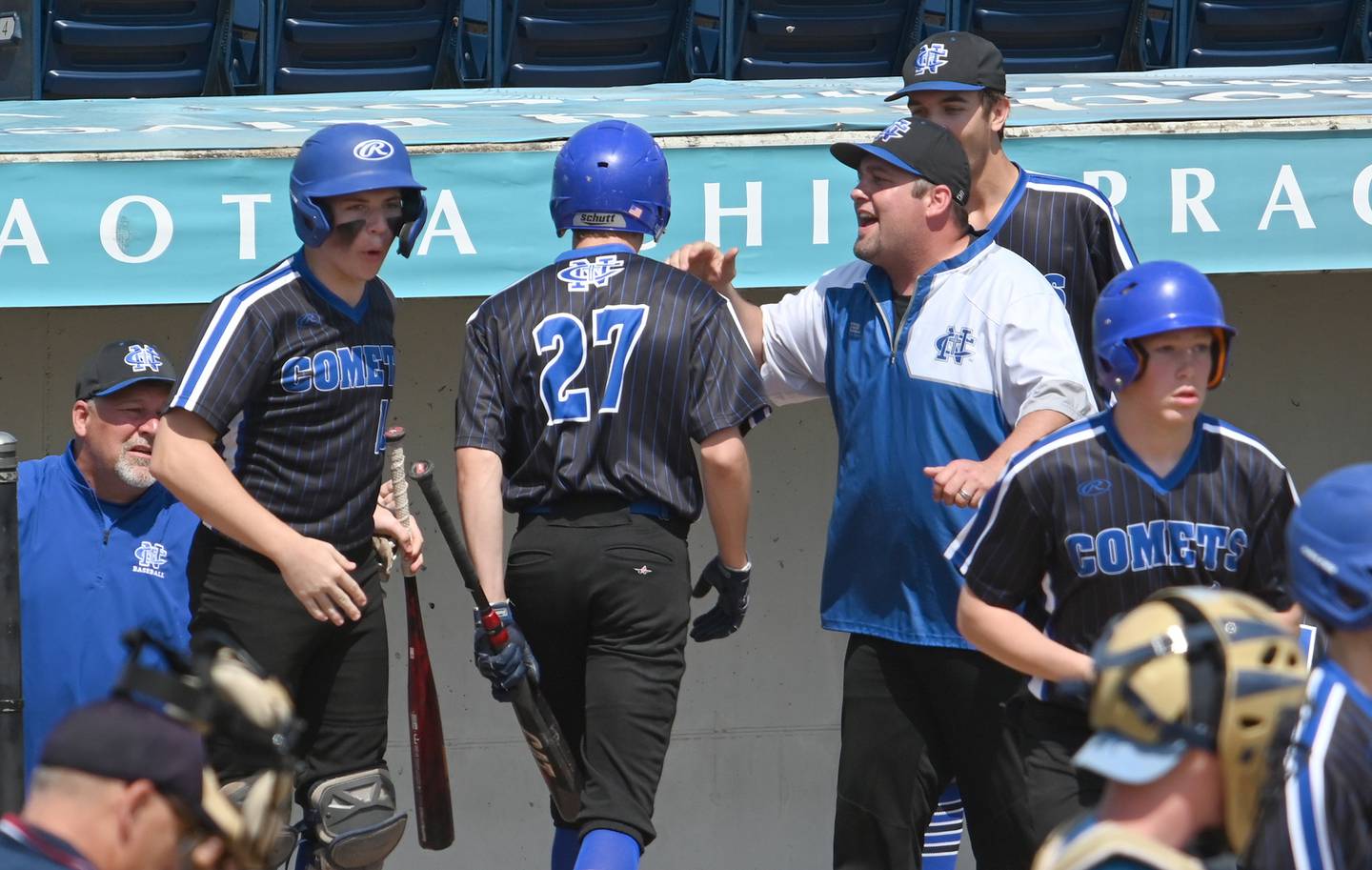 But the Crusaders (31-3) answered right back, scoring four runs in the fourth and eight in the fifth, while pitcher Taylor Waldron worked 1-2-3 innings in the bottom of those frames, striking out the side to finish the game in the fifth.
"They just hit the ball, and they hit it where we weren't. They scored and we didn't," said Tunink, who had a double and triple for two of the Comets' four hits. "It wasn't anything really that we hadn't seen, but he was a good pitcher. We couldn't hit the ball and get on base."
Making his first start of the postseason because of a sore arm, Waldron was rested and ready to go. He struck out five without a walk, and he allowed one earned run and four hits in a 72-pitch complete game.
"It's a relief to have things back to normal. I felt good," Waldron said. "I felt decent in the bullpen and I wanted to hit my spots, and once I settled down, I was able to. I knew they'd been scoring a lot of runs, but I came in wanting to keep the ball in on their hands to jam them, and keep it low whenever possible."
"He threw a good game," Koerner said. "He's a good pitcher, and it was nice for them to have that arm rested and ready to go."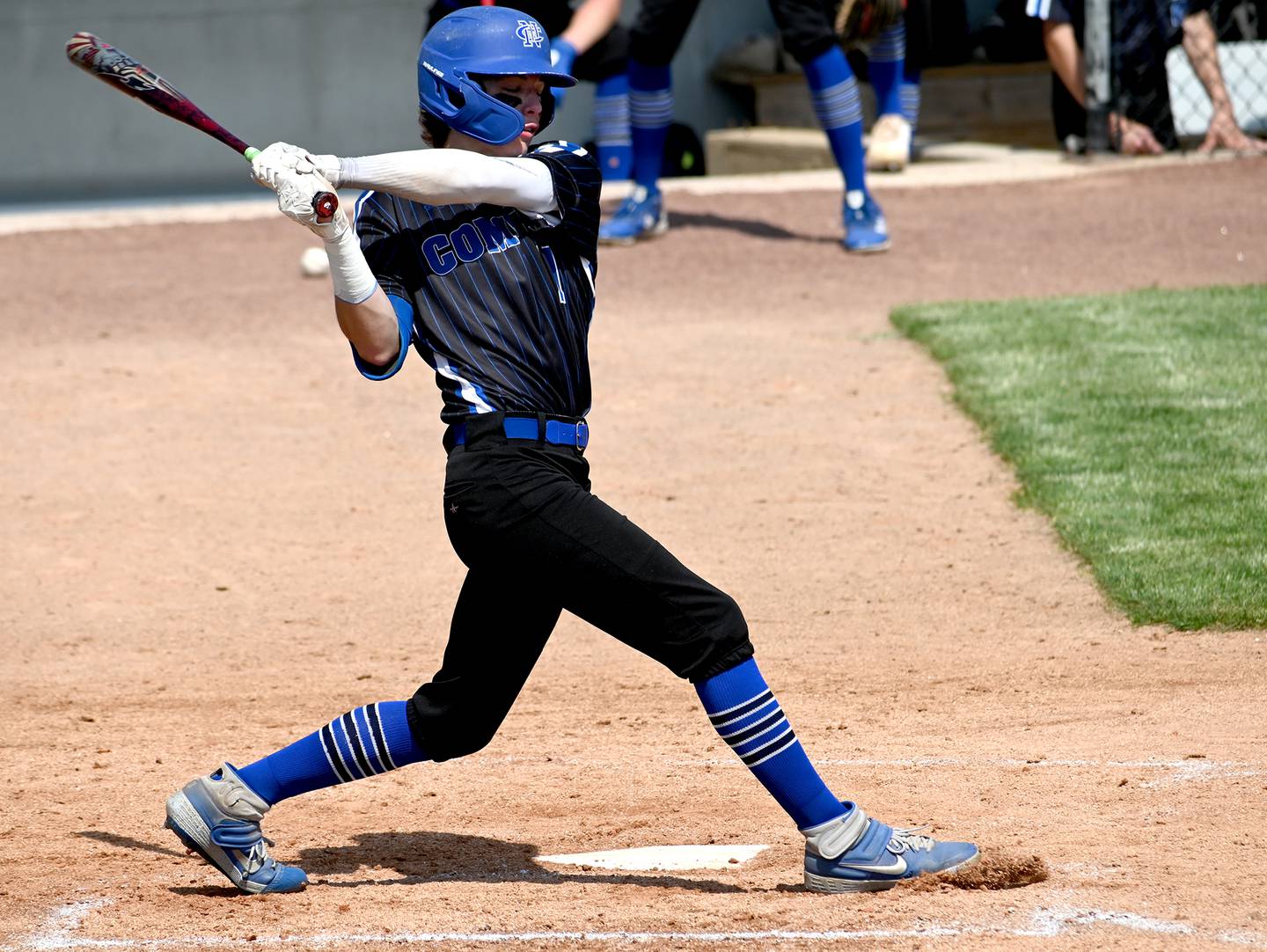 The Marquette bats were just as effective over the final two innings. After Van Landuit had stranded runners at third in the second and third innings, the Crusaders finally broke through in the fourth.
Hayden McKenna was hit by a pitch with one out, then Tommy Durdan hit a sinking line drive to center field that deflected off Kory Mullen's glove. Keegan Davis then hit a grounder to shortstop, but as Kyle Wolfe looked to third for the force out, nobody was covering the bag and everybody was safe to load the bases.
Charlie Mullen then followed with a double to deep right-center field to drive in a pair of runs, then wild pitches later in the inning allowed two more runs to cross the plate and Marquette led 4-1.
[ Photos from Newman vs. Marquette at 1A supersectional ]
The Crusaders picked up where they left off in the fifth. Brady Ewers hit a sky-high pop fly down the first-base line that the wind blew fair for a bloop single to put runners on first and second, then Newman catcher Jaesen Johns fielded McKenna's bunt and threw out the lead runner at third.
But Durdan singled to left to load the bases, then Davis smoked a two-run double to left-center that carried over the outstretched glove of a sprinting Kory Mullen, and Charlie Mullen followed with a single to right for two more RBIs and an 8-1 Marquette lead.
Carson Zellers drew a walk, then Alexander ripped a two-run triple to left-center that looked eerily similar to Davis' double, as Kory Mullen made a long run into the gap but couldn't track it down. Logan Nelson drew a walk and took second without a throw on the next pitch, then Sam Mitre hit a single to short left-center to plate both Alexander and pinch-runner Gabe Almeda for a 12-1 lead.
All four hits that drove in runs in the fifth came with two strikes, and two were on 0-2 pitches. And both hits to deep left-center just rode the wind and kept carrying past the hustling Kory Mullen.
"Our two-strike swings were great today," Marquette coach Todd Hopkins said. "I'm just very proud of the effort, to keep going through the grind and not throwing in the towel. They keep fighting … and today, they really wanted it."
"The wind played a factor today, for both teams," Koerner said. "I think a couple balls we hit early really drifted on them, too. It was just a tough day to play in the outfield."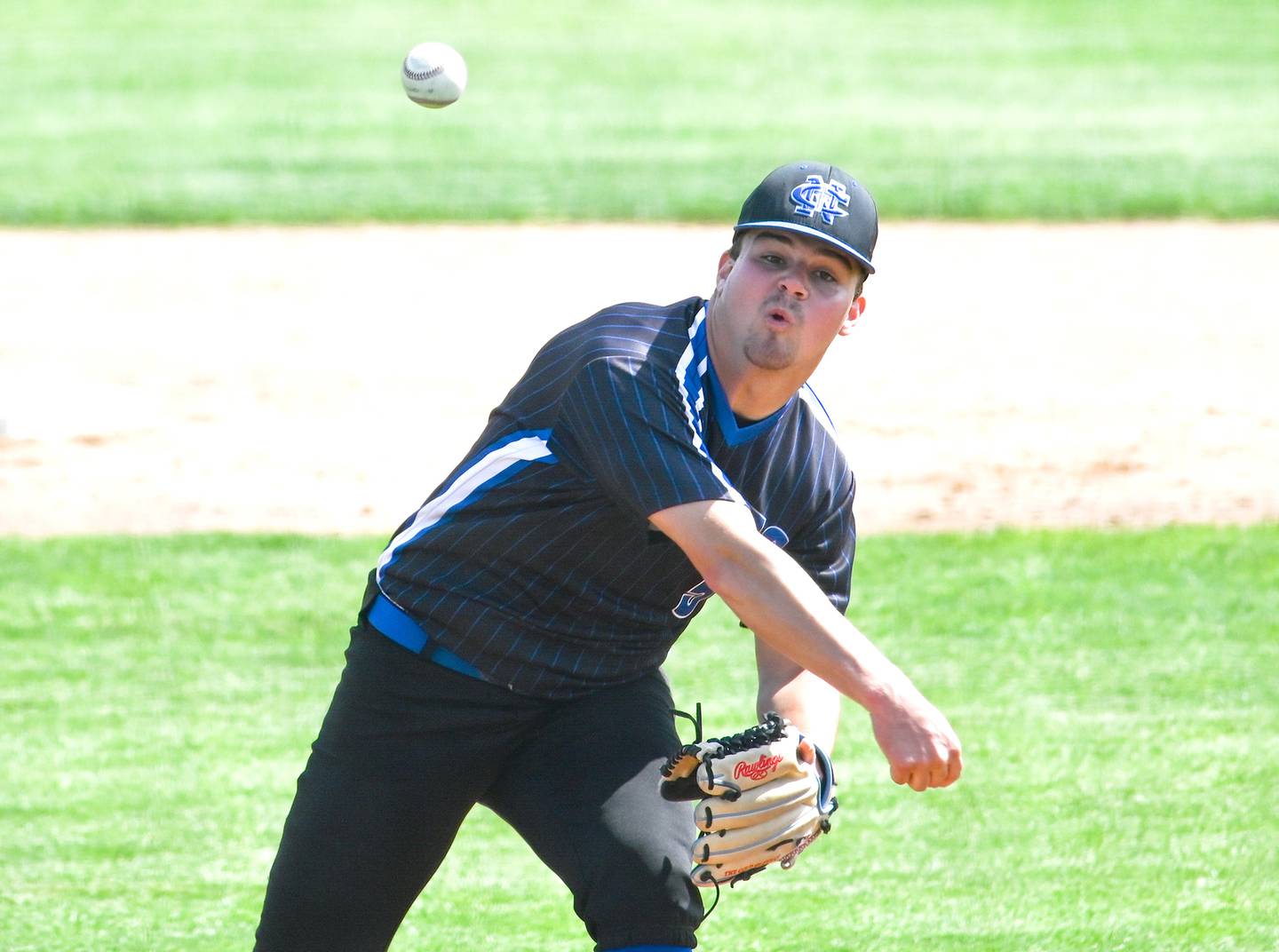 Hopkins credited the emotional boost of having Waldron back on the mound with providing a lift for the Crusaders.
"We get Taylor back and he just did his thing. He may not have had the strikeouts he normally has, but he hit spots and did a hell of a job," Hopkins said. "We know [Newman] can swing it, putting 27 [runs] up in the sectional, and they have a great program – but they hadn't seen Taylor Waldron.
"I talked to T last night, and his dad talked to him before we left. I told him he was getting the ball … I think it fired the guys up and they hit the ball, but Taylor going through the first, second and third innings giving up just one [run] was huge."
While emotions were raw after the Comets saw their journey end one step short of the the state finals for the second consecutive spring, Koerner told his players in the postgame huddle that they had nothing to hang their heads about.
He specifically thanked seniors Van Landuit, Mullen, Grant Koerner, Mason Glaudel and Brennen Cook for all they've done for the program the last few years.
"We told the seniors to hold their heads high. They put Newman baseball back on the map again. No other team's been to the Elite 8 two years in a row, so just hold your heads high," Koerner said. "This is baseball, sometimes games like that happens. You've got to appreciate the season you had. It's hard to even win a regional, and these guys went back and won that sectional again, and that's tough to do. I'm really appreciative of the seniors and the leadership they gave us."
As for Tunink and the rest of the players who will return next season, he's grateful for the chance to play with the seniors, and eager to keep the postseason success going in 2023.
"It's been awesome. I don't think any Newman team has done this back-to-back, and it's been fun playing with these guys the two years that I've been here," he said. "Hopefully the next two years I can make new friendships with the players that are coming up, and we can keep this going."