The Amboy and Oregon girls basketball teams picked up victories on the opening night of the Oregon Tip-Off Tournament on Wednesday.
Amboy defeated Genoa-Kingston 49-35, building a 23-16 halftime lead with a 12-6 second-quarter run, then pulling away with a 17-8 fourth-quarter surge.
Elly Jones went 10-for-10 from the free-throw line and finished with 13 points, while Courtney Ortgiesen had 10 points, Emily Sachs scored nine, Maeve Larson added eight, and Tyrah Vaessen scored six.
Ally Poegel led G-K with 14 points.
Oregon closed Day 1 with a 53-30 win over Richmond-Burton. The Hawks led 25-13 by halftime, and stretched the margin to 43-24 by the end of the third quarter.
Hadley Lutz and Mariah Drake each hit three 3-pointers, with Lutz scoring 19 points and Drake finishing with 10. Katelyn Bowers chipped in nine points for Oregon.
Meadow Rosendahl, Lyndsay Regnier and Taylor Labay scored seven points apiece for R-B.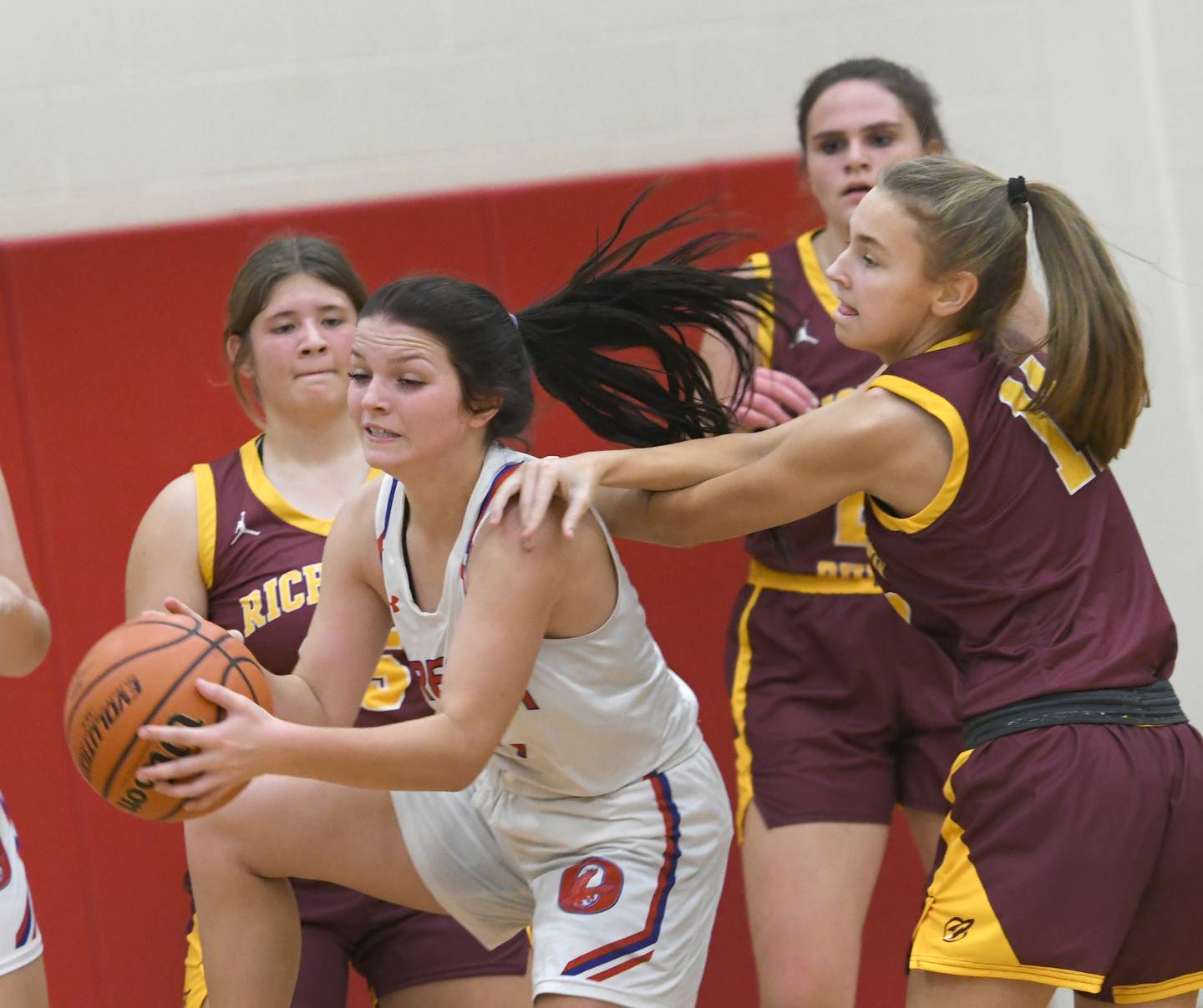 Geneseo tournament
Sherrard 59, Sterling 28: The Golden Warriors fell behind 21-10 by halftime and couldn't catch up in a Geneseo Thanksgiving Tournament loss.
Taah Liberty led Sterling (1-1) with nine points, Delali Amankwa added eight, and Olivia Melcher scored six.
Autumn Kongkousonh led Sherrard with 16 points, Kyla Elsbury and Olivia Muskan both scored 11, and Addison Pickens chipped in 10.
Geneseo 43, Rock Falls 32: The Rockets trailed 18-14 at halftime and 26-21 through three quarters, then the tournament hosts pulled away with a 17-11 scoring edge in the fourth.
Jacee Sigel hit four 3-pointers and led the way with 12 points for Rock Falls (0-2). Claire Bickett added eight points.
Annie Wirth led all scorers with 17 points for the Maple Leafs, with Addie Mills and Danielle Beach scoring eight points each.
Annawan 63, Newman 23: The Comets couldn't keep up with the Bravettes in a Geneseo tournament game in Annawan, falling to 0-2 on the season.
Bureau Valley 43, Henry 17: The Storm led 11-2 after the opening quarter and never looked back in a Princeton tournament victory.
Kate Salisbury scored 14 points, and Kate Stoller added 11 points, eight rebounds and six steals for Bureau Valley (2-0).
Aquin 63, Polo 43: The Marcos led 12-11 after the opening period, but the Bulldogs pulled away with a 41-23 scoring edge in the second and third quarters in an NUIC game in Freeport.
Sydnei Rahn had 12 points, seven rebounds and two assists for Polo (0-2), while Camrynn Jones had nine points and two assists. Madison Glawe added eight points and five rebounds, and Bekah Zeigler finished with four points and four rebounds for the Marcos.
Hanna Broge scored 17 points, Jasmyn London had 13, and Megan Holder added nine for Aquin.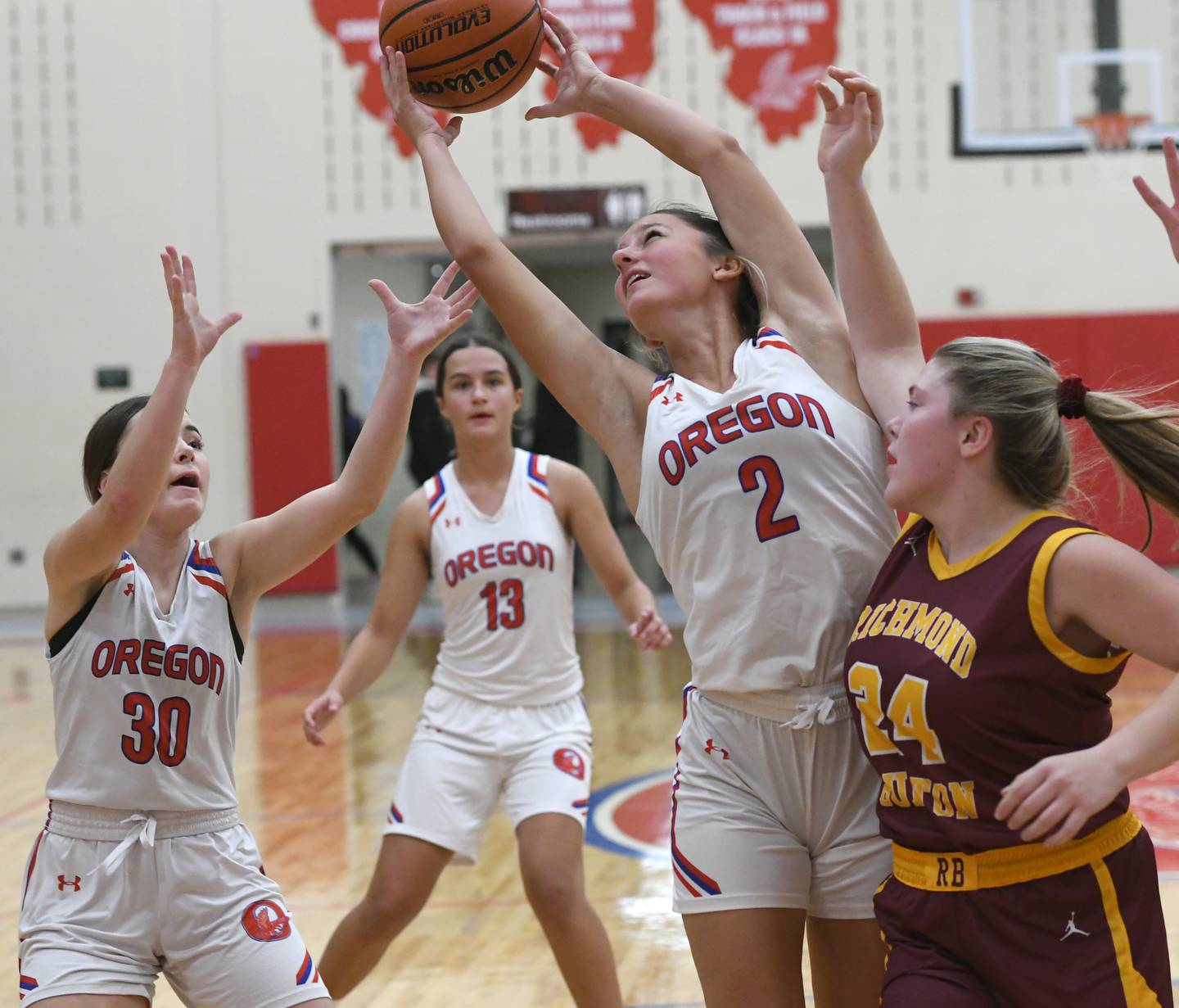 Boys bowling
Sterling 3,400, Sycamore 3,069: The Golden Warriors won all three games in a nonconference win over the Spartans at Blackhawk Lanes.
Brenden Stanley rolled games of 202, 236 and 208 in a 646 series, Tristan Oelrichs opened his 630 series with games of 205 and 226, and Mikah Hernandez closed his 622 series with a 254 game to lead Sterling. Dylan Doss added a 234 second game in his 580 series.
NBA
Roby scores season high Monday: Dixon grad Isaiah Roby scored a season-high nine points for the San Antonio Spurs in Monday's 132-95 loss to Golden State, while also logging a season-high 24 minutes played.
Roby matched his season high with four rebounds, and also dished three assists in that game. He had seven points, four rebounds and three assists in 16 minutes played in a 126-101 loss to Denver on Nov. 5; his season high in assists is four in a 115-106 win over Minnesota on Oct. 24, and he also scored six points in that game.
In his first season with the Spurs since being traded by the Oklahoma City Thunder in the offseason, Roby is averaging 3.5 points, 2.1 rebounds, 1.2 assists, 0.5 steals and 0.3 blocks per game while playing an average of 10.2 minutes. He is 14-for-34 from the field on the season, including 3-for-12 from 3-point range, and is 4-for-11 from the free-throw line.
Roby has played double-digit minutes in five of 10 games, while scoring in seven games and recording a rebound in eight games.