The Illinois Supreme Court upheld a statewide gun ban on Friday, in a win for proponents of stricter laws over the types of semi-automatic weapons that have been used in mass shootings across the country.
Illinois lawmakers approved the ban in the wake of last year's mass shooting at a Fourth of July parade in Highland Park. Gov. JB Pritzker quickly signed the measure into law in January, prompting various legal challenges in the state and at the federal level. A federal appellate court still is considering a challenge against Illinois' ban.
In its 4-3 ruling on Friday, the state's high court reversed a Macon County Circuit Court judge's decision against Illinois' ban.
Justices Lisa Holder White, David Overstreet and Mary Kay O'Brien dissented. In the ruling, the court did not weigh in on the plaintiffs' Second Amendment claims.
In a statement issued Friday, Pritzker said he was pleased with the Supreme Court's ruling.
"This is a commonsense gun reform law to keep mass-killing machines off of our streets and out of our schools, malls, parks, and places of worship," Pritzker said. "Illinoisans deserve to feel safe in every corner of our state – whether they are attending a Fourth of July Parade or heading to work – and that's precisely what the Protect Illinois Communities Act accomplishes. This decision is a win for advocates, survivors, and families alike because it preserves this nation-leading legislation to combat gun violence and save countless lives."
The law bans dozens of specific brands or types of rifles and handguns, .50-caliber guns, attachments and rapid-firing devices. No rifle is allowed to accommodate more than 10 rounds, with a 15-round limit for handguns. The most popular gun targeted is the AR-15 rifle, which can be found in at least 25 million American households, according to 2021 research by Georgetown University.
[ Here are the weapons banned under Illinois' new gun law ]
Current owners of such weapons won't be required to surrender them. However, gun owners will have to register them with the Illinois State Police – including serial numbers, a provision initially removed by the Senate but restored after House proponents' objections.
"We are pleased with the court's decision," Attorney General Kwame Raoul said in a statement. "The Protect Illinois Communities Act is a critical part of a multi-faceted approach to addressing gun violence. We are firmly committed to protecting Illinois residents from the gun violence that impacts too many communities throughout the state. We will continue to defend the constitutionality of the Protect Illinois Communities Act and other measures that reduce gun violence in our communities."
Not all issued statements of support Friday. Chris Southwood, state lodge president of the Illinois Fraternal Order of Police, alleged the ban impedes law enforcement's ability to protect Illinoisans.
"Now, with this decision, the Illinois Supreme Court has indicated it is willing to go along with a law that removes an important self-defense option for law-abiding citizens to use when the police aren't nearby," Southwood said. "Make no mistake, criminals will always find a way to use banned firearms against the police and the citizens we are sworn to protect. Suddenly making law-abiding citizens into criminals will put all of us more at the mercy of lawbreakers."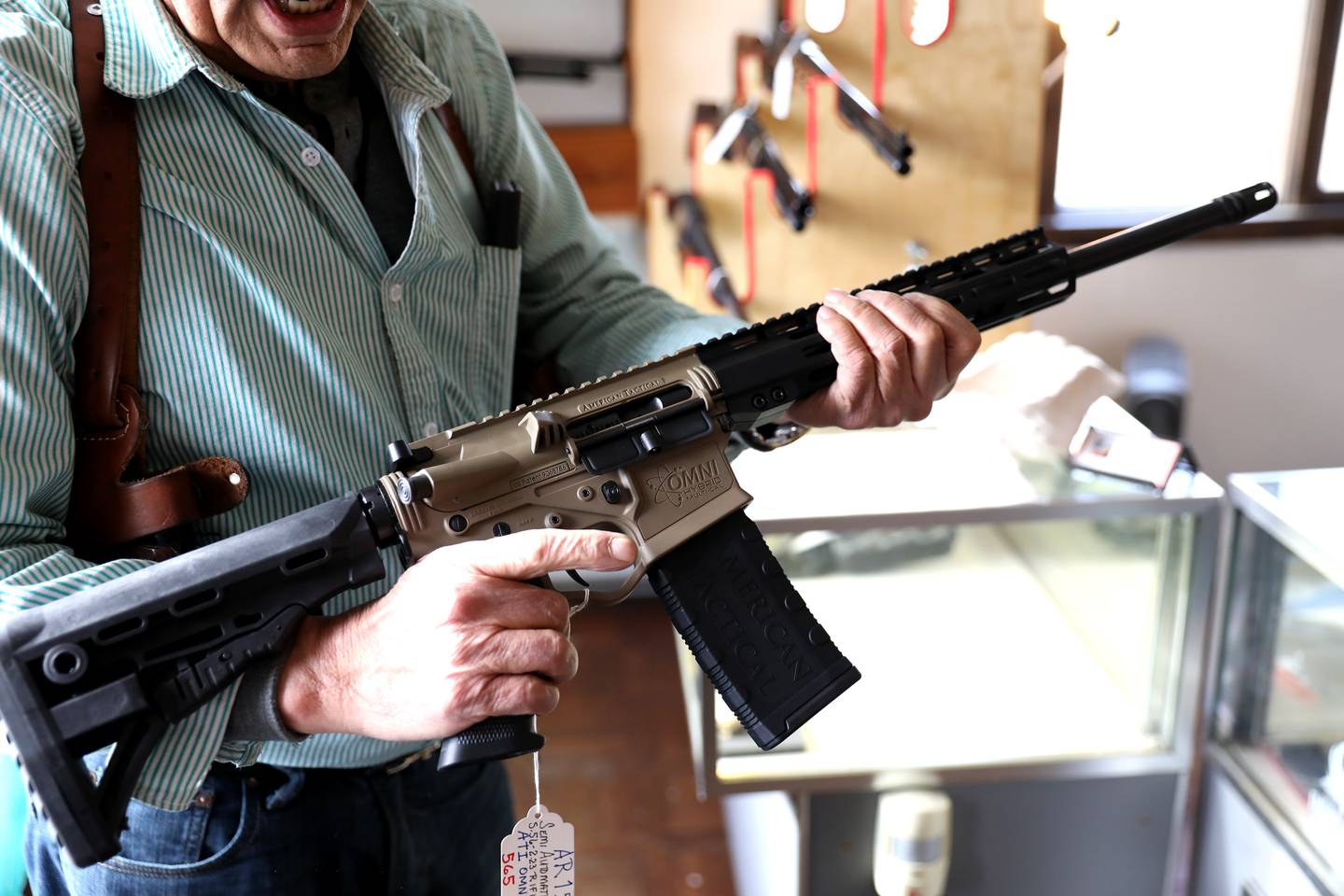 The court also decreed that state Rep. Dan Caulkins, a Decatur Republican, and like-minded gun-owners who brought the lawsuit had earlier waived their claims that the law infringes on the Second Amendment to own firearms and could not raise it before the Supreme Court.
The Second Amendment claim is alive, however, in several federal lawsuits filed in southern Illinois, later consolidated and awaiting appeals court action. Several other lawsuits against the ban filed in federal court also were consolidated and are awaiting action in an appeals court. It's possible the Illinois high court's action would answer questions posed in the federal queries.
Pritzker signed the Protect Our Communities Act hours after lawmakers sent it to him in a lame-duck session in January, months after a shooter using a high-powered rifle killed seven and injured dozens on Independence Day 2022 in Highland Park. The new law set off a firestorm of criticism from gun-rights advocates, including gun shop owners across northern Illinois.
Criticism also came from law enforcement across the state, after county sheriffs across northern Illinois issued almost identical statement saying they wouldn't enforce gun registration, alleging the legislation was unconstitutional.
Bolstered by the 2022 U.S. Supreme Court case that determined Americans have a right to carry weapons in public for self-defense, Caulkins and other gun owners said the semiautomatic ban clearly violates the right to possess guns. But they also claimed it violates the Constitution's right to equal protection of the law and a state constitution provision banning "special legislation" when a "general law is applicable." A lower court agreed in March.
The lawsuit alleged the law was unequally applied because anyone who had a semiautomatic weapon on the date the law took effect could keep it, although they're restricted in selling or transferring such weapons. They must register their guns with the Illinois State Police by Jan. 1, 2024.
The ban also exempts law enforcement officers, including those retired, and on-duty military. Critics argued many civilians have more experience and training in handling semiautomatic weapons than law enforcement officers. Democrats, who control all levers of the state's legislative and executive branch, also have a 5-2 majority on the state Supreme Court.
High-powered semiautomatic guns have been used in multiple mass shootings throughout northern Illinois, beyond Highland Park, which prompted movement on the legislation in the General Assembly. Illinois State Police confirmed the alleged shooter used a Smith & Wesson semi-automatic rifle purchased legally, shooting more than 80 rounds into the crowd from a rooftop.
A 2008 Valentine's Day mass shooting inside a lecture hall at Northern Illinois University in DeKalb left five students dead and injured 17 more. The 27-year-old former NIU student used a shotgun and several semiautomatic pistols, firing about 50 rounds into the hall.
On May 16, 2018, a Dixon High School police resource officer chased down a 19-year-old student who had opened fire inside the school with a 9mm semi-automatic rifle on his way to the gymnasium, where students were practicing for graduation. The student, Matthew Milby Jr., was sentenced to 30 years in prison in October 2022.
The Associated Press contributed.