Manny Segarra, owner of Manny Segarra Guns in West Chicago, spent the day packing up his inventory in preparation to go out of business soon.
Less than 24 hours earlier, Illinois lawmakers passed a law banning the purchase, sale and manufacture of high powered semi-automatic weapons, .50 caliber rifles and ammunition and large-capacity magazines. That all accounts to more than half of his inventory, Segarra said.
"The majority of my sales, probably 60%, is on those items that are now illegal," he said. "We're making arrangements to close up. I guess I've had a good run, I'll just go ahead and retire."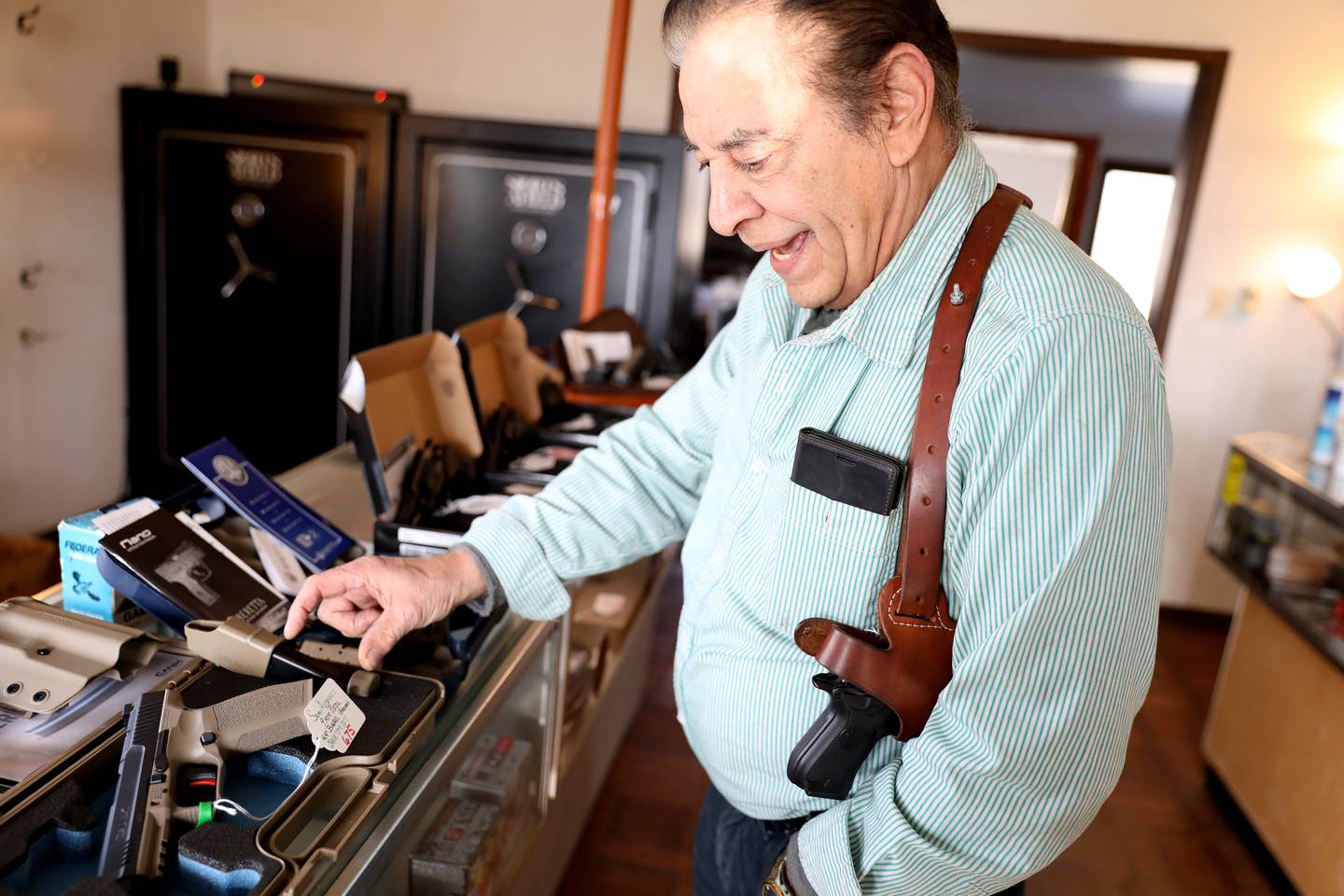 Democratic Gov. JB Pritzker signed the ban into law late Tuesday night, making it take effect immediately. Current owners of such weapons won't be required to surrender them. However, gun owners will have to register them with the Illinois State Police – including serial numbers, a provision initially removed by the Senate but restored after House proponents' objections.
Under the new law, dozens of weapons are now banned across the state. Merchants who are federally licensed to sell such weapons will be able to dispose of their current inventory by returning them to manufacturers or selling them out of state.
Segarra said he's been in business about a decade. He said sales picked up during the coronavirus pandemic and in the summer 2020, when nationwide unrest broke out after the murder of George Floyd at the hands of a Minneapolis police officer.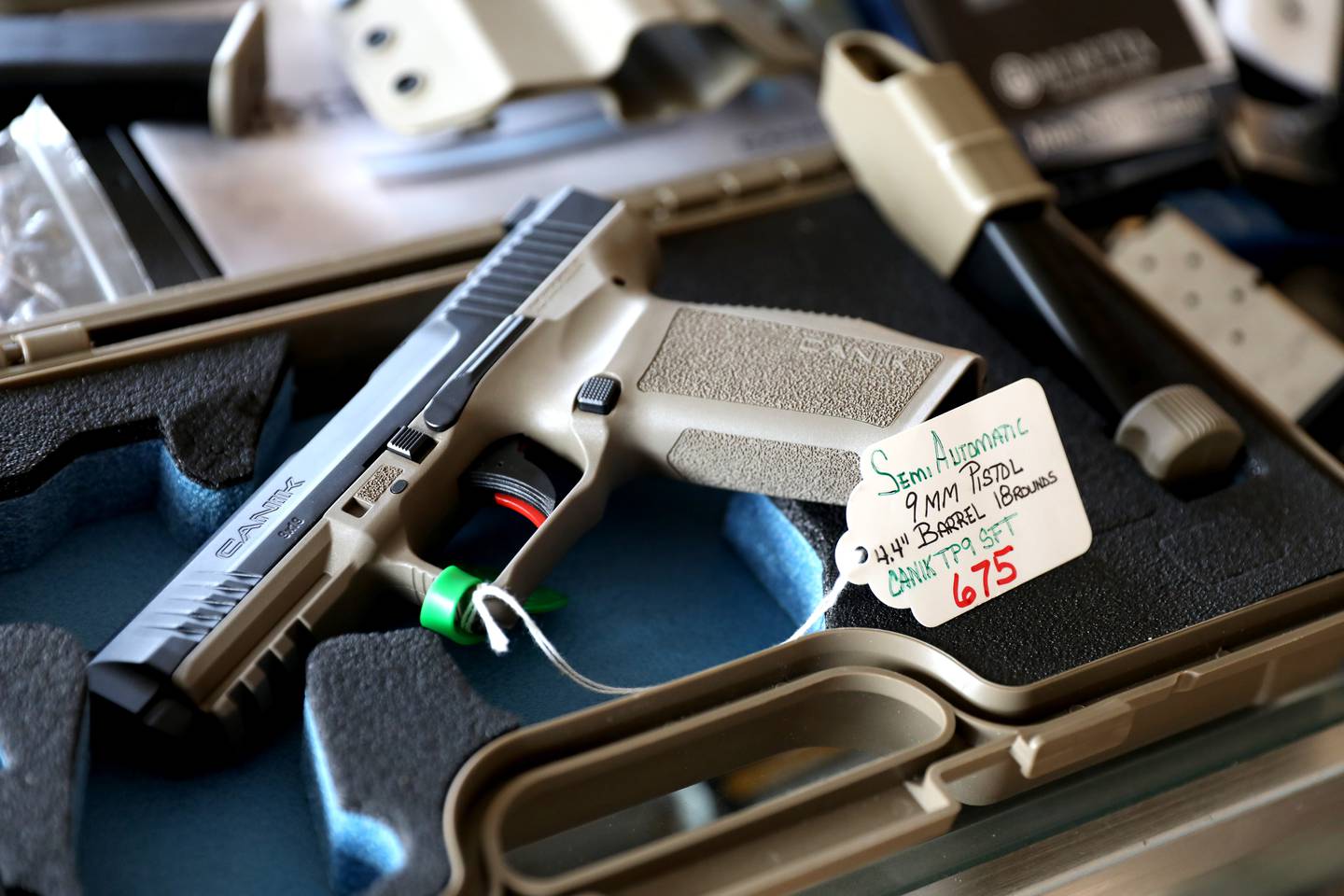 Segarra said sales also had been brisk in recent days, as state lawmakers worked on crafting the new law.
"When people realized the government would put restrictions, they wanted to come get their guns," he said. "People are now afraid they won't have anything to protect themselves with. Law-abiding citizens come to buy guns, criminals don't show up at my store. My customers are law-abiding gun owners."
The newest restrictions have created "a scramble" for many, including at Second Amendment Sports in McHenry, owner Bert Irslinger said on Wednesday. In addition to throwing his store into a flurry of inventory checks, customers calling are angry and confused about what is allowed.
Others are returning guns that recently were bought, deciding they don't want it if it's not allowed, Irslinger said.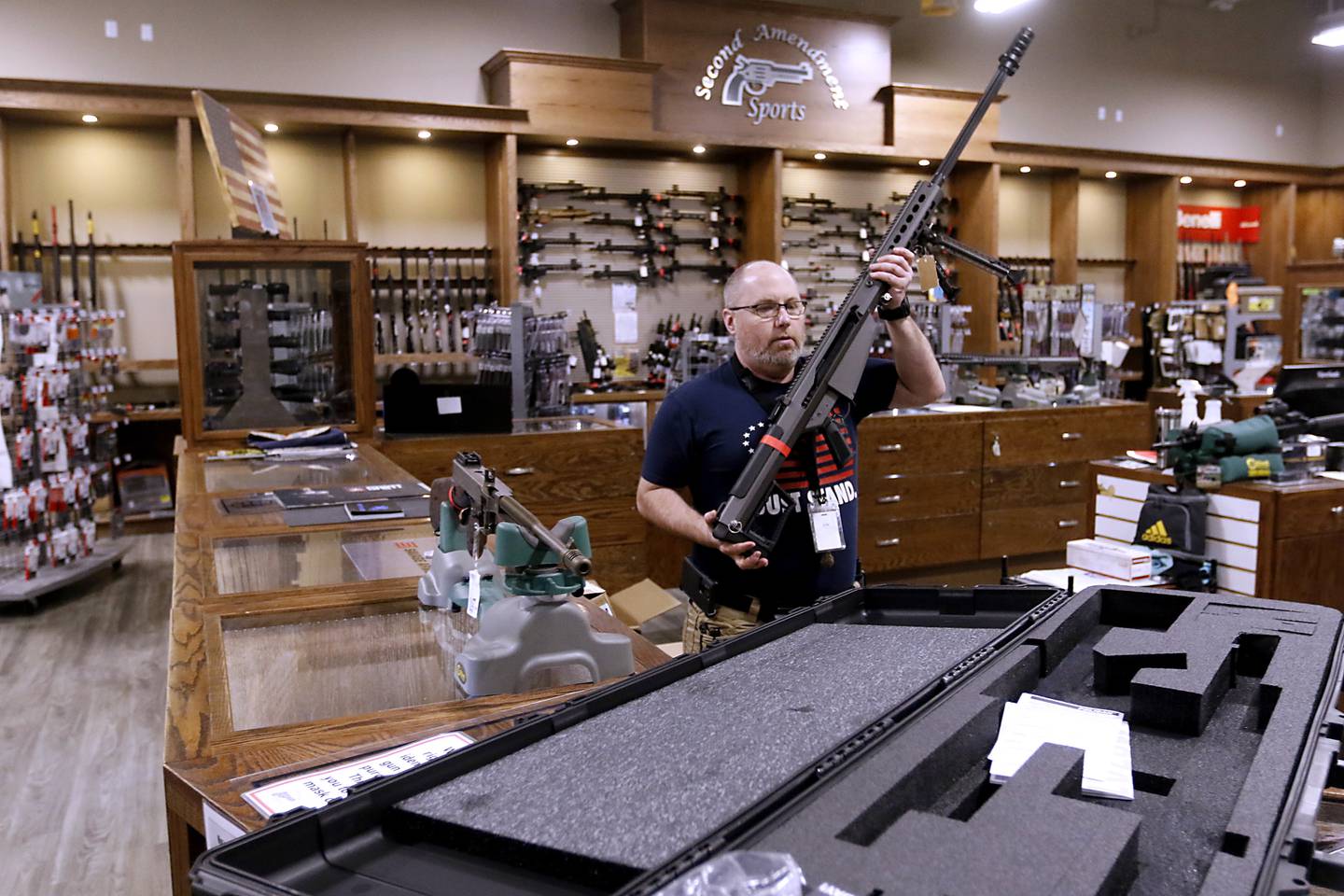 "This bill will do nothing to affect crime," Irslinger said. "All we've done is put more laws on already law-abiding citizens and entrapped them into becoming felons if they don't comply."
In Sycamore, owner of gun shop C.O.P.S. Inc. Penny Dyer shared that sentiment, saying she's still trying to wrap her head around the legislation. Like many others, she spent Wednesday cleaning her shelves of weapons now banned under the law, planning how to get a manufacturer to take them back or sell the remaining inventory out of state.
"We used to sell the ARs here, but now we can't," Dyer said, adding her business also sells shotguns, rifles and handguns, often for collectors or hunters. "And it's affecting them. Those are my customers. I'm not happy about that."
For John Roe IV, manager of JR Shooting Sports in Aurora, the new law will affect 50% of his inventory. He said he doesn't believe the weapons ban will impact crime rates.
"We see it as unconstitutional and an attack on law-abiding citizens, and it will have no effect on criminals," Roe said. "Overnight, half our inventory is now illegal. It will be tough for us. We'll have to send our inventory out of state if I can find a buyer. We're just looking for somewhere to offload it. Some of our inventory is legal ... handguns are still legal."
In the lead-up to the bill, Irslinger said the past month has seen his McHenry store at times with a line from the front to the back of the store. Many have been purchasing guns they thought could be banned, he said.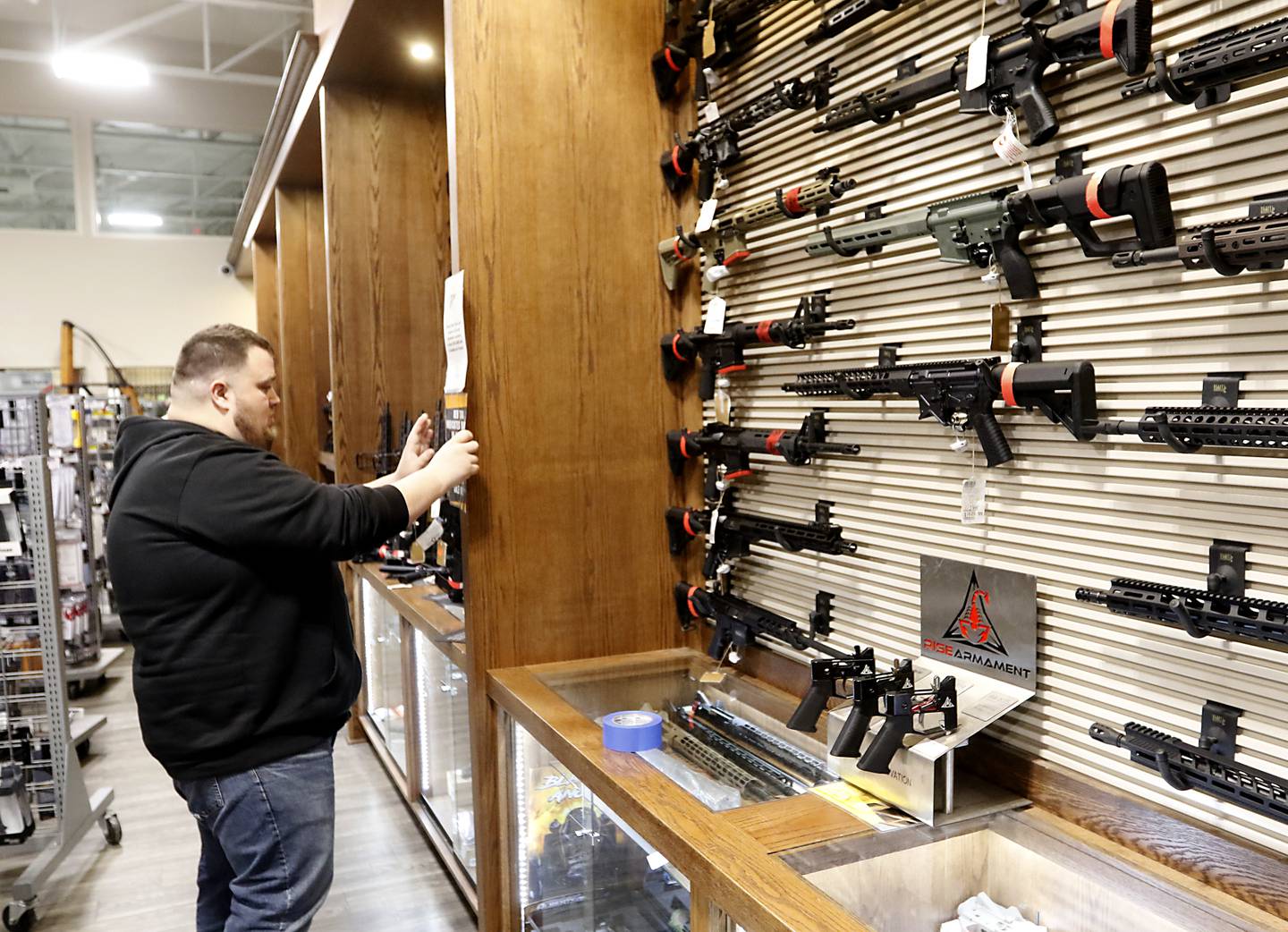 "We saw a big push for people to buy items that they probably wanted, but hadn't been driven to buy yet," Irslinger said. "It became a top priority because they knew this was the last chance."
Some gun owners also voiced dismay at the ban Wednesday.
Jim Lanham of Joliet, who's running for a seat on the City Council, said he was "beyond burning angry." Lanham, who lost in the Republican primary last June seeking the District 86 House seat, said he thinks the new law is unconstitutional.
"It makes no sense," Lanham said.
Lanham said he doesn't plan to register the guns he already owns with the state police, including AR-15s and some semiautomatic weapons, despite the new law.
"I absolutely will not. I'm looking to joining some lawsuits," Lanham said, who said he just spent $100 for two AR-15 components on Monday that were frames for building the weapon.
Maple Park resident Rich Jonutz said he comes from a hunting family and is a semiautomatic weapons owner. Jonutz said he also opposes the ban and that he believes lawmakers don't have the best interests of taxpayers' safety in mind with this legislation.
"It's just going to be a shamble. Do they honestly think people are going to register all their firearms?" Jonutz said. "What good is that going to do? How is that going to save lives? In my opinion, it's not. What they're going to do is they're going to make criminals out of people that don't register their firearms and they're going to get their FOID cards revoked if they get caught with a firearm that they didn't register."
Antioch resident Mike Ruffner, who said he is a retired Marine, said he and other people he knows are not planning to abide by the registration laws. With sanctuary counties for guns cropping up around the state, he doesn't think those laws will be enforced.
Ruffner declined to specify how many guns he has, but said he knows several people who have "a fair amount, but it's all sports shooting."
"My circle of people, they're not getting them registered," Ruffner said. "They can pry it from my cold, dead hands. I'm for the Constitution."
The legislation also restricts high-capacity magazines to 10 rounds for long guns and 15 rounds for handguns, which Lanham called arbitrary as some AR15s have magazine capacities of 17 and 18.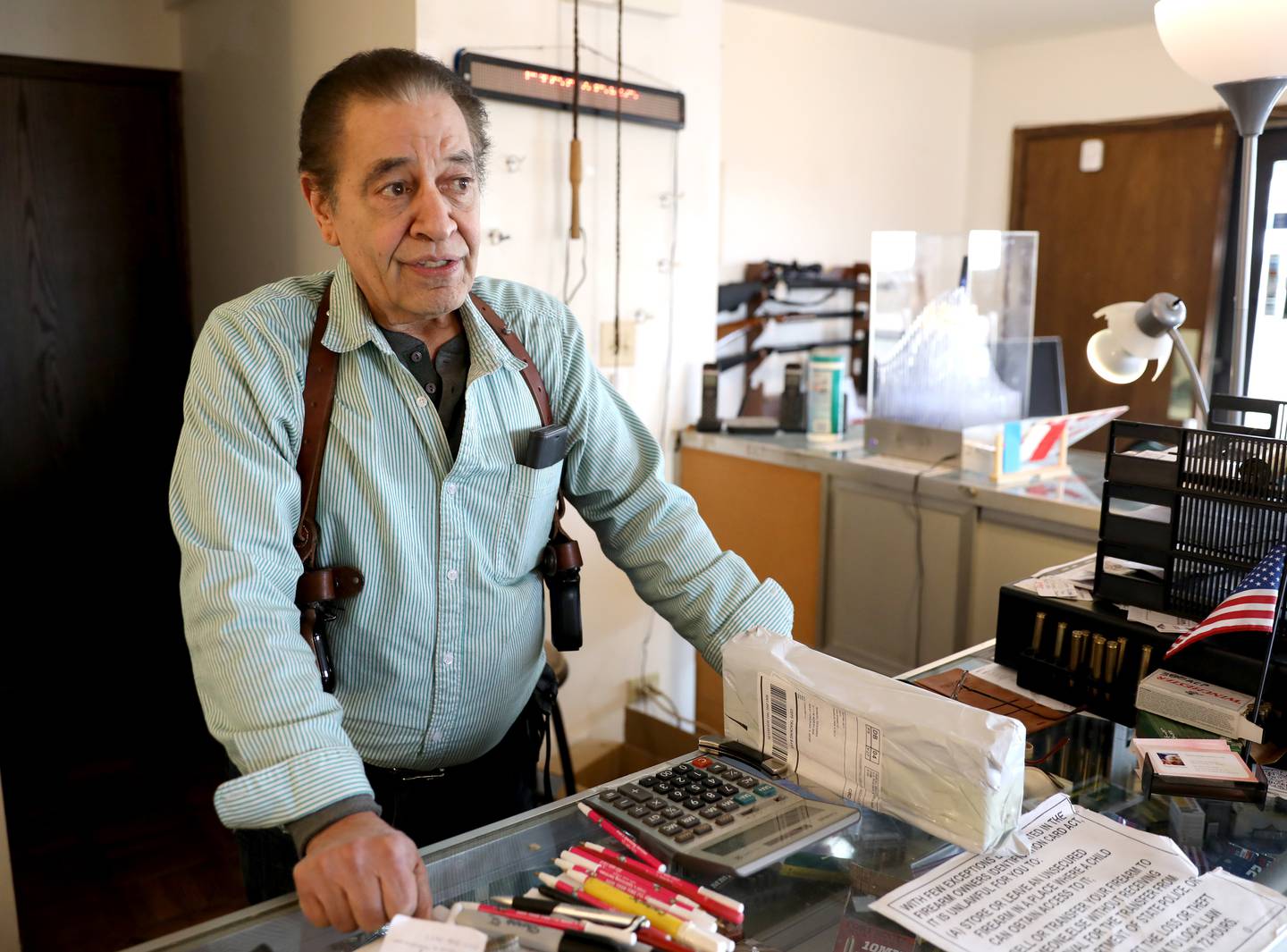 However, this may not be the final word on the gun ban, as lawsuits challenging the law are expected to be filed in court.
Former NRA lobbyist Todd Vandermyde of Yorkville said he was part of pro-Second Amendment and gun rights groups that are looking to file lawsuits against the ban.
"We will take them to court. … A myriad of groups will be involved in this effort," said Vandermyde, who is now with the nonprofit gun rights group Federal Firearms Licenses of Illinois. "The anti-gunners just want to ignore what was said in four Supreme Court decisions – fine. We'll go back to court. We are going to to assert our rights … and we are not going to stop."
Vandermyde said the state Legislature cannot take away the gun rights of 2.5 million people because of what some individuals have done with guns.
"This is not a mob rule democracy," Vandermyde said. "It's not a need, it's a right. I don't need a justification for a right."
As for Segarra, he said he's going to try to sell off any remaining inventory that he can before permanently closing up shop in about three months.
"We're still figuring that out," Segarra said about what he will do with his now-illegal inventory. "I'm disappointed. The politicians could use other methods to reduce crime, like pursuing criminals."
Shaw Local News Network's Camden Lazenby and Megann Horstead contributed to this story.