Larry Baca said serving in the military prepared him for pretty much anything life throws his way.
"Improvise, adapt and overcome. I learned that from the Air Force. Look around, see what you've got. You can get the job done," Baca said.
Baca, 34, of Plainfield has been getting the job done the past 11 years at Downers Grove North High School, where he teaches business and is the assistant varsity wrestling coach.
Much of his job is out in the community, lining up companies where students can intern "because there's only so much you can do in the four walls of a classroom," he said.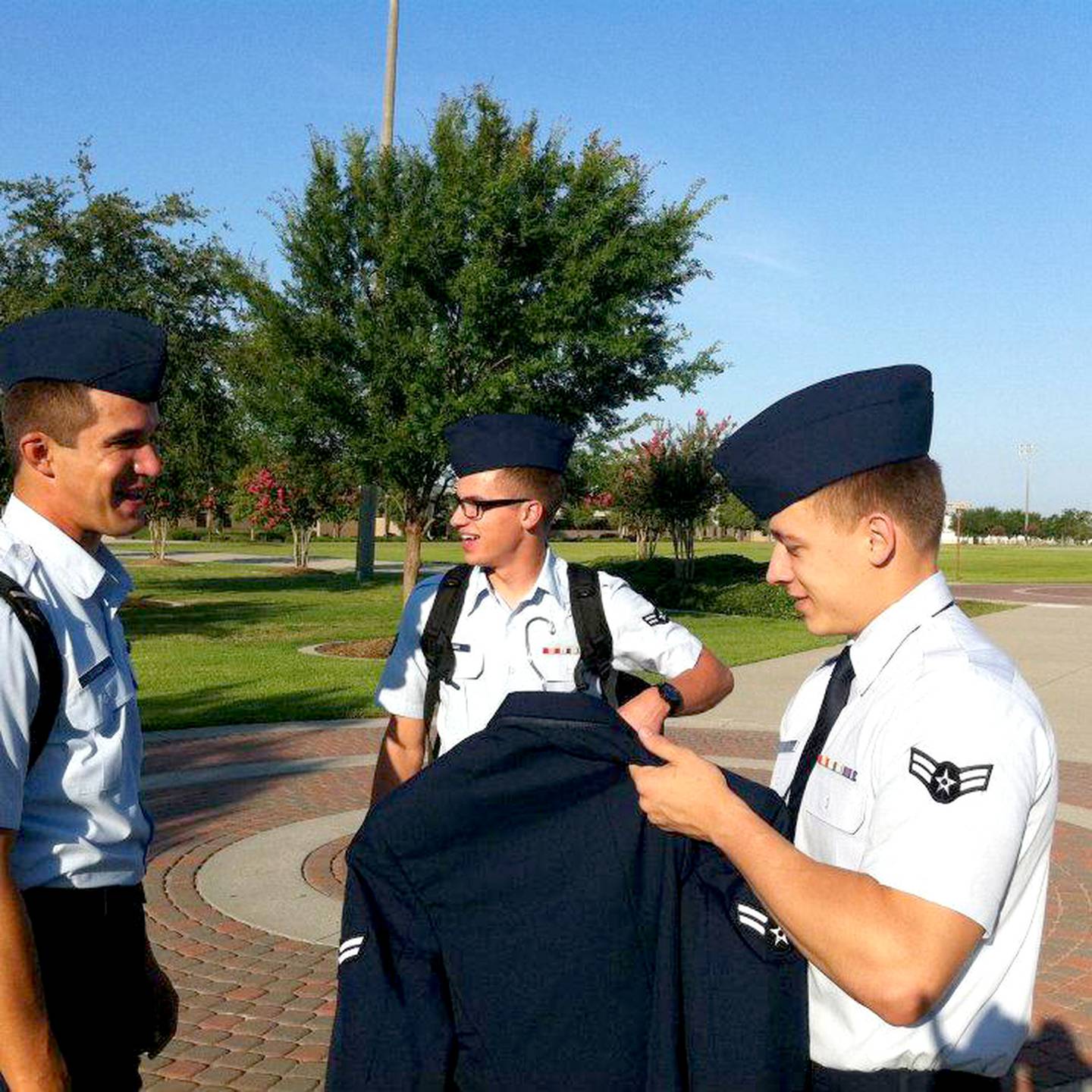 In some ways, that belief reflects his own story.
When Baca graduated from Elmhurst College in 2011, he finished one victory away from going to a national competition in wrestling. Instead, he found himself with time on his hands.
"All of a sudden wrestling was over and I thought, 'What do I do now with myself?' I didn't go to school to become a teacher. I went to school for finance and investing. It was a goofy point in my life where I was a little bit lost," Baca said.
Unsure of what to do, he strolled into a recruiter's office. He met with U.S. Army, Marines and Air Force recruiters.
"I ended up deciding on the Army. I was going to try out for the Army's world-class wrestling team," he said.
He also had a family connection. His father, Greg, and both grandfathers served in the Army.
"To my surprise, my father basically said, 'Don't join the Army. You should join the Air Force,' " Baca said.
Baca listened to dad and enlisted in the Air Force.
After basic training in San Antonio, Texas, he was sent to Biloxi, Mississippi, where he learned about the finance job.
"Our base was right on the Gulf of Mexico," Baca said. "Beautiful."
He spent part of his two years in active duty in Georgia and then was in the Reserves for four years.
Being in the Air Force, he said, taught him how to solve problems.
"There were so many times we were given an order to get something done and we didn't have the right tools or resources. [Our superior officer] said, 'I don't care. It just better be done,' " Baca said.
As a result, he said he was "ultra-prepared to take on any problem in civilian life, working life or personal life."
Having a military background on one's resume catches the eyes of potential employers, he said.
"It's going to be looked favorably upon by most jobs," he said.
Although he doesn't push serving in the military to Downers Grove North students, Baca discusses it with anyone who's interested.
"I've even had kids I don't have in class come up to me," he said.
Having coached wrestling with Baca for 10 years, head coach Chris McGrath has seen Baca interact with students.
"He's the best because he cares. He's going to do the best he can in whatever he does," McGrath said. "He's thoughtful. He tries to think what the right thing is in every scenario."
Baca would be that way even without the military, McGrath said.
"He's a man who is looking to do the best he can," McGrath said. "I think he's overcrediting the military and undercrediting himself. He's a good guy. Larry pays attention to every little detail."
Baca said he tries to coach students about what to expect from military service.
As an example, Baca discusses with students the post-9/11 G.I. bill that paid for his master's degrees along with the military's pay structure and basic allowances for housing and sustenance.
And he reminds them how they could pay the ultimate price.
"I always refer to that no matter what branch you join, there is a contract. When you sign that dotted line, it basically says you'll give your life for your country if need be," he said.
Yes, the military will pay you to serve and pay for some of your schooling. But, as he cautions students, "nothing is free."
"Everything comes with a price and freedom isn't free," Baca said.
Baca never served overseas. He said he had the chance once but he was not selected to deploy out of the country.
"Six months after I got out of the service, my whole base, even the finance guys, mandatory deployed to the Middle East," he said. "I don't know how I feel about it because everyone came back safe. It would have been a cool badge of honor, but you don't know what to expect."
Baca knows what he expects from fellow Americans on Veterans Day.
"I've always been a patriot," he said. "I love this country. I get chills just looking at the flag. To me, Veterans Day is a day of pride, a day of remembrance and a day of gratitude."