ROMEOVILLE – Patrick Flynn pitched in a howling wind his first playoff start, and in a steady drizzle his second on Wednesday.
That's just fine with him.
Oswego East's junk-balling senior right-hander has proven he can be plenty successful with a mix of pitches, and throwing strikes. As much as anything, rain or shine, Flynn competes.
"That's the big thing we preach as a pitching staff, is that we're going to come out and compete every pitch with every opportunity we have," Flynn said. "I took that personally. I want to win more than anybody else on the diamond."
Flynn showed it Wednesday with a sparkling performance against a Downers Grove North lineup loaded with future Division I talent.
He threw five shutout innings before leaving in the sixth with back tightness. Jackson Petsche slugged his sixth homer to stake Flynn to an early lead, and the fifth-seeded Wolves went on to knock off the top-seeded Trojans 7-2 in the Class 4A Romeoville Sectional semifinal.
Oswego East (23-11), which just won its first regional title last weekend, advanced to face the Oswego-Plainfield North winner in an all-SPC West sectional final on Saturday morning.
Flynn (7-1), a change-of-pace arm out of the bullpen last year, has emerged as a key member of the Wolves' rotation this spring.
Hardly a high-strikeout pitcher with overpowering velocity, Flynn is effective in his own way, and had Downers Grove North's hitters off stride throughout.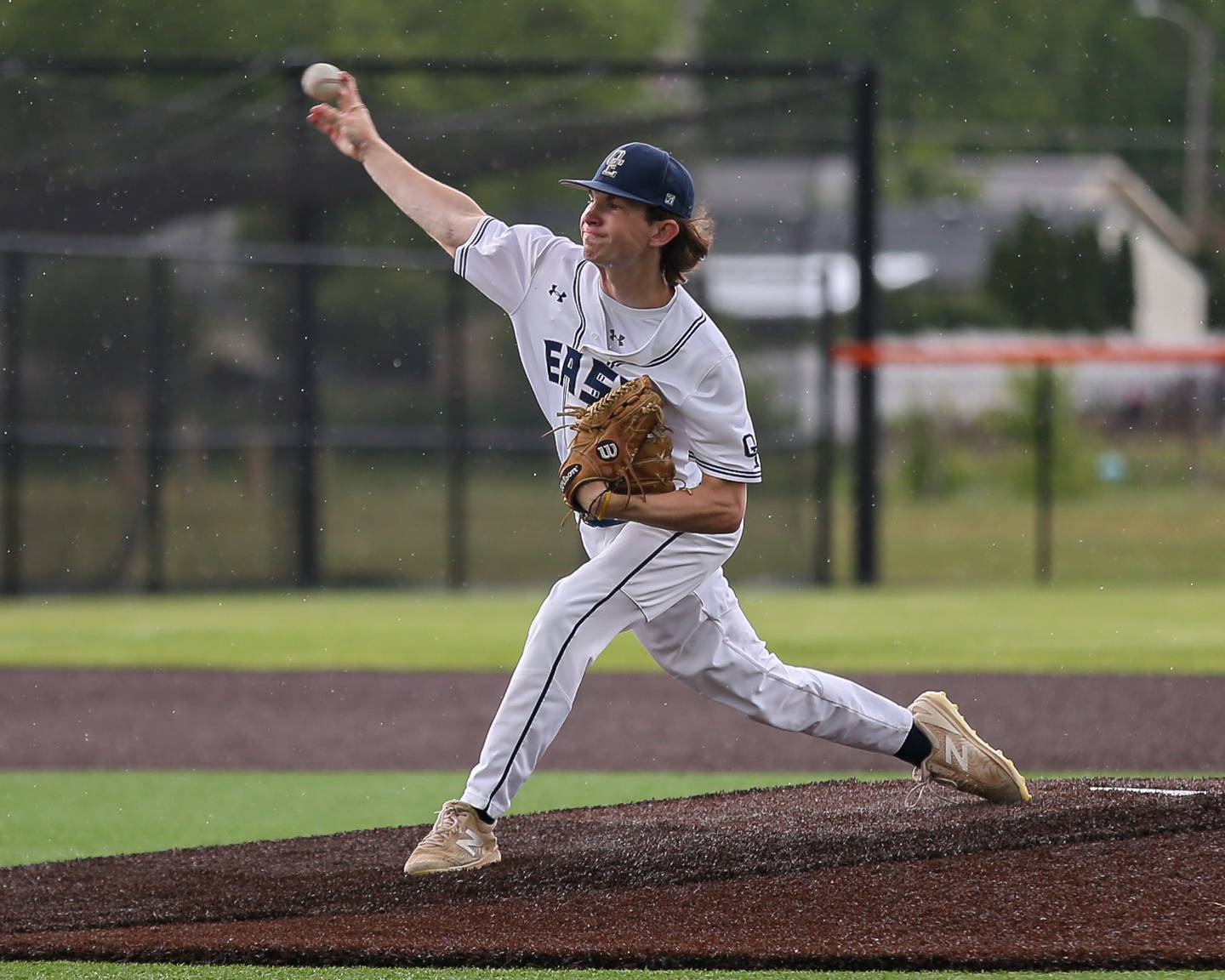 And he did so with efficiency. Flynn needed just 57 pitches to sail through five innings, allowing three hits and striking out three.
"He changes up speeds, he has a lot of junk pitches and he throws them all for a strike. Really good hitting teams like this get off-balance, he's able to attack them early," Oswego East coach Brian Schaeffer said. "We knew he was going to be a competitor, be a junk-baller, work to get outs. He's taken that role of a starter and been successful. He's eating at the opportunity to go and pitch."
Downers Grove North (32-5), despite striking out just three times, had just one baserunner off Flynn through four innings. He worked out of a bases-loaded jam in the fifth.
"He pretty much pitched us backwards, a lot of off-speed. In fastball counts he was throwing changeups and breaking balls," Trojans coach Kyle Briscoe said. "He did a nice job of keeping our bats at bay. We weren't able to barrel up any balls."
Flynn said he found his slider as a put-away pitch two starts ago, and the changeup, set up by his fastball, was a big pitch against a Trojans' lineup stacked with lefties.
Flynn's defense helped, too.
Oswego East center fielder Mike Polubinski alone had six putouts, none better than his spectacular running catch in deep center on a Jimmy Janicki drive in the first.
"Any ball that's hit to center field, I just turn around because I know he's going to be there," Flynn said. "It's incredible to watch the things he does.
"I just wanted to throw strikes. I knew we were going to score runs, my job was to throw strikes and not give free passes."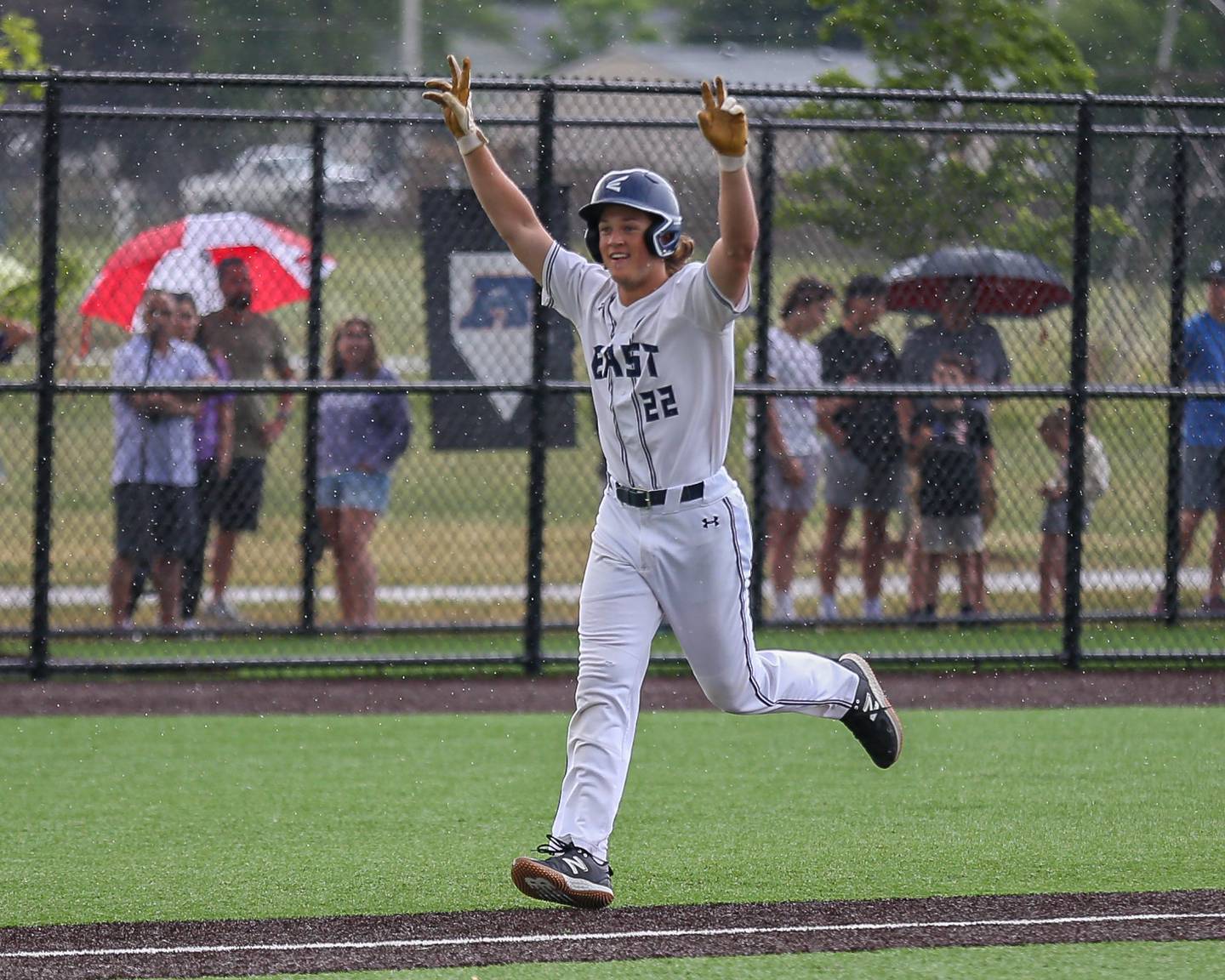 Petsche, meanwhile, continued his late-season hot hitting with two big hits early.
He lined a fastball for a two-out single to score Cody Haynes in the first inning. In the fourth, the lefty-swinging junior golfed a 3-1 pitch for a two-run homer to right, making it 3-0.
"I was looking for my pitch, it was inside; I knew I could get to it and hit it hard," Petsche said. "We knew who they had, all the people we would have to fight off, coming up with the home run and the single, we knew it would be very helpful for Pat to have the momentum."
The Wolves' lead ballooned to 7-0 in the fifth, batting around in a four-run inning. Liam Mitchell's pinch-hit two-run single was the big hit. Oswego East also scored on a bases-loaded walk, one of 10 free passes issued by Downers Grove North pitchers, and Zach Polubinski came home on a wild pitch.
"It wasn't our day today," Briscoe said. "Unfortunately we picked a bad time to have that day."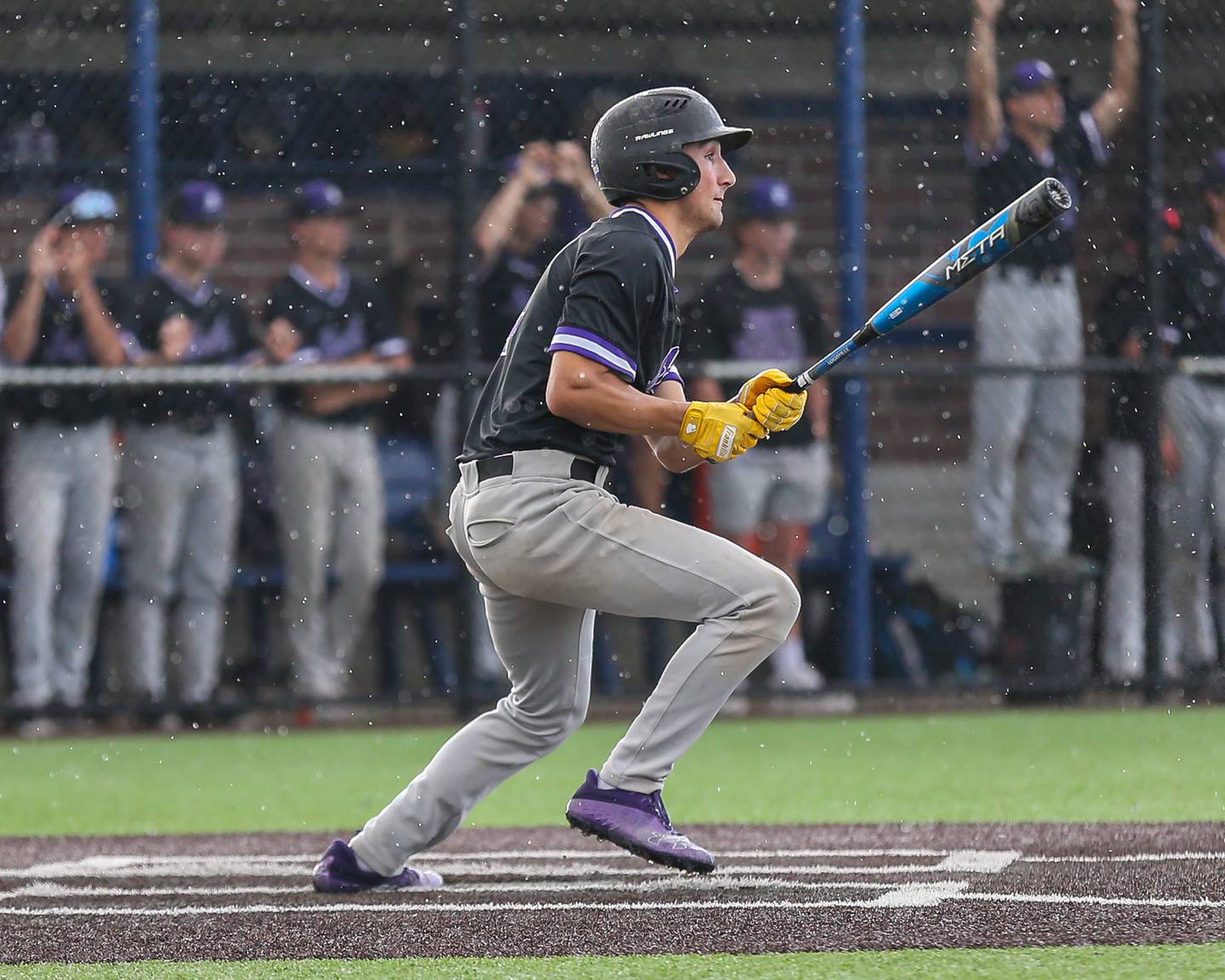 The Trojans scored their lone runs on Joe Chiarelli's two-run single in the sixth, but Oswego East reliever Ryan Johnson came back to retire the next batter, and then stranded two more baserunners in the seventh inning.
Briscoe could look back fondly on a season in which Downers Grove North won a school-record 32 games, a West Suburban Silver title, and a regional championship on Janicki's walk-off home run.
"These guys have gone out and competed every day," Briscoe said. "Baseball is a funky sport. They were the better team today."
Petsche and Josh Polubinski each had two hits and reached base three times for Oswego East, who either will next face an Oswego team it took two out of three from in conference, or Plainfield North that swept the Wolves in a season-ending series.
"It's just exciting. We're just enjoying the ride," Schaeffer said. "Regardless of who we play, we know they're both good baseball teams."