GLEN ELLYN – Glenbard South junior forward Sofia Alcala kept finding herself in the right place at the right time Thursday night.
The 5-foot-10 Alcala closed out a memorable game against East Aurora by grabbing an offensive rebound off her own missed free throw with 10.6 seconds left. Throughout the physical and turnover-filled game between the top two teams in the Upstate Eight Conference, Alcala made several pivotal plays to spark the Raiders to a 39-29 victory before a large home crowd.
With the win, the Raiders (19-5, 13-1) gained a measure of revenge by evening up the season series against the Tomcats (19-7, 13-1) while putting both teams tied for first place in the conference. On Dec. 13, East Aurora knocked off the Raiders 40-28.
It was a different story in the second meeting.
Alcala's solid play on offense, defense and attacking the glass to go with a team-high 10 points was a key factor in the Raiders' win. Freshman Jamie Mizwicki showed tremendous poise bringing the ball up the court amid heavy pressure to finish with nine points. Brooklynn Moore, Allie Mizwicki and Callie Hardtke scored six points apiece.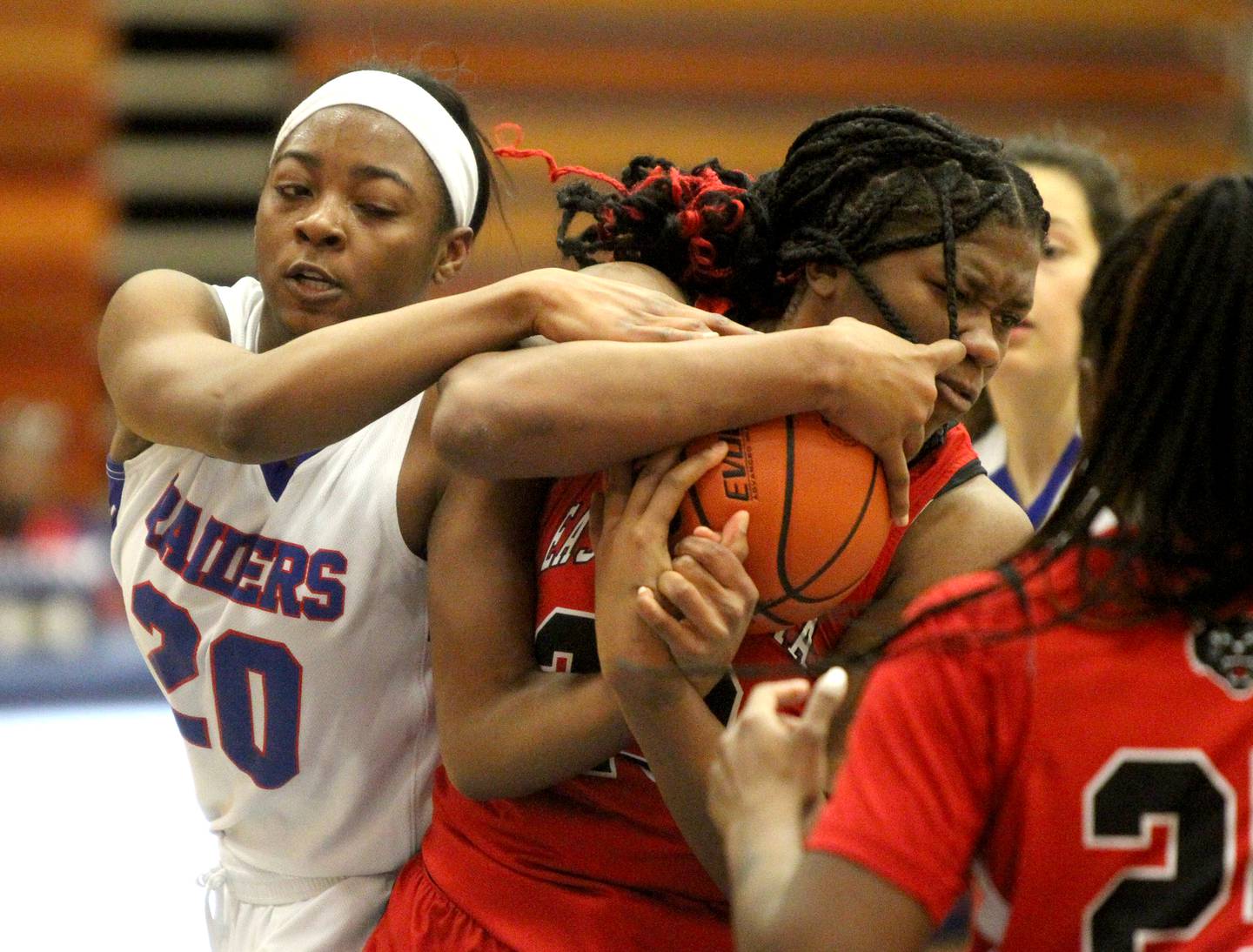 Standing by the bench after the game, Alcala flashed a mega-watt smile discussing the rugged game, noting the team followed the game plan by focusing their defensive pressure on East Aurora's outstanding tandem of senior guard Mia Moore and 6-foot-2 junior center Anastasia Bellamy. Mia Moore led all scorers with 17 points, but Bellamy was held to three points.
"That was a very exhausting game," Alcala said. "They were very physical, but me and Brooklynn helped each other out down low.
"It feels so good to win this game. Today, we just really wanted to shut down their two main players. I think we did a good job of that."
Allie Mizwicki fueled the Raiders with strong ball-handling and tough defense, plus she buried a 14-footer late in the third quarter to hold off an East Aurora comeback. Hardtke's spin move to open the fourth padded the lead to 32-24, and she added another basket to extend the advantage to 37-25.
"It was a complete team effort, and everyone was on the same team, especially guarding Moore and Bellamy," Allie Mizwicki said. "It was a big win. We needed everybody's energy in this game. It was a crazy game, but good that we got it done."
Glenbard South coach Eric Daca said tough defense was the key element in the win.
"East Aurora is a fantastic team," Daca said. "We've been trying not to overlook any opponent, but we had this one circled. We knew we had to contain the inside because of Moore and Bellamy. Brooklynn did a great job on Bellamy, and Sofia did a great job of helping out and jumping passing lanes. She took a couple of charges today.
"All of our girls played hard and made East Aurora fight for every single shot."
The Tomcats endured long spurts without points to fall short of winning their 20th game of the season. East Aurora failed to score a point until the 4:12 mark of the first quarter, then tallied just four points in the second quarter. The Tomcats' up-and-down ways extended to the crucial fourth quarter, when they failed to register a field goal in their first nine possessions to score only five points in the final eight minutes.
East Aurora coach Lee Clayborn said he saw some positives in the defeat. The Tomcats, Clayborn said, are having the best season in program history since 1988-89 (26-3). East Aurora allowed just 39 points, holding the Raiders to under double digits in the second and fourth quarters, but fell victim to a tough night shooting the ball.
"Our shots were off," Clayborn said. "We're a young team, and they exposed that. We missed some easy shots.
"Hats off to Glenbard South. They played a tough game. We're both tied in conference with four games each to play. We fought hard. Give Glenbard South credit, they held us to 29 points. We also played good defense. The ball didn't bounce our way tonight."