LA GRANGE PARK – Nazareth's Olivia Austin played the game of her life Jan. 23.
Fellow junior forward Danielle Scully wasn't surprised, and she thinks she knows why.
"Yeah, I did see it coming," Scully said. "Before the game, I saw it in her eyes.
"It was that Chick-fil-A. That's going to be a pregame meal."
Fried chicken sandwiches probably aren't the healthiest thing to eat, at least for someone as physically fit as Austin, but she came out with plenty of energy and it was Deerfield that ended up with heartburn.
Austin led all players with 17 points and 18 rebounds, setting career highs in both categories, to lead the host Roadrunners to a 65-53 victory in a battle of Class 3A state championship contenders.
Austin was so dominant on the boards that she outrebounded Deerfield's entire team. The Warriors (19-5), who are ranked 10th in The Associated Press Class 3A poll, had 11 rebounds.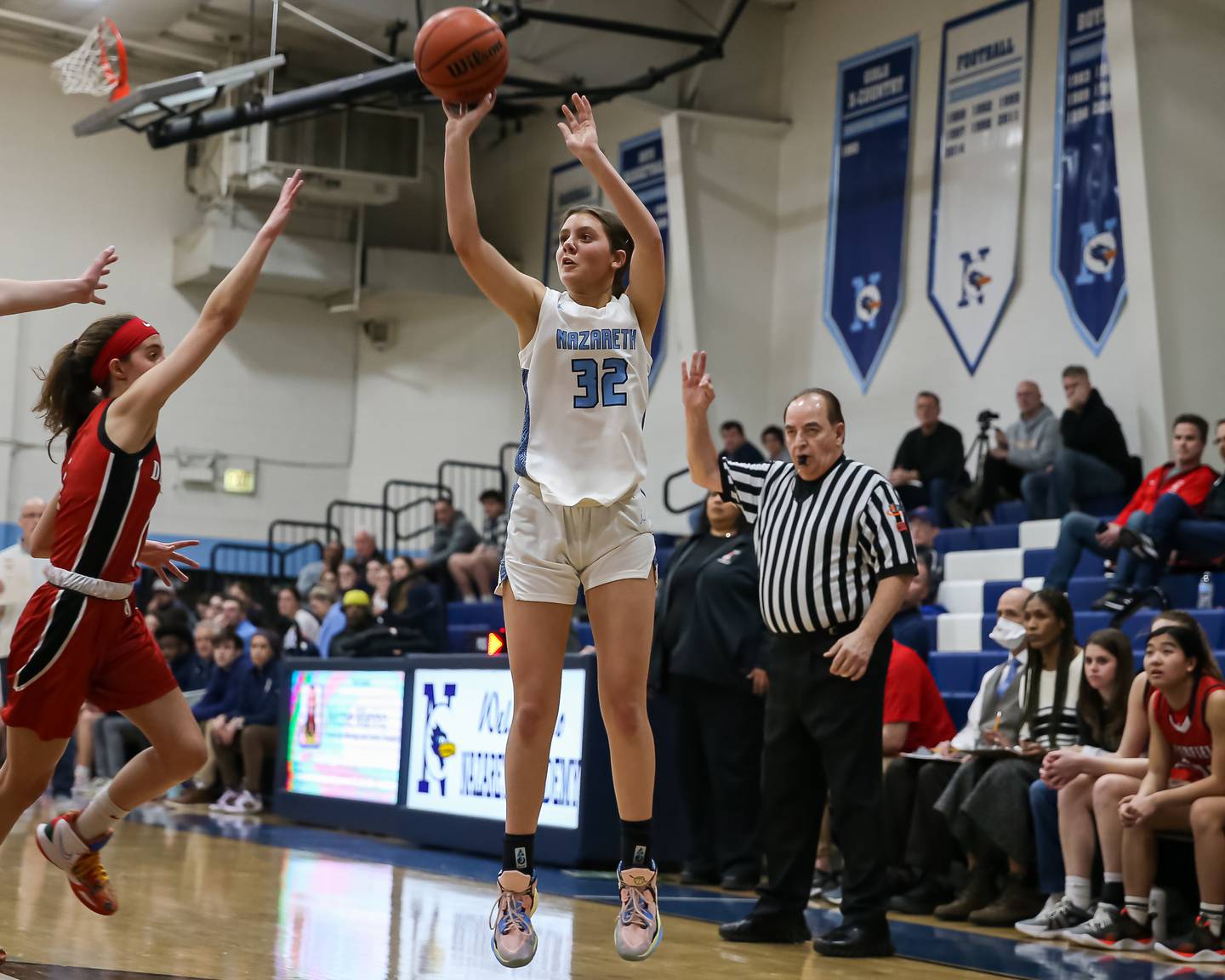 "We asked her and Dani to both get double-doubles today," Nazareth coach Eddie Stritzel said. "Dani didn't get there, but Olivia more than made up for it. We knew we had a size advantage and we really wanted her to win that matchup."
Scully's performance wasn't too shabby, either. She contributed seven points, five rebounds, five assists and a blocked shot.
But it was Austin who ruled the paint from start to finish. She grabbed eight rebounds in the seesaw first quarter, which ended with Deerfield up 22-21 after both teams played at a breakneck pace with accurate shooting.
"He always wants both Dani and I to crash the boards, but especially tonight," Austin said. "Deerfield is a really quick team. They were doing a great job scoring off transition."
Indeed, the Warriors boast an impressive backcourt of Vermont-bound senior Lexi Kerstein, her sophomore sister Nikki Kerstein and sophomore Aubrey Galvan, who already has several Power 5 offers.
That trio combined to score 39 points, but 18 of them came in the opening quarter after which top-ranked Nazareth (21-1) changed tactics, keeping an extra defender back.
"We knew they were going to run and we tried sending two back, but two wasn't enough, so we made an adjustment," Stritzel said. "They made some 3s late in the game, but I thought our zone defense stabilized things in the second and third quarter when we took control of the game."
Senior guard Gracie Carstensen, who was honored before the game for reaching 1,000 career points, got back in transition to help Austin and Scully. Carstensen finished with seven points, three boards, three steals and two blocks.
"We went through two defenses," Scully said. "I feel we blew a lot of coverages and then we fixed our mistakes and we knew where we had to go."
Austin went to the glass at both ends. She corralled eight offensive rebounds, three of which she converted into putbacks and another that led to a free throw.
Meanwhile, the Warriors, despite shooting 50% for the game, mustered only five points in the third quarter as the Roadrunners raced out to a 53-38 lead. Deerfield got no closer than nine points in the fourth quarter.
Junior Amalia Dray added 16 points, freshman Stella Sakalas had 10 points and junior point guard Mary Bridget Wilson chipped in four points, five assists and four steals for Nazareth, which has won 16 straight and remains undefeated against Illinois opponents.
"We were just trying to play hard," Austin said. "We knew Deerfield was going to be really good and it was going to be a tough game.
"One of our main goals this season was to stay undefeated at home and I think we worked really hard to do that. Win or lose, we knew this game would be awesome prep for March."