LISLE – Brady Kunka and his Benet teammates bounded out of the postgame locker room. They could not wait to return to a mob of fans waiting on the court.
They probably never wanted to leave.
Fans jammed into Benet's gym hours before the Redwings tipped off, the nightcap of the four-game When Sides Collide Shootout on Jan. 21. Not a seat was to be had. Fans, standing, ringed both baselines. The main event was Benet, ranked No. 3 in Class 4A, welcoming No. 1-ranked Kenwood. Benet has played Chicago Public League powers, but never in its home gym.
The Redwings put on quite a show.
When Niko Abusara soared in for a dunk less than a minute into the game, it was the start of things to come. Kunka played the game of his life, scoring 26 points. Abusara contributed a near double-double while containing Kansas State recruit Dai Dai Ames defensively. And Brayden Fagbemi was the maestro of it all at point guard as Benet led from start to finish in knocking off Kenwood 67-53.
"We knew this event would be packed all day, four great games. We had great support from the students, a packed house – not much more you can ask for," Kunka said. "I've never seen this gym like this. It was a once-in-a-lifetime opportunity for us."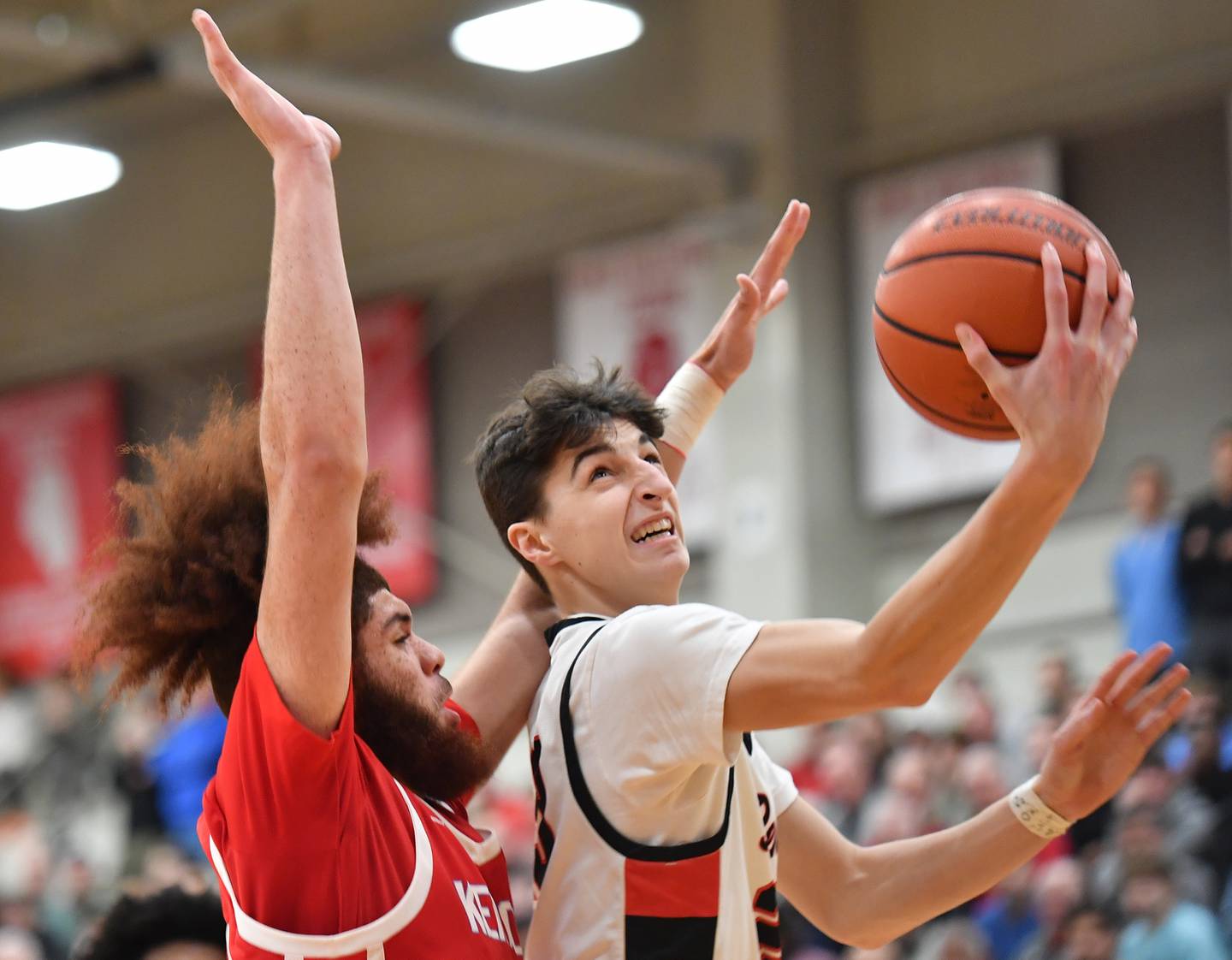 A Kunka 3-pointer, the first of his five and first of Benet's 10 3-pointers, electrified the home student section just waiting to be set off. It was part of a 7-0 start.
Benet's student section booed Ames every time he touched the ball. It razzed Kenwood coach Mike Irvin with chants of "coach is rattled" and "who's the sheriff" in the second half.
"For sure, I feel like playing at home definitely gives us a big advantage," Kunka said. "We come in here, we practice every day. It feels good to get out here in front of a big crowd, a lot of students, the Benet community. Once we got the momentum, there was no looking back."
Kenwood (16-5), despite its No. 1 ranking, had come in off back-to-back losses on consecutive nights to neighborhood rival Hyde Park on Jan. 19 and Camden (New Jersey) and DJ Wagner – the No. 1-ranked player in the country – at DePaul on Jan. 20.
After that second loss, Irvin guaranteed a win Jan. 21. Kunka said Benet heard about it and addressed it as a team, but Benet coach Gene Heidkamp didn't pay it much mind.
"I worry about Benet," Heidkamp said. "Our kids were aware of it. At the end of the day, we had to take care of our own business. The experience of playing the No. 1 team in the home gym is something they'll never forget. To play so well in that environment is a great night for our guys."
Fagbemi, a Johns Hopkins recruit who had 15 points and eight assists, directed a Benet offense that was as efficient as could be in the first half. The Redwings (22-1) shot 61% (14-for-23) from the floor and turned the ball over just once in leading 36-31 at halftime.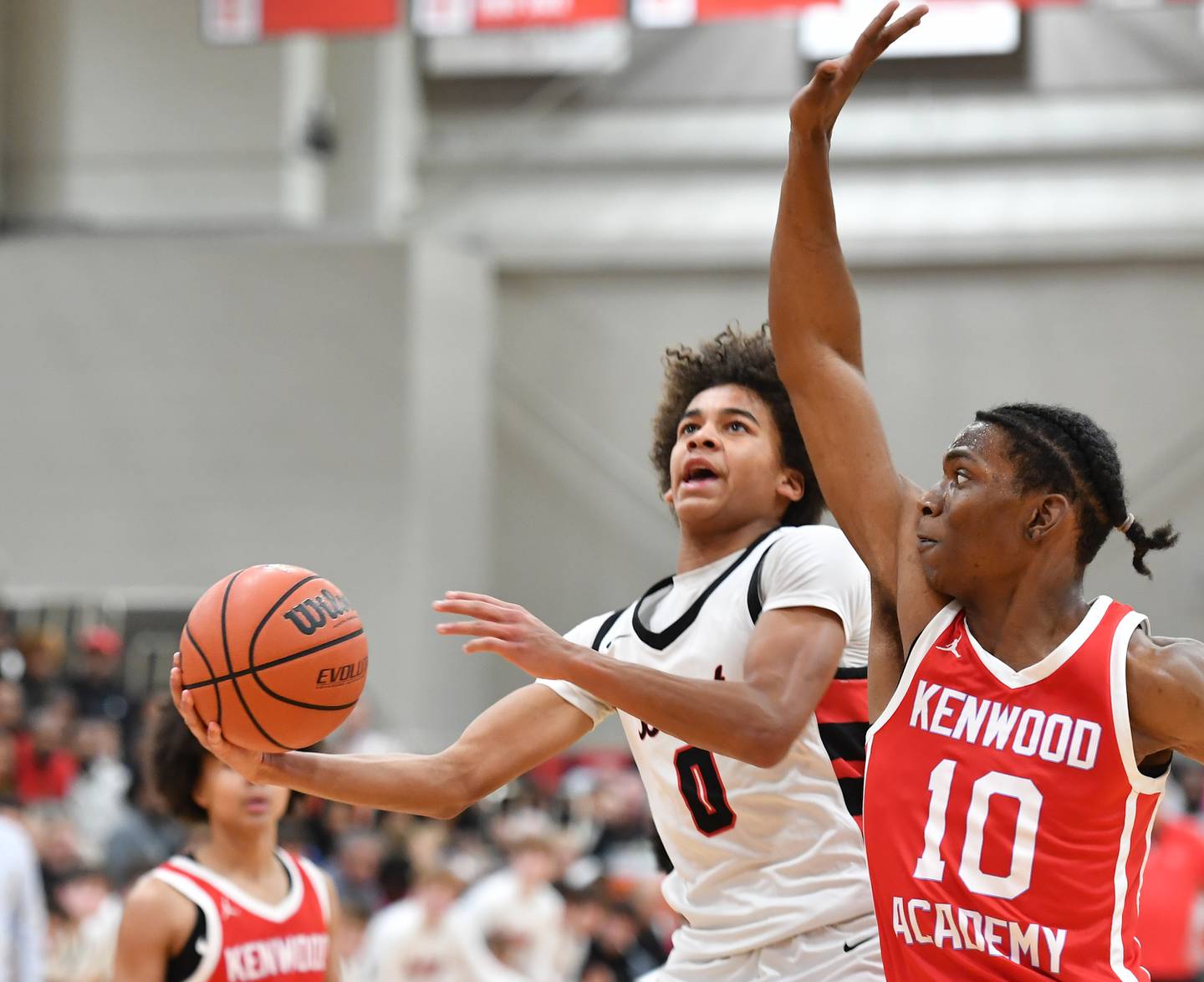 Fagbemi scored 10 of his 15 points in the second quarter, his runner sending Benet into the half with the five-point lead.
"I just think that we play well with each other, developing that chemistry. We love these games," Fagbemi said. "Being the underdogs, we feel like we have nothing to lose. We shared the ball and moved it around."
Abusara, a Dartmouth recruit, had 12 points and seven rebounds. His steal and soaring dunk seconds into the fourth quarter set the crowd off again and got the lead to 49-39. Benet's advantage never dipped below eight points again.
Just as key was Abusara's defense on Ames. The high-scoring guard and No. 2-ranked senior in Illinois was held to eight points on 2-for-9 shooting and just two free throws in the second half. Calvin Robins led Kenwood with 15 points.
"We had a really good player to guard him. Niko's length and athleticism was a good matchup," Heidkamp said.
Benet owns marquee wins over Joliet West and Kenwood. Benet's only loss was by three points to Class 3A No. 1-ranked Simeon.
Are the Redwings really underdogs anymore?
"Not anymore," Fagbemi said with a smile. "We proved ourselves. Nobody gave us a chance in this game. Nobody gave us a chance in other games. It's awesome to do this."
His sage coach, though, was quick to put things in perspective.
"It's a nonconference game in January," Heidkamp said. "I'll give you a history lesson. We beat Simeon at the UIC Pavilion in front of 8,000 fans in February of 2011 and we didn't get out of sectionals. The reality is we'll enjoy tonight and get back to work on Monday."