Lemont girls soccer coach Rick Prangen is back to his old tricks.
Prangen, in his 27th season, has won 17 regional championships and eight sectional titles and advanced to state six times. He won his 400th career game as the girls coach at Lemont earlier this season in a 5-0 win over Reavis on April 5.
This spring, Lemont positioned itself to be a team to watch in the Class 2A playoffs.
Lemont, which returned five starters from last season, enters the final week of the regular season with momentum. Lemont (16-4) has won all 11 of its South Suburban Blue Conference games.
Still, Prangen said it's been a difficult season in some regards for his players.
"It's really been hard to have expectations because I think many programs are still feeling the effects of the last two years of dealing with COVID," Prangen said. "The pandemic has affected each program differently so you really can't have expectations. We're just trying to get back to where we were as a program before the pandemic. But I'm pleased that we have been able to maintain our competitiveness in conference play. I would like to have seen better results outside of conference play."
Relying on a diverse attack filled with talented players is one of the strong suits for Lemont. Suzie Knutte is scoring goals in bunches with a team-high 21 goals and 11 assists. Ella Simpson is right on her heels with 16 goals and nine assists. Paige Bingen has five goals and four assists.
"Offensively, junior forward Suzie Knutte and freshman midfielder Ella Simpson have led the way," Prangen said. "Junior midfielder Paige Bingen has been the heart of the midfield and really has been important to the team because of her technical ability to keep the ball, her passing ability and her overall work rate in the midfield. Defensively, sophomore defender Casey Kittridge and senior defender Lenna Nabulsi have been our most consistent defenders and are one of the main reasons why we have not conceded a goal in conference play so far this season."
Prangen said his team is motivated to make a long playoff run. As the No. 2 seed in the Class 3A Wheaton Academy Sectional, Lemont's run to state starts with a Hancock Regional semifinal game against No. 15 Chicago Kennedy on May 17. Prangen, who was named the Illinois Girls Soccer Coach of the Year in 2011 by the National Soccer Coaches Association of America after leading Lemont to the state semifinals, said the goal for state starts with honoring the tradition of the program.
"We have reestablished the things that have allowed us to be successful in the past, and there needs to be a certain mentality that embraces commitment, hard work and coachability," he said. "We want our players to embrace the fact that they are part of a long tradition and that they need to respect and uphold that tradition. Also, we want to maintain our success in conference play and make sure that when we enter the state playoffs that we're playing at a high level. When it comes to playoffs, our goal is to make sure that our last game is our best game and that we have no regrets with how we play our last game of the year.
"I think the work rate by our midfielders and the consistency of our defenders have enabled us to take control of games. limit our opponents' scoring opportunities and enabled our team to create quality scoring chances.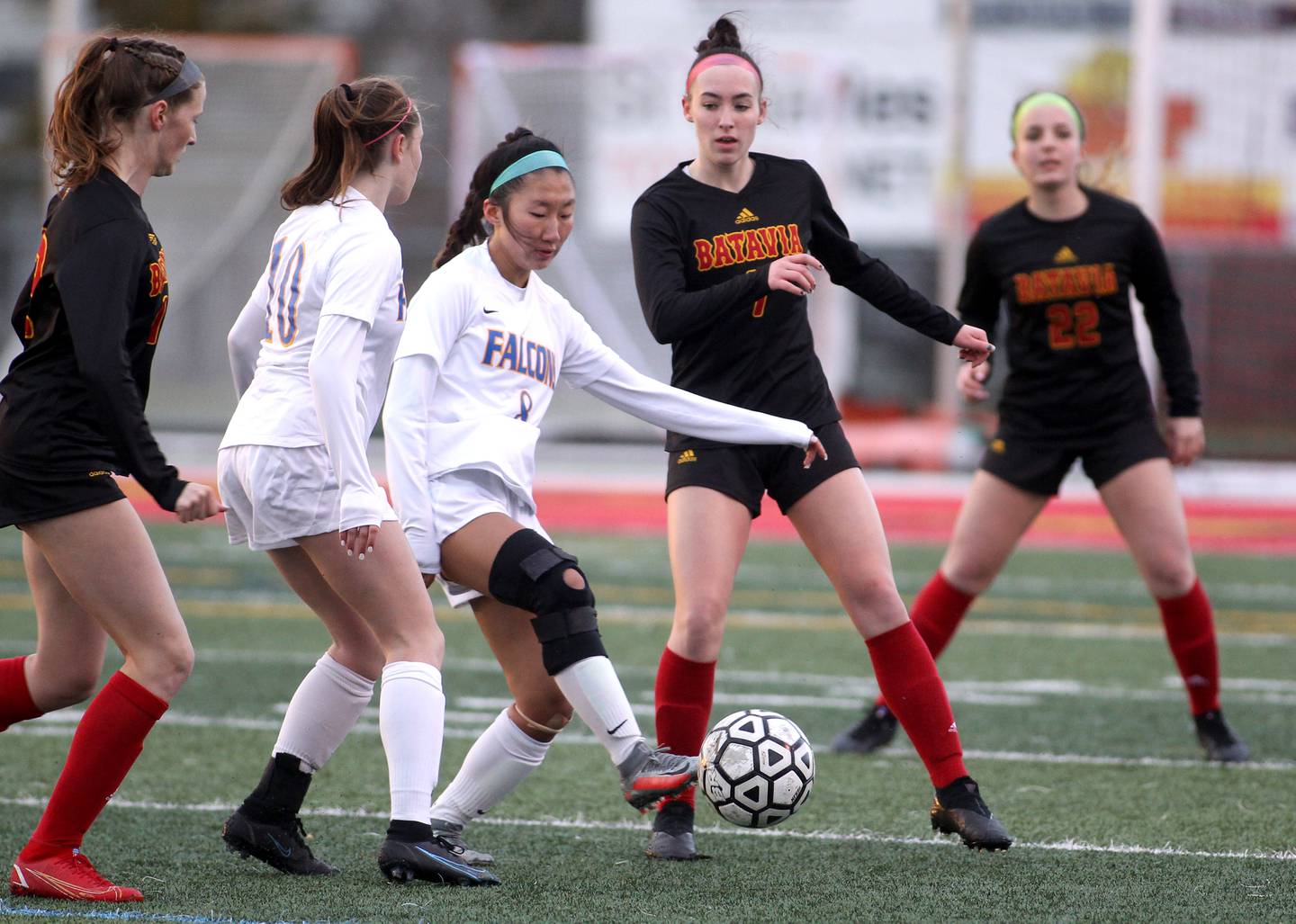 Wheaton North a team to watch?
Wheaton North could be a sleeper team to watch in the Class 3A playoffs. The Falcons (8-7, 2-3 DuKane Conference) have played a competitive schedule and currently sit in fifth place in the conference. The Falcons suffered tough 1-0 losses to Wheaton Warrenville South and Geneva in recent games.
The Falcons open the playoffs as the No. 7 seed against No. 10 seed South Elgin in a Wheaton North Regional semifinal May 18. The winner will play No. 2 seed St. Charles East or No. 16 seeded West Chicago on May 20.
"We had a great run winning the Lockport Tournament and a number of games in a row that provided proof to our kids that they can go on a roll and compete with anybody," Wheaton North coach Tim McEvilly said. "I believe that confidence will be evident as we enter the IHSA series. We are excited about hosting a regional this year and believe our combination of senior leadership with the talent and speed of our younger players will give us a chance to challenge for the title."
McEvilly said the tough conference race should help his team be ready for the playoffs. The Falcons fell 2-1 to St. Charles North (15-2, 6-0) on Tuesday and played at St. Charles East (15-4-2, 4-1-1) on Thursday.
"St. Charles North, Batavia and St. Charles East appear to be the top teams in the conference," McEvilly said. "I've been very impressed with Batavia. Their players are technical, fast and disciplined within their system of play. They also have a tremendous goalkeeper. This week will be my first opportunity to watch both the teams from St. Charles play. St. Charles North has had a fantastic year and will be a challenge. St. Charles East lost some key players from last year, but they still can compete with some of the best teams in the state.
"Geneva and Wheaton Warrenville South are teams that can beat anybody on a given day, and I think we are neck and neck with these teams this year. As always the top six teams in the DuKane can stand up with the top six teams in any conference in Illinois."
McEvilly praised the consistent play of midfielder Claudia Kim to go with four-year starter Olivia Moreno and his backline.
"Claudia Kim is the engine to our team," he said. "Her decision-making and vision is on par with the top players in the state. She plays with intelligence and defensive intensity. If we can keep her healthy, she helps us have a chance in any game.
"Olivia Moreno is coming back from injury and looks to be getting back to full speed. We are hopeful she can lead our offense to get back on track for playoffs. Rowan Smith and Anna Roe are two senior center backs that have brought a great degree of organization to our backline over the past six weeks. In combination with Zoey Bohmer our sophomore goalkeeper, they've created a defense that has the potential to stymie the opposition."
Extras
The three-class playoffs are set to start next week with several area teams earning top three seeds. Timothy Christian and Montini are the top two seeds, respectively, in the Class 1A Lisle Supersectional. IC Catholic Prep was awarded the No. 1 seed in the IC Catholic Sectional. Benet, Lemont and Nazareth are the top three seeds in order in the Class 2A West Chicago Sectional.
In Class 3A, Lyons, Glenbard West and Downers Grove are the top three seeds in the Glenbard West Sectional. St. Charles North, St. Charles East and Batavia are the top three seeds in the St. Charles East Sectional.