LISLE – Jake Perrino took the hill Thursday for just the third time this season for the Benet baseball team.
Expect to see more of the junior going forward.
Perrino was dealing Thursday. He came on in relief in the second inning for senior starter Matthew Zitlow, and gave up just three hits and two runs (one earned) in 4 2/3 innings pitched in an 11-2 win over visiting Montini.
He also struck out three before giving way to senior K.J. Powers in the top of the sixth inning.
So what's it like catching a guy who's so dialed in?
"Man … it's fun," Benet senior catcher Tyler Dean said. "He makes the job easy. He's got three great pitches he can get for strikes and throws them wherever he wants to."
The key to Perrino's success Thursday was his slider.
"I wasn't feeling like I was throwing that hard, but the slider felt really good today," he said. "Got some nice outs on that."
And how. Consider the top of the fifth, when he gave up a leadoff double to Montini junior Vince McDowell. Even though the Redwings were up 10-1 at the time, it was indeed an opportunity for the Broncos to chip away at the lead.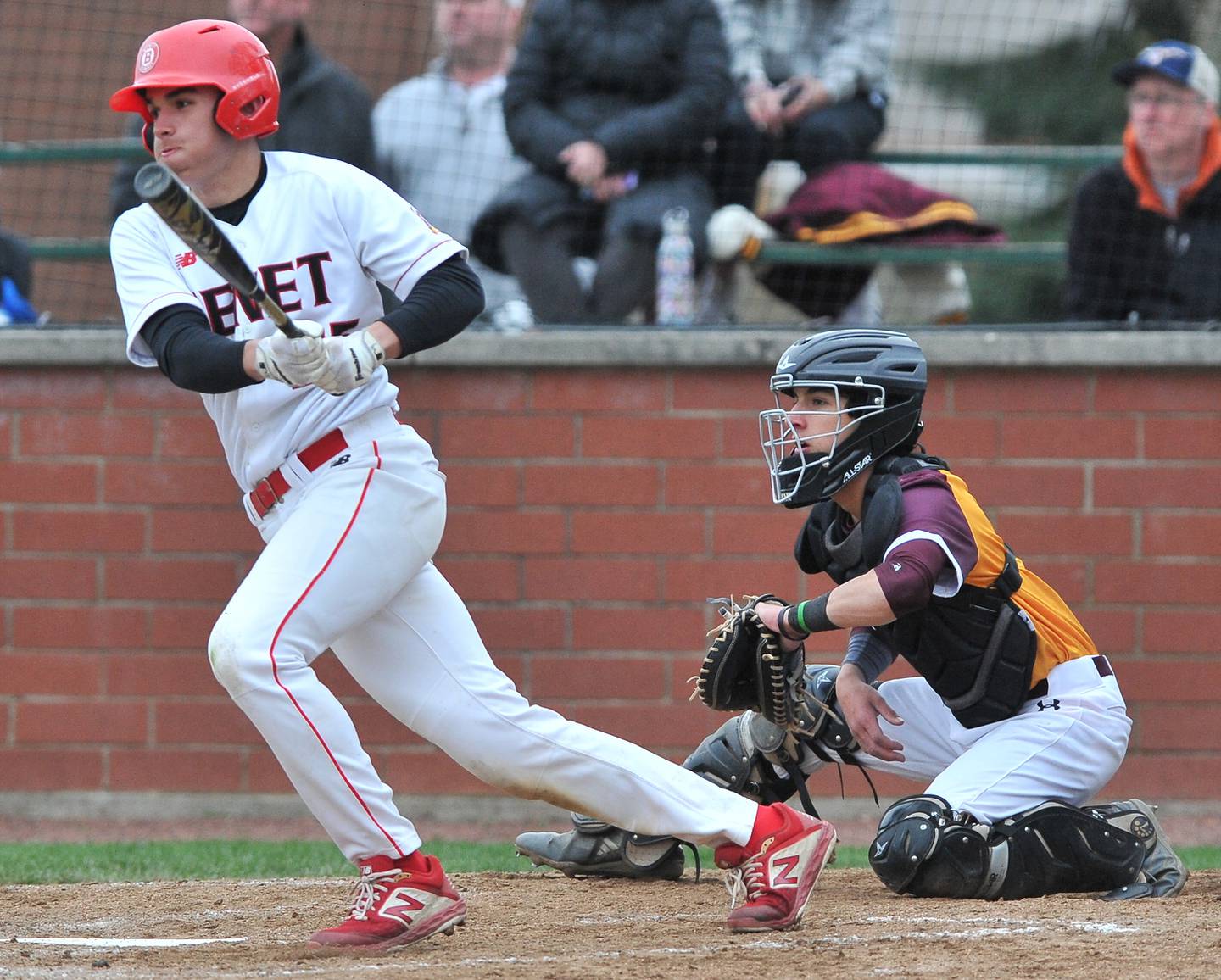 But Perrino stranded McDowell by striking out the next two hitters and inducing Christian Clarke to fly out to left.
"It was kind of a coming out party for him," Benet coach Scott Lawler said of Perrino. "He did an outstanding job for us."
There's the flip side of the coin, of course. What's it like to have Dean run the show behind the plate?
"Whenever I fit the slightest bit rattled, he can calm me down immediately," Perrino said. "He'll just go out there and talk to me and settle me down."
Of course, Perrino's job was made easier by the fact that Benet (10-9) scored a boatload of runs early – four in the second inning and five in the third – to stake him to a 9-1 lead.
Dean did the majority of the damage offensively for the Redwings in those frames, driving in a run with a sacrifice fly in the second and doubling to plate a pair in the third. In all, Dean went 3-for-4 with four runs batted in, the double and a pair of singles.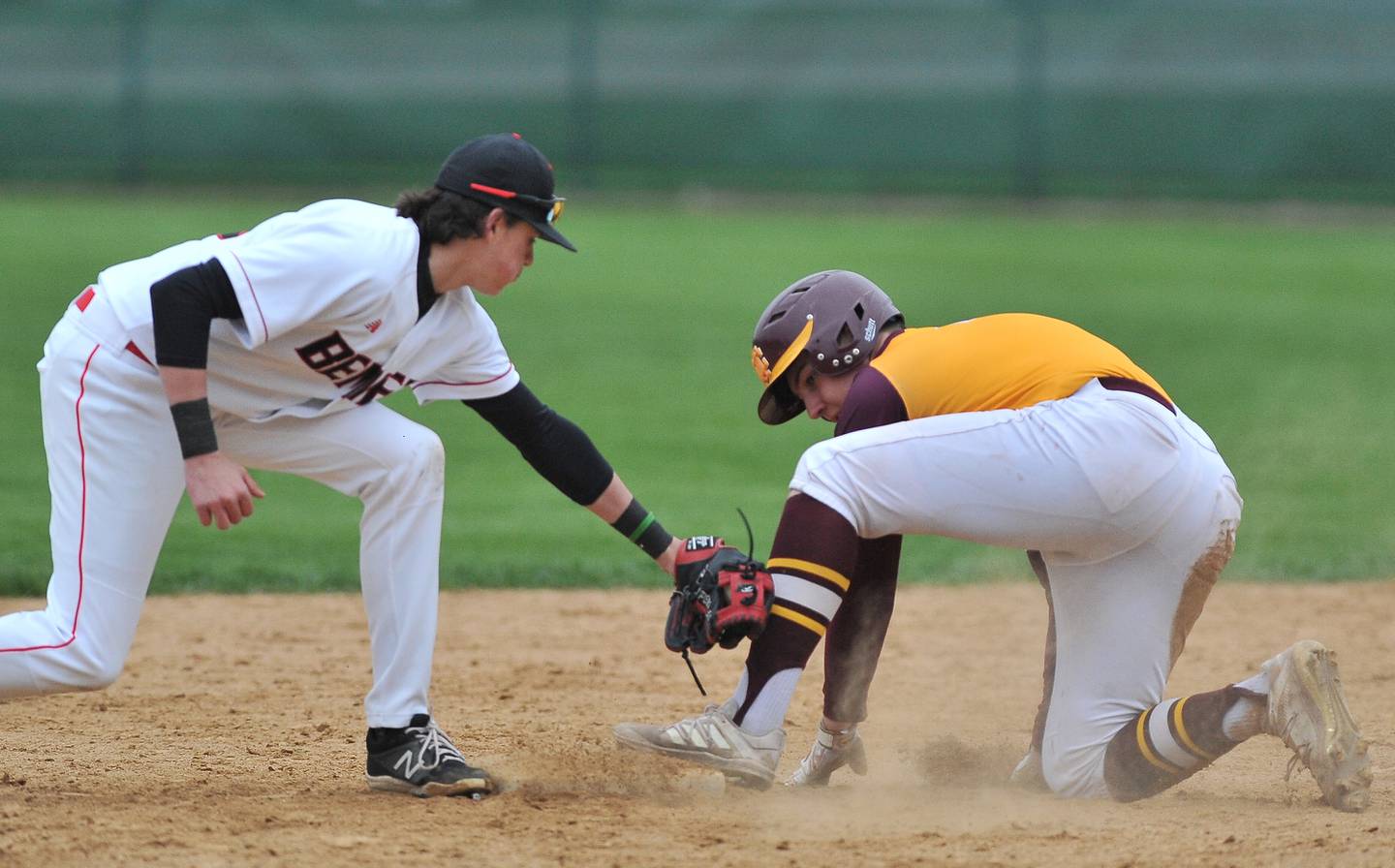 It was a rough afternoon for Montini (13-9), who got past Zitlow but then flailed against Perrino. Down 4-0 in the top of the third, sophomore Matt Zeman singled and then came home later on a groundout by another sophomore, Dominic Catalano. At that point, it looked like Montini might climb back into the game.
No such luck.
"I thought they swung the bat really well today, barreled us up a number of times and we made a couple of small mistakes and they took advantage of that," Montini coach Rich Janor said. "We're still learning."
A bright spot for the Broncos was senior shortstop Estevan Moreno, who doubled in the sixth down the left field line, then came home on an error two batters later.
"He's been a key guy for us all year long and as our leader, he's a fierce competitor," Janor said of Moreno, a Notre Dame recruit.