LISLE – Kathleen Jensen is a Benet Academy alum, mom of a current student and lacrosse player and a self-described suburban housewife who never before participated in a protest.
On Monday morning, she stood in support of Amanda Kammes.
Kammes, a Benet alum, had her employment offer as the school's new girls lacrosse coach rescinded, allegedly after the administration learned that she was gay.
Prior to accepting the position at Benet, Kammes served as head coach at Montini Catholic High School in Lombard.
"Why is Benet being discriminatory? In 2021, it is shocking to me," Jensen said. "The fact that other Catholic schools are willing to have Amanda on their staff, it has really shined a light on it being a Benet problem, not a Catholic school problem."
Jensen was one of approximately 50 alums, parents and colleagues who gathered outside the school on Monday morning to protest Benet's decision to pull Kammes' employment offer. Benet's decision apparently came after Kammes' paperwork included her wife's name as her emergency contact.
Signs of "We support Amanda" and "Hate, not educate" were held high, and rainbow flags – the symbol of LGBTQ pride – waved as cars honked their support passing by on Maple Avenue and entering and exiting Benet's gates for the start of school.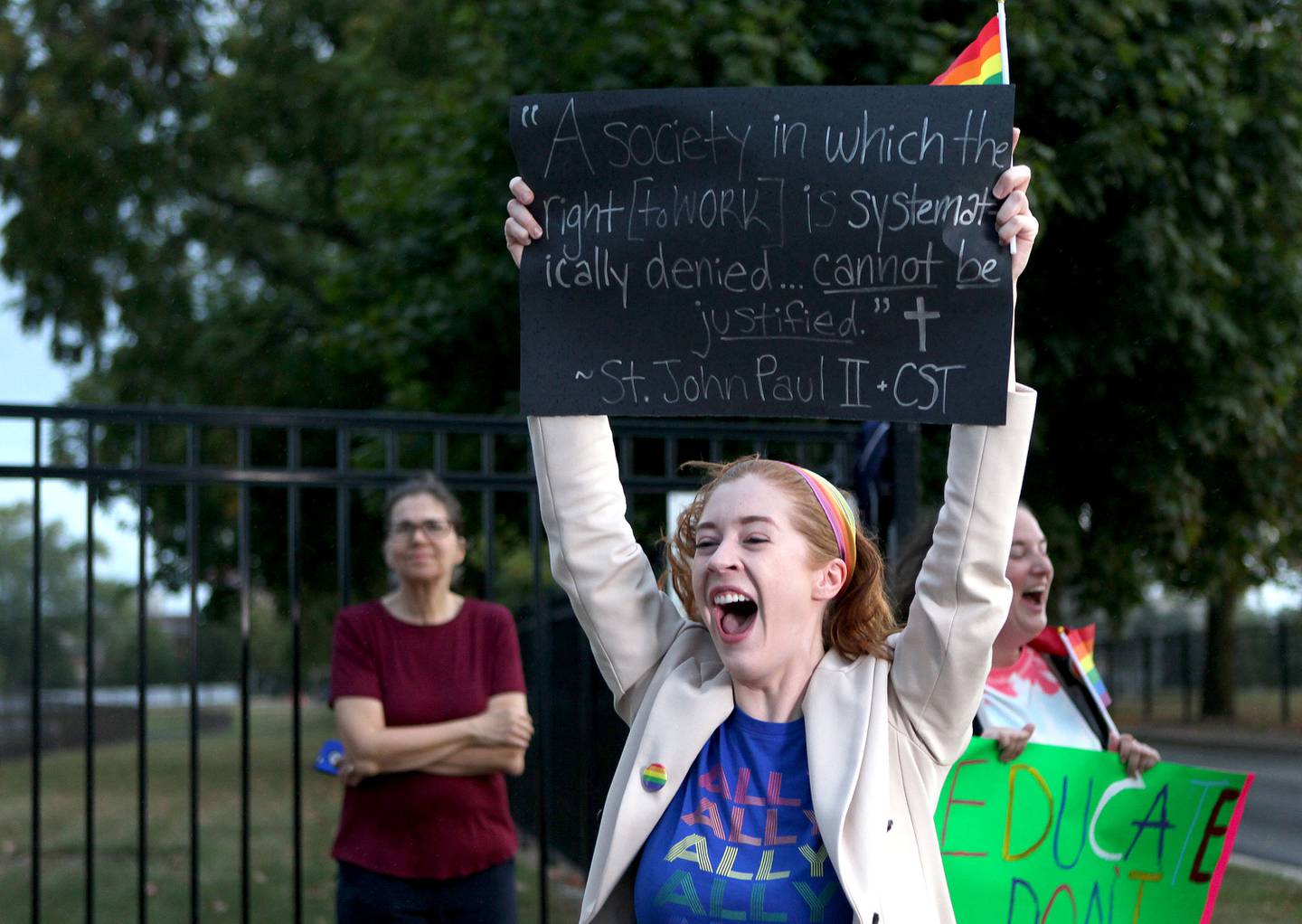 Colleen Savell, an assistant girls lacrosse coach at Benet for six years, was there to "support Amanda, what is right for the girls and what is right for humanity."
She said Kammes went through the whole interview process, was approved by the Benet principal and athletic director and put into the Benet directory as head coach – until the documentation was received listing Kammes' wife as the emergency contact and the offer rescinded.
"They would not give her an answer as to exactly why," Savell said. "I'm here to set an example for the girls on the team for what is right and sticking up for your rights. I absolutely love the girls that I coach. I want them to feel like they can be whoever they are. I don't want them to have any fear to be who they are. It really hurts from a coaching perspective to see the administration do something like that. It's crazy."
Savell said that it is "1000%" a reflection on the school, and is "unfortunately, not a surprise that it happened" – but is hopeful that Kammes is reinstated as head coach.
Benet on Monday released a statement that the "board of directors is meeting today and the school will have a statement Tuesday."
"That is the end goal. We want her as head coach, and the girls want her on the team as head coach," Savell said. "It's really tough for them to see what is happening. She is an absolutely amazing coach and an amazing person."
Carrie Earley, a 1995 Benet graduate and mom of a current Benet player, echoed those thoughts. Her daughter has played for Kammes on the Lakeshore Lacrosse club soccer team, and also was to play for Kammes at Benet.
"Amanda is without a doubt, hands down the best lacrosse coach we've ever had," Earley said. "She is the only female lacrosse coach in the state of Illinois that has D1 coaching experience. She is hands down the best candidate. She was offered the position and then the position was rescinded with no explanation. As an alum and as a parent we are devastated."
Kammes coached lacrosse at University of California, Davis, in addition to stints as the head coach at several high schools in Pennsylvania.
Benet's decision has come under fire and drawn criticism for alums who are not even affiliated with the lacrosse program.
An online letter condemning the decision addressed to members of the school's leadership has been signed by more than 2,100 students, alumni and parents.
On Sunday Kathleen Doyle, who led Benet's girls basketball team to two state championships and went on to an All-American career at the University of Iowa, tweeted a message critical of her alma mater in support of Kammes.
"As an alum of Benet Academy, I am devastated by the actions of the administration. This is just wrong. Benet and the Catholic Church must be better," Doyle tweeted. "God calls us to love our neighbors. He created us all equally and loves us unconditionally for exactly who we are. I pray that Benet and the Church learn to love like that."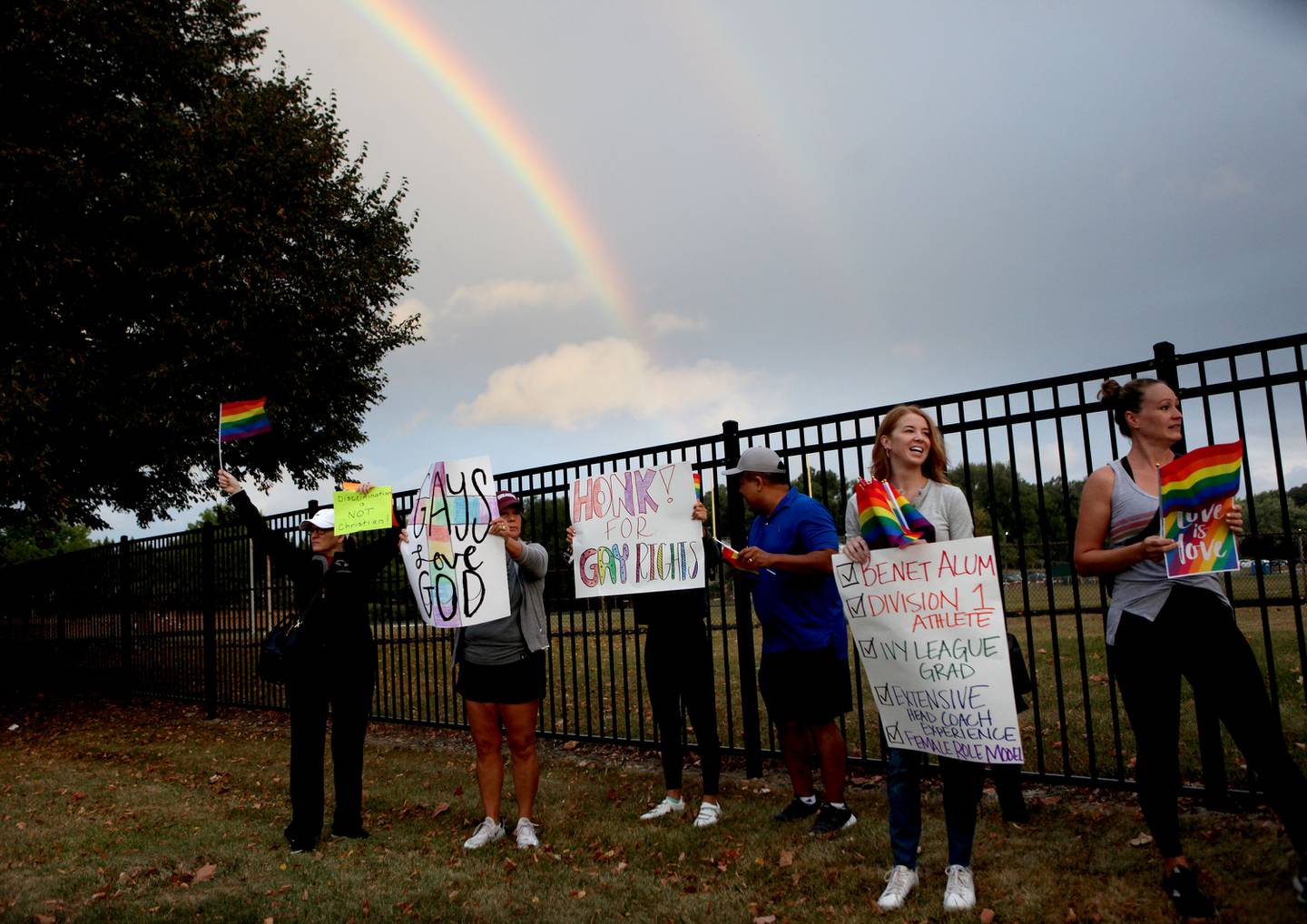 Tim Jacklich, a 2016 Benet graduate and one of eight Benet alums in his family, wrote the letter condemning the administration's decision. His grandmother, Sheila Jacklich, was dean of women at Benet for 31 years. Tim Jacklich on Monday held a large picture of his grandmother with the words "What would Sheila do," which he said that many administration members have on plaques at their desks.
"I'm also a gay alum, and I felt very strongly that this decision did not align with the values that I thought that I had been taught by this school," Jacklich said. "Yesterday the school released a statement saying that they only employ people that practice the teachings of the Catholic church in justifying the decision. It was then that we knew that we had to stand up."
Jacklich said he was standing up not only for Kammes, but for current LGBTQ students affected by the message that he said the administration's decision sends.
"I was heartbroken," he said. "Not only is this denying employment to a wonderfully qualified individual who could benefit Benet students, but I'm also saddened by the message that they are less valuable or less important in some way, or less deserving of celebration by the Benet community. We are here to show them that that is not the case."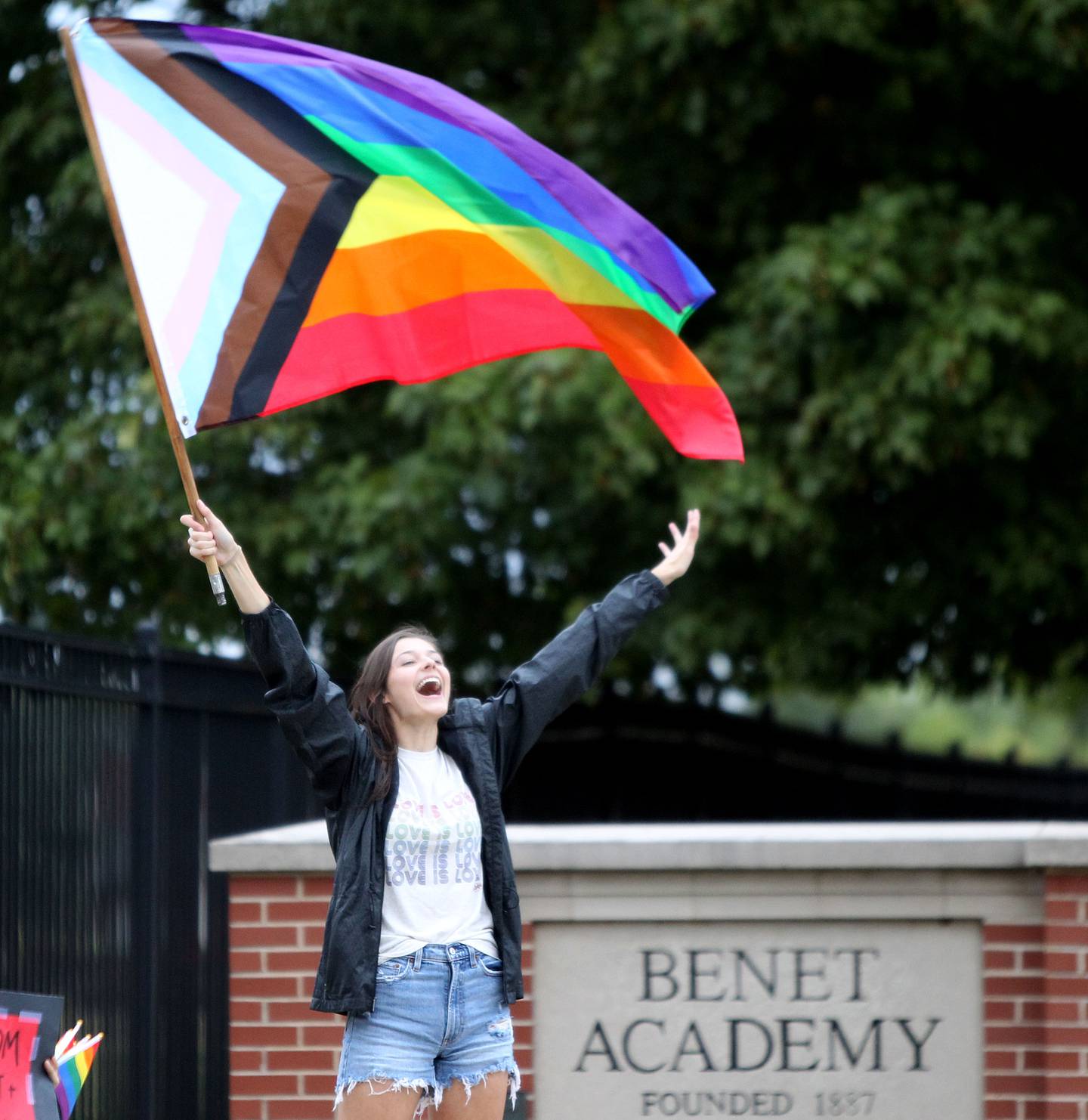 Meghan Musbach, a 2001 Benet graduate and classmate of Kammes, came out to support her and other students who may identify as LGBTQ. Musbach said that when she attended Benet she had a coach who was openly gay, was one of her best coaches and had a huge impact on her life.
"It is sad that the students now are not going to have that opportunity. The decision is discriminatory," Musbach said. "I hope that they will reconsider the decision."