So much has happened since, but Kitty Sandt still holds vivid recollections of her first state tournament experience.
A freshman in 2019, Sandt was part of Nazareth's first volleyball team to reach Redbird Arena, alongside her older sister Ella.
"That was the coolest part of it for me, was playing with her," Sandt said. "It was something we had never experienced before and I think we were a little on edge. It's a big stadium, with a lot of lights. It almost feels empty how big it is. This year we know what it is like."
Two years later, what must feel like much longer given the circumstances, Nazareth is back at state. No longer content to be there, the Roadrunners are determined to exceed their third-place finish from 2019 and take home the program's first state title.
Nazareth (28-7) plays East Suburban Catholic rival Joliet Catholic (27-13) in a Class 3A state semifinal at 4 p.m. Friday. It's a rematch of a regular-season match won by Nazareth 25-11, 25-15 on Oct. 12.
Sandt, a Clemson recruit and junior setter/right side hitter, is one of four girls on Nazareth's team back from the 2019 team, along with Indiana-bound senior outside hitter/setter Katie Hurta, Michigan State recruit Gillian Grimes, the team's libero, and Ivy Schoditsch, a senior middle and Ferris State commit.
"I think the main difference is in 2019 we were content on being down there, we made history just qualifying," Sandt said. "This year it's like history will be made if we win state. We are going down with the mindset that we have to win it this year. It's our year."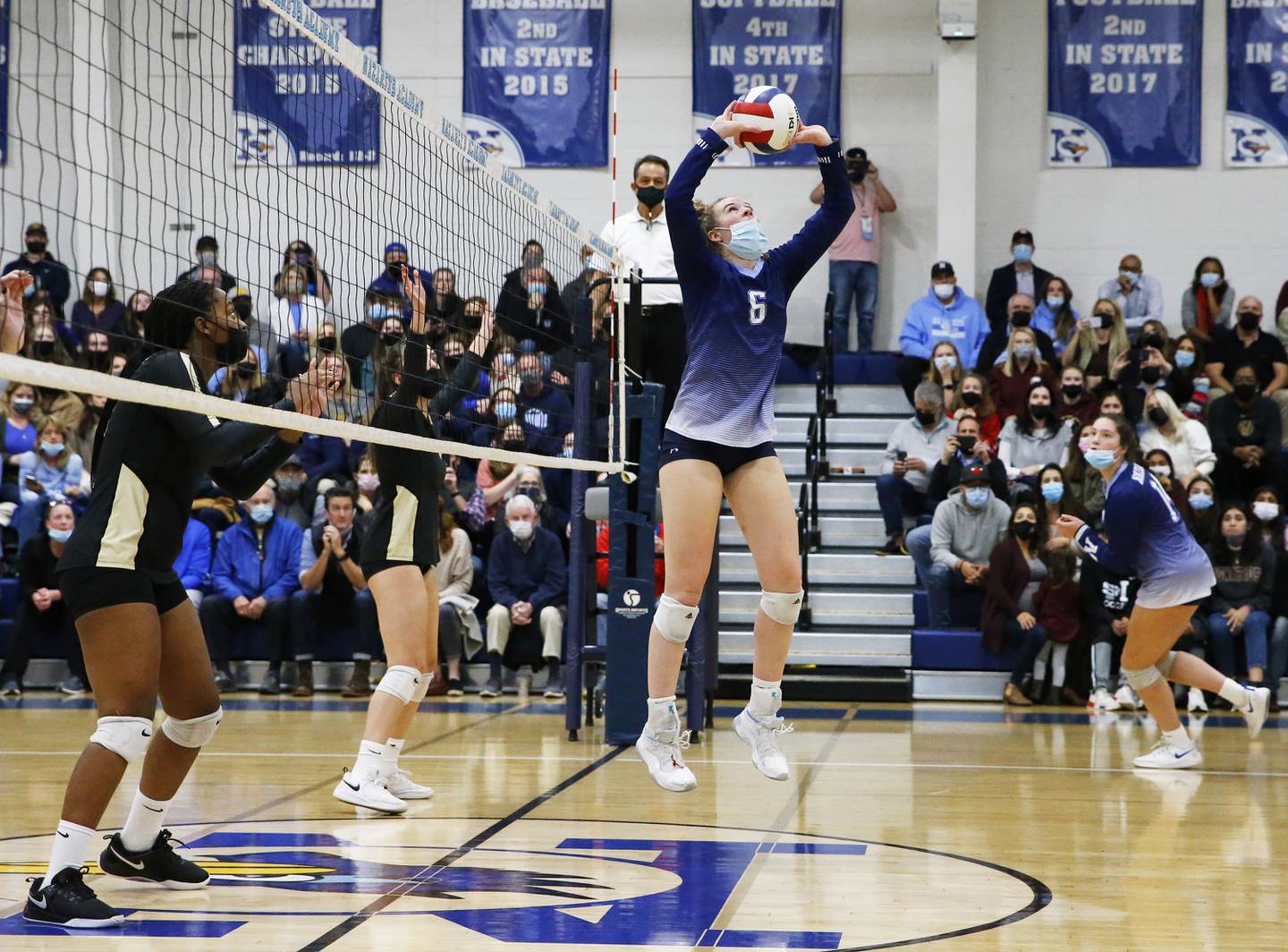 It's been quite a different calendar year for Sandt and Nazareth.
The 2020 volleyball season was moved to spring 2021 in a COVID-adjusted IHSA calendar, which conflicted with club season. Sandt opted to just play club in the spring, and Nazareth went 6-6 in the abbreviated season.
On top of that was all the time away from the court because of COVID restrictions.
"It's hard to put into words. I would say it was hectic," Sandt said. "A bunch of stuff was thrown at us, we had to figure out how to deal with it. I had to choose and I didn't play high school. Having all those months off it was hard to navigate. We did a good job of normalizing the chaos."
Nazareth, with four senior starters and five college-committed players, looks like a team that should be a favorite to win a state title.
But the Roadrunners first had to wade through the grind of the East Suburban Catholic Conference, arguably the state's toughest league. A three-match losing streak in early September included three-setters to Benet and Marist. The Roadrunners, though, haven't lost in almost a month, eight straight wins without dropping a set, wins in 18 of their last 19 matches.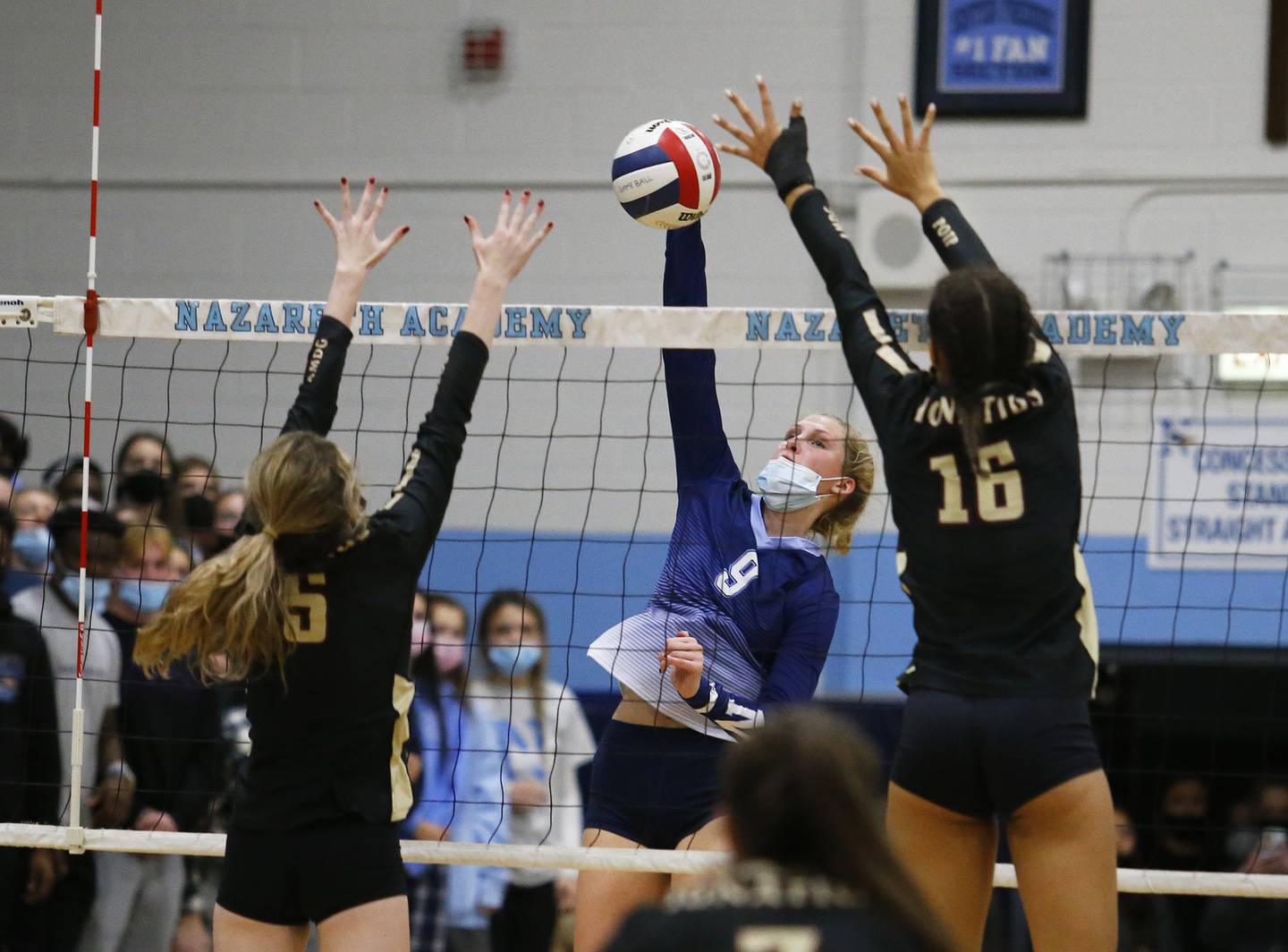 "That's the good thing about the conference that we play in," Nazareth coach Melissa Masterson said. "Us being 3A, we're still competitive. We know we don't have to face teams like that in November. You're not going to get better teams than that to prepare you. The girls have done a really good job responding. They did not let those losses defeat them."
Masterson felt a turning point came in October at the ASICS Challenge, where Nazareth beat Divine Savior Holy Angels of Wisconsin in three sets on a Friday before turning around the next morning and losing a close three-setter to Notre Dame Academy from Kentucky.
"Two of the best matches we've played," Masterson said. "I saw a complete sense of focus and energy."
"It really helped us a lot playing teams like Benet and Marist, and showed us how good we can be and the things we can work on," Hurta said. "We took it back into the gym and now we are in a good position going to the state tournament."
Hurta, a 6-foot-1 senior who hits on three rotations and shares setting duties with Sandt, leads Nazareth in kills (389), is second in assists (341) and is second in digs (182).
As much as any player, she's been a huge part of putting Nazareth volleyball on the map after transferring from Lyons as a sophomore.
"Getting her sophomore year was a huge impact for our program, especially joining the girls we already had," Masterson said. "Watching her grow as a leader, a teammate, the confidence to dominate matches no matter what we ask her to do, Katie does everything with confidence and does it so well. She's not a player you're going to get in your program every year."
Although Nazareth handled Joliet Catholic rather easily in the teams' first meeting, Masterson knows better than to look past the Angels in the rematch.
"We walked away happy we won the first time but we watched them on film prior – they had an off night," Masterson said. "We're taking it as we're playing a brand new team."
After losing seasons Masterson's two years at Nazareth, the Roadrunners have gone 87-19 the last three full seasons in emerging as a state power.
Masterson admitted she got chills when asked what two more wins this weekend would mean for her program.
"I don't even know if I could describe what it would mean," Masterson said. "These kids have worked hard. It's always harder to do something a second time. For us to even go down there again and then if we win state, I think of every kid in this program the last six to 10 years. It would be very meaningful."