HINSDALE – Metea Valley sophomore Anna Murphy just missed qualifying for the Class 3A girls track and field state meet last year.
She tied for third in high jump to miss a top-two automatic berth and her height did not achieve the 5-foot-3 state-qualifying standard.
"I was kind of bummed that I got third because I feel like I could have made it, but it pushed me to jump higher this year because I really wanted to go to state," Murphy said.
At the Class 3A Hinsdale Central Sectional on May 13, Murphy cleared an outdoor school record 5-5 to be among numerous area qualifiers.
West Suburban Silver champion Downers Grove North won the sectional 83-81 over Naperville North behind numerous third-place finishes.
Metea Valley senior Maria Lambert won the 100-meter dash (12.50 seconds) and sophomore Kyla Harris won the 400 (57.49) in which five runners qualified for state. Along with Murphy, they are the first Mustangs state qualifiers since 2017.
"I think it's really cool. [Hopefully] it will inspire other people to want to join track," Murphy said.
Naperville North senior Denise Hernandez not only won long jump, but her 19-2 mark set a school record. Senior Christina Gu was on all three winning relays.
"I'm stoked. I finally hit 19 feet, so hopefully at state, get top 10," Hernandez said. "I think we did really well. A lot of people [got personal bests], which is really great."
Gu won the 4x800 relay with Jackie Lu, Sydney Day and Emma Berres (9:25.7), the 4x200 relay with Ashley Kushner, Lily Logenbaugh and Hernandez (1:42.99) and the 4x400 relay with Kushner, Berres and Megan Schoenjohn (4:01.02).
Senior Madeline Andelbradt (5-3 in high jump), Kushner (10-3 in pole vault) and Berres (800 in 2:21) were second.
Andelbradt, fourth at state in high jump last year, was competing in only her second meet after coming back from a stress fracture.
"It's been wild to be back. I'm so happy to be back, though," Andelbradt said. "I think I have a lot to work on with form. Just having that week of rest is going to help."
Naperville Central sophomore Brooke Sawatzky was second in triple jump (35-1 1/4) and the 100 high hurdles and part of the qualifying 4x400 relay. Junior Kait McHale won pole vault (11-9) and junior Sophie Kusserow qualified with a third-place finish in the 400 (58.42).
Sawatzky tied for third in high jump in 2021 but is not competing in the event this season because of a back injury.
"I'm really excited because last year I came so close. It's really exciting to finally (have it where) everything's playing out to where I want it to," Sawatzky said.
Downers North senior Elle Kowalski was second in long jump (17-9 1/2) after taking fourth last year. Senior Kyla Wilkerson was second in discus (100-8) and the second-place 4x200 relay advanced.
Downers Grove South junior Na'Kiyah Robertson was a second-place advancer in shot put (36-5) on her final throw after finishing third at the sectional in 2021.
Downers South senior Sophia McNerney (10:44.91), second at state in 2021 in the 3,200, beat an incredible field in which seven runners topped the 11:07.39 state-qualifying standard. McNerney also won the 1,600 (5:03.01).
"Three months ago, I didn't even think I was going to be able to run any of the qualifying marks," said McNerney, injured most of the indoor season. "It meant a lot to me. I'm definitely excited to get out there (for state). I'm just excited to have the opportunity."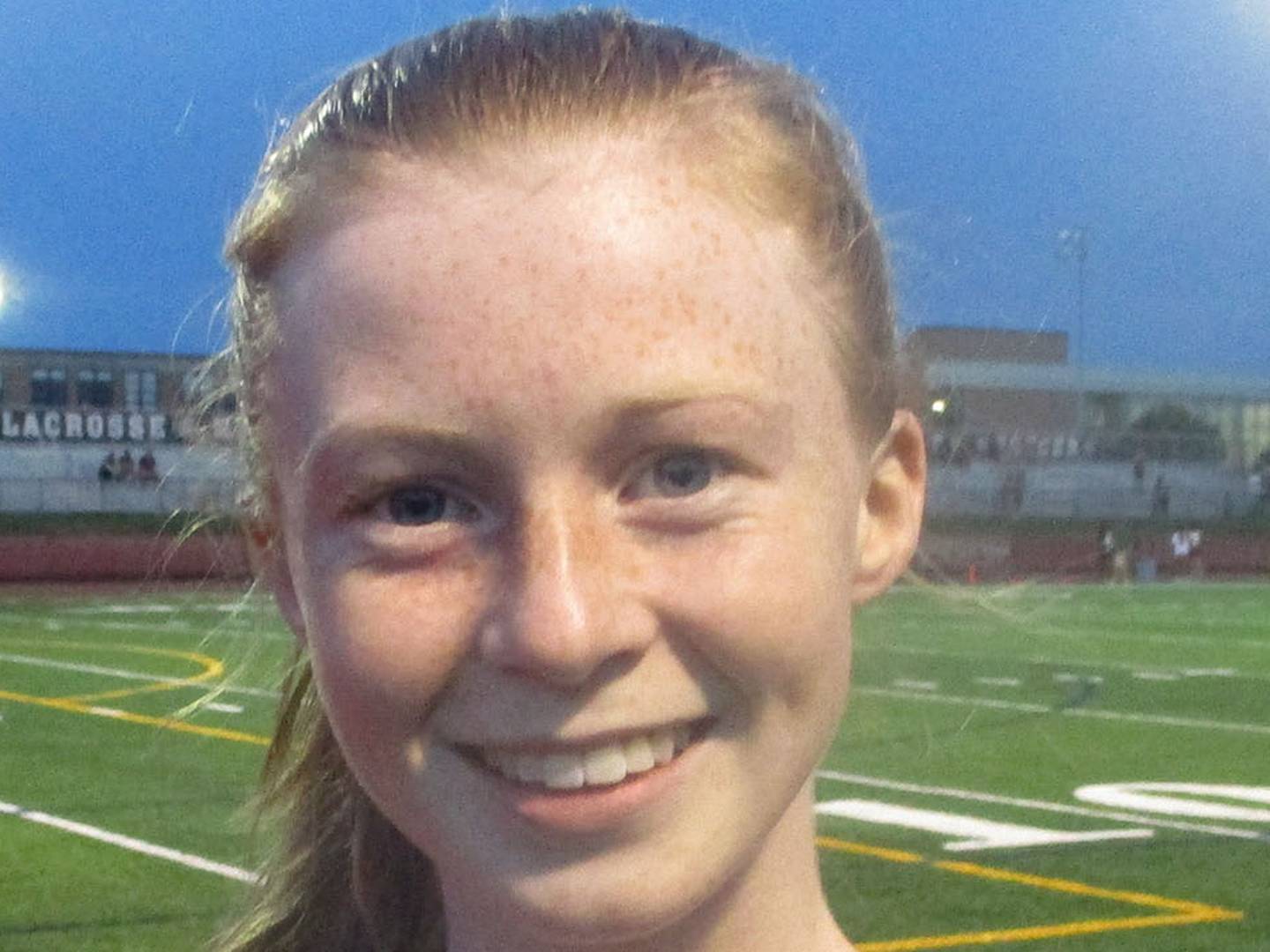 Also advancing in the 3,200 were Lyons Township's Catherine Sommerfeld (10:49.22), Naperville Central's Ava Hendren (10:59.22), Hinsdale Central's Sarah Fischer (11:01.65), Downers North's Claire Pyne (11:05.95), Naperville North's Julie Piot (11:06.48) and Metea Valley's Sarah Maggio (11:06.63).
Pyne made an incredible time drop from her previous best of 11:19.54 at conference.
"I was like OK (I have a chance). The coaches were like if you just stick with the main group instead of try to analyze every split, we think you can make it," Pyne said. "Really just happy and kind of surprised but also kind of like yeah."
Hinsdale Central junior Catie McCabe, fourth in the 1,600 at state last year, scratched from the event but won the 800 (2:16.14). Hinsdale Central also advanced its 4x100 and 4x400 relays.
West Aurora is sending junior Jasmine Angel, who won discus (101-2), and Zoe Littlejohn, who was second in the 100 (12.55) out of Lane 1 and then was the last 400 qualifier (5th, 59.16) by .02.
"I qualified in the 100 last year with my senior friend (Savannah Ming) and she's running at Drake so it's just me alone. I felt like I had to qualify again for her," Littlejohn said.
West Aurora senior Megan Sporny advanced in the Wheelchair 100 (34.70), 800 (4:12.23), 400 (2:03.40) and 200 (59.71).
Sommerfeld also qualified in the 1,600 with a second-place 5:13.24. Without Sommerfeld from their conference lineup, the Lions' 4x800 relay of Scarlett Lestina, Anna Bylsma, Kristina Findley and Shannon Cranny took second (9:27.72). Also advancing were junior Becky Phillips in the 400 (4th, 58.83), the second-place 4x100 relay of Emma Kwak, Ava Kuhlman, Nora Gannon and Phillips (49.11) and the fourth-place 4x400 relay of Phillips, Kristina Findley, Madison Findley and Claire McVady (4:03.98).
"I wasn't feeling the best this week, a little sick. So today I was really focused on time, focused on advancing. Now I'm focused on getting ready for (this) week," Sommerfeld said. "I know (the 3,200 relay was) pretty nervous, but they needed to have confidence in themselves. They did and it really paid off."
Downers North had seven third-place finishes – none of which advanced to state. They were in five of the six field events other than pole vault, including Grace Edwards in shot put and discus, the 3,200 relay and Kathleen Crilly in the 300 low hurdles.
For Hinsdale Central, Elyssa Chandler won the 300 low hurdles (46.37).