When the 2020 girls track and field season was among all high school sports canceled after mid-March by the COVID-19 pandemic, Downers Grove South senior Sophia McNerney used the extra time for more miles and significant improvement.
"As awful as COVID was, the silver lining really was falling in love with running even more," McNerney said. "It was kind of just being able to explore more with running and figuring out that's what I want to do. I even did a marathon. I just went out and ran the distance (26.2 miles). A couple of my teammates were on the course and cheered me on like it was a race."
McNerney's progress culminated with her greatest race so far on June 12, 2021. She finished second in the 3,200-meter run at the Class 3A state meet with a school-record time of 10:44.12.
The memory burns bright for McNerney as she recovers from a right quadricep injury that happened when she slipped on ice during a January run. McNerney hopes to return healthy by Downers South's home invitational April 9.
"Knowing what I did last outdoor season will definitely help just with confidence and knowing that I can run those times, but also just a really big huge motivation to get back to state and do even better this year," McNerney said.
McNerney has signed with Tulane for cross country and track. Adrian Myers recruited her while coaching for Northern Illinois but became Tulane's head coach in July. McNerney's mid-October recruiting visit was her first trip to New Orleans.
"I looked into [Tulane] after [Myers] switched. It wasn't really on my radar [before], but I'm really excited," McNerney said.
In the abbreviated 2021 cross country season, McNerney emerged among the state's elite runners. She earned her first all-state honors by placing 16th at the state meet Nov. 6. At state track last year, McNerney overcame hot temperatures for second in the 3,200 behind Oak Park-River Forest's Josephine Welin (10:36.36), a senior who currently is recovering from a stress fracture.
"Pretty hot. It was really hot," McNerney said. "I just reminded myself everyone's out there running. It's not just me feeling the heat."
"She has always thrived in hotter conditions," Downers South co-head coach Doug Plunkett said. "Sophia did a great job of being patient, laying back and finally pushing forward at the right time."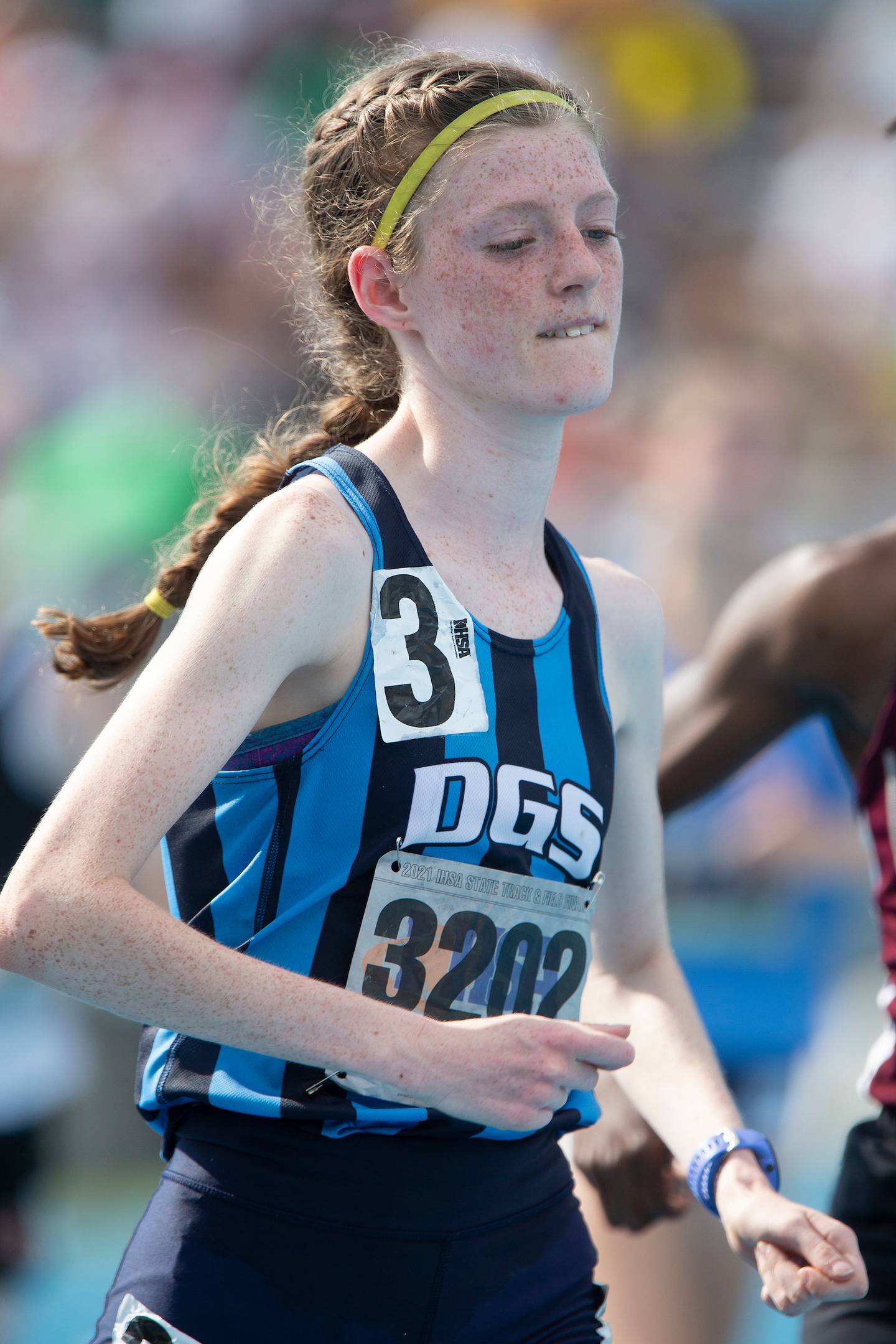 McNerney broke from the pack and finished 8.09 seconds ahead of third place. She later learned from Plunkett that she broke Abby Kargol's school-record 10:45.53 from 2015 after running 10:46.16 three weeks earlier.
"Finish-wise and just with COVID and everything, it was the best race I've had so far and probably the race I've enjoyed the most," McNerney said. "I just remember it being one of those days where everything came together and feeling really good."
With no state preliminaries because of a reduced schedule during the pandemic, McNerney attempted a challenging double by running the 800. She was 21st (2:27.54) after a 2:18.67 showing at sectionals.
"Original planning, I would have had around 40, 45 minutes [recovery time], but it ended up being less than 30," McNerney said. "I think the heat definitely took a lot out of me and the excitement of [my 3,200]."
McNerney's personal best in the 800 is 2:15.80. At an indoor meet in March 2021, McNerney ran the Mustangs' second-fastest 1,600 (4:59.99). Erin Reidy's outdoor mark of 4:56.87 in 2019 is the school's fastest time for the 1,600.
McNerney's do-it-yourself marathon in April 2020 started and ended at her house after a huge loop through the Greene Valley Forest Preserve and neighborhoods. Her mother drove along to provide water, assistance and helpful headlights for the early morning start.
"My goal is to at least make it to the Olympic Trials for the marathon," McNerney said. "I'll definitely be a 10,000 (meter) runner in college, but the marathon is what I really want to do."
At the West Suburban Conference Gold Division Indoor Meet on April 2, McNerney supported her Mustangs teammates. Senior Kelsey Casella swept the 3,200 and 1,600. Freshman cross country all-stater Holly Johnson won the 800 and 400.
"Sophia has been a great example of how you have to be willing to put in the work in order to get results for the rest of the team," Plunkett said. "Sophia has made an effort to make connections with our younger athletes. Hopefully they have been paying attention and learning from her."